A big thanks to Alaska Airlines for providing complimentary flights so we could write this review of our experience.
If you've been following along with our epic summer trip, then you know that we've really been getting around. Here's a quick recap of some of the highlights: We took a seven day Mediterranean cruise from Barcelona to Rome, spent two nights in the Eternal City, then went down south to the island of Ischia before flying to Toronto to see my wife's family. We then flew to New York city to attend an Expedia party celebrating the launch of their new rewards program.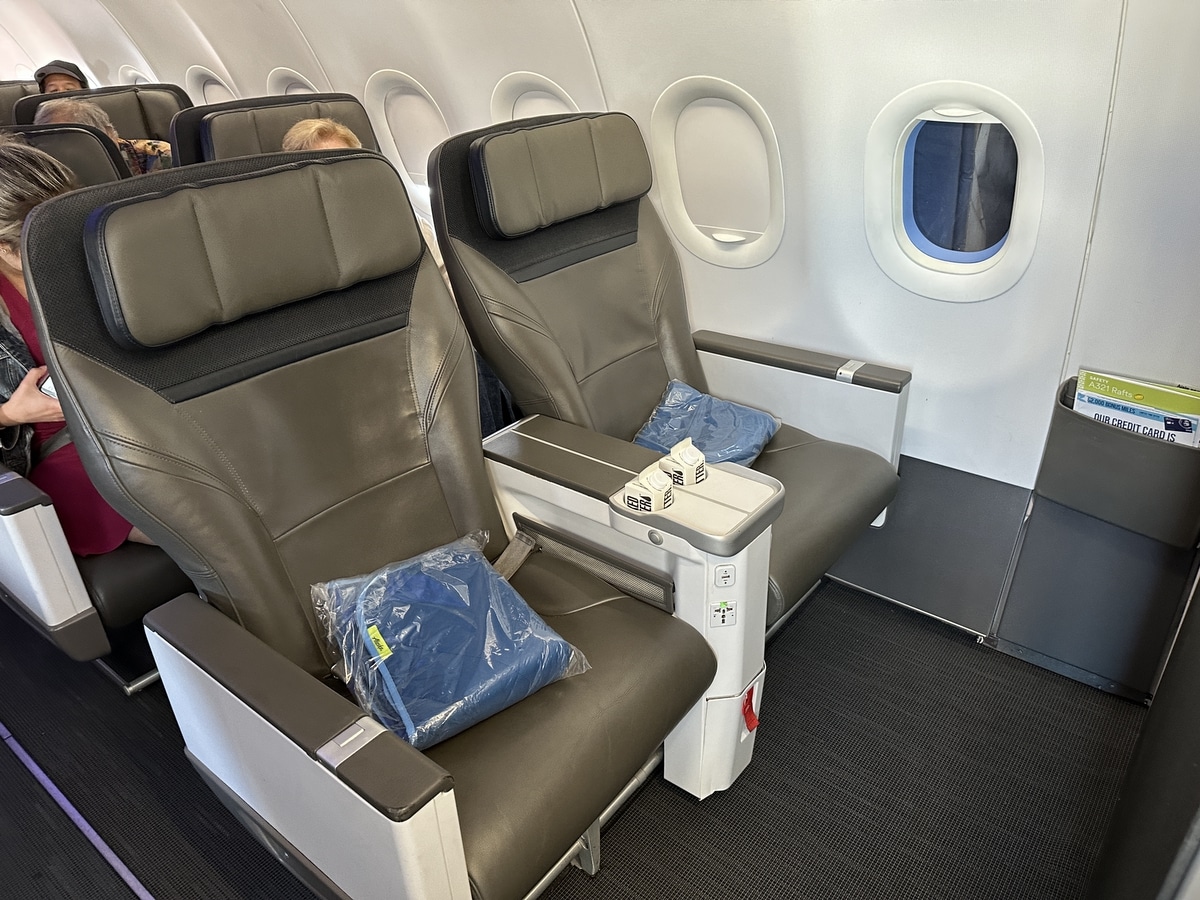 Expedia was going to fly me back home to Los Angeles (LAX) but Alaska Airlines offered to fly my family and me back. 
That was a no-brainer, not only because it saved me money but I know how good Alaska's reputation is, not only with leisure travelers but business travelers, too. In fact, I have a number of friends who are current and former Alaska Airlines pilots and every one of them says that the airline's pilots are among the best in the business, thanks to a rigorous training program. Good to know when you're traveling with your kids, your most precious cargo.
Unfortunately, I hadn't flown on Alaska Airlines since my son was a year old (six years ago) and that's a shame because it was a great flight.
Facebook Memory
FYI: The screenshot above just happened to show up in my personal Facebook memories feed the other day. Back then, I had a monthly column in Alaska Airlines' in-flight magazine but sadly, like many print publications (especially airline magazines), COVID sent it to an early retirement.
A321neo
Now, speaking of early retirement: We flew on one of Alaska Airlines' 10 Airbus 321neos, which they acquired from Virgin America when they bought the airline in 2016. They're retiring their Airbus fleet on Sept. 30. It was a treat to be on this type of aircraft.
Alaska has two flights a day from Newark (EWR) to Los Angeles (LAX). I wanted to take the early morning flight (7:30 a.m.) since EWR and the other New York City area airports have a bad reputation of lengthy delays, especially later in the day. And if there's bad weather, then the New York expression "fuhgeddaboudit" couldn't be any truer. My wife wanted to roll the dice with the 4:50 p.m. flight (AS285), so we did.
Newark Liberty International Airport
I'm glad we did because not only did we have an extra day in the city but we not only departed on time, we landed early. Here's how the flight went:
We rolled up to the airport at 2:50pm. Exactly two hours prior to departure. Alaska uses Terminal B and their check-in is at the far end on the right.
Check-In
There was no line for First Class and Elites check-in. Because I have Platinum status on American Airlines and their oneworld Alliance partners, I was able to use this line. On top of that, two of us got upgraded to First Class so we could experience both cabins.
Pet-Friendly
The first thing I noticed is that Alaska Airlines is pet-friendly. I saw two different passengers in line with oversized travel cages. It turns out they do accept most domesticated pets for travel in their climate-controlled baggage and cargo compartments for a fee. "Accepted pets include cats, dogs, ferrets, guinea pigs, hamsters, household birds, non-poisonous reptiles, pot-bellied pigs, rabbits, and tropical fish." Here's more information, including the fees.
Family Friendly
When we checked-in at 3:03pm, the friendly agent gave Jack and Olivia each a coloring book with crayons for the flight. Off to a great start!
Security
Since we were working with Alaska Airlines, an agent walked us to security to answer any of our questions and bypass the long line. I didn't need any help with bypassing the line since we all have CLEAR and TSA PreCheck. But it turned out to be a good thing an agent came along because she was able to save the day for another family who was going to miss their flight.
Agents Save the Day
As we were waiting for the CLEAR agents to finish with the customers in front of us, a family of four that had just landed from Europe and was flying to San Francisco on Alaska Airlines, was stuck in the seriously long, regular security line. When the father saw the agent with us, he told her their situation and she replied that the SFO flight was leaving in 10 minutes. She told them they would never make it in that line. She pulled them out and escorted them to the front.
I thought that was really cool because their long travel day almost became a lot longer and uncomfortable. As I just wrote in a post about how much time you should give yourself for a connection, airplanes these days are going out near or at capacity. So if you miss your flight it might be a while before you get on the next one. And if you have travel companions, you will most likely not be able to sit together unless you come across some friendly passengers (unlike this doctor from Seattle).
CLEAR at Newark
What's interesting about CLEAR at Newark is that even if you have a membership, you better have TSA PreCheck too, otherwise you get dropped off in the middle of the line, which is still a good wait. TSA PreCheck and CLEAR members have very little wait time. Another interesting thing is that this is the second time CLEAR agents at Newark have asked my kids their name, age, where they are going and who my wife and I are, just to make sure they aren't being kidnapped. It's great but I haven't experienced these questions at any other airports.
Once you get through security, you can really tell Terminal B is an old terminal. There are low ceilings, and limited small bathrooms. There was a long line for the women's bathroom and for the water fountain.
The best thing about Terminal B is that they set up a makeshift waiting area, which seems to be kind of a secret.
It looks like a large but basic lounge, but it's just a waiting room with some vending machines, including a Farmer's Fridge. Looking back at my photos, it looks like there are also restrooms in there so keep that in mind.
Alaska Airlines has two gates at Newark: B40 and B44. They have 11 flights a day, three in the morning and eight in the evening.
Before we boarded, I spoke to another Alaska Airlines agent and another one when we landed in L.A. and they both said that Alaska Airlines goes above and beyond other airlines they have worked for in the past. One agent told me that if there's bad weather, although they're not required by law to do anything for passengers, Alaska will give elderly and families a hotel room or meal vouchers when possible and when needed.
I missed the boarding announcement because I was in the center of the terminal watching as my son got his wiggles out and while my wife and daughter were in the aforementioned long line for the ladies room. Alaska does let families with kids under two board first.
By the time we boarded, a quarter of the plane was on board. As always, our kids handed the super-friendly flight attendants some Canadian chocolates for the crew and the pilots and asked them to sign their flight logs.
My son and I drew the lucky straw for sitting up front in seats 1A and 1C.
My wife and daughter, who are both much smaller than us, didn't mind since they were in premium economy just five rows behind us in Row 7; there's no row 5 and there's no window in row nine on this aircraft.
According to Seatguru, there are 24 seats of Premium Economy and they have a generous 37-38 inches of pitch (legroom) and an 18-inch seat width. In economy, there are 150 seats with 31-32 inches of pitch and the same size seat.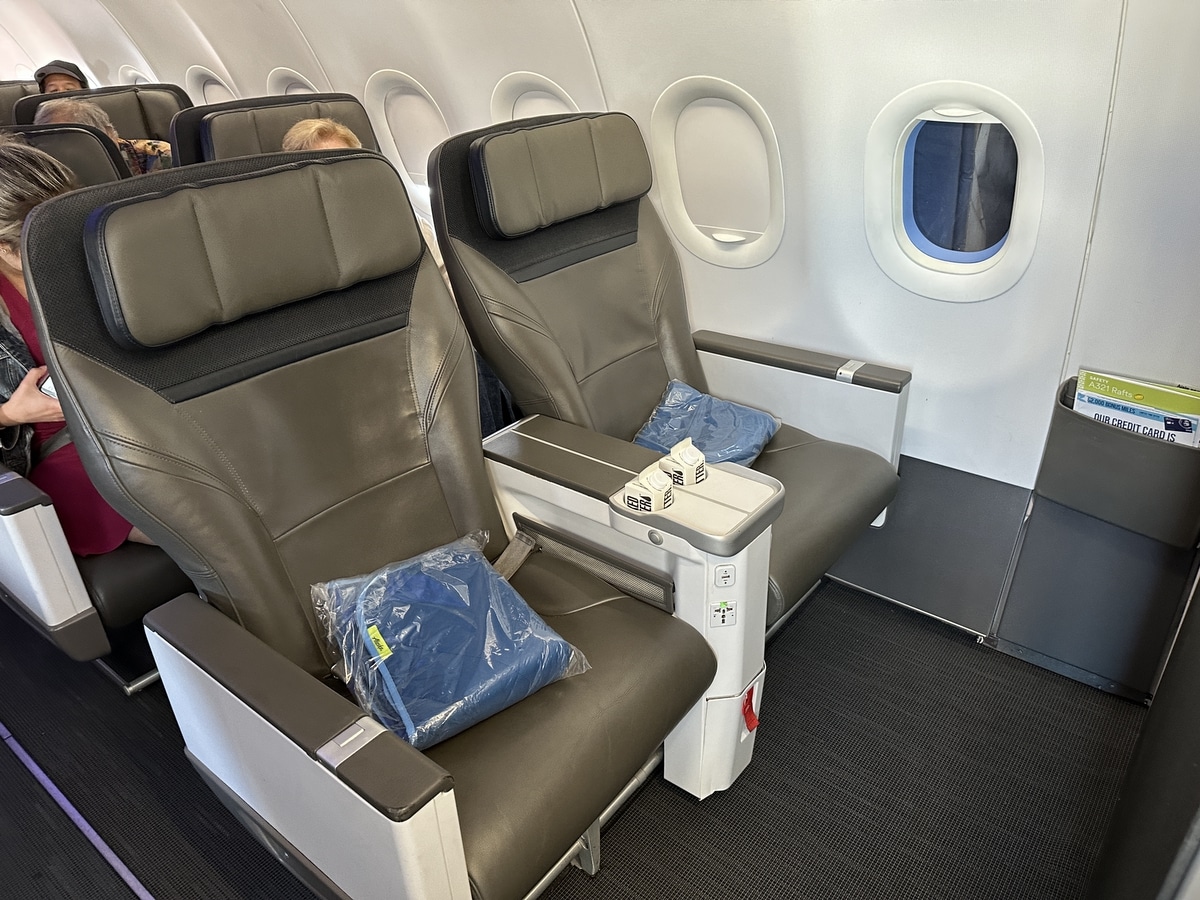 In First Class, there are 16 recliner seats with 41 inches of pitch and 21-inch-wide seats. On each seat in First was a blanket but no pillow.


Each seat also had USB and power ports and Boxed Water, which I've gotta say, doesn't taste great. But, as always, I had my own water bottle filled with water post-security. Update: Boxed Water sent me some of their flavored water to try and they are much better than the flavored less one. Also, Boxed Water is the most renewable brand in the water aisle with 92% plant based cartons (including), and 100% recyclable in a majority of the U.S. Water goes through an 8-step filtration process including reverse osmosis.
What was good though, was the food. Here's what the three main course menu choices were:

Agrodolce Chicken Made Without Gluten Ingredients
Italian sweet & sour chicken | citrus-parsley gremolata | green beans | roasted herb fingerling potatoes
Ginger Beef Stir-Fry Noodles
ginger-garlic sirloin | black garlic glaze | lo-mein noodles scallions
Smoked Salmon Bowl
Alaskan wild salmon | lime chili sweet potato | roasted broccoli | curry cauliflower pickled red onion citrus crema
They were all served with a side salad with chevre, petite rolls and butter and Salt & Straw ice cream.
Later in the flight, the flight attendant passed around a basket of snacks, which had potato chips, popcorn, beef jerky, Kind bars and nuts.

In economy, my wife bought a kids snack box for $8 which consisted of a variety of snacks like Pirate's Booty, a KIND bar and gummy bears.

And a snack box for herself, which had kettle-style potato chips, multigrain crackers, smoked Gouda, salami slices, roasted almonds and a piece of Almond Roca.
What was disappointing and a bit odd is that Alaska Airlines doesn't serve milk on board, just little packets of creamers. My son has food allergies so my wife always packs food that's safe for him to eat on the plane. She often packs cereal for him and we just ask the flight attendants for milk. Next time, we will buy some milk in the airport post-security.
What was great is that Alaska Airlines only charges $8 for WiFi and it was solid, which isn't always the case 30,000 feet up in the air. I was happy I was able to work the whole five hour and 31-minute flight.
Another positive for first class passengers is that the flight attendant was vigilant about coach passengers not using the first-class bathroom unless the cart was in the aisle.

When we landed at LAX, it was a long walk to baggage claim but our bags were waiting for us. BTW: Another reason families love Alaska Airlines is because they have a 20-minute baggage guarantee. From their website: "Since 2010 we have put a guarantee behind our baggage delivery. If your bags are not at baggage claim within 20 minutes of your plane's arrival at the gate, we'll offer you a $25 discount code for use on a future Alaska Airlines flight, or 2,500 Alaska Airlines Mileage Plan™ bonus miles."
All in all, we had a fantastic flight home with Alaska Airlines and was the perfect ending to our five-week, seven-country, four-state trip.
KEEP READING
• How to Save Money With a Secret Third Carry-On
• How to Use Your Wireless Headphones to Watch In-Flight Movies
• 10 Airport Security Hacks Every Traveler Should Know
• How to Get the Best Coach Seat on the Plane
• The Sleep Hack Every Traveler Needs to Know
• Never Get Your Valuables Stolen on the Beach
Want more travel news, tips and deals? Sign up to Johnny Jet's free newsletter and check out these popular posts: The Travel Gadget Flight Attendants Never Leave Home Without and 12 Ways to Save Money on Baggage Fees. Follow Johnny Jet on MSN, Facebook, Instagram, Pinterest, and YouTube for all of my travel posts.