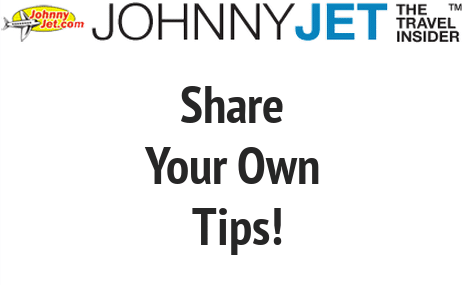 Share Your Own Tips!
With all the great feedback we've received on our Travel Tips of the Day, we've seen a lot of really great tips submitted by you—our readers. All great travel wisdom deserves to be shared (that's why I started this site in the first place), so starting a week from today, we'll be featuring a reader-submitted tip as our Travel Tip of the Day every Friday!
To share your own tip, send it in an email to whitney@johnnyjet.com. Simple as that!
To kick things off, here's a little piece of wisdom from reader M. Miller, who noted that when checking a bag, you should "ALWAYS" check your luggage claim tag to make sure that there isn't a mistake—and your bag isn't tagged to the wrong final destination!
With so many places to go these days, and so many different ways to travel, it's more important than ever to pay your travel wisdom forward (travel is all about learning, in the end). So please, share away, and help make travel just a little bit easier for someone else!
_________________________________________________________________________________
Tried this tip? Let me know in the comments!
Want to see more tips? Click here for all 157!
Want even more travel tips? Subscribe to the Daily Travel Tip newsletter! All you have to do is sign up for the weekly newsletter by filling in your email address and checking the Daily Travel Tip box in the top-right corner of the homepage.
If you already subscribe to the newsletter, fill in your email and check the Daily Travel Tip box in the same top-right corner of the homepage and you'll receive an email with a link to update your JohnnyJet.com preferences. On that page, just click the Daily Travel Tip box and Update Profile and you'll have Johnny's best tips, straight to your inbox each day. And don't worry—it's easier than it sounds!