If you're following along on our epic European trip, then you know that our next stop is Rome, Italy … or as the locals call it, Roma, Italia! As I mentioned in part one, YYZ-BCN in Air Canada's Premium Economy, this trip came together just two weeks prior to departure.
This post contains references to products from one or more of our advertisers. We may receive compensation when you click on links to those products. For an explanation of our Advertising Disclosure, visit this page.
 This trip taught me a lot, which I detailed in this article: 12 Things I Learned From Traveling to Europe This Summer. For instance, I learned that in Italy, if you have more than two people in your party, you either need to get two hotel rooms, a deluxe room or a suite. Having two little kids (ages three and six) really makes staying in hotels absurdly expensive.
I was having a difficult time finding rooms that could accommodate all four of us, especially something that was somewhat affordable. We didn't want to rent an apartment for just two nights so I had to start pulling some strings. A week before we arrived, I asked my buddy Steve Perillo (aka Mr. Italy Jr.) from Perillo Tours if he had any connections. Steve made one phone call and helped us secure a suite at the Rose Garden Palace, a luxury hotel in Rome, for a heavily discounted rate of 500 euros a night. It was much more than I wanted to spend but Rome in June isn't cheap, at least not this historic summer where the city, country and continent are seeing record numbers of tourists.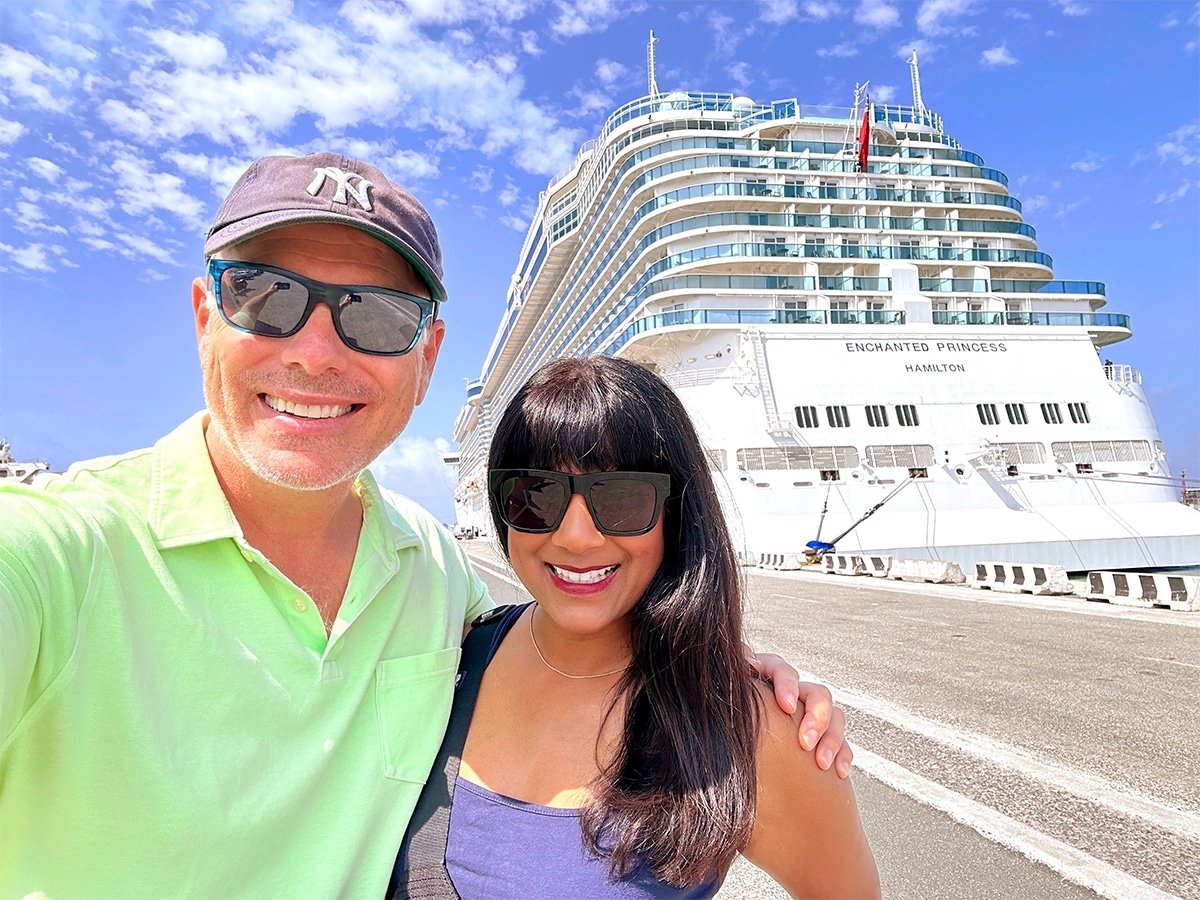 We ended our 7-day Mediterranean cruise 80 minutes from Rome in Civitavecchia. As I detailed in my review of our cruise aboard Enchanted Princess, it was challenging finding a ride into the city. After playing what felt like a real-life survival game, trying to find a taxi in the Italy Summer 2023 Edition, I succeeded. We arrived at the Rose Garden Palace, 350 euros lighter, at 11:30am and our room (unsurprisingly) wasn't ready. Fortunately, the previous guest had checked out so it just needed to be cleaned. We dropped our bags off with the bellman who took them up to the vacant room so they weren't just hanging around a vulnerable lobby.
In addition to Perillo Tours using this hotel, so does Adventures by Disney so you know it's solid. I only know this because they had an information table for their customers in the lobby. I asked one of the reps for recommendations on what to see nearby. They recommended Villa Borghese and the Spanish Steps, and gave me a map. The hotel has maps too but the super-friendly receptionist was busy with other guests and my kids were getting antsy.
While our kids argued over who got to sit in the lone stroller we brought, we made the 0.6 mile-walk to the Spanish Steps. It was hot but you could feel the excitement of being in Rome. BTW: In 2019, Rome's municipal government passed a law that there is no sitting on the Spanish Steps. According to the New York Times, "The regulations are intended to "guarantee decorum, security and legality" by prohibiting actions that are "not compatible with the historic and artistic decorum" of Rome's center, according to the city's website." I can confirm that they do enforce this rule as I saw two police officers asking multiple people to stand up. Good thing they did because it's a 400 euro fine.
We made our way back to the hotel around 1pm after stopping by the first pizza place we came across, which was a mistake. It was mediocre at best. The good news is that the room was ready and the cool air conditioning was a welcome respite.
Here's a closer look at Rome's Rose Garden Palace:
As in most European hotels, the elevators are tiny.
Our room, number 306, was a corner suite with 15-foot-high ceilings. It was capacious and comfortable. My wife loved the herringbone flooring and the luxurious wallpaper. I loved the king-size bed and queen-size pullout because it meant there was plenty of room for our family of four to sleep.
The walk-in closest was so big that the kids turned it into their own personal clubhouse. They laid out all their books, paper, crayons, markers and snacks and made it into their own little space to hang out in. 
Bathroom
The bathroom was oversized too and included a bidet which, to be honest, I don't fully understand how to use. I'm not sure why Europeans don't make plush bidets like the Japanese. There, you sit on a warm toilet seat, press a button and a hose shoots warm water you-know-where. Some even a have blow dryer. In Europe, you have to move from the toilet to a porcelain bidet, which is hard, cold and uncomfortable. After one dismal try, I never went back. My kids, on the other hand, thought it was a sink for kids.
Location
The Rose Garden Palace is in a great location as it's in a residential neighborhood and directly across the street from the U.S. Embassy. That's either comforting or unsettling depending where you're from and your circumstances. I found comfort knowing that if anything happened, the embassy was literally right outside the hotel's front door.
The windows were pretty thin; I heard a car pull up with the stereo blasting late at night. It reminded me of home.
The TV has lots of channels in many languages, including a few English ones. They had CNN and BBC but the kids channel (Frisbee by Warner Brothers) was in Italian so it was fun to see my kids learn some Italiano by watching shows like Curious George and Gabby's Dollhouse in Italian.
Obviously, there were no North American outlets so make sure you bring a universal adapter. Or, bring a power strip with a European plug, like we did, which was so much easier to use. To be honest, when my wife bought it, I told her we didn't need it because we have adapters but when we plugged in in Europe, it was so much easier not having to fuss with adapters. For her hair dryer and flat iron, my wife bought a gadget specifically designed for high-end hair tools, the Conair All-in-One Worldwide Travel Adapter and she said it worked great and didn't blow any of her tools, as has happened in the past.

While we're on the topic, my wife also brought a portable, illuminated mirror, about the size of an iPad mini, which she used all the time when the bathroom was being used by me or the kids or if she didn't like the harsh fluorescent lighting.
The two women who alternated working the front desk were super friendly and happily and helpfully answered my zillion questions. More importantly, they answered the phone whenever I called down. That's a rarity these days, especially at chain hotels.
The floor below the lobby has a small fitness center and a very cool-looking indoor pool. Unfortunately, we didn't have time to use either.
Breakfast buffet
Like most hotels in Europe, breakfast is included and the buffet at the Rose Garden Palace is solid. There was a nice selection of options from cakes, pastries and breads to eggs, bacon and sausage, fresh fruit and yogurt.

There's an indoor and outdoor dining area and the latter really feels like you're not in Kansas anymore. A great way to start the day!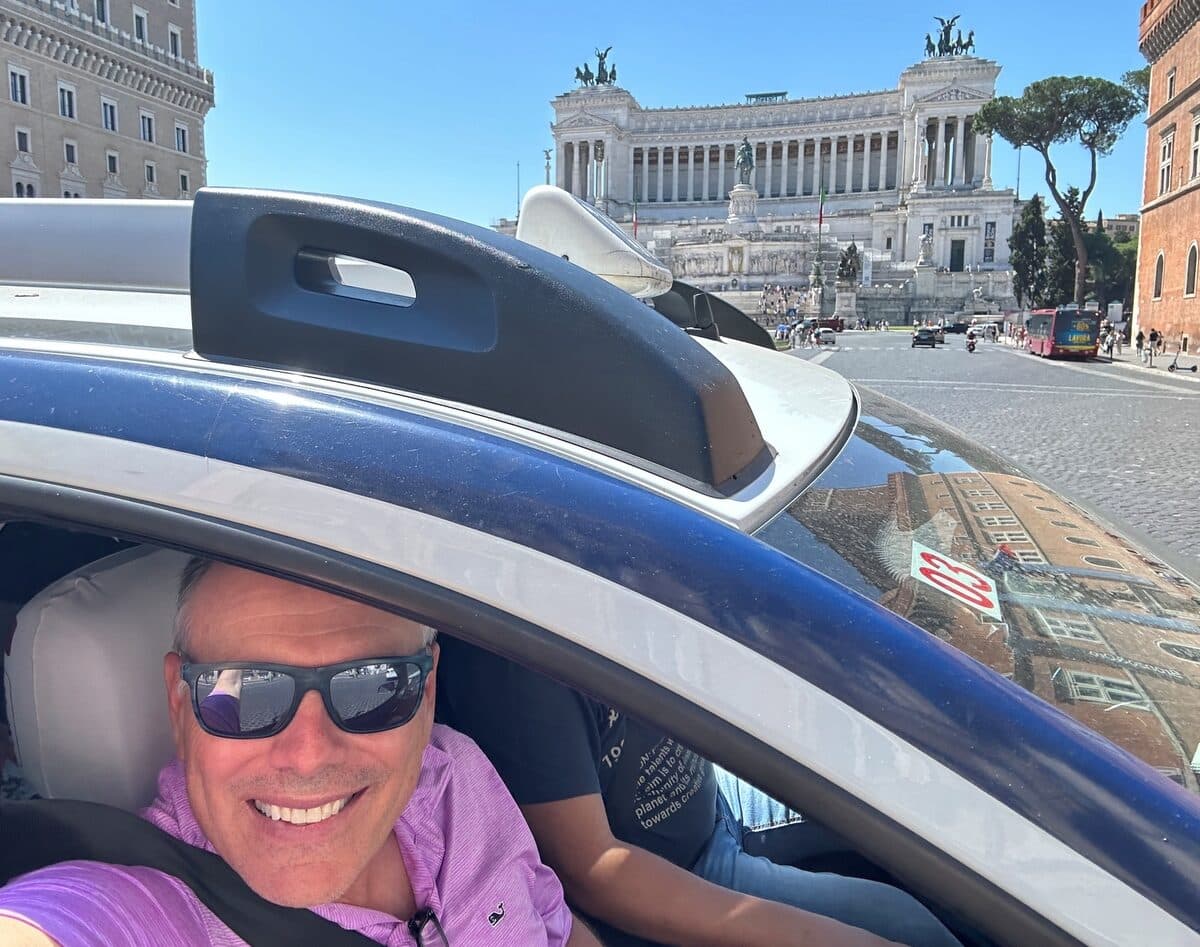 Taxi
A block or two from the hotel is the Via Veneto. one of the most famous and expensive streets in Rome. On the corner is a taxi stand in front of the Westin Hotel if you ever get in a jam. I used the European taxi app FreeNow to get most of my taxis since it works like Uber so you don't have to hand over cash, it prevents the drivers from going the long way and you don't need to try and explain where you're going. Here's more information on FreeNow including how to get €5.00 off your first trip.
Neighborhood grocery store
If you take a left out of the hotel's front door and make a quick left, halfway up on the right side you'll find a mini grocery store. I bought a six pack of one-liter bottles of water for just 2.50 euros ($2.70 USD). I know what you're thinking: You can just walk down the street and find one of the 2,500 nasoni or drinking fountains in Rome, which provide visitors and locals alike with fresh drinking water all year long.

San Marco Restaurant
Two and a half blocks (a left, left and a right) from the Rose Garden Palace, is a great Italian restaurant called San Marco, which was recommended by our hotel's receptionist. The pizza there is 9 euros and pasta pomodoro is 14 euros. I had a calzone, which I don't recommend but everything else we ate was delicious.
Vatican City
About a 12-minute, 12-euro taxi ride from the hotel is the smallest country in the world … Vatican City. My wife had never been and always wanted to see the Pope's home. Tickets online were sold out but the friend of a friend, who just happens to be a legendary Italian movie star, pulled some strings for us to get into the Vatican Museum. However, I recommend pre-booking with a company like GetYourGuide.com.
Vatican Museums
If you're going to Rome this summer, be prepared for massive crowds like you've never seen before. Walking through the Vatican Museum my wife said she felt like everyone was being herded through like cows. It was crazy and didn't really provide the the opportunity to take it slow, look around and truly appreciate the beauty around you.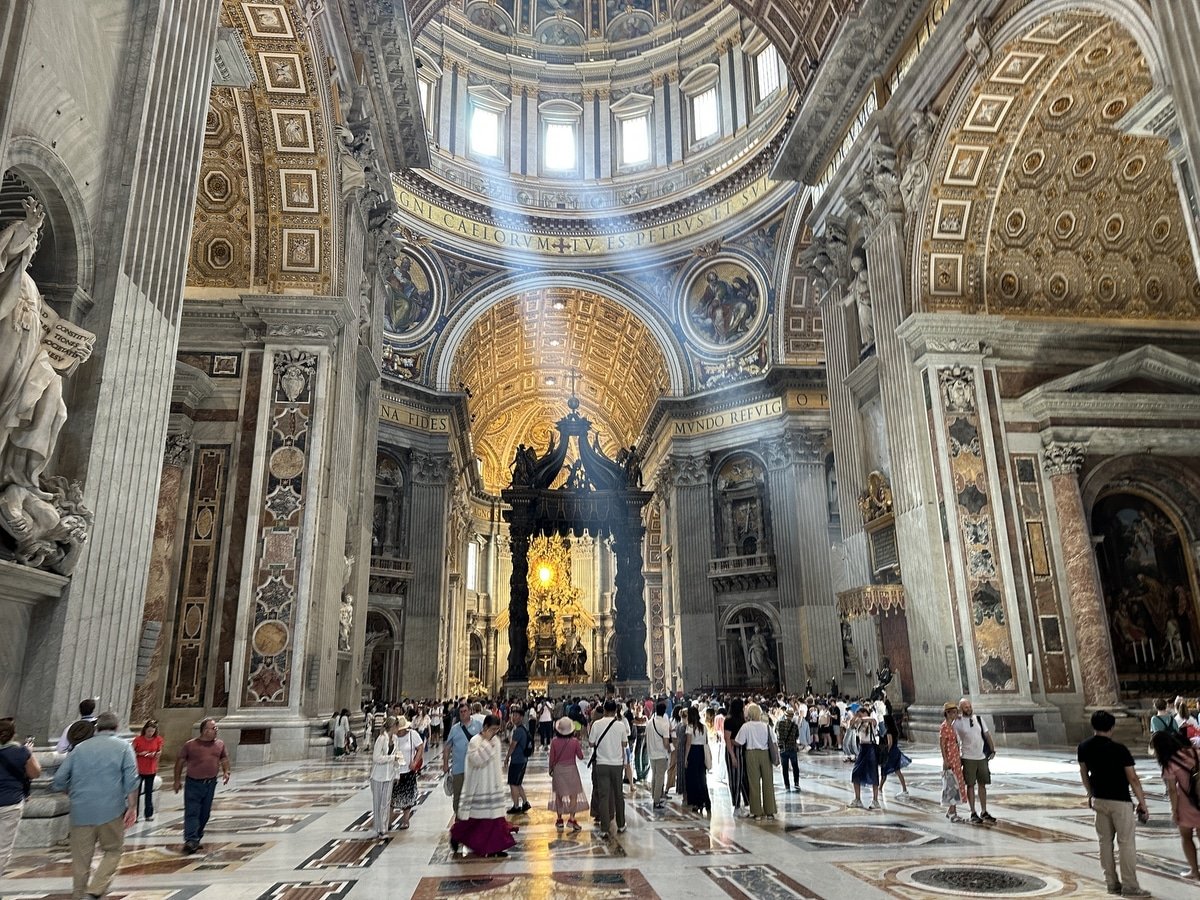 Vatican
Fortunately, due to its sheer size, the Vatican itself didn't feel as crowded once inside.

Villa Borghese
Two blocks away from the hotel is Villa Borghese, Rome's equivalent to New York's Central Park. Central Park is four times larger and much nicer in my opinion but this was a great place to take the kids. I highly recommend renting a quad bike, which doesn't take much effort to power as they have an electric component. The kids loved sitting in the front basket and it only cost 12 euros for an hour. You can rent a regular bike too, for just five euros. You do need to leave your ID as collateral.
Flytographer Family Shoot
Another fun thing we did in Rome was schedule a family photo shoot with Flytographer. We do it every year as we work with them and it's one of our favorite things to do when traveling as we always come home with incredible photos of our treasured memories. This time, they set us up with a wonderful photographer named Roberta. We started at Campidoglio Square and ended close to the Trevi Fountain. My wife wrote all about their service and our shoot, which you can read here. You can view the pricing plans here and use the code JOHNNYJET50 for $50 off your next Flytographer shoot or gift card (it makes a great gift, too!) Above photo credit: Shot by Roberta for Flytographer in Rome
Electric Bikes
One way to get around Rome is by electric scooter. If you rent one, you have to be careful since they're everywhere and some people ride on the sidewalks, which is against the law. They're also crazy dangerous to ride so don't get distracted by looking at your phone for directions or taking photos. I jumped on one after my daughter lost her doll, Shay Shay, during our photo shoot and we were pressed for time. Shay Shay has become an important part of our family so I couldn't just leave her abandoned somewhere in Rome so our Flytographer photographer helped me retrace our steps. When I showed up on the scooter with Shay Shay in my pocket my daughter hugged me like I was a super hero. 

Trevi Fountain
After rescuing Shay Shay, I caught up with my family at the Trevi Fountain, which was crowded at 8:30am. It was strange but a lot of Italians I asked along the way for directions didn't know where it was. I probably should have asked in Italian where the Fontana di Trevi was. It's worth noting that I couldn't just park the Lime scooter anywhere near the fountain, even though plenty of Bird scooters were parked there. The app just kept telling me it wasn't approved for the parking spot and showed me an approved area on a confusing highlighted map. I kept trying different blocks until I found a valid parking spot and then took a photo of the bike, which Lime requires you to upload when you're done.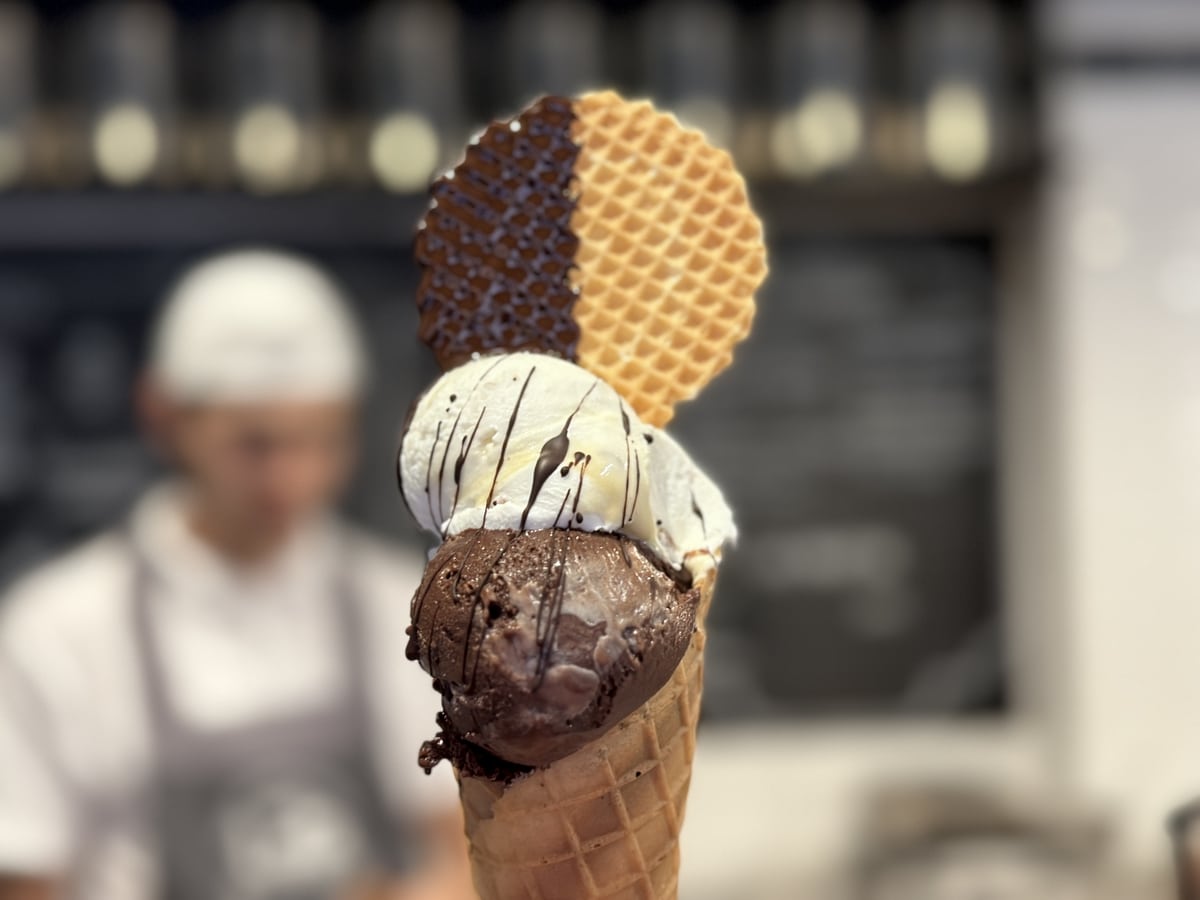 The best gelato?
I read in a Business Insider article that the best places in Rome for authentic gelato are Fatamorgana, Torcè, Gelateria La Romana, and Giolitti. However, the ladies at the front desk of our hotel told me the best place is Come il Latte (Via Silvio Spaventa, 24/26) and was just a seven-minute walk from our hotel through residential streets. They were right as the gelato was amazing and there was a line out the door of locals, not tourists.
It's been seven years since I visited Rome and this trip reinforced that the Eternal City is one of the most beautiful cities in the world and the Rose Garden Palace and the staff helped contribute to our wonderful stay. We can't wait to return.
KEEP READING:
–12 Things to Know Before You Travel to Europe
–12 Things You Never Knew About Italy
–7 Things to Do in Naples, Italy
–12 Things to Know Before Going to Paris
–19 of the Best Off-the-Beaten Path Things to See and Do in Paris
Want more travel news, tips and deals? Sign up to Johnny Jet's free newsletter and check out these popular posts: The Travel Gadget Flight Attendants Never Leave Home Without and 12 Ways to Save Money on Baggage Fees. Follow Johnny Jet on MSN, Facebook, Instagram, Pinterest, and YouTube for all of my travel posts.