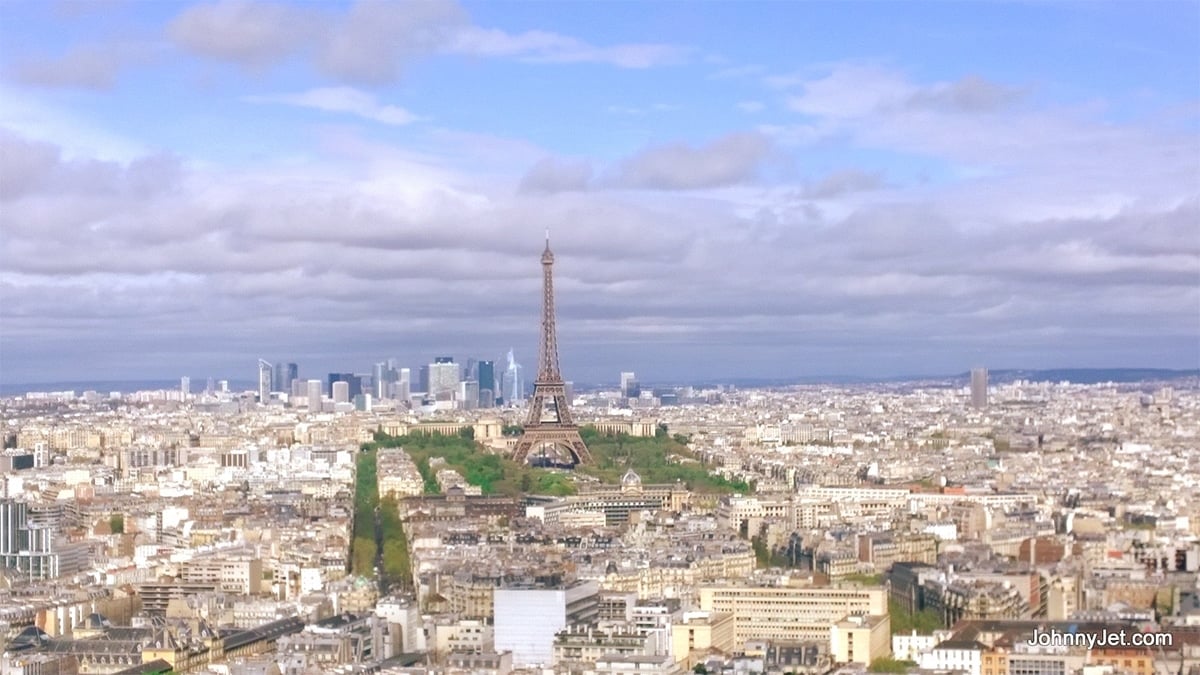 Paris is one of my favorite cities in the entire world. It's a place I've lived in, run tours in, and return to at least once a year. Since I've spent so much time there, on every visit, I make it my mission to see some of the lesser-known (but equally awesome) attractions. Not all of them are super-secret but all are ones that most tourists overlook on their first time in Paris.
To help you beat the crowds and have a more unique experience, here is my list of the best off-the-beaten-path things to see and do in Paris:
LESSER-KNOWN MUSEUMS IN PARIS
1. Musée Curie
This museum is in the former Radium Institute, where scientist Marie Curie had her office as well as her physics and chemistry laboratory. Known to many as Madame Curie, she achieved many firsts: the first woman to win the Nobel Prize, the first person (and still the only woman) to win it twice, the first female professor at the University of Paris, and the first woman buried in the Panthéon for her own accomplishments. The museum delves into her research into radioactivity (a word that she invented), with displays of scientific instruments, photographs, and documents from the early 20th century.
Open Wednesday-Saturday 1pm-5pm. Admission is free.
2. The Gallery of Paleontology and Comparative Anatomy
Opened in 1889, this gallery was the precursor to the French National Museum of Natural History. It occupies the ground floor of the much larger museum and is impressive to visit in its own right. The spacious room contains a thousand animal skeletons, including many authentic dinosaur skeletons, as well as other extinct animals, such as a cave lion. There is also a virtual reality room where you can experience what it is like to walk alongside these now extinct species.
Open daily 10am-6pm (closed Tuesdays). Admission is 10 EUR.
3. Museé de Montmartre
This museum is dedicated to the history of the artistic and bohemian Montmartre neighborhood. It's located in a historic 17th-century home, in which many famous writers and artists lived over the years, including painter Suzanne Valadon (the first female painter admitted to the Société Nationale des Beaux-Arts). The museum's permanent collection includes a wide variety of paintings, posters, and drawings from the neighborhood's heyday in the late 19th and early 20th centuries. There's also a reconstructed version of Valadon's apartment, and the museum's gardens were redone to look more like those in Renoir's paintings.
Open daily 10am-6pm (7pm in the summer). Admission is 14 EUR.
4. Mémorial de la Shoah (The Holocaust Museum)
While it's not very well known, I think this is one of the best Holocaust museums in the world. The thought-provoking exhibitions focus on the lived experience and oppression of Jews in France during World War II, with interactive displays of videos, photographs, and documents from victims and survivors. Perhaps the most sobering part is the Wall of Names, on which the names of 76,000 French Jews who were deported from the country are inscribed (of these, only 2,500 survived).
Open daily (except Saturdays) 10am-6pm. Free admission. A free guided tour is given at 3pm (in English) on the second Sunday of every month.
5. Musée Carnavalet
Opened in 1880, this museum on the history of Paris is the longest running museum in the city. It's located in a 16th-century mansion in the historic Marais district (which by the way, is my favorite neighborhood, if you're wondering where to stay in Paris).
The extensive collection contains over 600,000 items that illustrate the history of the City of Light from prehistory to present day. The collection includes sculptures, paintings, artifacts, photographs, and various historic rooms set up to represent different time periods in Parisian history.
Open Tuesday-Sunday 10am-6pm. Free admission.
6. Musée des Arts Forains
This little-known museum dedicated to funfairs and fairgrounds is filled with rare objects, games, toys, and theatrical props from 1850–1950. Opened in 1996 by an antiques collector, the collection features themed carousels and other amusement park rides, fair stalls, an automatic orchestra, and more. It's one of those quirky, off-the-beaten-path spots that few people ever visit. The only catch is that admission is via guided tour only (in French year-round, with English tours in the summer).
Open by reservation only. Admission is 18 EUR.
7. The Counterfeit Museum
This museum showcases counterfeit items that France's customs agents and police have confiscated, or that have been donated by consumers and brands. The museum was established to educate the public on the dangers of buying counterfeit products (while most are harmless, some contain deadly chemicals such as lead). Items on display include everything from counterfeit art and luxury goods to things one would never think to counterfeit, such as cleaning products.
Open Monday-Friday 2pm-5:30pm. Admission is 6 EUR.
OFFBEAT PARIS: OUTDOOR SPACES
8. Petite Ceinture
Promenade Planteé isn't the only green space in Paris along a former railway. The Petite Ceinture ("Little Belt") is a railway circling Paris that was in operation from 1862 to 1934, when its use had declined significantly due to the opening of the Paris Metro in 1900. Some sections were used as freight and commuter rail transport, but many sections have been abandoned ever since its closure and are overgrown with trees and plants and covered in street art.
While some sections are illegal to visit, near Parc Georges Brassens, you'll find a section of the tracks known as the Passage de la Petite Ceinture that is both free and legal to visit. It's located in the 15th arrondissement.
9. Canal Saint-Martin
The Canal Saint-Martin is a man-made canal that Napoleon commissioned to supply the city with fresh water, grain, and other goods and materials. The 4.6-kilometer waterway connects Canal de l'Ourcq to the Seine via both aboveground locks and underground tunnels.
While not a secret spot by any means (on a nice day, the canal is lined with people hanging out), it's mostly known by locals. Bring a picnic lunch or stop in at one of the cool restaurants, bars, and cafés that line the canal.
10. Montmartre Cemetery
While everyone visits the famous Père Lachaise Cemetery, for a lesser-known yet still beautiful amble through the gravestones, visit Montmartre Cemetery. The third largest in the city, the 19th-century necropolis is much quieter than its larger counterparts. Some of the most famous residents include poet Heinrich Heine, writer Émile Zola, painter Edgar Degas, and singer Dalida.
Open daily 8am-6pm (opens at 9am on Sundays). Free admission.
11. Piscine Joséphine Baker
This unique outdoor pool is located on a floating barge on the Seine River, so you can literally swim on the Seine (the pool's water even comes from the river, though it's treated beforehand). The barge features a 25-meter pool with a retractable glass roof above it, and an upper deck for sunbathing. Though the pool is the main draw (especially in the summer), there is also a solarium, saunas, a hammam (steam bath), a jacuzzi, and a gym with fitness equipment.
Hours vary by season, but in the summer, it's generally open 7am–11:30 am and then again 1pm–8pm. Admission is 4 EUR (6.50 EUR in the summer).
12. Les Puces (Saint-Ouen Flea Market)
While technically this is the largest antiques market in the world, it's still a lesser-known attraction in Paris that many visitors don't get to. This flea market has over 3,000 stalls and covers almost 20 acres. It's fun to get lost for a bit among the vendors, looking for that perfect unusual souvenir to take home.
Open Saturday-Monday 10am-6pm (though some vendors set up later and leave earlier).
13. Catacombs of Paris
Underneath the city snakes a honeycomb of tunnels that hold the remains of more than six million Parisians. These were originally created as part of stone quarry mining operations and became the final resting place for many plague victims that were relocated here from neighboring, overflowing cemeteries. The catacombs were later used by the French resistance during World War II, and finally by partying ravers in the 1990s. Now, they're a popular offbeat attraction. I love wandering these tunnels and imagining all the history that has taken place here.
Open Tuesday-Sunday 9:45am-8:30pm. Admission is 29 EUR (advanced purchase) or 15 EUR for same-day tickets (though there often aren't any of these left, so don't bank on them).
UNUSUAL TOURS IN PARIS
14. Street Art Tours
Paris is an artistic city not only in the sense that it's home to some of the world's greatest museums, but because the streets (especially in certain neighborhoods) are covered in murals and street art. Taking a tour is the best way to discover great street art and learn more about the pieces created by globally renowned and local artists.
Street Art Tour Paris offers a variety of tours throughout different neighborhoods, starting at 24 EUR.
15. Secret Food Tours
This company offers food tours in various Parisian neighborhoods, including Le Marais, Montmartre, and Saint-Germain. It also offers a decadent chocolate and pastry tour, on which you'll get to try artisanal chocolates, crêpes, macarons, ice cream, and (of course) pastries, at 5-6 different patisseries. You'll get a lot of food during the tour, so come hungry.
Tours start at 79 EUR.
16. Fat Tire Tours
For a different way to see the city, hop on a bike with Fat Tire tours. It's my favorite bike tour company, with a variety of tours showcasing different aspects and areas of the city. For a unique option, try the Night Bike tour, which includes a one-hour Seine cruise (with wine). If you have more time, go for the Versailles Sunset Bike Tour, which includes after-hours access (with no crowds) to this popular attraction that's one of the best day trips from Paris.
Tours start at 24 EUR.
OFFBEAT PLACES TO EAT IN PARIS
17. Dans Le Noir
Dans le Noir means "in the dark," and that's exactly what you'll do during this unique dining experience: eat in the dark. In this restaurant named one of the most unique in the world, diners are led through the meal by a visually impaired guide. The goal is not only to experience food in a different way but to imagine what it would be like to live with a visual disability.
All menu items are prepared using organic and seasonal ingredients, and while you won't know what you've eaten until the end, all dietary requirements can be catered to. There is also a sensory lounge where you can experience non-food items in the dark, such as perfume.
Prices range from a two-course meal for 43 EUR to a six-course meal with champagne for 105 EUR.
18. Florence Kahn
This little shop in Le Marais specializes in Yiddish specialties, like delicious pastrami sandwiches. You can pick up baked goods to go or grab lunch and sit out on the terrace.
19. La Recyclerie
This old, converted train station is now an urban farm and eco-center that grows and serves its own food at its café/restaurant. Everything here is about reuse, so there are no plastics, food is composted, and all the furniture is secondhand. This was one of the places I frequented the most when I lived in Paris.
Paris might be Europe's second most visited city, but there is an abundance of things to see and do that aren't on the main tourist trail. While you shouldn't miss popular sights like the Eiffel Tower and the Louvre, you also shouldn't stick to the guidebook like everyone else. Get off the beaten path and explore some of the lesser-known sights. Not only will you face fewer crowds, but you'll have a much more unique, authentic, and memorable experience.