If you follow me on social media (Facebook, Instagram, Twitter) or get my free daily travel tip newsletter, then you know that my wife, kids and I just returned home from our first family-of-four trip to Europe. It was the trip of a lifetime as we visited six countries in 12 days. I know that's some seriously fast travel but we literally gave our two little kids (ages six and three) a taste of Europe. RELATED: The 30 Best Souvenirs I Brought Home From Europe and They Took Up Absolutely No Room in My Bag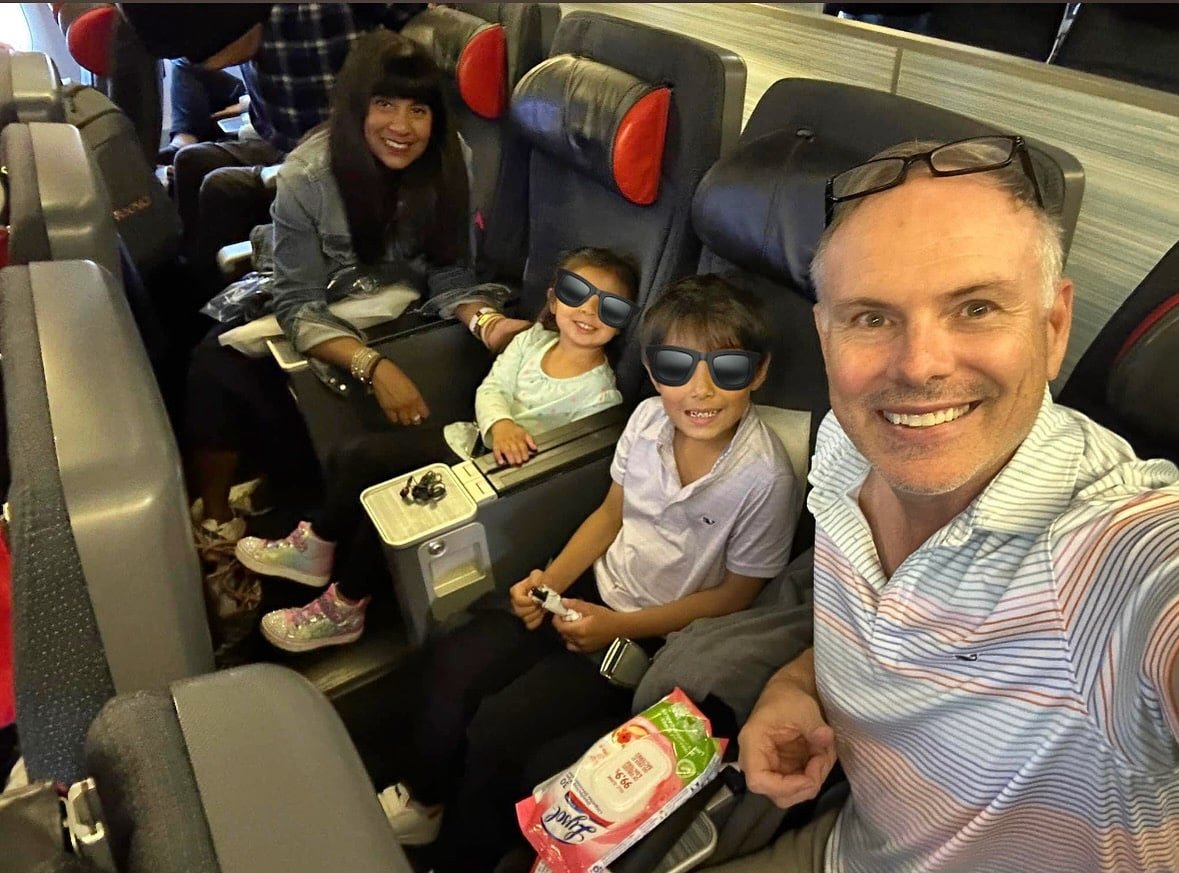 This post contains references to products from one or more of our advertisers. We may receive compensation when you click on links to those products. For an explanation of our Advertising Disclosure, visit this page.
The most shocking part is that I booked the trip exactly two weeks before we left. My wife and I kept going back and forth about whether we should go to Europe this summer or not. We have both been dozens of times but because of the pandemic, it had been four years and we were both longing for it. What was holding us back was the high cost of hotels and the fact that we knew Europe would be insanely crowded.
But then I was given a Friends and Family rate for a cruise and I found one that wasn't sold out and fit our schedule. The next challenge was trying to find affordable flights that had some extra legroom. It's amazing how fate works because our trip all happened within 30 minutes. Once I found the cruise, I searched rapidly for flights. We live in L.A. but had tickets to visit my wife's family in Toronto (YYZ) so departing/returning from YYZ made it much more affordable and also made the Transatlantic flight shorter.
My first choice was to fly American Airlines or one of their Oneworld partners but they were all overpriced and required connections in both directions. So I settled on Air Canada going and Lufthansa coming back. Both Star Alliance airlines had a deal for premium flights. I paid $2,100 for a nonstop Premium Economy flight to Barcelona and Business Class flight back from Naples (via Munich).
I plan on writing about all of our adventures in details including the cruise, our hotels and the trains, planes and ferries we took. So buckle up because we're about to fly from Toronto to Barcelona!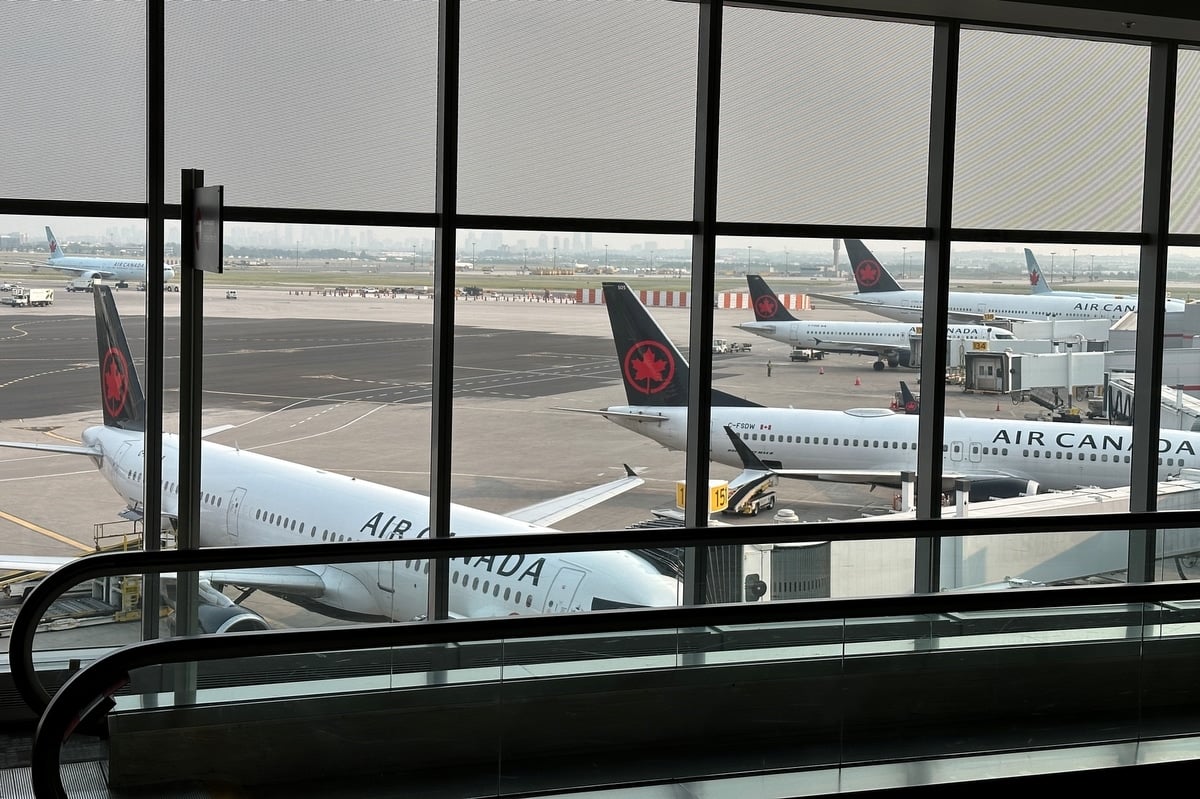 We arrived at Toronto Pearson International Airport at 5:40pm for an 8:20pm flight. We were early because shockingly, there was no traffic and I obviously didn't want to chance it. These days, if you miss your flight, you most likely won't get on a new one for days since they're going out at 100% capacity. On top of that, Air Canada sent an email warning: "If you are flying from Toronto Pearson International Airport to a U.S. or international destination, the check-in and baggage drop-off deadline is 90 minutes prior to departure."
They're not messing around either as this airport and airline has had some serious baggage problems. The best option is to not check a bag but with two little kids who can't carry their own backpacks for long, it's impossible. Here are 12 ways to save money on baggage fees.

If you are checking a bag, be sure to download the airline's app (you should do this anyway) and pop an Apple AirTag or a Samsung SmartTag (depending on your phone) into each checked bag so you can track it. The screenshot above shows that my wife's bag has been loaded onto the plane, which is always comforting to know before takeoff.
FYI: Air Canada's carry-on baggage rules regardless of your destination are as follows: "Each passenger may carry with them in the cabin:
One (1) standard item (55cm/21.5in x 40cm/15.5in x 23cm/9in)
One (1) personal item (43cm/17in x 33cm/13in x 16cm/6in)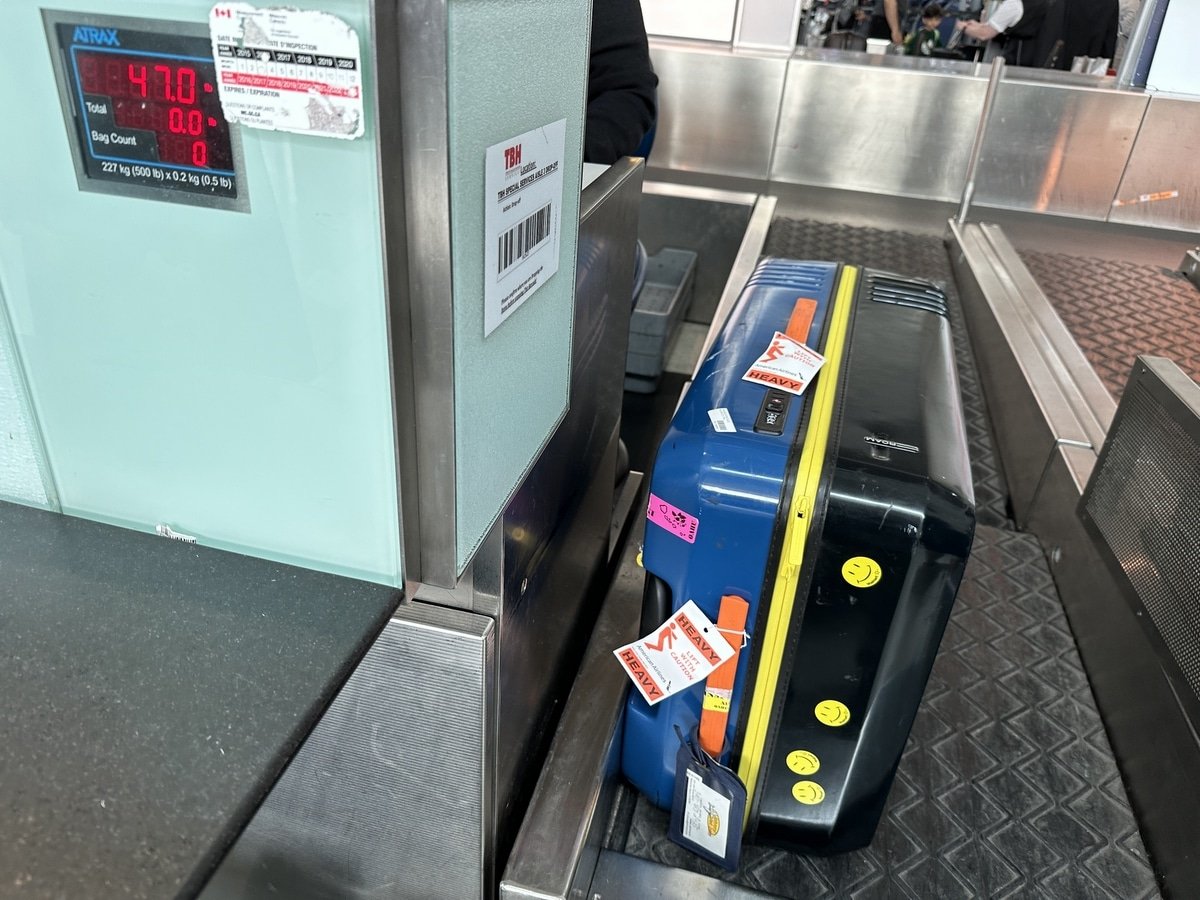 We were checking two large bags that were just under 50 pounds. I weighed them on a scale but I wish I hadn't forgotten to pack my travel scale. When flying airlines with whom you don't have top status, it can be challenging to stay within the weight restrictions.
There was no line at Air Canada's Priority check-in counter, which Premium Economy passengers can use. I quickly made friends with the agent who was on her 35th year of working for Air Canada and she told me some of the horror stories about people showing up with either expired or damaged passports; she said to be sure not to get it wet or otherwise damaged. Unfortunately, my wife learned this the hard way when our then one-year-old ripped out the back blank page of her passport book, which immediately rendered it invalid. Here are 12 passport tips that will save you time, money and headaches.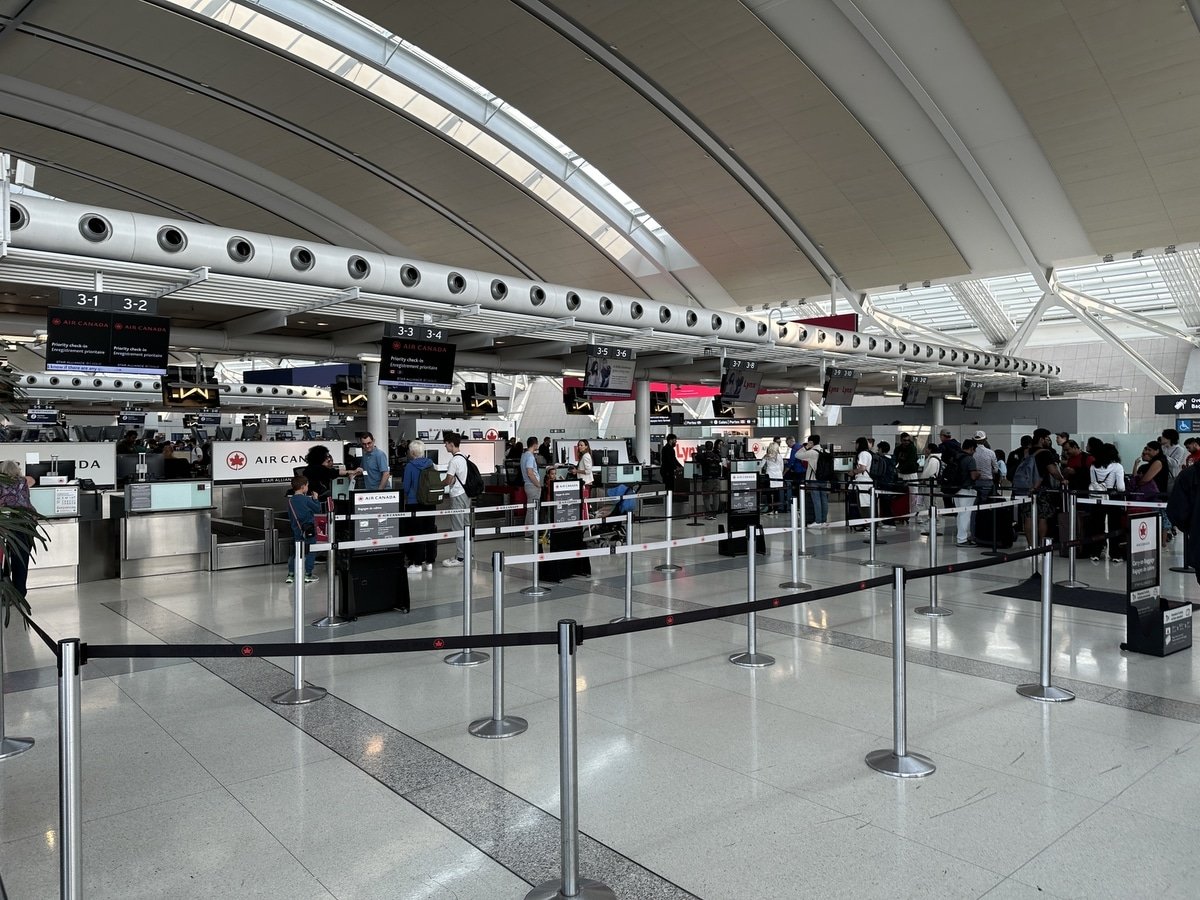 There was also no line at security for NEXUS cardholders. NEXUS is Canada's version of Global Entry, which not only gets you to bypass long immigration lines when you arrive in Canada but you can also use the faster and shorter security lines (similar to TSA PreCheck). Here's more info on NEXUS.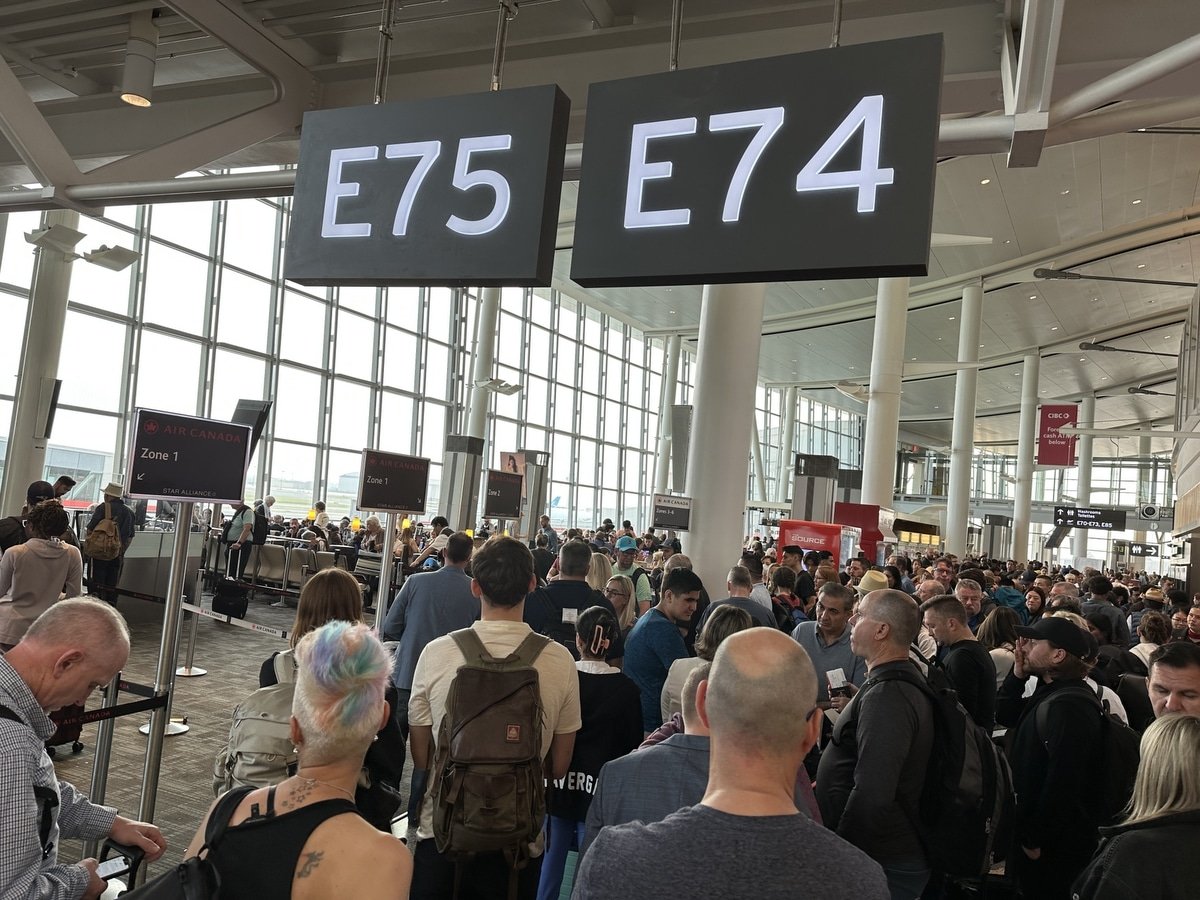 Our flight was going out of the E gates (E74), which was a crazy long walk. We were happy that we'd bought an inexpensive umbrella stroller for the trip because it's just too much walking for a three-year-old. It was actually too much walking for our six-year-old and me. We regretted not getting a bigger, better stroller where they can both sit, like this one, or a BuggyBoard, which attaches to a single stroller and allows a bigger kid to stand and get a ride when their legs get tired. 
Our kids were already complaining and we hadn't even left Toronto yet. My wife and I looked at each other and wondered, "What are we thinking going to Europe this summer?" That look happened again on the flight, which I will get to in a minute.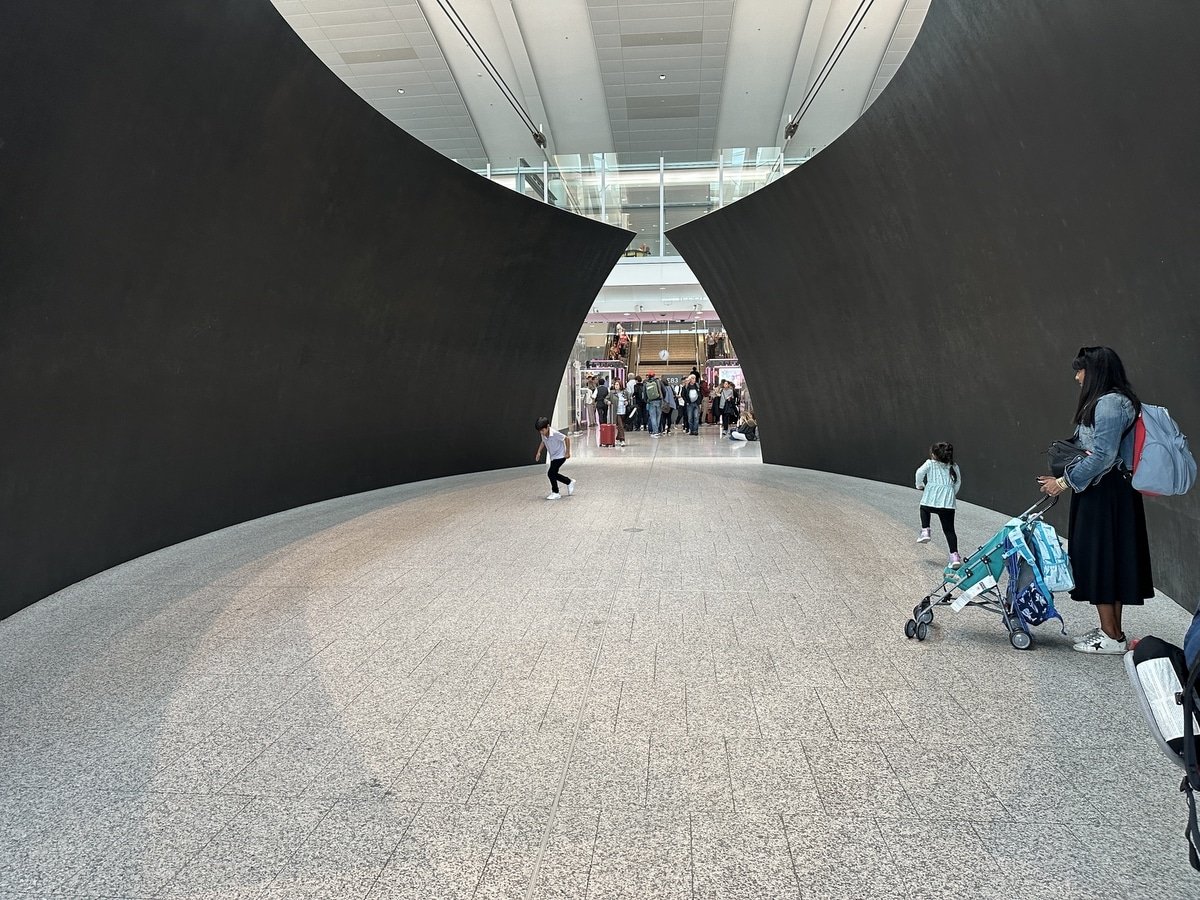 Things got better when we arrived to the gate. Across from our gate was a cool art installation called Tilted Spheres by Richard Serra. The kids loved running around it (suddenly they got a burst of energy) with other kids and testing out its echo capabilities. Tons of adults did the latter.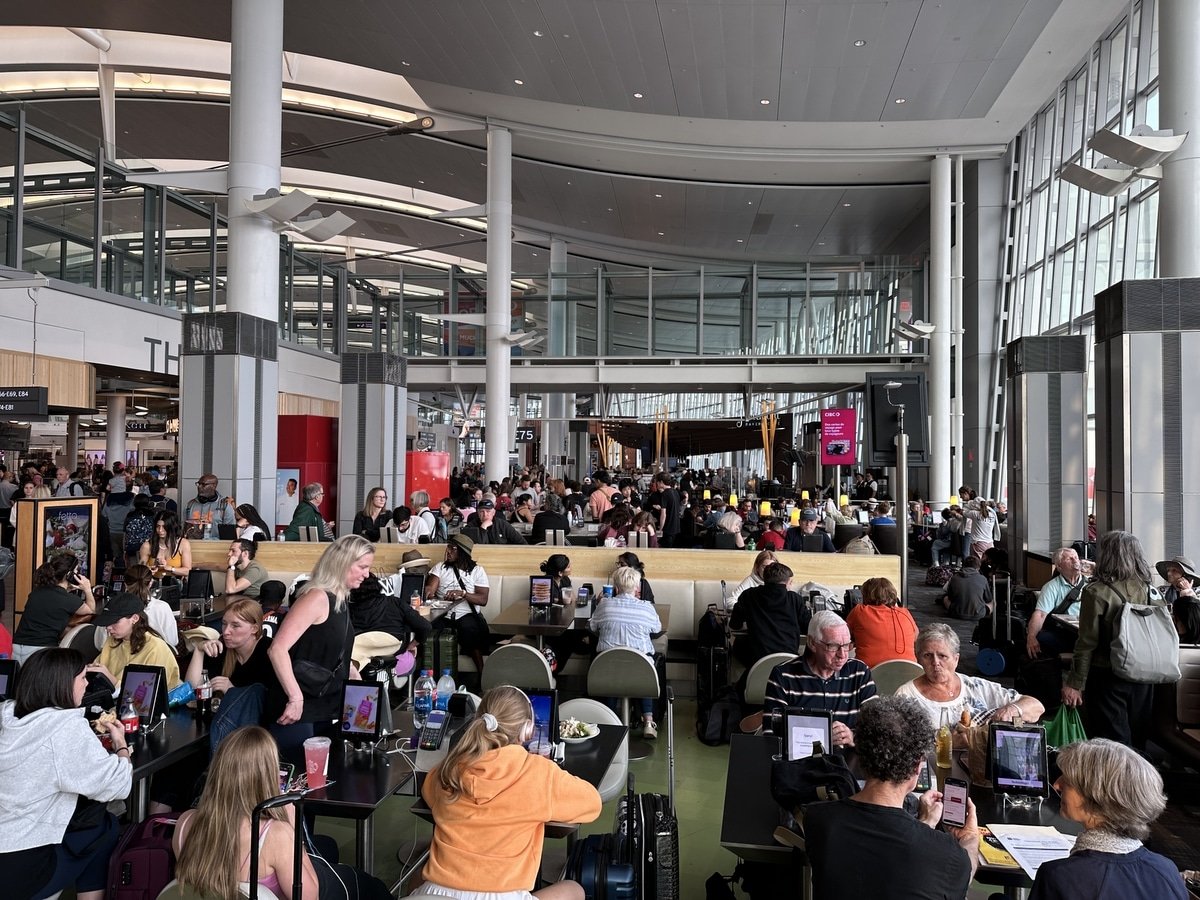 It was the perfect place to hang out because the gate area and restaurants were jam-packed.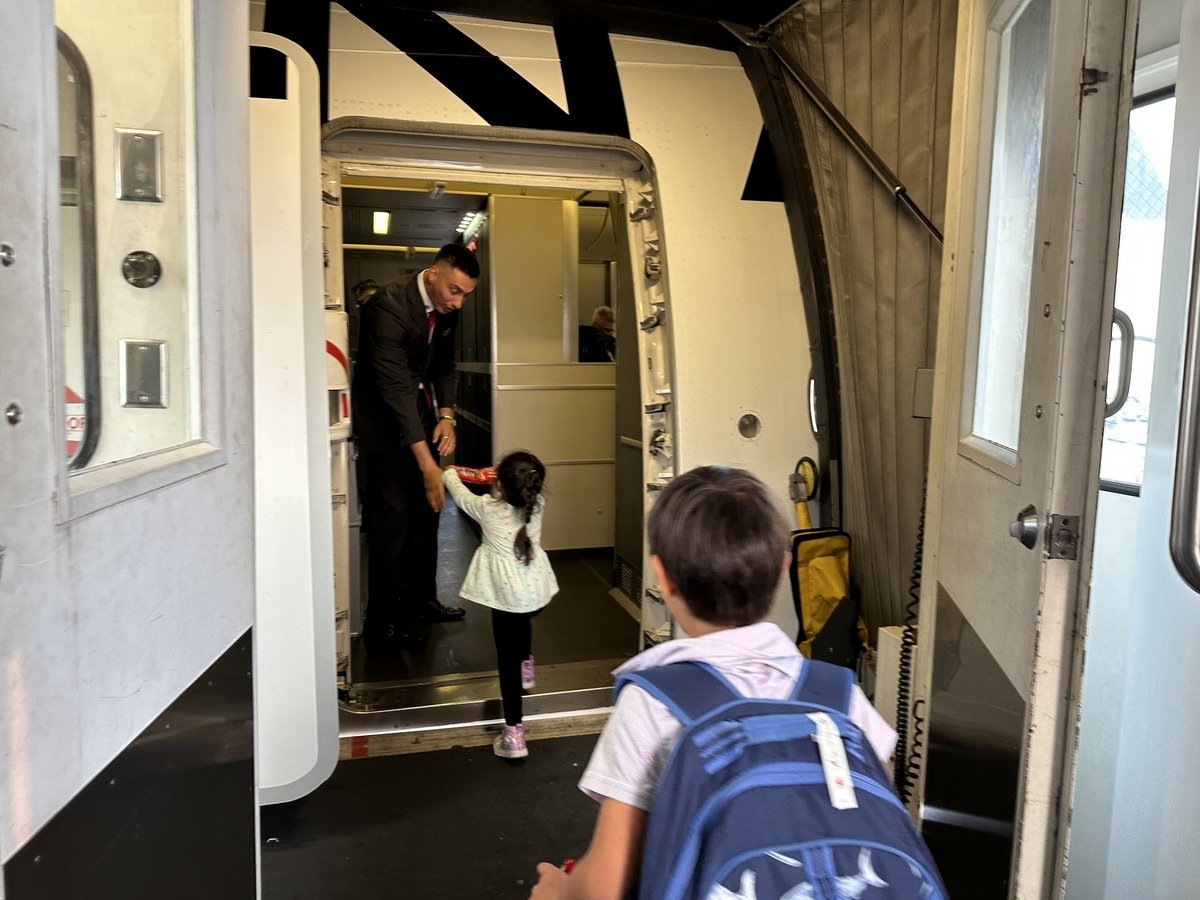 We boarded with Zone 2 at 7:38pm and the kids handed the flight attendants each some individually wrapped chocolates for them and the pilots. They were very appreciative and a couple of them were super nice.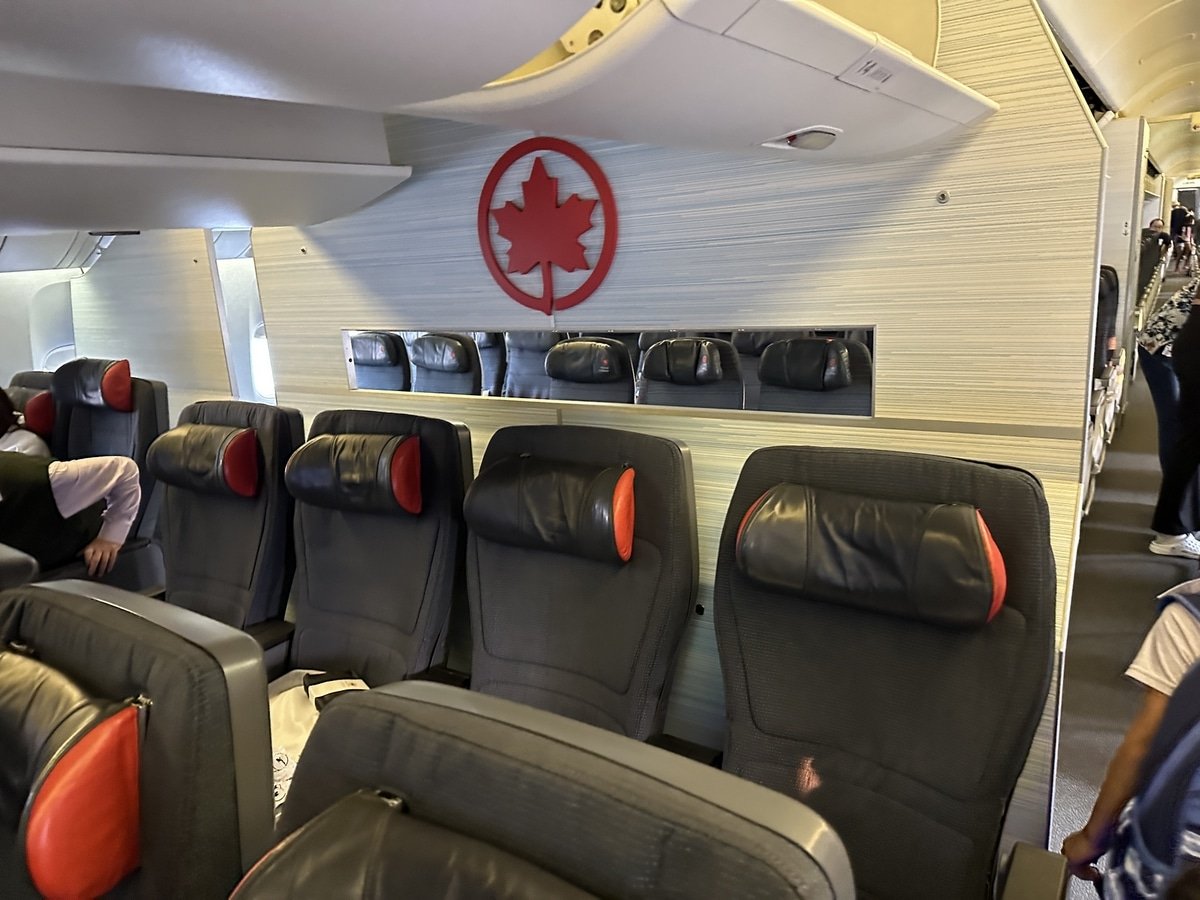 Air Canada's Boeing 777-300 has three rows of Premium Economy, which has its own cabin. Seats are configured 2x4x2. I assigned us the last middle row since the bulkhead was taken. That one has extra legroom but no floor storage.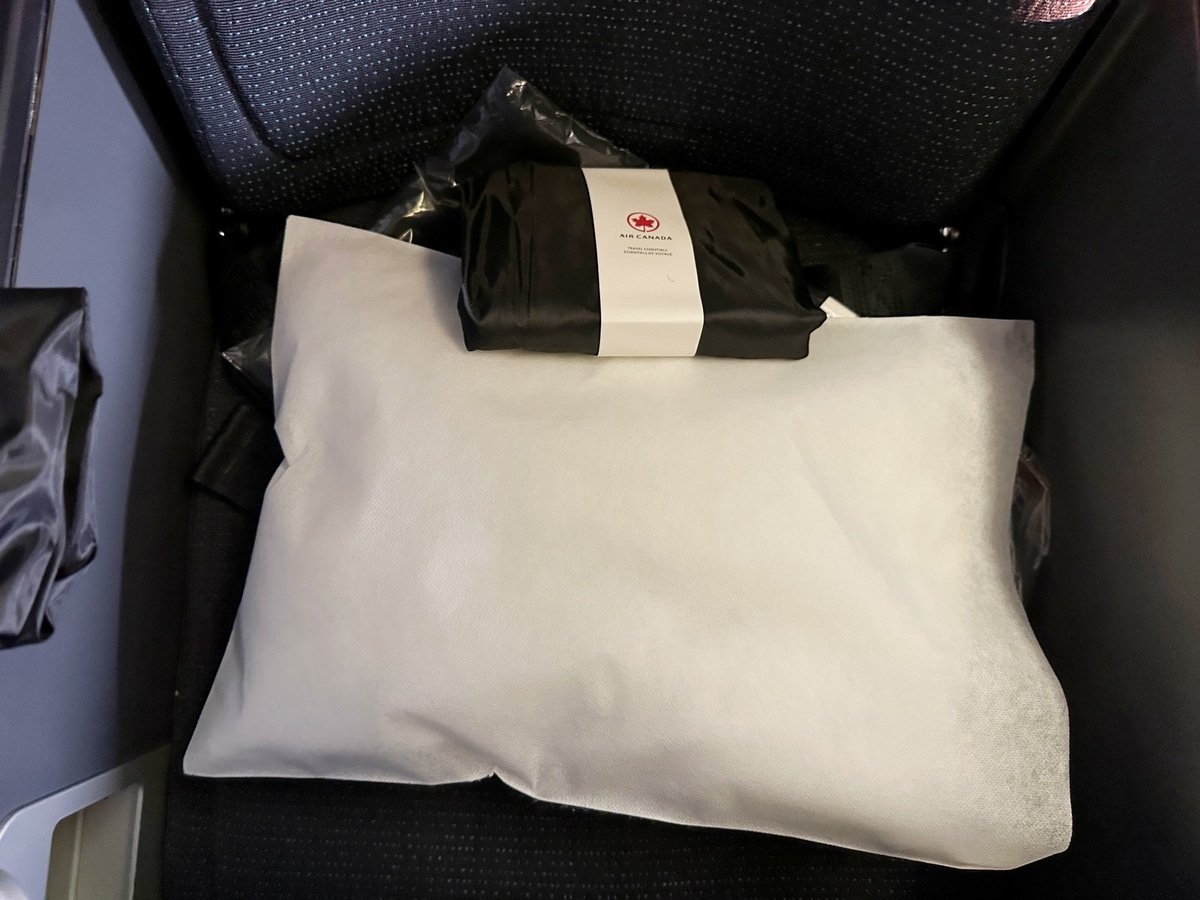 On the seat was a pillow, a blanket and an amenity kit. On the armrest were earbuds and in the seatback pocket was a bottle of water.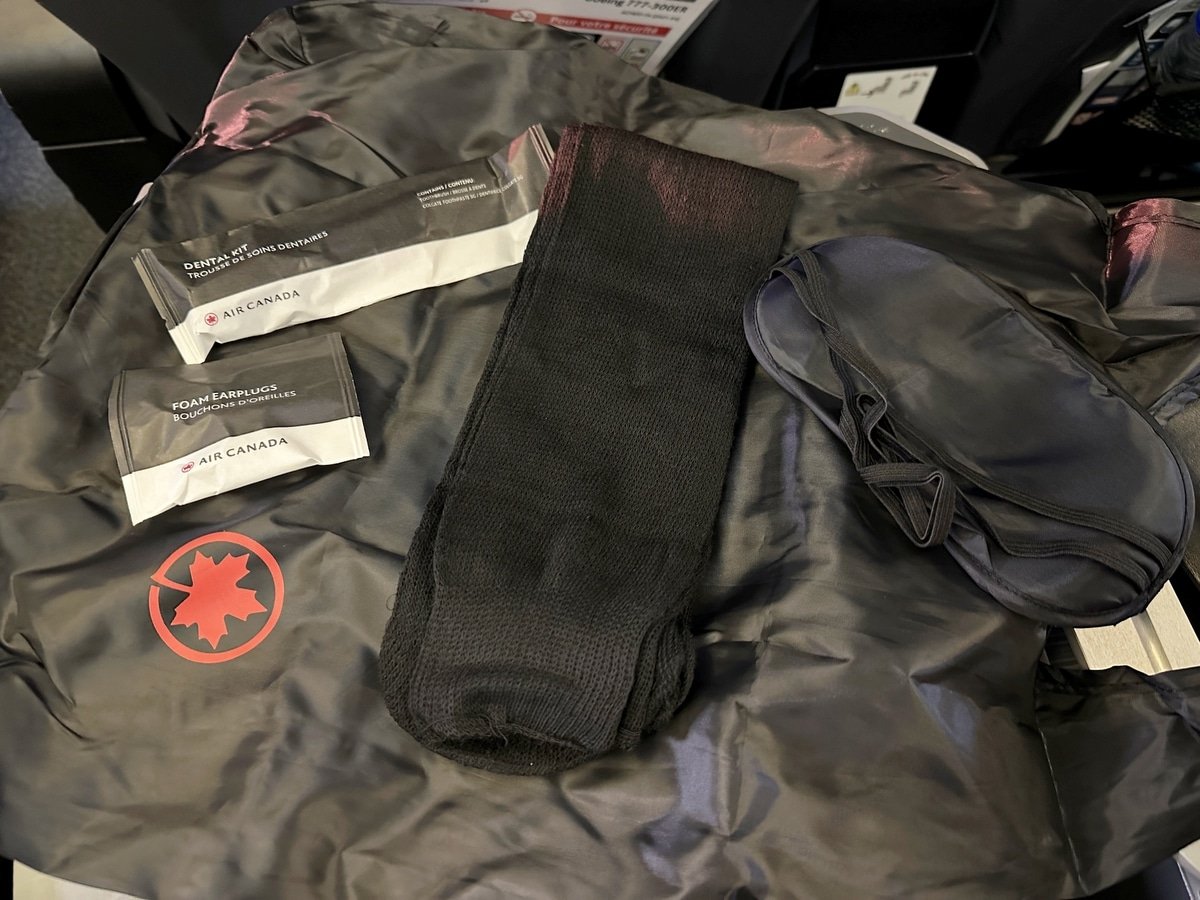 Speaking of the amenity kit, it contained ear plugs, an eye mask, toothbrush/paste and socks. I have to give Air Canada some credit for the cool kit which transformed into a reusable nylon carrier bag, something that comes in handy while flying and traveling. Each seatback has a hook for you to hang it so you have everything handy. I even saw one lady carrying one while we were touring the Vatican Museum.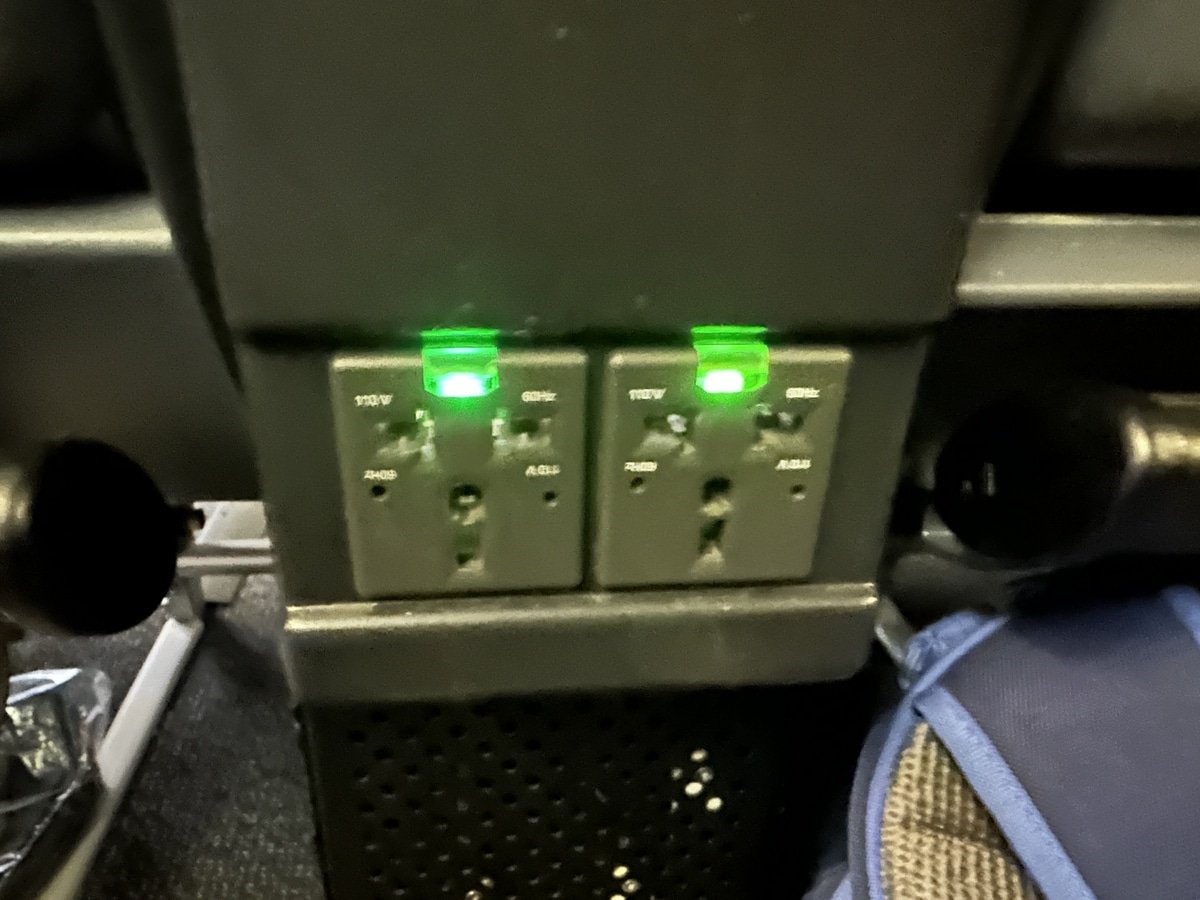 Each seat has an electrical outlet, USB port and leg rest.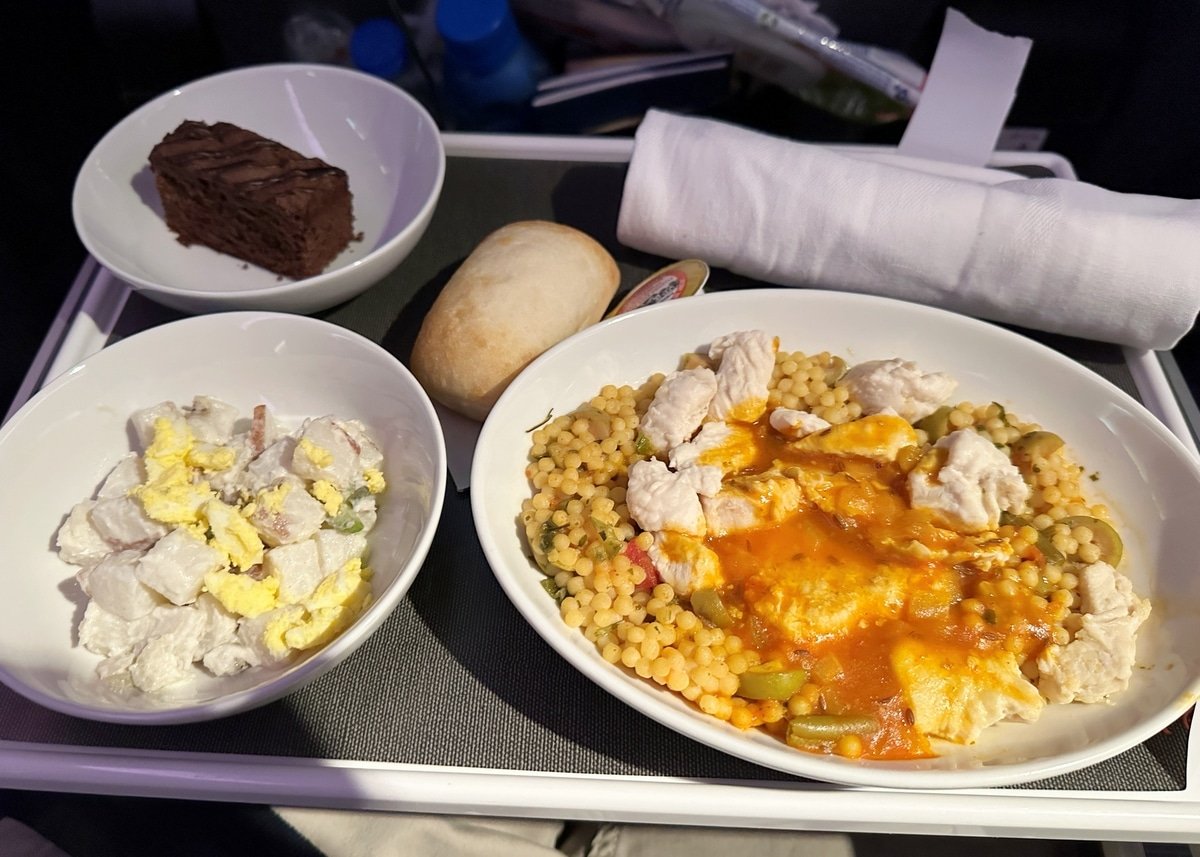 We pre-ordered our meals, which was a choice of either chicken tagine (pearl pasta, green beans, olives) or braised beef (mushroom sauce, potato). It came with a potato and egg salad appetizer and a brownie deluxe dessert.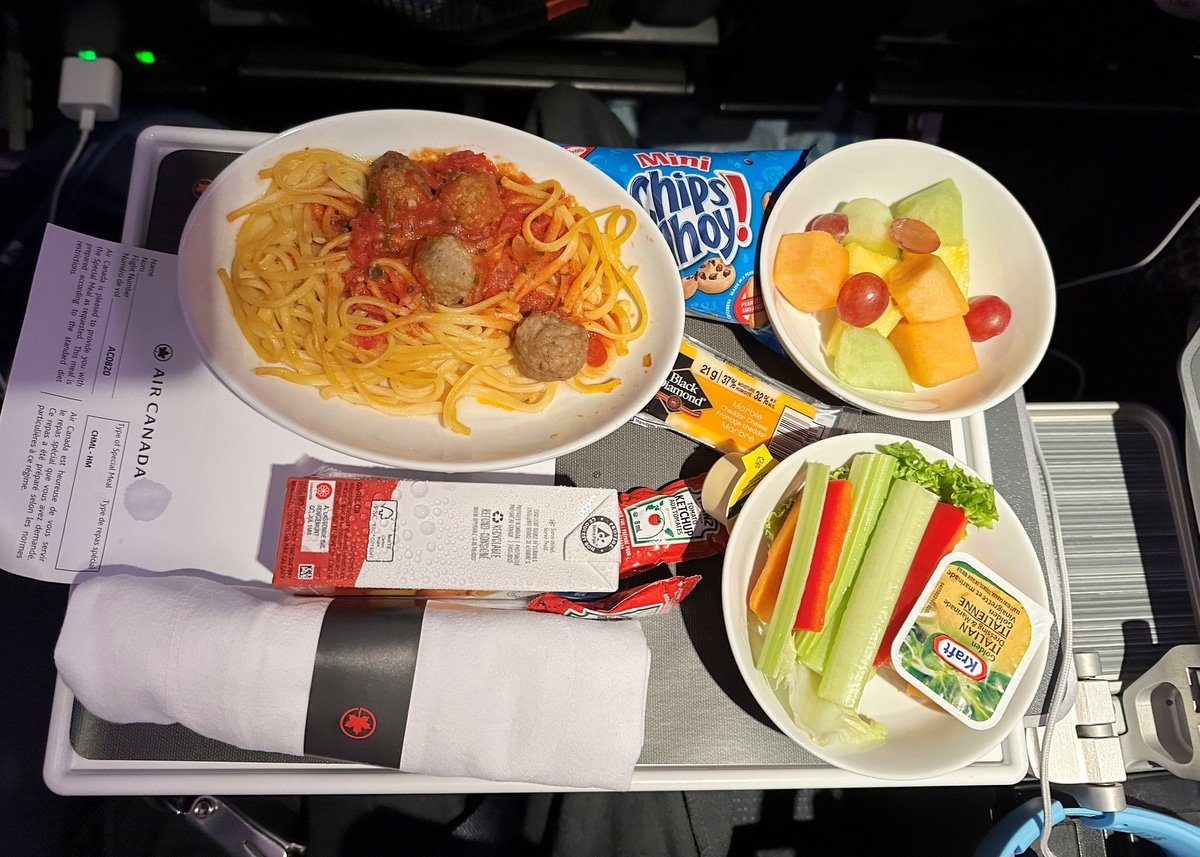 We also pre-ordered kids meals, which was spaghetti and meatballs, fruit salad, veggie sticks and a package of Chips Ahoy cookies.
Note: Air Canada states: "Meal availability is subject to change. We'll do our best to serve your preference, but we can't guarantee your choice." And that "meal pre-ordering closes 72 hours before departure."

The flight attendant confirmed our order and handed out menus to others. I could hear there was only chicken left and one passenger was not happy. They wanted their beef.
Most people on the plane were genuinely happy. You can't blame them. It's summer and they're heading to Europe. How lucky can they be?
We were 13 minutes late and pushed back at 8:53pm
We took off at 9:05pm. Flight time was 7:15.
The seatbelt sign went off six minutes later. I almost always use the bathroom at this time since it's at its cleanest and the flight attendants haven't come down the aisles with their carts, making it impossible. Then I can settle in for the next couple of hours.
Drinks were served at 9:30pm in glasses and were accompanied by a bag of pretzels. As for non-alcoholic beverages they had on board:
JUICES: Orange, apple, tomato, extra spicy Clamato
SOFT DRINKS: Coca-Cola, Diet Coke, Coke Zero, Sprite, ginger ale, tonic water, club soda, spring water
HOT BEVERAGES: Freshly brewed Lavazza regular or decaffeinated coffee. Tetley Orange Pekoe tea
Forty minutes later, dinner was served. Unfortunately, this is when things got stressful again. First, our daughter who rarely cries at home or on a plane, started bawling for about five  minutes just before dinner was served. She'd fallen asleep before takeoff. So my wife consoled her by holding her for three hours until the seatbelt sign finally came on and the flight attendant said Olivia had to go back into her seat. Fortunately, she didn't wake up.
But the real stress came when my son who has food allergies had an allergic reaction to the cantaloupe in his fruit plate. We were just about to cross the Atlantic when it happened. We gave him Benadryl (we always carry it) and after 20 minutes, he was fine. It was the only thing he took a bite of since he doesn't normally eat airplane food. It's just too risky.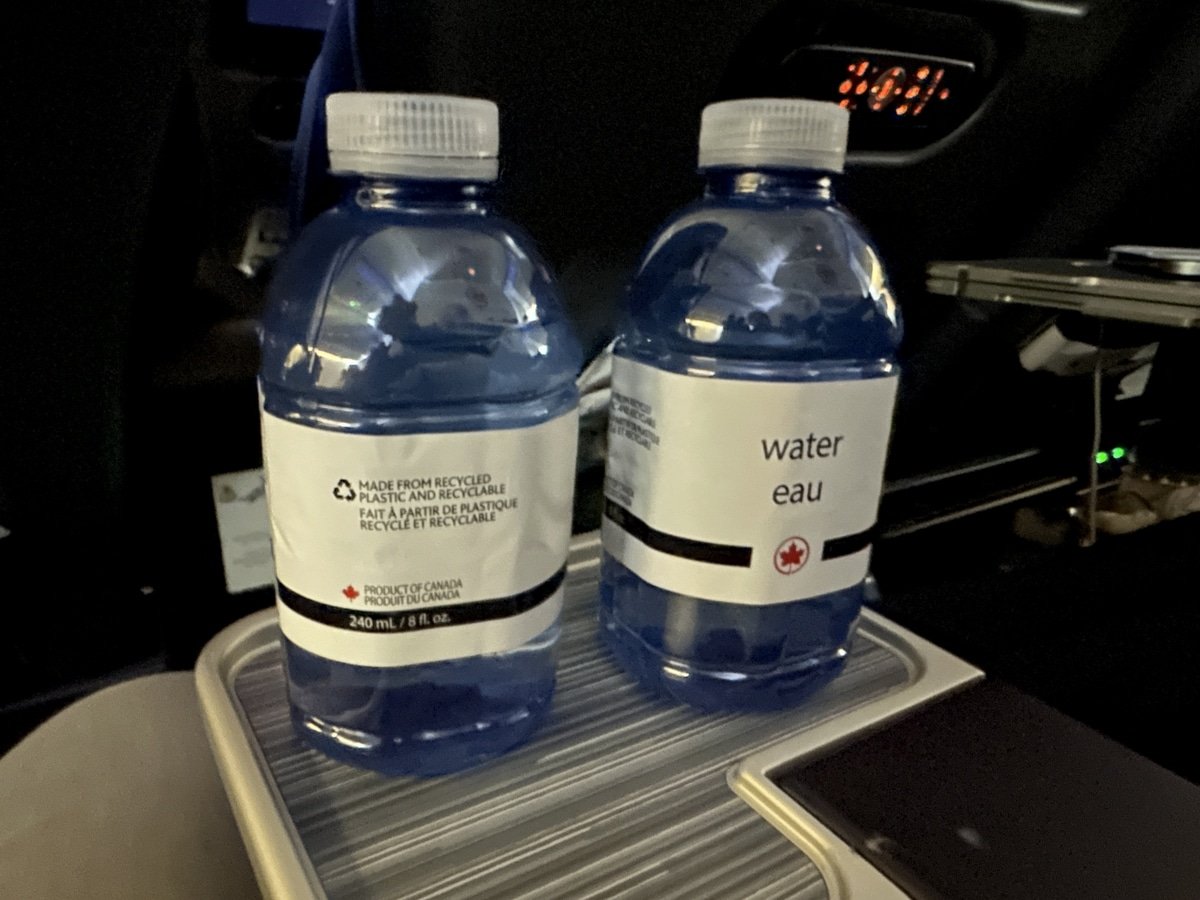 The flight attendants handed out mini bottles of water twice after the meal service.


An hour and 10 minutes before landing, they served a brown bag breakfast consisting of a croissant and yogurt.
The pilot got on the PA 40 minutes prior to tell us we were about to descend. The flight was smooth the whole way, with no heavy or even mild turbulence.
There was WiFi, which cost $10.75 CAD for one hour or $27.75 CAD for the whole flight. I didn't use it as I tried to sleep but I was too worried about my son.
Instead, I watched movies on the 10.4-inch entertainment screen.
What I like about Air Canada's entertainment systems is that you can set parental controls so there are no inappropriate movies and you can set a screen message for the flight attendants that alert them "Do Not Disturb", "Wake for Food Service" or "Wake for Beverage Service".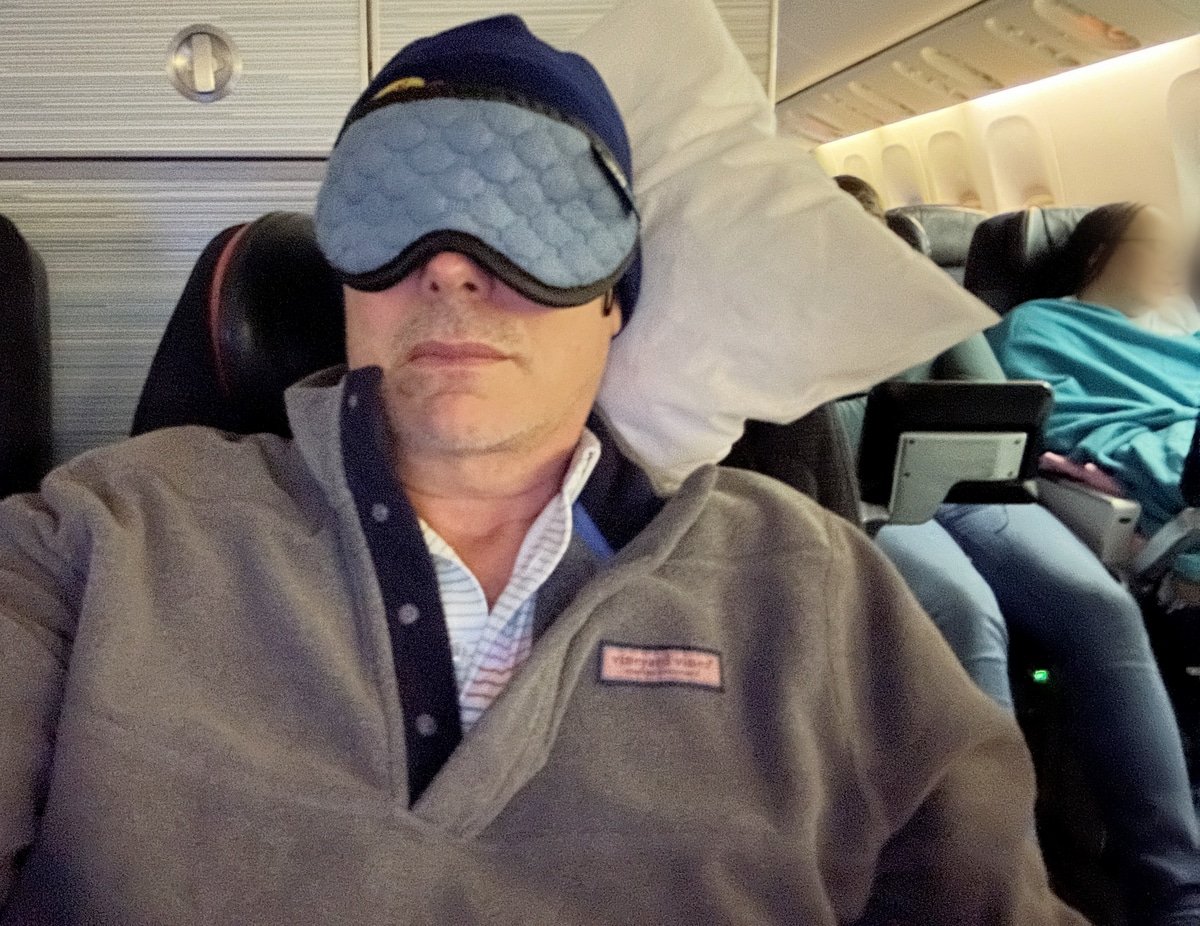 We landed at 10:40am local time and Olivia was so excited and wide awake. My son and wife were wiped. I was too since I didn't sleep more than an hour or two. BTW: My eye mask (pictured above) is super soft and comfy and only costs $8 on Amazon.


Despite being exhausted, I was so excited to be back on European soil. 
Fifteen minutes later, we were through Customs (the line was long but it moves quickly). Choose the far right line because if there's no one in the European passport holder line, they open it up to everyone else so keep an eye on it.
Our bags came out 10 minutes later and we then went through Customs, where there was no line.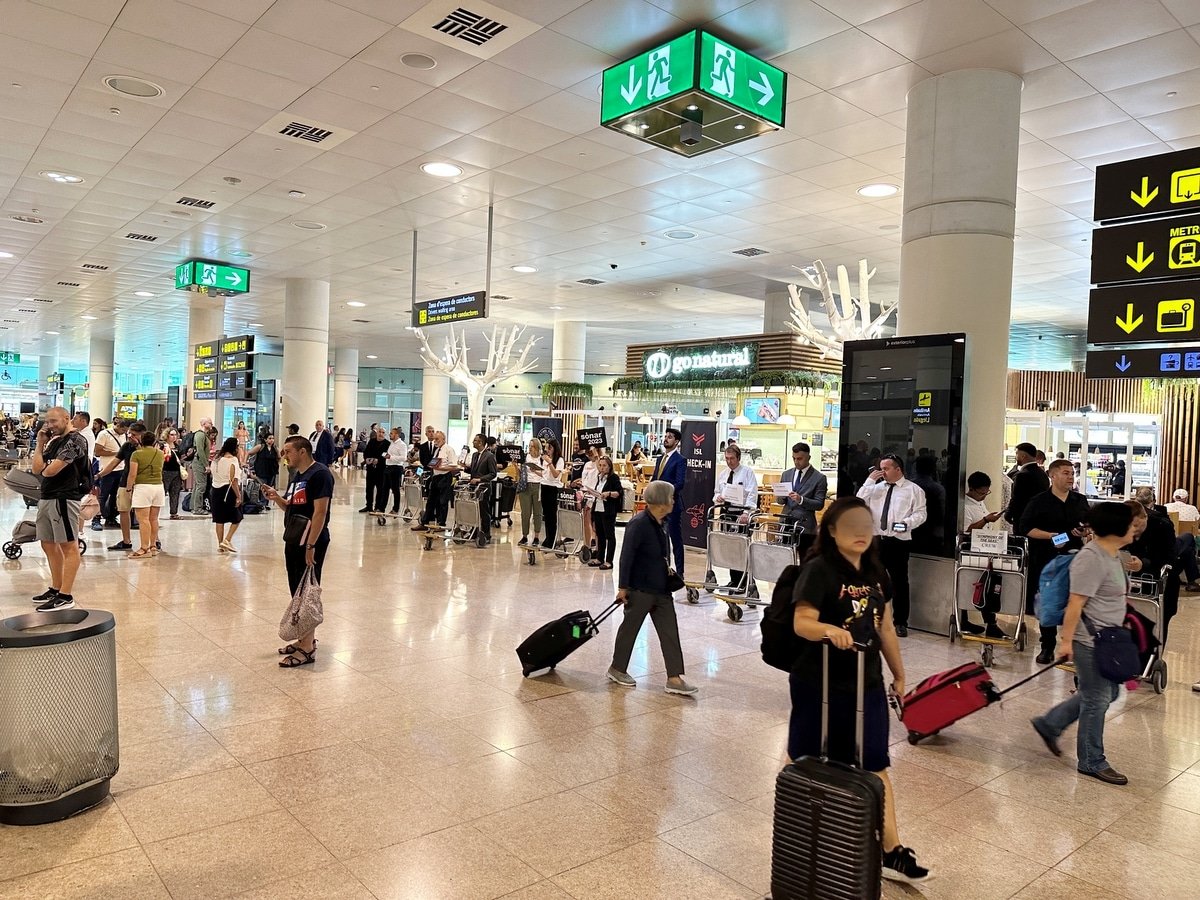 I looked for our Blacklane driver. I couldn't find him so I had to call.

Instead of booking a direct ride to our cruise ship, I hired him for two hours so we could drive to see some of the sights of Barcelona, which was well worth it.
Overall, I give Air Canada high marks for this flight.
RELATED:
–The Most Important Thing I Do When I Travel Internationally Is …
–Planning to Travel Internationally This Summer? You Better Do This Now
–True Statement: 'It's So Crazy That Your Passport Expires Before it Expires' – Here's What Every Traveler Needs to Know
–The 30 Best Souvenirs I Brought Home From Europe — and They Took Up Absolutely No Room in My Bag