Travel is pretty chaotic these days but if you're planning to get away, the last thing you want is to find out at the last minute that your passport is invalid or that you've lost it or that it's damaged or … the list goes on. Here are 12 passport tips that can help you avoid big headaches.
1. Check Your Passport's Validity
If you're planning to travel out of the country, find your passport and make sure it's valid. Remember: Many countries require that your passport be valid for at least six months after your arrival date before they'll grant entry to their country. It doesn't matter if you're only going for a day; if you don't have at least six months validity, you could, and probably will, be denied entry. Before you have to pay to expedite the process, renew or apply for a passport now. Here's how.
RELATED: Protect Your Valuables When You Travel With a Money Belt
2. Renew Early
According to the U.S. State Department, "Apply at least 4-6 months before planned travel. Due to limited availability for urgent travel appointments, we cannot guarantee you can receive in-person service at a passport agency or center. We are prioritizing customers with life-or-death emergencies. We do not charge a fee to make an appointment." As of October 29, routine processing is 8 to 11 weeks and expedite processing (for an additional $60) is 5 to 7 weeks.
FYI: On December 27, 2021, The State Department raised the fees for all new passports including renewals by $20.
3. Find Out If You Need a Visa
I've had countless friends show up to the airport only to be turned away from their flight because they forgot or didn't know they needed a visa. For Americans, the best place to find out if you need a visa is to log on to the State Department's website, where they provide country specific information for every country of the world. Here, you will find out whether you need a visa or not and other important information like the location of the US embassy and any consular offices.


4. Save Your Blank Passport Pages
Immigration procedures vary by country—and so do the sizes of the visas or stamps that are added to your passport. If you travel a lot, you may have noticed that some immigration agents will stamp your passport's valuable blank pages even if they don't need a whole page. If you're worried about running out of pages, you can cover blank pages with Post-It notes and, more importantly, ask the agents not to stamp on particular pages. Saving pages now could save you having to renew your passport sooner than you'd like.
5. Request Extra Passport Pages When You Renew
When you renew your passport, you can request 52 pages instead of the normal 28 for free, just by checking a box. This can save you time and a whole lot of hassles.
6. Consider Getting A Second Passport
If you travel internationally often and don't have time or want to risk sending your passport away to get a visa, then consider getting a second passport. This will save you time and money on expedited fees.


7. Don't Ever Put Your Passport in Your Back Pocket
I still see men carrying their wallets or passports in their back pockets. That is a huge no-no. First of all, it's easy to get pickpocketed when it's in your back pocket and secondly (and just as importantly) it's easier for your things to accidentally fall out this way. Just ask my wife about the time she lost her passport in Estonia. Always carry your money and valuables in your front pocket, where they'll be much safer. Keep in mind an authentic U.S. passport on the black market is worth roughly $13,500. You wouldn't put thirteen grand in your back pocket now, would you?
8. Always Look Twice
When you travel, always get in the habit of double-checking the back seat of a taxi, the seatback pocket on the plane and your hotel room for personal items. I can't emphasize this enough. So many people leave their phones, wallets and passports behind somewhere and it's a real pain to track them down—if you can at all.

9. Keep It Safe
Considering your passport is worth so much money on the black market, you really want to protect it. There are numerous ways to do this, from using a money belt to having a jacket with multiple pockets like Scottevest (buy on Amazon). A reader just emailed me the other day to say, "We lost our passports on the metro in Paris to pickpockets. Since then, we have followed the advice given by people at the U-S Embassy in Paris. Never carry your passport unless you are crossing a border. Just keep it in a safe place but don't carry it around. What is a safe place? Depending on where you are, the answer to that question can get interesting."
10. Add Small Color-Coded Stickers to Passports
This tip comes from reader Karol H., who says: "I am a retired flight attendant. When traveling with my family of five, I am 'in charge' of the passports. With multiple stops on international flights, it's a pain to keep track of whose passport is whose, opening up to get through security and handing out each passport with paperwork, customs forms, etc. So, I put a tiny circle sticker (color-coded and featuring the first initial of each person) and stick it on the back cover of each passport. No more fumbling around, opening up five passports and trying to figure out which passport belongs to which person while rushing through lines. One quick glance and problem solved!"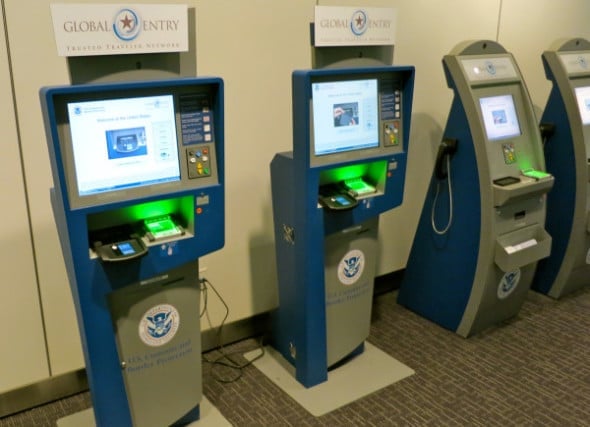 11. Get Global Entry
If you get my weekly newsletter (sign up here), then you know I'm a huge fan of Global Entry. If you travel internationally at all (and especially if you do it frequently), it really pays to get Global Entry as it gives you expedited processing through CBP (U.S. Customs and Border Protection) at airports and land borders upon arrival in the U.S., as well as TSA PreCheck for only $100. Plus, it's good for five years. (Tip: If you have the American Express Platinum card, pay with that as they will reimburse you the fee.) The best part is that I never have to wait more than a few minutes to go from the plane to the airport exit, which in the past, could take over an hour. The second-best part is that I never get U.S. stamps clogging my passport pages so I don't have to renew my passport much earlier since we can no longer add passport pages.
FYI: If you travel to and from Canada often, an even better deal is to get NEXUS. It's basically the same thing as Global Entry except for Canada, and it also includes Global Entry and TSA PreCheck. The cost: $50 for five years. The downside is that you need to have your face-to-face appointment in Canada or one of their enrolment centers near the Canadian border, like Seattle or Niagara Falls.
12. Use an Expediter 
If you need your passport right away and don't want to deal with waiting in lines and you can afford it, then use an expediter. There are plenty of companies to choose from and I've used several over the years. The last one was PassportsandVisas.com.
So there you have my 12 passport tips will save you time, money and headaches. Let me know if you agree, disagree or if you would add anything else.
Save
Save
Save