If you subscribe to my free daily travel tip newsletter or listen to my travel segment on Leo Laporte's The Tech Guy every Saturday, then you know I'm always touting Global Entry and TSA PreCheck. Global Entry is arguably the best thing to to international travel since lie-flat seats. The expedited customs clearance program began in 2008, costs $100 for five years and is for pre-approved low-risk air travelers entering the United States. It's available to U.S. citizens, U.S. lawful permanent residents and eligible citizens from the following countries: Argentina, Brazil, Colombia, India, Germany, Panama, Singapore and the United Kingdom.
TIP: Here's How to Get TSA PreCheck & Global Entry Access for Free
It's currently available at 59 U.S. airports and 16 pre-clearance locations in 6 countries: Dublin and Shannon in Ireland; Aruba; Freeport and Nassau in The Bahamas; Bermuda; Abu Dhabi, United Arab Emirates; and Calgary, Toronto, Edmonton, Halifax, Montreal, Ottawa, Vancouver, Victoria, and Winnipeg in Canada.|
The only thing better than Global Entry is NEXUS, which is for American and Canadian travelers who frequent both countries. This expedited travel program is for air, land and sea border crossings along the northern border through a partnership between the Canadian and U.S. governments and enforced through the Canada Border Services Agency (CBSA) and U.S. Customs and Border Protection (CBP). What makes it better than Global Entry is that it only costs $50 for five years and includes Global Entry and TSA PreCheck. The only downside is that once you've been conditionally approved for NEXUS, you have to make an appointment at one of the CBSA and CBP joint locations, which are along the U.S. / Canadian border, unlike Global Entry, which is available at most major U.S. airports.
You may not qualify if any of the following apply …
-You provide false or incomplete information on the application.
-You have been convicted of any criminal offense or have pending criminal charges to include outstanding -warrants (including driving under the influence).
-You have been found in violation of customs, immigration, or agriculture regulations or laws in any country.
-You are the subject of an investigation by any federal, state, or local law enforcement agency.
-You are inadmissible to the United States under immigration regulation.
-You have waivers of inadmissibility or parole documentation.
-You cannot satisfy CBP or Canada Border Services Agency of your low-risk status or cannot meet other program requirements.
The pandemic really threw a wrench into the program as NEXUS offices were closed for interviews. But as Micah Engber pointed out in a guest post: "As of November 29, 2021, Nexus interviews are again being offered, but only on the US side of the Canadian border. There are ten US locations in total, one location each in the states of Maine, Minnesota, Montana, New York, North Dakota, Vermont, and Washington, plus three in Michigan. You can find them all here. Unfortunately, the twelve locations on the Canadian side of the border are still closed until further notice."
As of June 26, 2022, the Canadian-side offices are still closed and according to one of their agents, they don't know when it will re-open. When I asked why the Canadian side is still closed he said, "Staff shortages and for political reasons." Not sure what the latter means but I do know it's not easy to get an appointment in popular locations like Niagara Falls, New York. In fact, they're booked up for the remainder of the year.
The trick is to keep checking for available appointments, which is what I did and was fortunate to find one at the Niagara Falls location. TIP: If you really need to get an appointment and are willing to travel, then check all the U.S.A. locations. The Maine one usually has appointments within a couple of weeks since it's sort of in the boondocks.
Niagara Falls, NY is just a 90-minute drive from Toronto (where I'm spending the month of June since my wife's family is from here and she hadn't seen them during the pandemic). It's an easy day trip but we made a fun two-day getaway out of it.
My appointment was for 2pm on a Tuesday so after checking traffic conditions and border wait times online (there was no traffic), we left at 10:45am to give ourselves plenty of time; if you're late or miss the appointment you're pretty much screwed.
There are multiple border crossings and my directions via Waze were to cross the Queenston Lewiston Bridge. Just before crossing, I made a pit stop at the last exit in Canada to use the loo at the Duty Free shop.
From there, it's just a minute to the border crossing, which had a very short line and all we had to do was show our passports.
The officer took a minute and the longest part was waiting for my wife to find her green card.
We had 90 minutes until the appointment so we went to my wife's favorite U.S. store, which they no longer have in Canada … Target.
Target and a slew of stores are just four miles away from the NEXUS office and afterwards, we made a quick stop at one of my favorite grocery stores, Wegmans. They don't have any in California and I always used to go to the one in Erie, Pennsylvania when my sister lived there. We grabbed a couple slices of pizza for the kids and split an enormous meatball grinder ($13.99) and some cherries.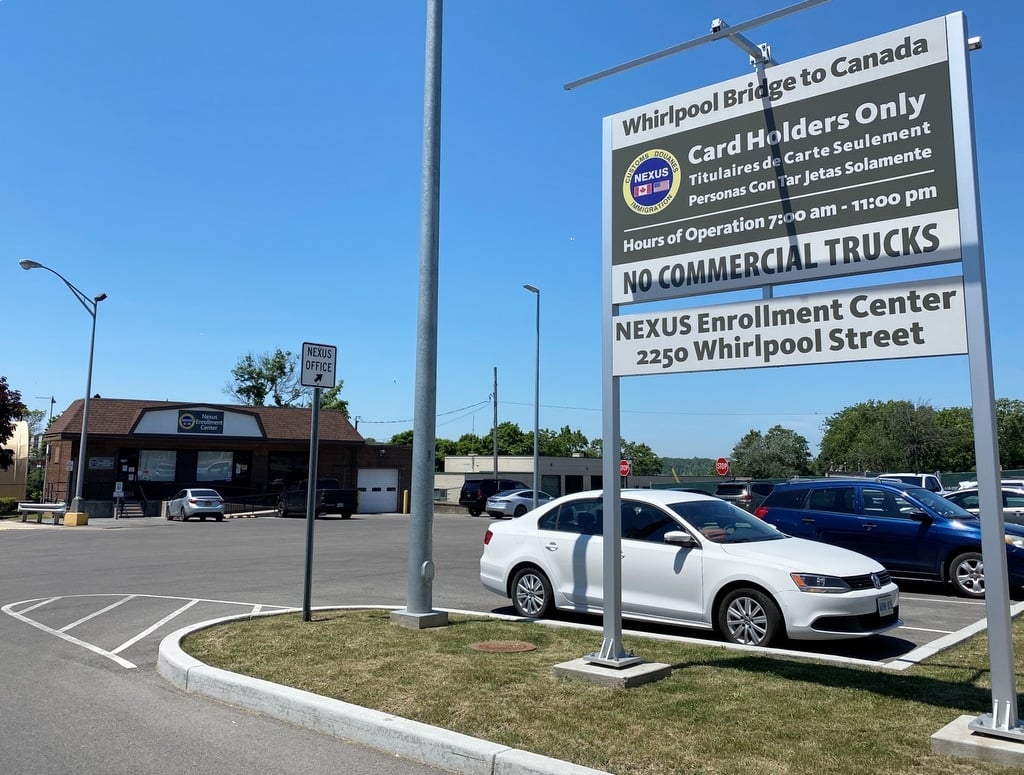 We arrived to the NEXUS building 25 minutes early and ate in the car. The 'special instructions' in my confirmation email read: "To limit any potential exposure to COVID-19 and to comply with CDC recommended guidelines the following procedures will be STRICTLY adhered to: 1) Only those with scheduled appointments will be allowed to enter the enrollment center. 2) A surgical mask or other CDC approved face covering is MANDATORY to enter the Enrollment Center. 3) You MUST wait in your vehicle until your scheduled appointment time. NO EXCEPTIONS 4) You MUST bring proof of citizenship (NO COPIES) with you to your interview. For Global Entry applicants this MUST be a valid passport. 5) You must schedule an appointment for each applicant in your family or domicile. If there are not enough appointments available on a particular day to accommodate the members of your family, then you must select another day. Appointments are not required to be in sequential time slots, you may come in at any one of the appointment times. 6) If ever arrested, you must bring original court documentation for each arrest that clearly shows the charge and disposition of each charge. 7) Applicants who require a visa must provide a valid I-94 at the time of interview, this includes those participating in the Visa Waiver Program. 8) Children under 18 must be accompanied by a parent or guardian. NOTE: If the interview is for a child under the age of 18 AND the child does not reside with both parents or legal guardians; then the other parent or legal guardian must sign a letter of consent agreeing to the minor's enrollment in the Trusted Traveler Program. To expedite the interview process, please email XXXX to obtain a copy of this consent in advance. In cases of sole custody or if only one parent is recorded on the minor's birth certificate, the parent or legal guardian does not require a consent letter but must provide proof of sole custody agreement or long form birth certificate."
Since NEXUS's instructions said to wait in the car until it's time for your appointment and to wear a mask, I did. But on the entrance door there was a sign that read you no longer need to wear one and no one working there had one on. Only a couple of applicants had theirs.
I almost canceled my appointment because I didn't have my original birth certificate. I also hadn't printed my appointment confirmation. I was worried they wouldn't let me do it but the woman behind the desk was very sweet and said I only needed my passport and NEXUS card (for people reapplying).
She gave me a form on a clipboard to read everything and sign-off. I then asked the nice lady the secret to getting appointments because you can't get one online and she said to just keep checking but most people cancel the night before.
I then told her I really wanted to get my daughter an appointment because she's the only one in our family who didn't yet have a NEXUS card. She asked if she was conditionally approved and I said yes. She suggested I ask the officers if they would do it since she's a minor and it's a quick add. I ran out to the car to tell my wife to be ready just in case the officer said yes and by the time I popped back into the office, the woman at the front desk informed me that she'd asked and they agreed. Score! What a relief since security lines and immigration lines in Canada are so long that having NEXUS could save you hours.
FYI: I heard the receptionist tell a drop-in that they don't take drop-ins.
They were running about 10 minutes late and only had seats for 7 people. They photographed me and my separately and then I brought her back to my wife who took her outside while I got fingerprinted. Minors don't need to. The fingerprint machine is a little different than the one CLEAR used to have as you don't have to press down so hard down. And you also need to touch the bar on the bottom scanner bar with the palm of your hand, which for some reason, took me a couple of tries to comprehend.
After being fingerprinted, I sat back down for about five minutes until I got called back to a room with a nice CBP agent who asked me a few questions. She confirmed all my information and asked if I've been arrested and so forth.
I sat back down in the lobby until I met with two Canadian agents who were cool and told me the rules and said the next time I fly into Canada, I will see a kiosk like the photo he was holding up and explained that they no longer do iris scanning. They now do facial recognition so the first time I use it, they will capture my metrics and on subsequent visits, I won't have to use that machine. It will be an e-gate like you see at some major airports, including London's Heathrow.
I was told that my new cards will be mailed in the next few weeks but my old card is still good until I activate my new one when it arrives. They also said my daughter should be able to use the NEXUS security lane when I fly out of Toronto next week because it's just to cut the security line and Olivia now has Global Entry and you just need a passport for that. Not a physical card.
We drove back across the border but this time over the Rainbow Bridge (not sure why they don't paint the side of the bridge like a rainbow as it would be a huge hit on social media), to go to our Niagara Falls hotel.
That took about 15 minutes because there was a little bit of a wait at the Rainbow Bridge. First, you pay a toll of $4 USD ($5.50 CAD). Then you go over the bridge and through border patrol.
I'll share my review of Niagara Falls, Canada next week since it's so much better than Niagara Falls, New York.
Good to Know:
–Canada to U.S. border wait times
–Border wait times: United States to Canada
Other random questions I asked: My son's NEXUS expires in September. Can he still use it when we come back for Christmas? The answer is yes, as long as he reapplies before it expires. Then it's good for another two years because of Covid.
My wife's renewal application has been pending for months. How long until it gets approved? They didn't know but said as long as she reapplied before it expired, she'll be good to go.