If you're following along with our epic family trip to Europe, then you know that this trip all came together at the last minute. Part one was an introduction and a trip report of Air Canada's Premium Economy. Here's part two about our cruise on Enchanted Princess. RELATED: Going on a Cruise? Be Sure to Bring This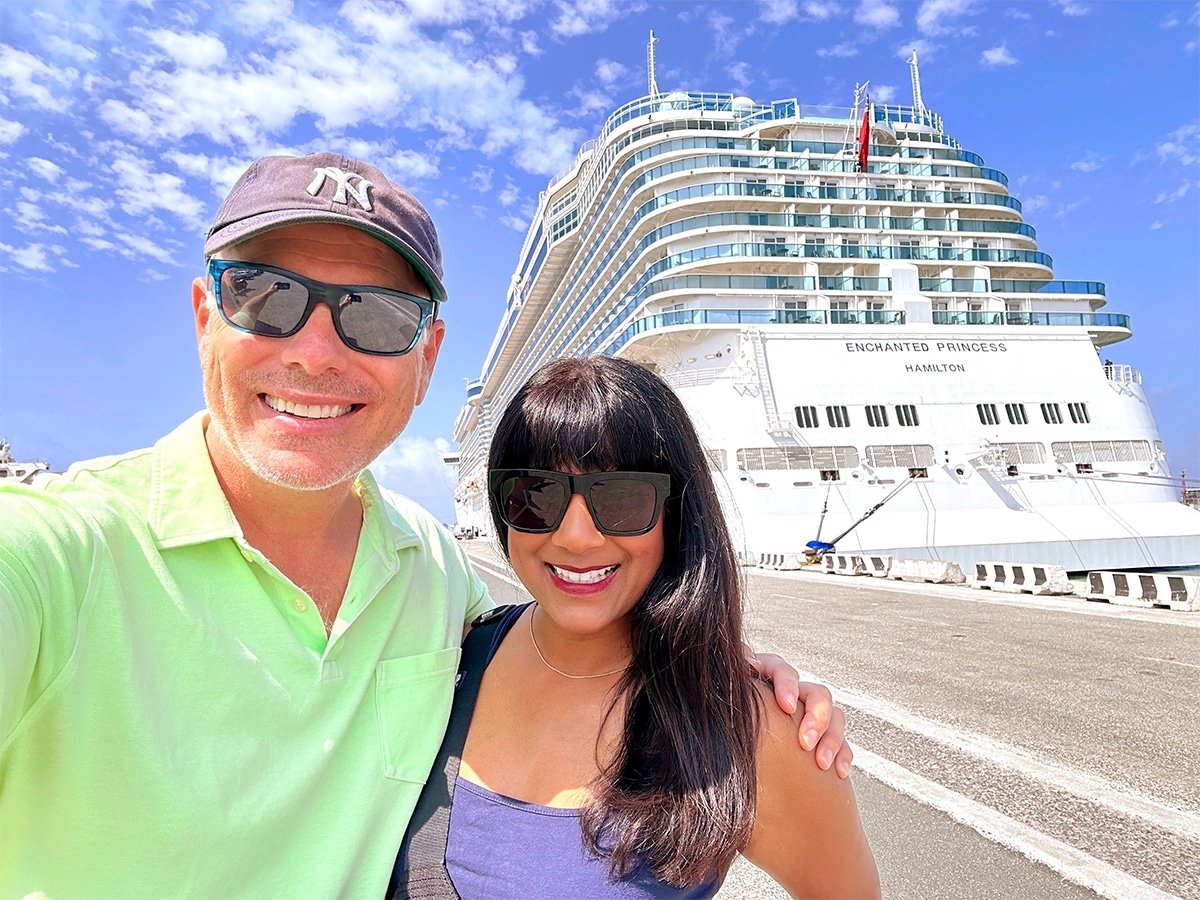 This post contains references to products from one or more of our advertisers. We may receive compensation when you click on links to those products. For an explanation of our Advertising Disclosure, visit this page.
Exactly two weeks before departure, I purchased plane tickets and a cruise package, both on the same day. As I mentioned earlier, Princess Cruises offered me a family and friends rate, which was about 40% off so it was a no-brainer. The problem was trying to find space available. Cruises are packed this summer, especially in Europe.
We were first looking to cruise in July but everything was sold out. But when I looked at mid-June, I spotted a couple of open cabins for the itinerary (below) we wanted, so I jumped on it.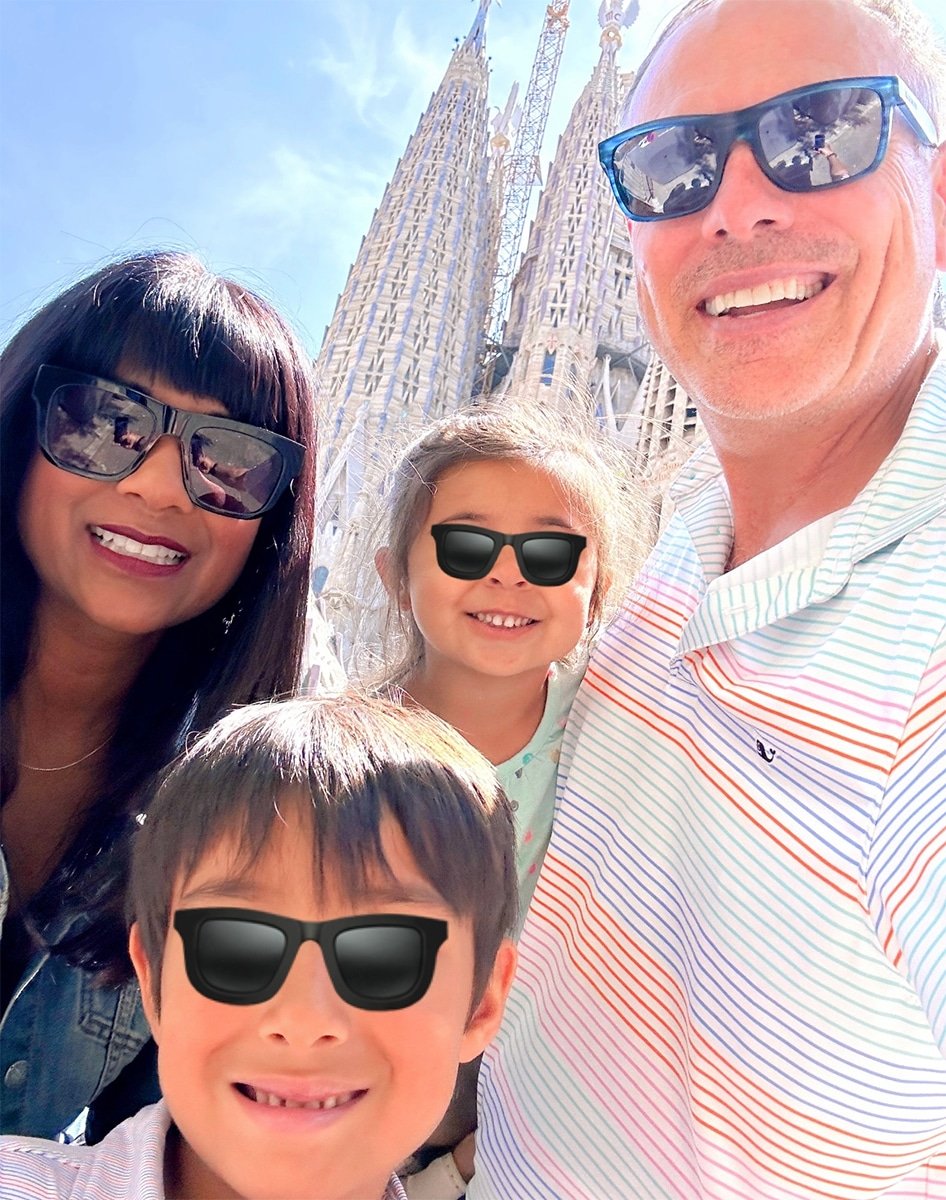 June 17 Barcelona, Spain
June 18 At Sea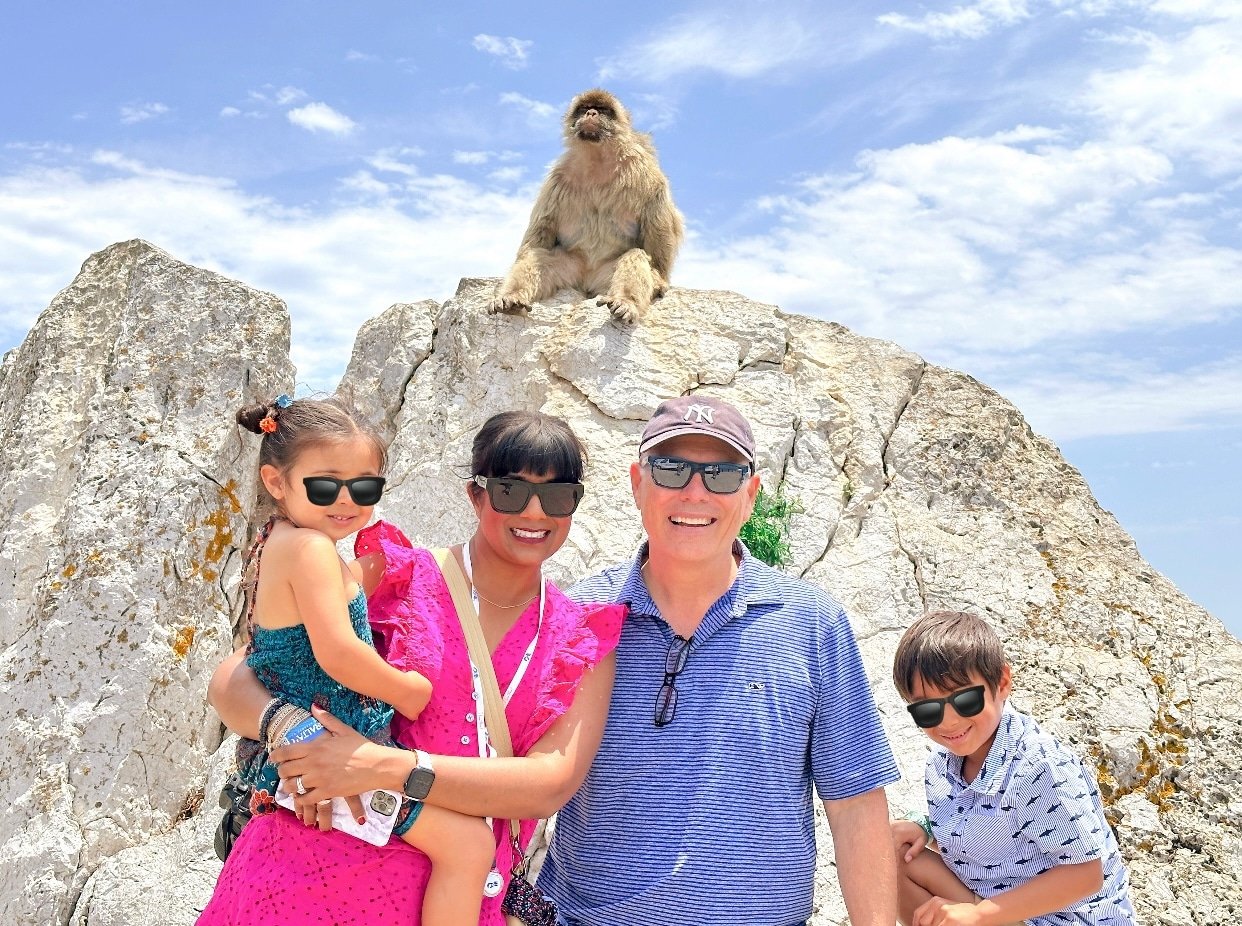 June 19 Gibraltar, United Kingdom
June 20 At Sea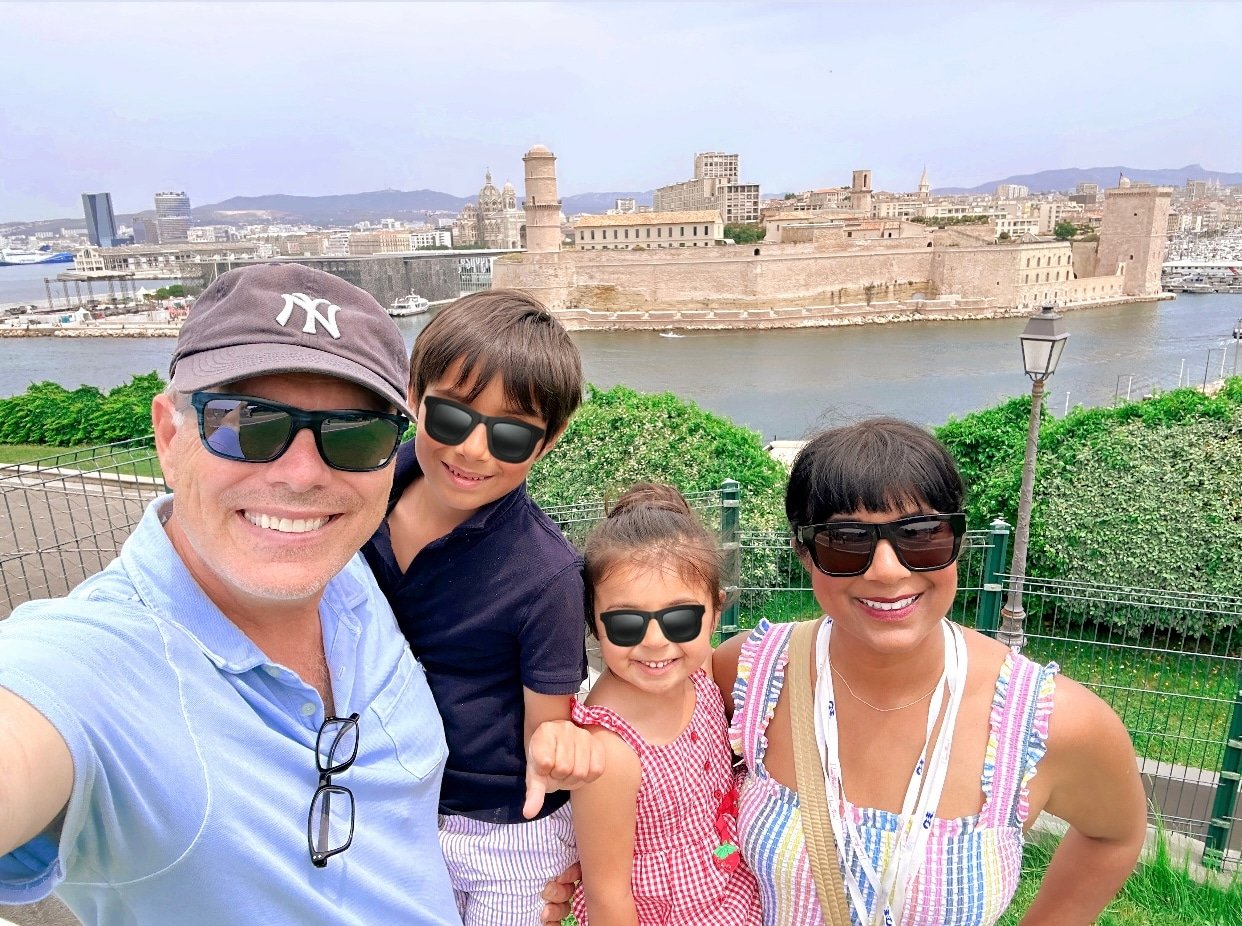 June 21 Marseille, France



June 22 Genoa, Italy
June 23 Livorno (Florence/Pisa)



June 24 Civitavecchia (Rome)
To make it even more alluring, there were a couple of Mini Suites available, which makes sense for a family of four. One of them just happened to be located on the Lido Deck (Deck 16), which is near the pools and some restaurants. I thought that would be ideal since my kids are always hungry and would want to spend a lot of time at the pool, but my wife was worried about the noise. Turns out it was the perfect choice; we loved the proximity to the pool and there was no outside noise.
Speaking of worrying … both my wife and I had our worries about the whole trip, our first big international trip with two little kids (ages six and three). First of all, would they like cruising? Or would they want to get off the ship? Would they get seasick? How would we manage our son's food allergies? These things and more weighed on our minds.
I'm relieved to report that we all absolutely loved our trip. It was arguably our best family trip to date and that's saying something since we've been fortunate to travel often and to some of the best resorts in the world.

Cruising really made travel with two little kids easy. We could see multiple destinations without having to constantly pack and unpack and there was all-day access to food, which is a big thing when you're traveling with kids who get hungry at all hours (especially when they're jet-lagged). There were plenty of activities for everyone and a kids club that our kids loved.
This cruise reinforced my belief that cruising is by far the best and most economical choice for family vacations and reunions. And Princess made it even better. So without any further ado, here are 22 reasons to sail on Enchanted Princess.

1. The ship is new, large but not huge
Enchanted Princess made its debut on December 13, 2021 and is the company's fifth Royal-Class ship. I was fortunate to attend the naming ceremony of the first one, which took place in Southhampton, England. Princess Kate christened the Royal Princess.
Although Enchanted Princess is huge, it's not a monstrosity like some other ships. This one can hold 3,660 guests in its 1,830 guest staterooms and employs 1,346 crew. The length of the ship is 1,083 feet (330 meters), the height is 217 feet (66.1 meters) and there are 19 decks. FYI: The ship's maximum speed is 22 knots.

2. Almost all cabins have a balcony
The beauty of new ships is that almost all of the cabins have balconies so you don't have to worry about not having fresh air or having a small window that doesn't open (like the very first cruise I went on three decades ago.)
On Enchanted Princess, only the 340 inside cabins don't have balconies (or windows), which is why they're priced much cheaper. NOTE: When you're pricing out cruises, the rate usually starts with this type of room.
Here's the breakdown of the cabins on Enchanted Princess:
2 Sky Suites (featuring their largest balconies at sea, plus private hot tub)
2 Window Suites
42 Suites with private balconies
374 Mini-suites with private balconies (we were in one of these)
311 Deluxe Balconies
753 Balconies
6 Premium Oceanview
38 Accessible Staterooms

Good to know: There are 100 connecting staterooms.

3. It's a well-oiled machine
As you can imagine, running a cruise ship this big takes some serious skill and to do it as smoothly as Princess does, you realize what a well-oiled machine the whole operation is. I mean, they've sailed to over 330 destinations worldwide so it shouldn't really be surprising.
When our Blacklane driver pulled up to the ship in Barcelona around 1pm, the line to board was long. It wrapped around the building. To make matters worse, it was hot outside so I thought that showing up midday might have been a big mistake.
And the fact that I totally spaced on printing our baggage tags at home didn't help. FYI: Princess has a roving team member with stapler in hand picking those who did print theirs out of the line.
But to my surprise and delight, the line moved very fast. According to my photo timestamps, we got to the back of the checked luggage line at 12:58pm and we were at the front at 1:06pm. I didn't print anything and all I needed to tell them was my name and cabin number and they checked our two big bags.

We entered the terminal where they have a security checkpoint set up. To enter the line required either the printout of your itinerary or your confirmation on the Princess Ocean Ready app (definitely download it). The security line also moved very fast. You can't take photos, but it was less than five minutes.
From there, we took an elevator up to the second floor (most people took an escalator) where guests check-in to the ship. This line was as long as the first but Princess had an army of agents and we were in a beautiful air-conditioned building.
This line took just five minutes, too and that's when a team member took copies of our passports, took our photos and gave us our medallions (more on this later).
BTW: We started talking to a woman next to us and she told us about how she got robbed at the Barcelona train station a few days prior. She said two young girls, around 17, told her the escalator was broken (it wasn't) and offered to help with her bags. They helped her with her bags, while also helping themselves to her wallet, which included her passport. She said she got extremely lucky to get her passport replaced in a day at the U.S. Embassy, otherwise she wouldn't have been able to board the ship and would have lost the money she'd paid. She said another friend of hers had mayonnaise secretly squeezed on her shoulder to look like bird poop. The crooks offered to help clean it off and got her wallet, too. I've covered these distraction techniques in my free daily travel tip newsletter but here are some of the most notorious European travel scams to know before you go.
We walked up the gangway to enter the ship. There was one more step before we were done. The ship's security crew took photos of all passengers. It didn't take long.
We were on the ship at 1:40pm. Looking back, since we were in a Mini Suite, I think we could have checked in at a shorter line but we really didn't need to. it would have saved us maybe three minutes.

4. Medallion technology
Princess ships have patented medallion technology. The medallions are quarter-size round chips that really speed up everything including boarding, disembarking and ordering specialty food and drinks.
Crew members physically scan the medallion when you board and disembark the ship but while in an on-board restaurant or a café, there are sensors so servers and waitstaff know who you are immediately. Drinks and other expenses are billed directly to you so you don't have to carry anything else with you and most of the time, you don't even have to tell anyone your name or cabin number.

The medallions can also be used to track your shipmates either using the Princess app or the digital boards next to every elevator bank. Just scan your medallion and tap 'Locate Shipmates'. It's like having an Apple AirTag on you and is very handy, especially if you've got little ones.
TIP: You don't need to wear the medallion around your neck like we did. About two days before our cruise ended, I noticed a couple of passengers wearing the medallions tucked into wristbands. These people obviously weren't first-timers or they'd visited one of the on-board stores because I did not know this was an option. However, my wife did discover that you can buy them for half the price on Amazon.com. Or if you prefer, you can attach it to your Apple Watch if you wear one.

5. Mini suites
I wasn't sure if our stateroom (L224) would be ready since I thought we had boarded early. But it turns out the cabins are ready around 10:30am, which is why everyone needs to be off by 9:30am the day of departure.
One of my cruise tips is to always take the stairs and not the elevators to work off the extra calories you'll likely consume on a cruise, but you can't when you first board if you have a lot of luggage and a stroller like us. The elevators were packed and a bit slow but we only waited five minutes, which is really nothing in hindsight.
Our stateroom was very comfortable and a good size. Mini Suites are approximately 304 to 329 square feet, including the balcony, while a standard cabin with a balcony is approximately 179 to 279 square feet, including balcony.

A Mini Suite includes a separate sitting area with a sofa bed, a good-size bathroom with premium amenities and two flat-panel televisions.
Mini Suites also come with:
Balcony with 2-4 chairs, table and ottoman
Bathroom tub and massage shower head with amenities
Floor-to-ceiling sliding glass doors
Separate sitting area with sofa bed & coffee table
Luxury mattress topper and pillows
Two flat-panel TVs
Comfortable queen or two twin beds
Refrigerator
Flat-panel television
Private bathroom with shower
100% cotton, high-thread count linens
Complimentary 24-hour room service
Spacious closet
Desk with chair
Hair dryer & bathroom amenities
Digital security safe
Good to know: The front door and balcony sliding doors don't make a lot of noise. On cruise ships I've sailed on in the past, I could hear doors slamming constantly and it's really annoying. Unless we had some really considerate neighbors, Princess did a great job designing the doors. And the same goes for the walls. I only heard our neighbors once or twice, including the flushing of their toilet.

6. TV entertainment
You obviously don't go on a cruise ship to watch TV but sometimes you may want to veg out or catch up on the real world. If my kids weren't with me, I probably would have only turned the TV on twice: once to check out the webcam and possibly again to watch the news. But with the kids, we were so busy and I generally don't watch the news while they're around. We opted for Encanto instead. 
They had a good mix of live TV and on-demand options. Our TV had 10 live TV channels including BBC, CNBC, Sky News, Sky Sports1 and SkySports 2, Nat Geo. There was neither CNN nor FOX News, which I was fine with.

There were also some TV series, including all of The Love Boat, which makes sense since Princess was the ship in the original (and rebooted) hit TV series. BTW: I've actually sailed with the whole cast of The Love Boat on their reunion cruise in 2014 and then interviewed some of them on this very ship last October for a party.
When you depart each port, the ship's horn plays the Love Boat theme song, which drew a huge applause from the NCL passengers docked across from us in Livorno. It's pretty awesome.
Everything, including the movies, were free. My kids watched a couple of movies when my wife and I needed to do some work (yes, we're travel writers and run our own business so we work pretty much 365 days a year.)

7. Cabin attendant
Our cabin attendant, Jayson, was in our hallway when we arrived. Jayson is from the Philippines and super-friendly and attentive. Half the time, I didn't even know he was there, just like an elf, actually. Whenever we came back from a day of exploring or playing in the pool, there would be fresh towels, beds made, garbage emptied. Twice a day. I'm sure that thanks to the Medallion technology, he never had to disturb us by knocking on the door since he could probably see if we were in our cabin or not.

8. WiFi
As I mentioned above, my wife and I work every day so having WiFi widely available and strong is imperative. I'm happy to report that the ship's WiFi was excellent except for the last 36 hours. I'm not sure why it was slow then but prior to that I was able to upload photos and FaceTime with no problem. Princess covered our fee, which cost $279.93 for four devices.

9. Kids club
We didn't know there was a kids club before we boarded the ship so we weren't planning on dropping our kids off. But we checked it out on the first night and the kids loved it. My wife and I felt comfortable with the set-up as they had one adult per 10 kids and the space was really fun and creative.
There weren't that many kids in the club even though there were 500 kids under the age of 18 on our cruise and 137 between the ages of three and seven. The main reason it didn't feel crowded is because they divide the kids up by age. They have a camp for three- to seven-year-olds, one for eight- to 12-year-olds and another for 13- to 17-year-olds. All three camps are located on the same deck.
Parents have to sign in and out. Parents with kids under five get a pager so I walked around looking like a doctor on call, which was kind of fun. They also lock the door so no one can come in or out and they're strict about parents taking photos of other kids, which is why I have no other photos of the Kids Club.
The little kids have to take their shoes off and wash their hands as soon as they arrive. Parents need to pre-book on port days but it's a great way to have some alone time with your spouse or get some work done. Plus, our kids just loved it so it was definitely a win-win.

10. Food
As Princess' website boasts, they offer "unparalleled inclusive dining options throughout the ship with a wide range of culinary delights to suit any palate, from endless buffet choice to gourmet pizza, frosty treats, decadent desserts and much more." This is spot-on. We only ate at a few of the restaurants because everything on our deck was so good and easy to access.

The buffet have dozens if not hundreds of choices every meal. I'm talking all kinds of eggs, breads, fruit, sandwiches, carving stations. You can get Mexican, Thai, BBQ, Italian … They also had themes like a German night or French night.

And don't get me started on all the desserts. It was just ridiculous and I definitely gained five pounds.
My hands-down favorite: Monkeybread for breakfast. And the salad bar, which is behind glass where a crew member can dish out what you'd like.

Our son has some food allergies and the staff, especially the head chef (Stefan from Romania), in the buffet, went above and beyond to help ensure that our son's food was safe to eat. One night, the chef even went back into the kitchen and made a whole new dish for Jack, just to make sure that it was safe and hadn't been cross-contaminated with anything else at the buffet. To say that that was appreciated is an understatement. And it certainly left an impression. 
The only thing I didn't love is that there weren't a lot of water stations around. We didn't buy any of the drink package deals so we mostly just drank the filtered water in the buffet. They also had juices — apple and orange for breakfast, and lemonade or iced tea the rest of the time.

FYI: You can also order room service directly from the television in your cabin or from the app.

11. Great pizza
There are two pizza places on the ship and they were both shockingly good. Listen, I grew up in Southern, Connecticut so I know a good slice when I see one. And Princess knocked it out of the park.
Slice Pizzeria on the Lido Deck offers just slices of cheese, pepperoni and a special of the day. If you want a personalized pizza, just go down to Gigi's on Deck 5, where you can get table service and whatever you want on your pizza, including this gem pictured above. FYI: Gigi's is not a specialty restaurant so there's no extra cost.

12. Salty Dog Café
My kids frequented the Salty Dog Café, also on the Lido Deck (Deck 16). They were voted best burgers at sea by Cruise Critic and I agree. I didn't even order one but I had plenty of my kids leftovers. I REALLY don't like to see food go to waste, which is why I'm getting a belly.

13. Swirls ice cream
Also on Deck 16 is Swirls ice cream. They give customers small soft serve ice cream cones or cups with either chocolate sauce or chocolate or rainbow sprinkles.
The woman who worked there was super friendly and remembered Olivia's name by day two. It opens at 10am and closes probably after the last movie ends around 11pm.

There's also a specialty gelato shop on Deck 5, which costs $2 a scoop and is good but the line was usually slow moving and I preferred the soft ice cream from Swirls on this trip.

14. Movie Under the Stars
One of the unique attractions aboard Princess is the 300-square-foot screen that plays movies and videos pretty much 24/7. The sound and video quality are remarkable. In fact, it's my new favorite movie theatre in the world.

The main reason is that it's outdoors but the other is that you can watch while lying down on comfortable lounge chairs. They also provide blankets at night and Swirls pops fresh popcorn for everyone.
The only thing I didn't like about it is that they don't show more family-friendly movies especially during the day and evening. And they sometimes show movies during the day, which is loud and distracts the kids from focusing on anything else.

Movies play at 7pm and 9:30pm as well as some during the day. The movies on our trip included Creed, Edward Scissorhands, Top Gun 2, Thor, Black Panther and Encanto, among others.

15. Entertainment
There's entertainment throughout the ship including incredible live bands and singers. Since we were traveling with our two young children, we didn't get the chance to check out any of the nighttime entertainment but there are tons of shows and everyone we spoke to loved them. You can find more details here.

16. Artwork
There's art throughout the ship, including photographs from around the world in the guest hallways, taken by Princess passengers. The framed photo across from our cabin was of the Carlsbad Flower Fields, which isn't far from where we live.

17. Gym
Sadly, I didn't have the will power to go to the gym but the ship has a state-of-the-art fitness center if you're so inclined. I always try to take the stairs when I'm on a cruise ship to burn off some extra calories but if you're serious about your workout, the fitness center will not disappoint. 

18. The Lotus Spa
If you need to take some time to yourself to relax and rejuvenate, then check into The Lotus Spa. We were so busy with our itinerary and the kids but I did manage to squeeze in a much-needed 60-minute massage. According to the Princess website: "The onboard Lotus Spa features a wide range of treatments designed to send travelers to a world of relaxation and harmony. The spa operates on an "a la carte" model, where each service can be booked separately. However, passengers can also opt to schedule a full day of service for themselves if they so desire."

19. Public bathrooms are clean and lots of hand sanitizer
If you have little kids then you know they have to go to the bathroom often so it's nice to know there are plenty of public bathrooms on the ship and the best part is they were very clean. Another plus is that the hand sanitizer and soap dispensers were always filled.

20. Towel and water service
When returning to the ship from a port day, Princess had a tent set up where crew members hand out cold wet towels, which was a welcome and refreshing surprise. I thought only high-end cruise lines like Seabourn did this. They also offered cold orange- and cucumber-infused water, which my son got a real kick out of and now wants us to make him at home every day.

21. Seawalk
Before we even left for our trip, we watched YouTube videos that showed what Enchanted Princess looked like and to acquaint the kids with the ship prior to embarkation. When my son saw the Seawalk, he said it looked scary. And even the first day onboard, when he saw it in-person, he kept his distance. But by the second day, he and my three-year-old daughter thought it was one of the coolest features on the ship and we walked along the Seawalk every day. What is it exactly? It's a glass, 60-foot-long, over-the-ocean walkway and it's so cool to see the rushing ocean waves below.


22. Laundry
Traveling with kids, you really need to have laundry but even if you're flying solo, you probably would love to have access to laundry facilities, especially if you're extending your travels like we were. Every deck between nine and 15 has two washers and two dryers on each side. To use them, you need to get a token from guest services (I think they cost $2 apiece). The time for the washer is 30-35 minutes and 40-45 minutes for the dryer. They sell detergent but they also had free detergent in dixie cups. This is also where the irons and ironing boards are located. TIP: Set your phone's timer so you remember to get your clothes on time and don't leave other passengers waiting around for you.

Other things to do
There are four pools on the ship and our kids loved spending our sea days swimming.

There's also a sports complex near the end of the jogging track, where guests can play basketball, pickleball and mini-golf.

And of course the ping pong tables on the Lido Deck, which were a huge hit with our kids.
Must-haves for cruisers
We did a lot of research about things we should pack for our cruise and a few items made our list of must-haves. Here are the three items we highly recommend:

Magnetic hooks
Many cruise ship walls are made of metal, meaning magnets will stick to them. We picked up a pack of 10 small magnetic hooks and they worked great for helping us stay organized and keep things handy and always easy to locate.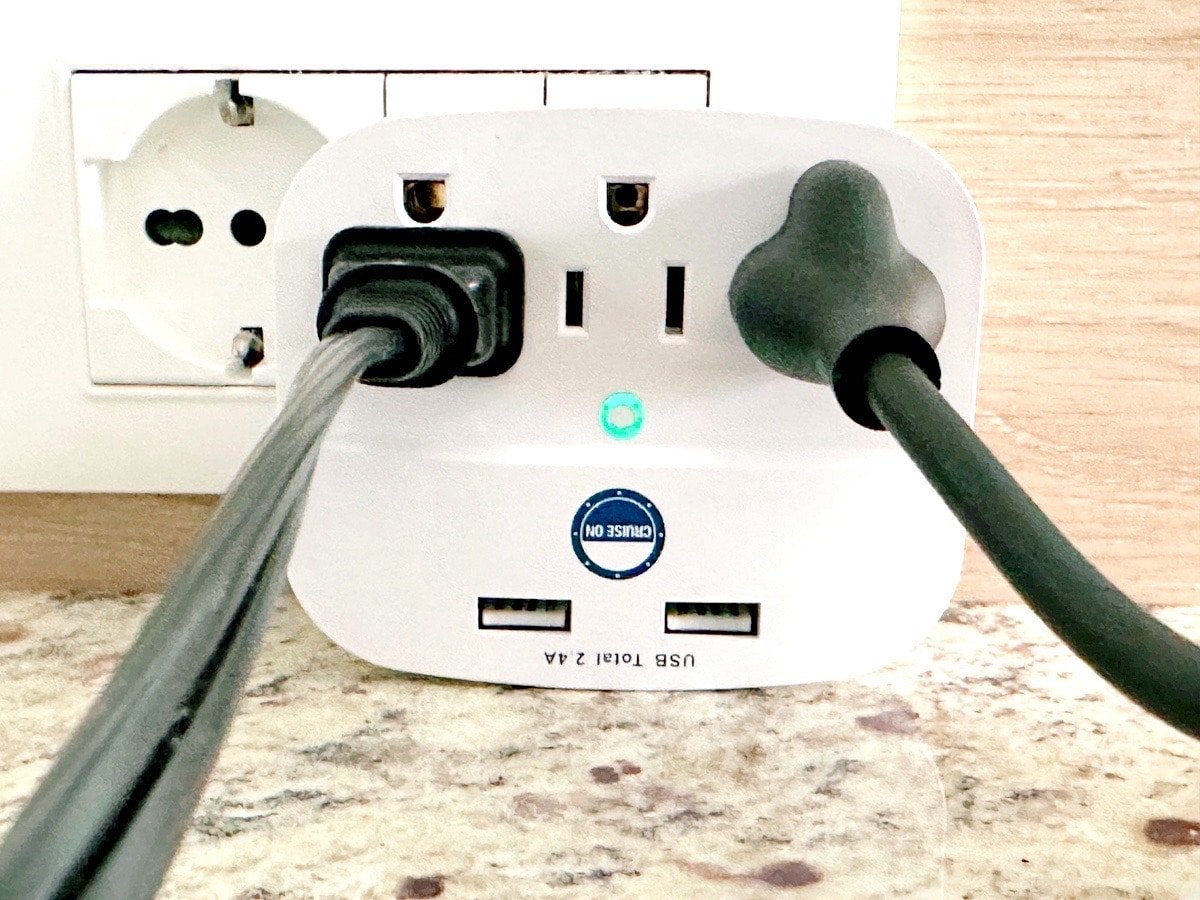 Non-surge protected power strip
Did you know that surge protectors are banned by most cruise ships? So, when choosing a power strip (something you'll definitely need), get one that's not surge protected, like this one, which will serve you well in your cabin.

Gaffer tape
I've recommended travelers always pack gaffer tape for years now but on the cruise ship, I was glad I had it. I used it a few times but the best problem it solved was dimming the light next to the bathroom, which is on a motion sensor and was way too bright in the night. I used the gaffer tape to make the light less bright and it worked brilliantly. I travel with these pocket-sized rolls of gaffer tape, which come in handy in so many (often unexpected) ways. The reason gaffer tape is the best option is because it leaves no residue behind.
Muster drill
This was my first cruise since the pandemic. The biggest change I could see since the pandemic is the muster drills. I'm not sure if this is unique to Princess but passengers no longer have to gather all at once in their designated spot. Instead, passengers have to watch a 10-minute safety video in their cabin and then go to their muster station and check-in with their medallion before the ship departs. That's it.
Disembarkation
When it's time to disembark, passengers have to be out of their cabin by 8:30am but can start disembarking at 7am and the latest is 9:30. My buddy Stewart Chiron (aka The Cruise Guy) recommended we get off the ship a day early in Florence since my wife has never been and during the day, it's crazy. It was a great suggestion and we set everything up to do that, including getting transportation to Florence, a hotel and a train the next day to Rome. However, my wife wasn't feeling great and our kids were having the best time ever on the ship. In the end, we decided that we didn't want to get off the ship early and have to schlep our bags to Rome so we changed our plans again and stayed onboard for the full sailing.

I booked a taxi the night before using the numbers guest services gave me and I was set up for a 235 euro transfer. But the driver canceled an hour later. So, in the morning, disembarking in Civitavecchia (an 80-minute drive from Rome), it was a doozy. Trying to get a taxi or car service was bad … and I mean bad. There were people, myself included, just waiting in the street for a taxi or car service, so we could all pounce.  About 98% of the drivers had pre-arranged return trips and they all said it was crazy. There are so many tourists, especially Americans, and not enough cars. After standing in the hot sun, I finally found a private driver who took us to Rome for 350 euros. A taxi normally costs 120 euros. It wasn't that bad since the cruise line charges $89 per person, even little kids, and it just drops you off in town, not at your hotel. So be sure to arrange transportation in advance and from a reputable company.
Overall
Believe it or not, this almost 5,000-word review doesn't cover everything there is to say and show about Enchanted Princess. But hopefully it gives you a good sense of what our experience was like. As I mentioned above, it was one of the best trips we've ever taken and we created so many family memories – even the kids are still talking about it and want to sail again so … I just surprised them by booking another cruise for next year. Stay tuned for that story!
Ready to book? Use a travel agent
I've made my living on the Internet but even I know that unless you are an experienced cruiser, you should have a travel agent (especially someone who specializes in cruises) book your cruise. They can often give you firsthand advice, discounted rates, onboard credits and a possible upgrade. If you don't have one, I've partnered with Cruise Planners, which is a top-rated travel agency, to help plan your perfect trip. Contact Mike Gelman (1-800-724-5868) and tell him Johnny Jet sent you.
KEEP READING
–Going on a Cruise? Be Sure to Bring This
–One Thing I Wish I'd Bought Before Going on a Cruise
–A Reader Suggested This Little-Known Cruise Essential I Never Knew Existed and She Was Spot-On
–Johnny Jet's Top 10 Cruise Tips
–12 Things I Learned From Traveling to Europe This Summer
Want more travel news, tips and deals? Sign up to Johnny Jet's free newsletter and check out these popular posts: The Travel Gadget Flight Attendants Never Leave Home Without and 12 Ways to Save Money on Baggage Fees. Follow Johnny Jet on MSN, Facebook, Instagram, Pinterest, and YouTube for all of my travel posts.