This post contains references to products from one or more of our advertisers. We may receive compensation when you click on links to those products. For an explanation of our Advertising Disclosure, visit this page.
I'm fortunate to have gone on dozens of cruises all over the world. I even got to sail once with the original cast of The Love Boat — they were The Regal Princess' Godmothers (you can see all of my celebrity pictures here). I also interviewed some of the stars on a later trip about their best cruising tips.
My wife and I just took our kids on their first cruise this summer. We sailed from Barcelona to Rome on the Enchanted Princess. The kids loved it so much I booked another family cruise for later this year. 
I've learned a lot over the years, especially when I took my dad as my guest. Our parenting roles had definitely shifted the last decade (or two) of his life; he passed away in March at the age of 94.
On our last trip together, I kept giving him tips for being on a cruise ship, which was the inspiration for this story. So here are my 10 cruise tips … and if you have anything to add, please post a comment below – we may use it in one of our Daily Travel Tips newsletters BTW: You can sign up for that newsletter for free by clicking this link, inputting your email address and checking the Daily Tips box.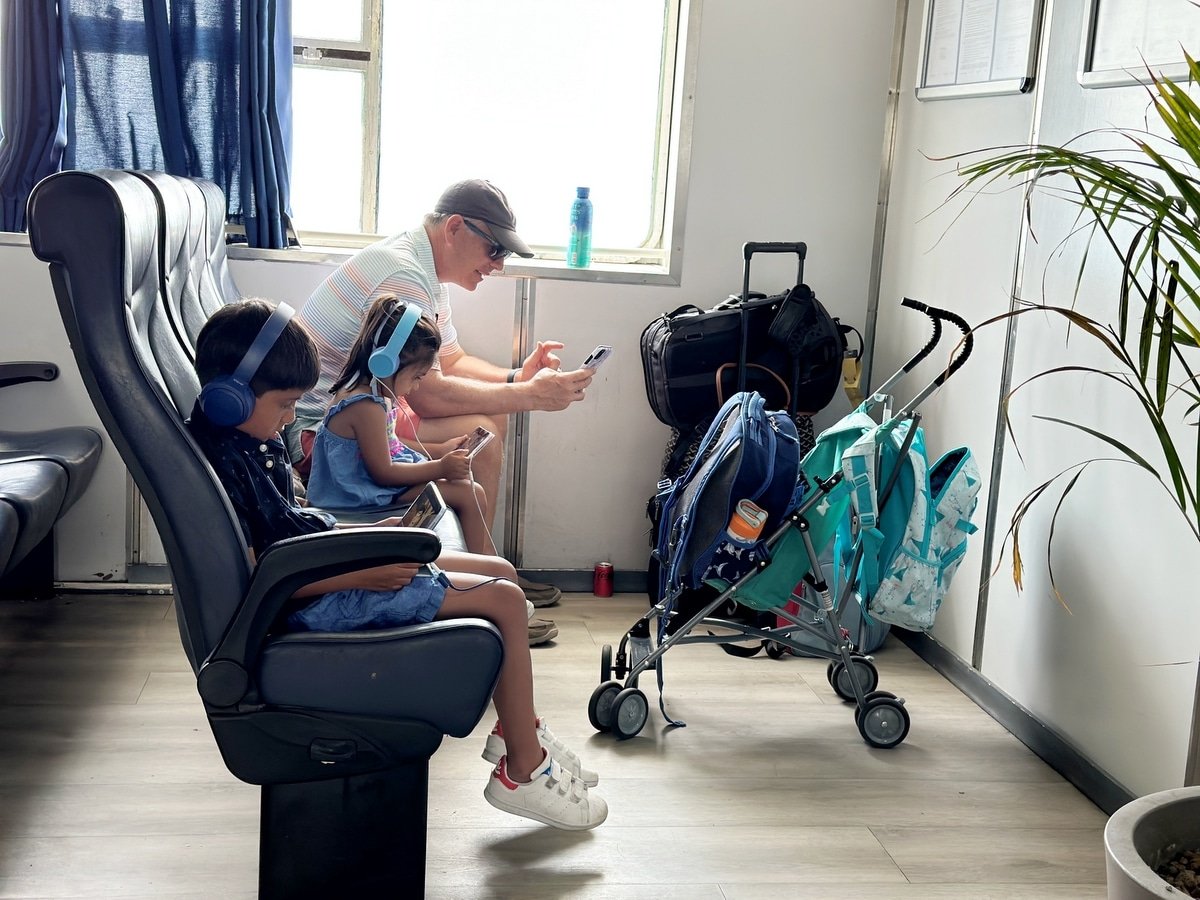 1. Turn your phone to airplane mode while cruising
As soon as the ship sets sail, turn your phone to airplane mode or if you aren't going to use it, then turn it off completely. That way, when you arrive home, you won't have a bill with crazy high roaming charges. I learned that on a Windstar cruise from Barcelona to Rome when I woke up one morning to text messages reading, "Welcome to Iceland" then "Welcome to France" (which is where we were). When I returned home, I had accrued over $380 in roaming fees without even using my phone. And I have T-Mobile, which offers free (basic) data in 120+ countries. Luckily, I called T-Mobile and they credited my account but it could have been just some good luck that I had an awesome agent on the line. Instead of taking any chances, turn your phone off or put it on airplane mode as soon as you leave port to prevent this from happening to you.

2. Take the stairs instead of the elevator
We all know that cruises are filled with endless amounts of food and it's really difficult (at least for me) to say no to all the good eats. I usually end up having two to three desserts a day! To combat all of those extra calories, I almost always take the stairs instead of the elevator while onboard a ship – even if it means going up 10 flights. The only time I make an exception is when I arrive and depart with my heavy bags.

3. Sign up for tours ASAP
Most cruises offer some really incredible excursions. So you don't miss out (the good excursions sell out fast!), sign up for tours way in advance, even if you aren't 100% sure you are going to take it. You can usually cancel later without a penalty. Just make sure to find out what the cancellation policy is.
RELATED: The Travel Gadget Flight Attendants Never Leave Home Without

4. Keep your valuables on you
I almost always pack light when I travel by taking carry-on luggage only. This allows me to show up to the airport later, jump on an earlier flight if I can, not have to wait around baggage claim, and take public transportation. It also allows me to get off the cruise when I want instead of waiting for the time assigned to me. And I also don't have to leave my bags unattended in the ship's hallway during the disembarkation process. But even if I do take an oversized bag, I always keep my carry-on luggage with me and so should you. Always keep in your possession important and expensive items like cameras, laptops, passport, money and medicine.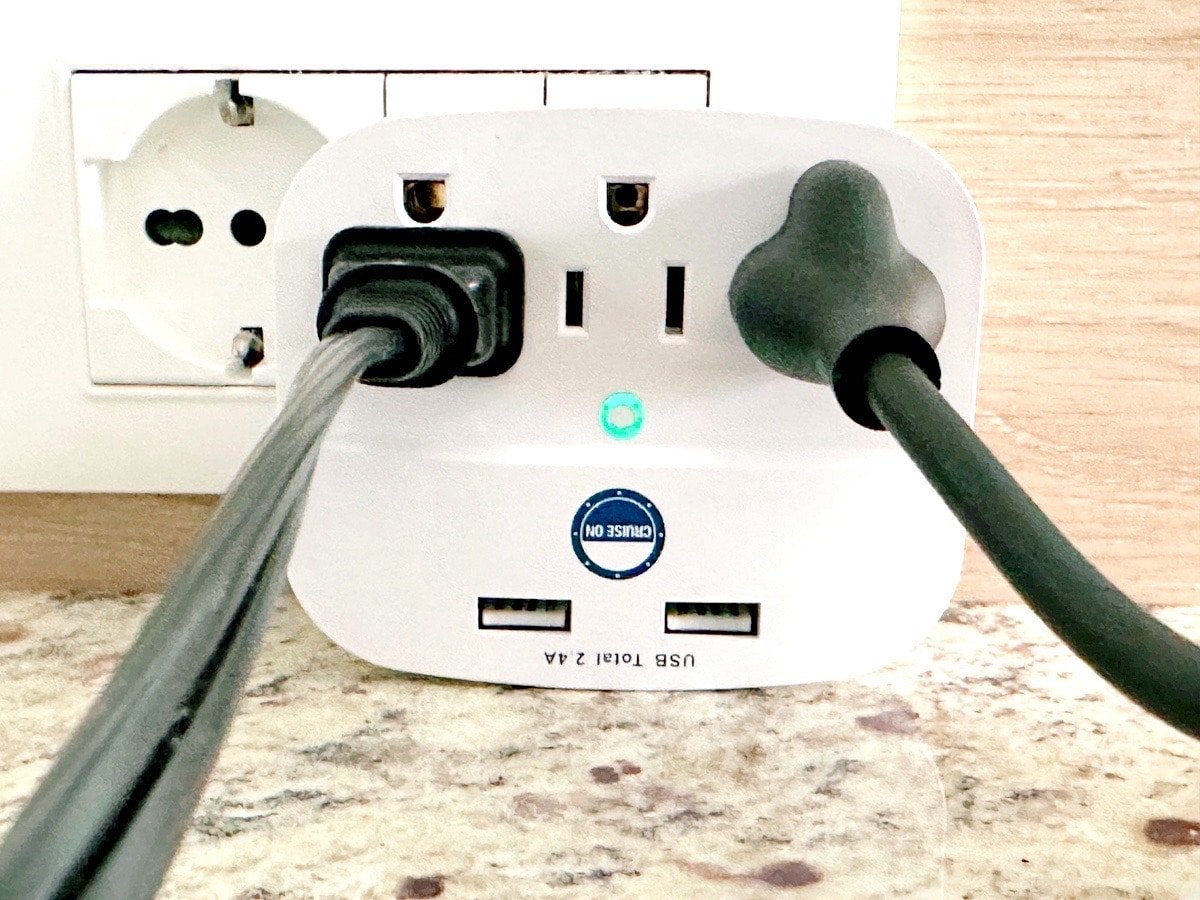 5. Bring an adapter + power strip
I've talked about the value of bringing a power strip before, but here's another benefit: Instead of buying multiple individual plug adapters, with a power strip, you can just buy one (or if you travel a lot, then buy one multi-country adapter like this one). That way, you can plug multiple cords in and just use one outlet. And that's key, since a lot of ship cabins only have one or two outlets. Also: Did you know that most cruise ships ban surge protectors? So, you'll need a non-surge protector adapter like this one. My wife and I each brought one for all of our own devices and they were perfect. 

6. Don't slam the cabin door
You should always be aware of and courteous to your neighbors in a hotel but even more so on a cruise ship since the cabins are usually much closer together, the doors tend to be heavier and slam really hard. That's why I always make sure not to slam my room or balcony door. Instead, I close it gently which takes a little effort but goes a long way towards being a considerate traveler. RELATED: Travel Hack: How to Quietly Shut Your Hotel Room Door So You Can Sneak Out.

7. Photograph your prescriptions
On one of my cruises with my dad, he met me in Europe since we were coming from different parts of the world. When I met him at the hotel, he told me that he had foolishly forgotten to pack his medications. But because we had photographs of his prescription labels, things worked out fine. Our first port was Sete, France, a sleepy little French seaside port known as Cette until 1928. The highlight for me, besides getting one of the best ham and cheese sandwiches I've ever had, was finding a pharmacist who not only spoke English but also filled my dad's prescriptions with enough medication to last him the trip! And guess what? It cost less there than it did in the U.S. However, having the prescription label was key; she would not have been able to help otherwise.
8. Pack for the weather
There's a saying: "There's no such thing as bad weather, only inappropriate clothing." It's true and you would think this is common sense but you'd be amazed how many people I meet who don't do a little research. Before I travel, I always check the 10-day weather forecast so I can pack accordingly. You should do the same so you won't be surprised, sorry and too hot or cold to fully enjoy your trip. TIP: Always pack a compact travel umbrella – you just never know when you'll need it and you'll be so glad you packed it.
9. Go in a day or two early
These days, it's vital to give yourself plenty of extra time before important events like weddings, business meetings and cruises. You also want to leave plenty of time between flights if you're making a connection. I just wrote in a tip that, "Ever since the pandemic, airlines and airports have cut capacity and staff so it's more important than ever to make sure you don't miss your flight. There are now fewer flights and more passengers traveling, which is not a great combo for the traveling public. What this means if you miss your flight is that you might not be able to get on the next one like in the "old" days. In fact, you could be stuck for days, depending on the airline you're flying and your destination." This is the main reason you should arrive a day or two early to your port. The other reason is you can enjoy that city and get acclimated to the time change if there is one.
10. Use a travel agent
I've made my living on the internet but even I know that unless you are an experienced cruiser, you should have a travel agent (especially someone who specializes in cruises) book your cruise. They can often give you firsthand advice, discounted rates, onboard credits and a possible upgrade. If you don't have one, I've partnered with Cruise Planners, which is a top-rated travel agency to help plan your perfect trip. Contact Mike Gelman (1-800-724-5868).


BONUS: Bring magnetic hooks
Just ahead of our last cruise, a reader suggested that we pack magnetic hooks to attach to the metal walls of our cruise cabin. What a great idea! They worked great and helped us keep our stuff handy and organized. These are the ones we used.

I hope this helps and that you have smooth travels on your trip. If you have anything to add, please leave a comment!
Note: This is an old post that has been updated with new information.
KEEP READING
–Hotel Review: The Regina Isabella Resort in Ischia, Italy
–48 Hours in Rome and Our Stay at the Rose Garden Palace Hotel
–Fast or Slow Ferry to Ischia, Italy? You Might Be Surprised
–10 Things You Never Knew About Italy
–What It's Like To Take the Fast Train From Rome to Naples, Italy
Want more travel news, tips and deals? Sign up to Johnny Jet's free newsletter and check out these popular posts: The Travel Gadget Flight Attendants Never Leave Home Without and 12 Ways to Save Money on Baggage Fees. Follow Johnny Jet on MSN, Facebook, Instagram, Pinterest, and YouTube for all of my travel posts.