Buenos días! I'm back from Europe after sailing on Windstar's newest ship, Star Pride. I was invited on the inaugural cruise along with several other journalists, travel agents, executives and paid guests who had to have sailed on Windstar previously to be part of this exclusive trip.
Windstar took over the 438-foot Pride from Seabourn in Barcelona, Spain in a deal that was announced over a year ago and also included the exchange of Star Pride's two other sister ships, Legend and Breeze, which will be delivered in April and May 2015.
Windstar is known for its casual-atmosphere luxury cruises on small vessels (100-212 guests). The brand previously only used sails and diesel power but is now embarking on experiences based on a whole new type of vessel…yachts! Windstar's CEO Hans Birkholz validated the move by saying that "yacht-style cruising has legs in the marketplace" and that "customers are voting with their pocketbooks." These three yacht-style ships will double Windstar's current fleet so it's a huge move for the Seattle-based company.
My trip began in Barcelona at the christening ceremony and pier-side fiesta celebrating the launch of the inaugural voyage. Mrs. Nancy Anschutz, wife of Mr. Philip Anschutz, owner of Xanterra Parks & Resorts, Windstar's parent company, was honored as Godmother of the yacht, and she successfully broke the magnum bottle of Veuve Clicquot after cutting the blue ribbon, which was dangling from a small crane. It was Windstar's first yacht christening in 16 years so all the big wigs were out in full force.
Mrs. Anschutz was joined on stage by her husband Philip; Andy Todd, CEO of Xanterra Parks & Resorts; Hans Birkholz, CEO of Windstar Cruises; Captain Alan MacAry, 15-year Windstar veteran who serves as master of Star Pride; and Father Marto Rodriguez who blessed the ship in Spanish—a moment that felt surreal because Barcelona's huge monument of Christopher Columbus was hovering just over his shoulder from my vantage point.
Remarkably, Windstar had just 18 days to make their interior design changes, which included gutting and rebuilding two of the ship's three main lounges. They also spruced up the cabins and main dining room, repainted the ship and removed all of Seabourn's branding. The only sign of the past company's presence I could find was its stamp on the side of books in the ship's library.
These obviously aren't new ships. Star Pride was built in 1988 so naturally it does show signs of age in several places. One of the biggest of these is the pool, which has to be the most uninviting pool I've ever seen. But once you set sail on Windstar, you quickly realize you don't go on their ships (or other similar small ships) for things like the pool. These aren't those floating megaships that have everything a top Las Vegas hotel would have. Instead, you go on a ship like this for the luxurious cabins, service, food and most importantly, the stopover destinations, as they have the ability to stop in smaller ports that the large ships can't.
Our six day cruise included stops in:
Portoferraio (island of Elba), Italy and C
ivatechia, Italy (port of Rome) and it was a great example of how Windstar's ships can gain access to smaller ports for a more authentic experience.
There are many reasons to go on Windstar's new Star Pride but before we get to them, let's not waste your time and talk about the negatives first. You don't want to go on Star Pride if:
You have young kids. In fact, they don't allow children under seven and frankly, your kids would be bored out of their minds since there are no programs or dedicated game rooms for them.
If you want to see Las Vegas types of shows. They do have a small theatre but they don't have any flashy entertainment like the Blue Man Group.
If you want to lounge around or in a pool all day long. As I mentioned above, the pool is not very inviting.
If you want Vegas-style casinos. They do have two blackjack tables, one roulette table and a handful of slots but that's it. Though my dad, an avid gambler, seemed content to lose his money at their blackjack table. Good to know: Casino and shops can't open until they are 12 nautical miles out to sea so they don't have to pay taxes to the (most) local government.
If you want to have a cruise director getting on the PA system two to three times a day informing you of what activities are scheduled for the day. In fact, there are no daily announcements, activities or competitions you might find on competitor ships.
If you want to be connected to fast internet 24/7. Not only is the Wi-Fi super slow, but it's expensive, too. The good news is that I randomly met a person in a bar one night who works on their account and said that they don't spend the money for good bandwidth and they have a broken antenna, so that's why it was so slow. That means it's an easy fix so hopefully they will see the light. Good to know: That same person told me that Disney has the fastest internet. I can't confirm that because I've never been on any of their cruises.
You want a room with a balcony. Unless you're in one of the suites in the front of ship, there are no balconies—though most cabins do have French balconies, which I do list below as one of my reasons for sailing on Star Pride.
So, if you're okay with all the above, which I suspect you are, then here are 20 solid reasons to sail on Windstar's newest ship, Star Pride:
1. You won't get lost
These days, many ships are so huge that you not only have to walk a mile to get from your cabin to the restaurants, but you're also pretty much guaranteed to get lost on the way. Not on Windstar's Star Pride. The ship is only 440-feet long and there are just six passenger decks. It's easy to get around and you won't be complaining that your feet hurt from walking so much. If my dad didn't complain, you won't complain. Trust me. FYI: It's 63-feet wide and is 10,000 gross tons.
2. All suites
Star Pride has a total of 106 suites with a guest capacity of 212. These cabins are way larger than the ones on Windstar's other ships since they are 277 square feet! I think having a large cabin can make or break some couples' trips since the tighter the quarters, the more potential for friction there is. No worries about that on Star Pride. FYI: These suites were updated to meet Windstar's casually elegant, warm and contemporary style. All suites include a flat-screen TV with live TV, DVD/CD players and Bose SoundDock speakers.
3. Marble bathrooms
The bathrooms are large too so you won't have to squish each other getting ready for dinner. There are also double vanities and the tub/shower is the same size as I have at home with solid water pressure.
4. Luxury toiletries
I wasn't going to list this because most luxury cruises have designer toiletries but not only does Star Pride have L'Occitane products, but they also replenish them daily. FYI: I sometimes swipe extra toiletries and donate them to senior citizen homes or homeless shelters.
5. Comfortable beds
There's nothing worse than being jetlagged and not being able to sleep because of an uncomfortable bed. That won't be the case on Star Pride because the beds are super cozy and so are the sheets and pillows. Combine that with the lull of the ocean and you'll be sleeping like a baby.
6. Plenty of closet space
You and your travel companion won't fight over lack of closet space or hangers because there's plenty of both. There are also a number of drawers—and don't forget about the storage space under the bed for the suitcases.
7. French balconies
Only the expensive suites in the front of the ship have full balconies but the majority of cabins do have French balconies—the second best thing next to an actual balcony. Actually, not having the balcony makes the cabin that much larger so it might be the best if you care about space inside. But being able to open the doors to pop your head out to take pictures or to leave them open for fresh air makes a huge difference.
8. Free mini bar
Guest will love that there's an in-room mini-bar stocked with beer and complimentary soft drinks. The cabin attendant also leaves two bottles of water in the morning and evening, and keeps a pitcher of filtered water and a fruit bowl full.
9. Friendly staff
Star Pride has about 125 staff members; 95 of them are previous Windstar employees and 30 are new hires. Everyone I encountered was super friendly and helpful. What's interesting is that I was told that about 60% of the staff are from Indonesia (all the wait and cabin staff) and 30% are from the Philippines (cooks, bar tenders, tender boat operators). Some of my favorites were mine and my dad's cabin attendants, Kristy the Guest Services Manager, Lai at the reception desk and Georgina in the gift shop.
10. Fine service
Windstar doesn't have over-the-top service like Seabourn but that's because they have fewer crew and charge half the price. But nonetheless, they have good service and though it could be slow at times, overall it exceeded my expectations.
11. Tasty food
There were a lot of seasoned cruisers on my voyage and I heard night after night that the food on this trip was the best they'd ever encountered. One of the highlights was the deck barbecue gala, which takes place on the pool deck one night per voyage. The 5-star buffet offers an array of dishes from lobster to an Asian-style suckling pig, jerk marinated chicken and other specialties including seafood paella, which is cooked right on deck.
Good to know: Windstar offers an open seating program that allows guests to dine when and with whom they like.
12. Variety of restaurants
Star Pride has several dining options. The main dining room is called AmphorA Restaurant, which features a contemporary, international menu and fresh local dishes. The most coveted restaurant is Candles, which is called Veranda during the breakfast and lunch buffet but at night is turned into a romantic setting where guests can dine under the stars. Here, they offer fine steaks and grilled skewers on the menu. Note: They only let passengers dine once during the trip, but make reservations as soon as you get on the ship because there are a limited number of tables.
There's also the Yacht Club which is a chic lounge and coffee bar that serves snacks and treats during the day. And of course there's 24-hour in-room dining.
13. Bars
There are several places passengers can get a drink and socialize. The nicest is Compass Rose, which is the club space that was redesigned with all new contemporary furnishings, including rich new flooring finishes, plantation shutters and comfortable chairs and bar stools. There's live music here nightly.
The other popular place is Star Bar, the outdoor deck bar that offers casual drinks during the day and a venue for star-gazing by night.
14. Don't pay for other people's drinks
For those who don't drink alcohol (ahem, me) you'll be sure to like Windstar's "Luxury as You Like It" philosophy. Unlike many of the all-inclusive luxury brands, Windstar offers a choice of alcoholic beverages to be a la carte or through a beverage package, ensuring that guests aren't paying for someone else's bar bill. So if you drink a lot, get the package deal.
15. It's casual
What's nice about Windstar is that although it's a luxurious ship, you don't have to pack a dinner jacket, tie or fancy dress because it's a casual-elegant atmosphere. That means you can travel light and not have to check a bag, which is a real inconvenience. The only things not allowed are jeans and shorts in the dining room for dinner.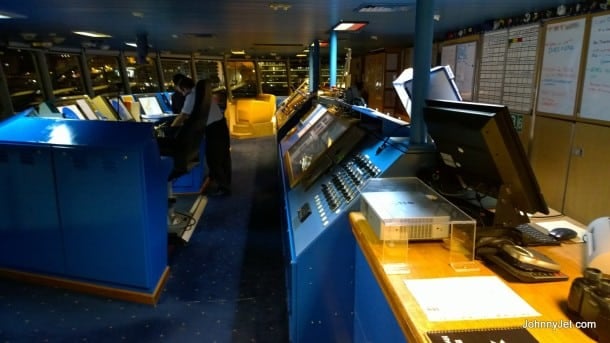 16. Open bridge
Like all Windstar ships, Star Pride has an Open Bridge allowing guests to come into the Bridge when the yacht is at sea. Guests can talk with the Captain and officers on watch, view the navigational chart, and enjoy some of the best views on the yacht without any advance warning. You just can't go into the bridge when they're making maneuvers.
17. Private events
Hans Birkholz, CEO of Windstar Cruises, announced on the cruise that starting next year, every cruise will include a private event to "give people something special." He described them as "magical moments" that will bring the destination to life. Examples he gave were a luau on a private motu in Bora Bora with fire dancers and dinner under the stars at the Library of Celsus at Ephesus in Turkey.
18. Watersports platform
Star Pride has a swim and sports platform located at the back of the yacht and it's be available whenever the conditions are right. The platform offers a variety of complimentary water toys such as waterskies, wakeboards, kayaks, paddleboards, and sailboats. Guests can also enjoy the freedom of their own private yacht by swimming to and from the platform. They also provide snorkeling gear and bicycles to rent on shore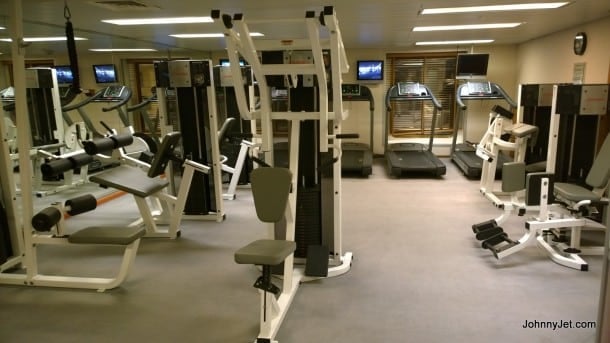 19. Staying in shape
When you think "cruise" you probably think about endless buffets and gaining weight. Fortunately, Star Pride has a fitness center that's open 24/7 so you have no excuse not to work off the extra calories. Next to it is the WindSpa, which is a full-service spa and salon. Offerings include massages, body treatments, facials, manicures, pedicures, aromatherapy, acupuncture, haircuts, blowouts, and highlights.
FYI: There are two whirlpools in the middle of the top deck.
20. Private yacht experience
Naturally, I saved the best for last, and that's the fact that Star Pride and other Windstar ships can dock in places only small ships can go. Star Pride's small size allows it to explore off-the-beaten-path locales that bigger ships can't visit and in most places, they're even able to park right in town rather than at a cruise terminal. This summer, Star Pride will be traveling to the little-visited ports of the Black Sea, and in the winter, it will head to Asia for stops in lesser-visited ports along the coast of Vietnam, Malaysia and the Philippines.
Good to know:
There's no self-service laundry on the ship but their prices weren't ridiculous. I had my dad's pants cleaned and it cost around $5. I know it's a lot more than doing it yourself but I've been to hotels where that would have cost two to three times that price.
The one thing Star Pride needs to work on is the morning wait staff in Veranda. They were slow to clean up, forgetful of orders and they put way too many utensils in the napkins.
It was my first time sailing on Windstar and although I didn't get their usual sail experience, they do give a flavor at the beginning and the end of the journey. Overall, I really enjoyed the trip and out of all the guests I met I only met one couple that said they wouldn't recommend Star Pride to their friends. I would, and am.
For more information including rates and itineraries, contact a travel professional (I use Mike Gelman who's at 1-800-724-5868) or call Windstar at 800-258-7245. Visit Windstar Cruises online at WindstarCruises.com or Blog.WindstarCruises.com.
Bonus TravelZoo deal: $2999 — 10-Night Award-Winning Asia Windstar Cruise, Save $1000*