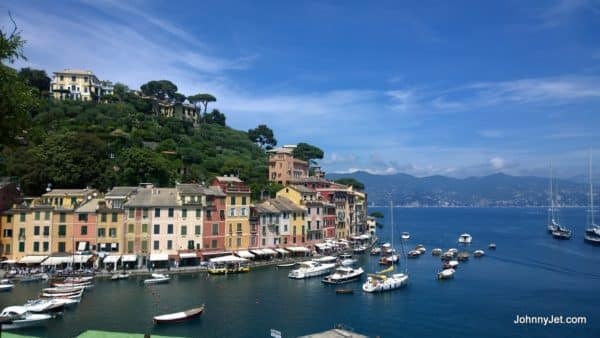 Day 5 of Windstar's Star Pride Mediterranean Cruise took us to Portofino, Italy. I was most excited for this port since I've heard so much about it but had never had the pleasure of visiting. Unfortunately, my expectations were too high and I was really disappointed. The tiny Italian town felt like Disneyland minus the rides and happy faces. The place was full of tourists and the shopkeepers and restaurant owners weren't overly friendly. On top of that, the one place my dad and I chose to share a pizza turned out to have lousy food.
The highlight of the trip was going on Star Pride's walking tour. The scenery was stunning and my dad was a determined to climb to Castello Brown (Brown Castle) where we sampled local flavors of the region. They had Chef Guida leading the way and he was hilarious and informative. He really should have his own cooking show in the U.S. because it would be a big hit. We learned how to make pesto while sampling Italian favorites.
Back onboard the ship had its weekly Deck Barbeque and it was a perfect night for it.