If you're following me on my epic summer family trip to Europe, then you know we flew from YYZ to Barcelona on Air Canada, then took a 7-day Princess Cruise that ended in Rome. We spent two glorious nights in the Eternal City before making our way south to Naples so we could catch a ferry to the island of Ischia. RELATED: 12 Things I Learned From Traveling to Europe This Summer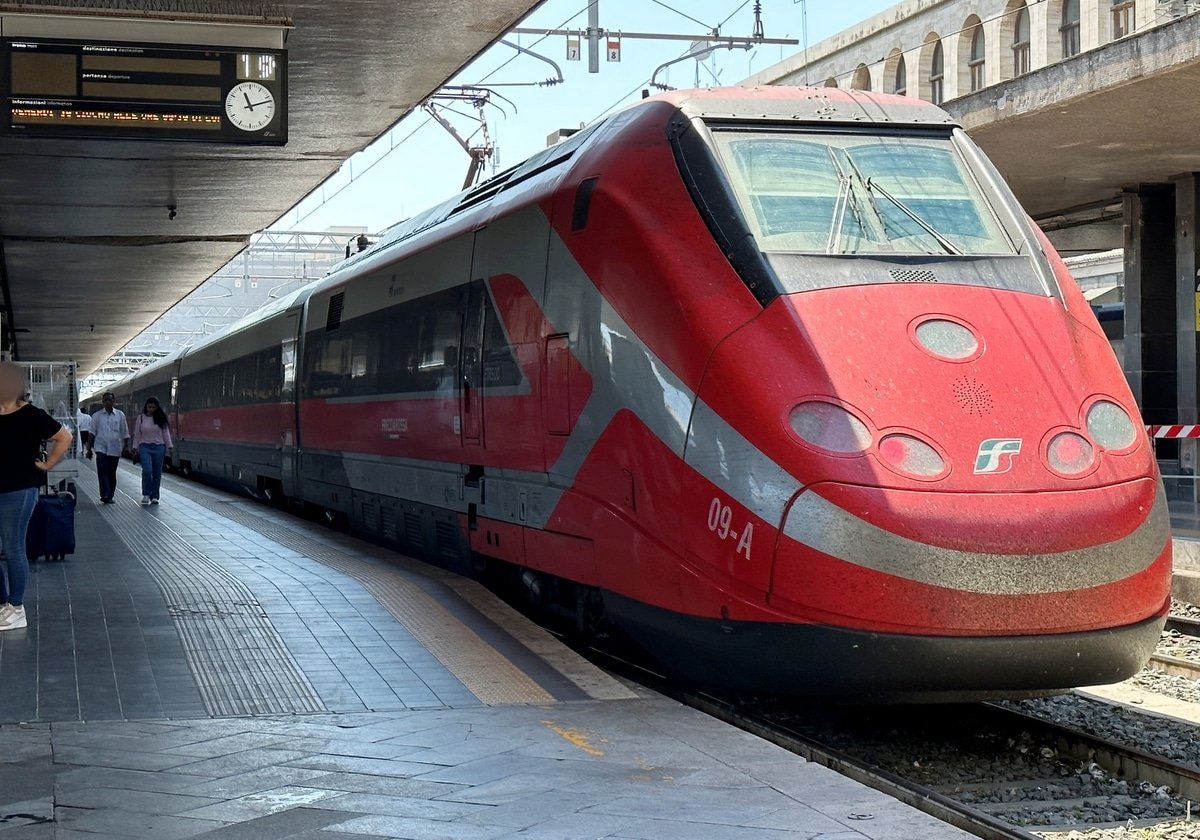 This post contains references to products from one or more of our advertisers. We may receive compensation when you click on links to those products. For an explanation of our Advertising Disclosure, visit this page.
For our last day in Roma (yes, I'm already starting to speak like a local), my wife booked an early morning Flytographer photo shoot so I wanted to leave some time to have breakfast afterwards and then casually make our way to the train station so I booked an 11:40am train.
As I mentioned in this article, 12 Things I learned from traveling to Europe this summer, getting a taxi or car service is a challenge. I definitely sweated this one out as I struggled to find one for more than 20 minutes in the hot sun.
A week prior, I had pre-booked our train tickets online. There are multiple choices of trains and companies. You can take the slow local train, which is much cheaper and has no air conditioning or the super-fast trains that go nonstop. I went with the latter and chose the private company Italo over Trenitalia since multiple friends recommended them. My friends also recommended I splurge for business class, called Prima. For a family of four like ours, they offer affordable package deals. I paid 121 euros for all four of us.
Booking online was easy as their website can easily be translated to English. Just change the IT drop down menu to EN in the upper righthand corner. Included in the price quoted above was the extra two euros per person I spent for assigning our seats.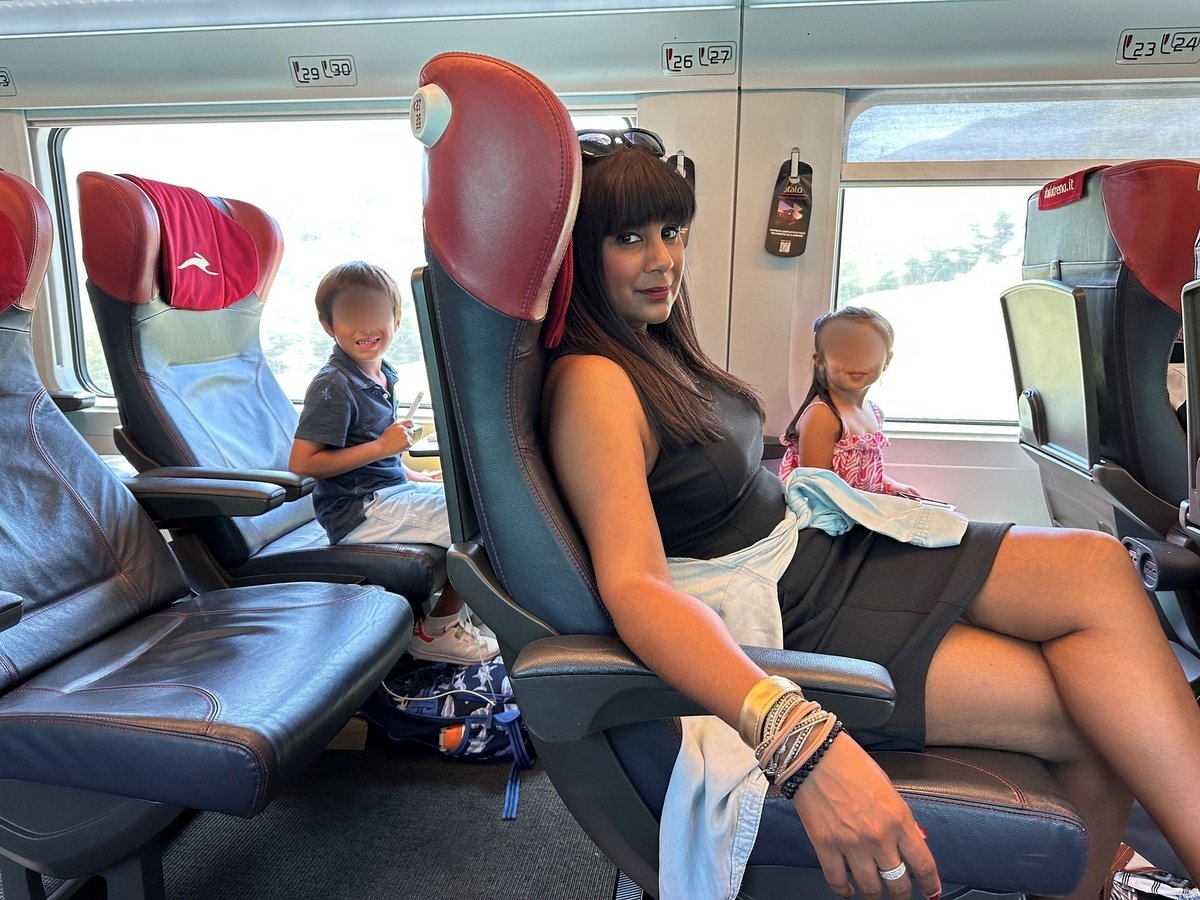 I wanted to get four seats together and facing each other with a table in between but at the time of booking (a week before the trip), they were all gone in every car and every time slot. NOTE: There's only one table per car but there are trains between Rome and Naples almost every hour.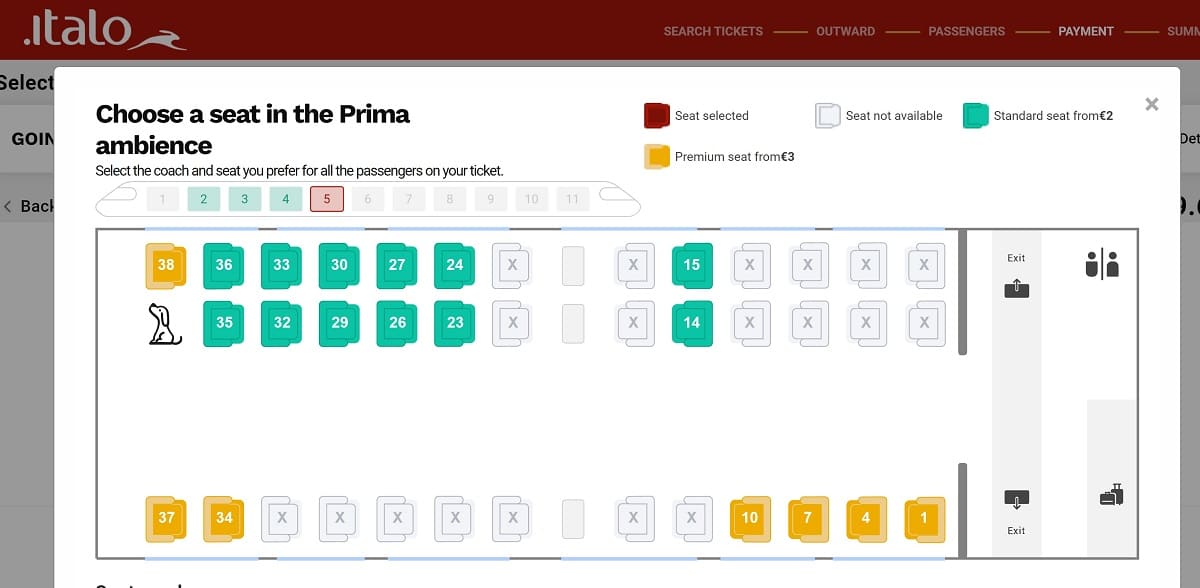 Seats in Prima are similar to a U.S.-based regional jet's first class as the car is configured with two seats on one side and a single across the aisle. I chose two rows with two seats behind the two in front. Unfortunately, I didn't know which way the train was going so we sat traveling backwards, which isn't ideal. The seats do recline a bit and there's a leg rest.

Rome Termini was packed as predicted so to avoid crowds and people possibly bumping into us for nefarious reasons, we hung out at the front of a vacant track while waiting for our train to be assigned a track. Tracks are assigned about 20 minutes prior to departure.
European train stations are notorious for pickpockets so I made sure we were not targets. My wife wore an anti-theft cross body bag  and I had my wallet tucked away in a zippered pocket. The best choice is to either wear a money belt or a Scottevest product like a shirt, pants, shorts, jacket, sweater or vest that has hidden pockets designed to conceal your valuables.
Our train was assigned Track 10. If the train isn't already in the station like ours was, once the track is posted, then just know in advance which coach you booked and which seats. This way, you can look for the coach number sign above the platform and stand in front of it so you can quickly get on your designated car.
FYI: I didn't print any tickets up but had screenshots on my phone and sent the confirmation email to my wife as well. The conductor didn't check our tickets until 35 minutes after departure when they came around with snacks.
An Italian family with two adult kids knew the trick of getting on first when you have a lot of luggage and made sure they blocked the door so no one else could get on.
They each had once large suitcase and took all of the space in the small baggage closet.
There are overhead racks above the seats, which is where they put their two other oversized bags. But that seemed crazy dangerous to me if, God forbid, the train stopped short.
I put our two big bags in the carriage behind us; there was nothing valuable inside and I kept checking on them.


The carriage behind ours just happened to be the cafe car, which had two vending machines. NOTE: These machines didn't take credit cards, just coins or euro notes but the function for accepting paper bills wasn't working on our train. The prices were reasonable though, at 1.50 for a bottle of water and 2 euros for a package of Oreos.
But if you're traveling in Prima class, you don't need snacks as this class includes a welcome service with sweet and savory snacks, accompanied by hot and cold drinks. Italo says that travelers can get faster access to the train with the Fast Track service in the stations but I didn't see that anywhere. 
Drink choices were water, Coke or iced tea and the snacks were either peanuts, a chocolate pastry, biscuit or something else I missed.
Seats have an electrical outlet but you need an adapter and the charge was weak. My phone didn't gain any battery life, it just held steady so I recommend using a portable phone charger, an essential gadget when traveling. This is the portable phone charger we travel with and it charges fast and it's great that it shows you how much charge is left in the charger. There's supposed to be WiFi on the train but it wasn't working so don't depend on it. My T-Mobile worked as did the eSIM Ubigi I purchased online.
There's a bathroom I think in every car and the bathroom in ours wasn't too bad and was relatively clean.
The train is really fast and the sign at the front of the car at one point showed we were going 300km/hr (186 mph). We departed eight minutes late at 11:48am but we arrived at Napoli Afragola at 12:44pm. Don't get off there if you're going to the coast or the port like we were. You want the next stop, which is Napoli Centrale, just five minutes farther.
There were plenty of taxis in the train station but I wanted to use the app FreeNow since it works like Uber. It ensures the drivers won't take you the long way and that there are no problems with translation or payment as your credit card is tied to the app. If you use FreeNow, the driver will probably tell you to walk to the end of the station, go out the door, take a right and stand in front of the Burger King. I know, right?
The ride to the Molo Beverello Port was about 20 minutes thanks to heavy traffic and the ridiculous one-way streets, which make it seem like your driver actually is taking you the long way.


Stay tuned for Part Four about taking the ferry from Naples to Ischia!

KEEP READING:
–12 Things to Know Before You Travel to Europe
–12 Things You Never Knew About Italy
–7 Things to Do in Naples, Italy
–12 Things to Know Before Going to Paris
–19 of the Best Off-the-Beaten Path Things to See and Do in Paris
Want more travel news, tips and deals? Sign up to Johnny Jet's free newsletter and check out these popular posts: The Travel Gadget Flight Attendants Never Leave Home Without and 12 Ways to Save Money on Baggage Fees. Follow Johnny Jet on MSN, Facebook, Instagram, Pinterest, and YouTube for all of my travel posts.