If you or a friend are planning to travel to Europe this summer, I'm pretty sure you'll appreciate any advice to help make your travels go smoother and safer. Europe is one of the busiest places for tourists over the summer months, so hopefully, you'll find these tips helpful! Let me know if you agree, disagree, or would add anything to the list below. And please feel free to share this with any friends, family, or colleagues who plan to travel to Europe this summer!
Here are 12 things to know before you travel to Europe:
1. Make Sure You Have A Valid Passport
If you're planning to travel out of the country this summer, now is the time to find your passport and make sure it's valid. Remember that many countries require that your passport be valid for at least six months (some just three months) after your arrival date before they'll grant entry to their country. It doesn't matter if you're only going for a day; if you don't have at least six months validity, you could, and probably will, be denied entry. Here's how to renew or apply for a passport. For more, here are 10 passport tips that will save you time, money and headaches.
2. Pack Light + What Not to Pack
One of my top three travel tips is to pack light. Trust me: It will make your travel experience so much easier. When my then-girlfriend, now-wife, Natalie, showed up for our first trip together, which was just a weekend trip, she looked like a 1920s transatlantic passenger with the size of her trunk! I had to put on the brakes and show her the light.
I used to pack the same way but I learned the benefits of traveling light, like not having to pay for checked luggage, not having to show up early to the airport, not having to stand in long lines to check your bag or stand around for what seems like an eternity for your bags to come out at baggage claim (if they ever do). You also don't have to worry about the airline losing your bag, and you'll be able to switch to an earlier or non-delayed flight more easily and you can take public transportation to get around, which is usually faster and cheaper – especially in Europe.
Then, Natalie figured out how to pack even lighter than me and when I suggested she check a bag for one of our round-the-world trips, she looked at me like I was crazy. Now that we have kids, our carry-on days are behind us but if you can, don't check a bag. And if you have to, make sure you pop an Apple AirTag or Samsung SmartTag inside so you can always track your own luggage, since the airlines are currently losing record numbers of bags.
All I take is a Briggs & Riley rolling bag, which has my valuables and work supplies (laptop, tablet, chargers, etc), along with a medium-sized Roots tote bag with clothes for a week. I'll find a place to wash my clothes when my trips are longer than seven days, which they usually are.
GOOD TO KNOW: 10 Things You Don't Need to Pack
3. Pack an Extra Bag
If you think you might do a fair bit of shopping on your travels, then pack a thin, lightweight duffel bag in your carry-on or checked suitcase. That way, if you have too much stuff, you can check an extra bag on the way back. TIP 2: If you purchase expensive items, then put your dirty clothes in the checked bag and carry the more valuable items on the plane.
4. Combat Jet Lag + How to Sleep on a Plane
The best way to combat jet lag is to get on the local schedule as soon as possible. I usually start doing this the day before I fly by going to bed early, and the moment I get on the plane, I set my watch to local time. I then try to sleep and eat at the times they would be doing so at my destination. If you take an overnight flight and don't get much rest, don't go to sleep when you arrive. Instead, fight it. Try and stay awake until at least 10pm so you can get on local time as soon as possible. FYI: Here are 10 tips for getting some sleep on a plane.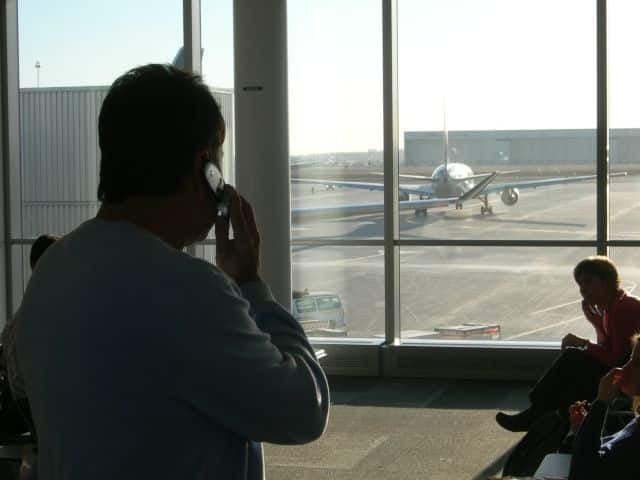 5. Call Your Credit Card Company
Tell your bank and credit card company before you leave on your trip that you are going out of the country. Let them know the places you are going and the dates you'll be away because after all of the credit card hacking, they will put a block on your card(s) immediately and this can put a real damper on your trip. So make a quick call in advance or get online to avoid this hassle. Here's our list of credit card partners — be sure to get one with no foreign transaction fees and a chip and pin.
6. Always Pay in Local Currency
One of the biggest scams I find major stores committing overseas is after they swipe my credit card and it registers as U.S., they try and make it sound like they are helping me save money when they say, "Oh, would you like to pay in U.S. dollars or euros/pounds (or whatever their local currency is). Paying in U.S. dollars would seem to be the more convenient option, but in reality, it's not. In fact, it's a total rip-off, since the stores that do this charge a higher exchange fee than your bank back home does. So, remember to always pay in the local currency of the country you're in.
7. Avoid ATM Fees
Before leaving the country, it's always smart to check with your bank to see what ATM fees to expect. "When you use a foreign ATM, you could be charged a variety of fees, including non-bank ATM usage fees, ATM operator access fees, and international transaction fees for conversion to U.S. dollars." That quote is directly from Bank of America, which goes on to tell its customers, "one way to limit such fees is to use your Bank of America ATM or debit card at one of our international partner ATMs. This enables you to avoid the Non-Bank of America ATM $5 usage fee for each withdrawal, transfer or balance, as well as the ATM operator access fee." Here's a list of Bank of America's partners (click "What is the Global ATM Alliance?"). To find your bank, just search their name and international ATM partners.
8. Download Apps like Google Maps & Google Translate
These days, you rarely have to worry about not being able to communicate overseas. People always think I speak multiple languages because I travel so often and don't have a difficult time doing it. Sadly, I only speak English and I'm not even very good at that. However, I've noticed that more and more people are speaking English in the past 15 years (especially the younger generation). During all my travels, I only once ran into a problem not speaking the local language and that was in China. But since then, there's been a whole slew of technological innovation, including the Google Translate app (Android and iOS). It's free to download and can translate over 108 languages (you can even translate 59 languages when there's no Internet), from Afrikaans to Zulu. The app also has instant camera translation: Translate text in images instantly by just pointing your camera. Travelers can translate any text including street signs and menus just by holding up their camera: English to-and-from 94 languages. The translation is suddenly overlaid on the phone screen, just like that.
9. Check Your Phone Plan
Before you start using all of your apps, make sure your cell provider won't bankrupt you. Before leaving on your trip, call your provider and ask them if you are covered for the countries you are traveling to. If not, either turn your phone off or put it in airplane mode and just use WiFi. If you have T-Mobile, chances are you will be able to get free data and inexpensive phone calls ($0.20 a minute). If you are cruising, follow this advice.
10. Get an Adaptor + Power Strip
Instead of buying multiple individual plug adaptors, with a power strip, you can just buy one (or if you travel a lot, then buy one multi-country adaptor like this one). That way, you can plug multiple cords in and just use one outlet. And that's key, since a lot of hotel rooms and cabins on cruises only have one or two outlets.
11. Validate Your Bus and Train Tickets in Europe
This tip was left by reader Orit R. from Israel, who says: "I just had friends come back from the Czech Republic where they had bought bus/tram tickets. As in most European countries, this kind of transport works on the honor system, in which you must endorse [validate] your ticket when getting on the transportation. My friends thought that since they'd bought the tickets, they were okay to go. Well, the transport ticket police got on their bus and were checking all the tickets and when one of them got to my friends, he saw the tickets were not endorsed. My friends tried explaining that they were tourists and didn't understand the language, but that didn't help. They were 'off-loaded' at the next station and taken to the police station, where they received a hefty fine. They were on their way to a prepaid tour, and of course, due to time they missed their tour." Many European countries have this system so don't forget to validate your bus/train/boat ticket if it's required.
Save
Save