My husband Tim and I just recently celebrated three years of living in Italy. I think back to previous trips to Italy and if I had only known then what we know now! We've learned by making mistakes and falling into the tourists traps of overpriced cappuccinos and bad gelato (yes, bad gelato does exist!). So when Johnny and Natalie recently visited Italy, we were all to keen to share our insider tips with them. Now we'd like to share 12 things we think are import for every traveler going to Italy to know with you:
1. Tipping is not required and can even be considered offensive
No, really. Let me repeat: You do not need to tip in Italy. Tim and I tried explaining this concept to my father-in-law on his visit to see us. He didn't believe it until a breathless restaurant owner came chasing after us, wildly waving the extra €10 note that my father-in-law had left and yelling in Italian that he had forgot his change.  In general, the attitude in Italy toward tipping is that you can't buy a person off.
2. Standing at the bar is cheaper than sitting down
Ever noticed all the Italians standing at the bar drinking their cafes? That's because there is one base price for coffee and pastries and another price for table service if you sit down. So order your cappuccino al banco (at the counter) and enjoy it standing with the rest of the crowd!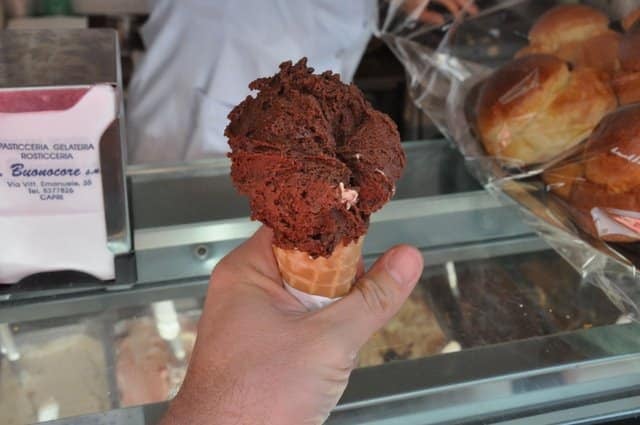 3. Spotting artisan gelato
High-quality, artisan gelato can only be stored for a few days. It's also a time consuming process to make it (as I recently learned at the Carpigiani Gelato University), so some shops in Italy are beginning to sell industrial, mass-produced gelato instead of making it using traditional methods.
Still, you can find the good stuff if you know what to look for. Beware of the photo-worthy gelato bulging high from its container; that's a sure-fire sign it was made from an artificial mix. The color of gelato should be a muted, natural color. Brightly colored gelato is another sign it is made with artificial flavoring and colors.
The easiest trick is to check the banana gelato: if it is a grayish hue, it was made with real bananas. If it is bright yellow, move on to another gelateria.
4. Cash is king
For me, one of the biggest cultural differences I had to adjust to after moving to Italy was always needing to have cash on me instead of relying on my debit card. Credit cards still aren't widely accepted in Italy. Also good to know is you can't pay for anything under €10 with a credit or debit card in establishments that do accept them.
Always have cash with you and have a variety of notes. If you present a €20 note for your €1 cappuccino, you'll be frowned upon.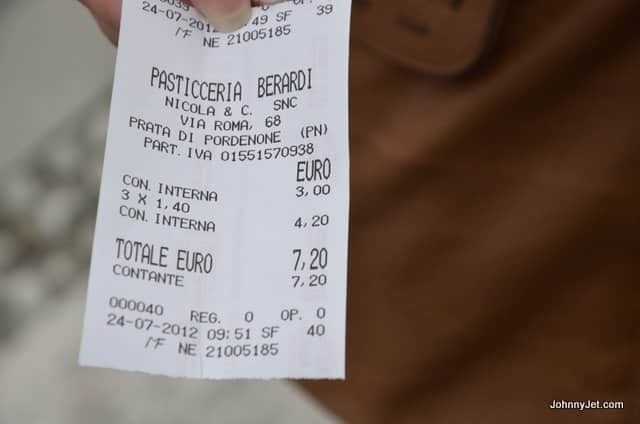 5. Don't walk off without the bill or receipt
Ever had the cashier thrust the receipt at you for your €2 gelato? There's a reason for that! The Guardia di Finanza (tax police) may stop you as you leave an establishment and ask you to present your receipt. The shop keeper can be fined €2500 if you can't produce it.
Why all the fuss over a piece of paper? Taxes are expensive in Italy and some shop keepers skim off the top to avoid paying taxes. It is their responsibility to make sure you leave with your receipt. So always take your receipt and wait until you are at least 100 meters from the establishment before tossing it out.
6. Speaking of fines…
In Italy, your train/bus/vaporetto (water bus) ticket isn't considered valid unless you validate it at a machine before boarding said train/bus/vaporetto. The machine time and date stamps your ticket so that it cannot be reused.
Just yesterday I was headed home from Florence and had one minute to change trains. The validation machine said fuori servizio (out of service) and I didn't have time to look for another machine if I was going to make that train. So I hopped on without a validated ticket. The conductor came around just a few minutes later and to avoid the €30 fine, made me get off at the next stop to validate my ticket. I was lucky that he didn't make me pay the €30 fine; turning my €5 fare into a €35 one!
7. Don't assume you can buy your train/bus/vaporetto ticket on board
You're required to buy your train/bus/vaporetto ticket before boarding, which can be challenging when there isn't a ticket machine next to the stop. Instead, look for the tabaccaio (tobacco shop) to purchase your ticket. If you plan to travel on a Sunday, purchase your ticket ahead of time. You'll save yourself the time and stress of looking for an open tabaccaio on a Sunday.
And don't forget to validate your ticket just before you get on board!
8. Cover bare shoulders and knees when entering a church
Churches such as St. Peters Basilica in Rome, the Duomo in Florence, and St. Mark's in Venice have strictly enforced dress codes. Basically no bare shoulders, midriffs, or knees. And while there isn't a door keeper at every single church in Italy, these are still places of worship and you should be respectful when entering them.
I always carry a scarf that I can wrap around my shoulders or even use as a sarong.
9. Riposo
Stores and businesses close for riposo (like an extended lunch hour) generally between 12pm and 3/3:30pm. Store and business hours are set at the Comune (city) level, so opening times vary from city to city.
10. Don't touch without permission at the markets
Visiting markets in Italy is something I highly recommend. Not only can you find the freshest, local produce but you'll find clothes, cheeses, leather goods, kitchen supplies, and more.
But when visiting markets, keep your hands to yourself! Always ask permission to see something and the vendor will wait on you attentively, getting you the correct sizes or selecting your produce for you while wearing plastic gloves.
And if you visit a grocery store, you'll also notice plastic gloves in the produce section. Be sure to wear them when handling produce.
11. Peperoni means peppers
Ever ordered a peperoni pizza only to be surprised when it arrived at the table? Peperoni means sweet peppers in Italian. If you want American pepperoni, order a pizza with salami picanti (spicy salami).
12. Condom vending machines
Just last week I was walking around my little town with Johnny and Natalie. As we passed the farmacia (pharmacy), I jokingly pointed and said "Anyone need a condom?" We proceeded to discuss not only the 24/7 availability of condoms, but also the variety on offer. This particular vending machine had quite the selection!
Italy doesn't have one of the lowest birth rates in Europe without reason. These little vending machines have popped up all around the country in the last year. They even caused quite the controversy when they were installed in schools in Rome.
The farmacia may close at 7:30pm, but if you find yourself in a pinch and in need of a condom, you're likely to find a condom vending machine outside of most farmacias these days. Just make sure you have Euro coins. Vending machines take €2, €1, €.50, and €.20 coins.
For more from Jennifer on traveling smart in Italy—and avoiding tourist traps in Venice—click here. For her tips on how to do Venice's Carnival on any travel budget, click here.
About the author: 
We're Jennifer and Tim and we love traveling! We are just one ordinary couple who have found that travel brought us closer together, taught us patience, the art of compromise, and how to truly appreciate the diversity of this extraordinary world. Our bucket list continues to grow with far flung places on this beautiful planet. Join us as we share our travels and adventures with you! We aim to inspire you to travel and we're always happy to offer our advice. Follow their adventures on Twitter at @jdomb or on Facebook.