Our Italy insider, Jennifer Dombrowski, gives us the best tips for visiting Venice's Carnival, held each year in the lead-up to Ash Wednesday (which this year is March 5). Check out more of her Italy insider tips in 12 Things You Never Knew About Italy and Venice's Biggest Tourist Traps and How to Avoid Them.
Each year, Venice is home to one of the world's top 10 carnivals and though you might immediately envision elaborate costumes and masked balls that undoubtedly cost a fortune, visitors to"La Serenissima" (a name for Venice derived from the Italian word for "serene") can actually enjoy most of Carnevale for free. Living just a short train ride away from Venice, we've celebrated Venice Carnival for the last four years and so have put together these tips for making it an unforgettable experience for any travel budget:
1. Wear a costume!
No, it's not required to wear a costume and not everyone does. But it's so much more fun to masquerade at Venice Carnival! While the traditional costumes are most popularly based on the historical fashion of the Italian Renaissance, it's not uncommon to see people dressed up as everything from a clown to a dinosaur. Do you have a Halloween costume packed away? Well dig it out and pack it in your suitcase! Or if you don't want to tote a costume all the way to Italy, you can rent one right in Venice. Just be sure to reserve your costume in advance.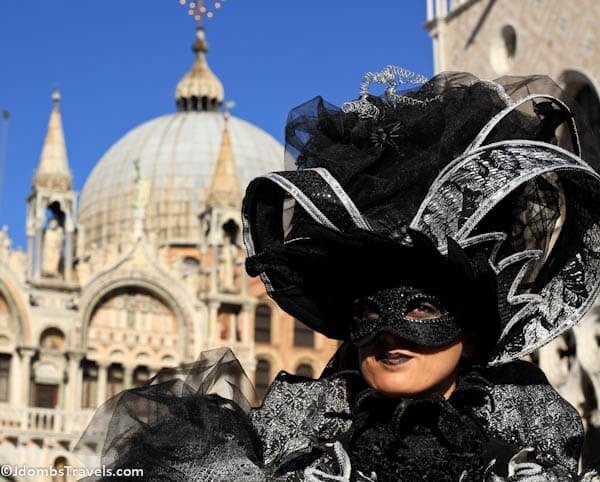 2. Buy a Venetian mask
If you don't want to don a full costume, a Venetian mask is also a lot of fun to wear. And they make fantastic souvenirs to take back home with you. The Venetian mask is, after all, the quintessential feature that makes Venice Carnival unique. There are several types of Venetians masks: the bauta, which is the most traditional, the moretta, the volto, the columbina, and the birdlike mask of the Plague Doctor. (Editor's note: Jennifer did a great post on the history of Venetian masks on her blog. Check it out.) No matter which type is your favorite, know that most of the cheap masks found along the Rialto Bridge and at kiosks are actually made in China.
If you want a Venetian handcrafted mask to take home as a souvenir, I recommend you visit Mondonovo Maschere at Dorsoduro 3063. Owner and sculptor Guerrino Lovato is known locally as the King of Masks. His workshop has produced masks for over 30 years and for some of Hollywood's biggest blockbusters, like "Eyes Wide Shut."
3. Enter a costume contest
Toss back a glass of wine and parade your costume on stage at the Gran Teatro of Piazza San Marco. It's completely free to enter and the costume contest takes place twice daily (check the dates and times and register to enter here). Winners are awarded daily prizes and if you make a fool of yourself…well, that's what the mask is for!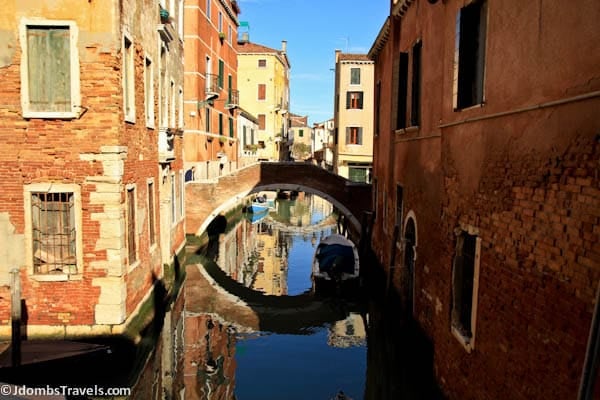 4. Discover hidden Venice on a Carnival-exclusive walking tour
Throughout the 10-day long Venice Carnival, a number of special events and tours take place that offer you a look into Venice's mysterious past. You'll learn some of Venice's secrets as you weave through the maze of hidden passageways and picturesque canals on the unique Secrets of Venice Walking Theater Show. Be sure to book online in advance as these tours and events sell out quickly.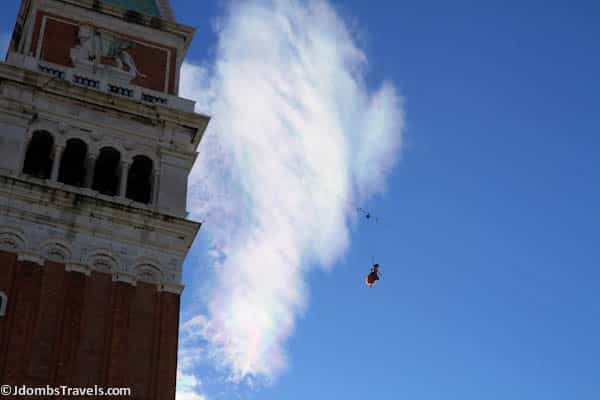 5. Arrive early for the Flight of the Angel
The Flight of the Angel, or Volo dell'Angelo in Italian, is an event that dates back to La Serenissima period and is the official start to Venice Carnival. Promptly at the strike of 12 noon, an acrobat leaps off the San Marco bell tower and flies through the air to land right in the middle of Saint Mark's Square to the pulsing crowds' delight! This event is free and also one of the most crowded of the entire 10-day program. If you want to see the Flight of the Angel, be sure to arrive in Saint Mark's Square (Piazza San Marco) no later than 11 am.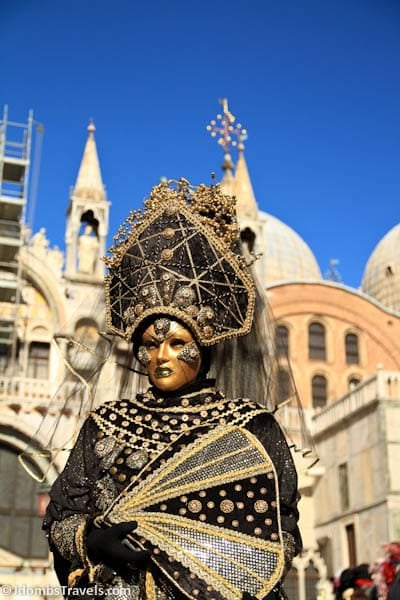 6. People-watch in Saint Mark's Square
Speaking of Saint Mark's Square, it is absolutely the best spot to capture photographs of the masqueraders covered head to toe in their elaborate costumes. Not only does Saint Mark's Square and the lagoon provide the perfect backdrop, but this is also the place to see and be seen! You'll see the largest number of masqueraders between 10 am and 4 pm when the twice-daily costume parades are happening.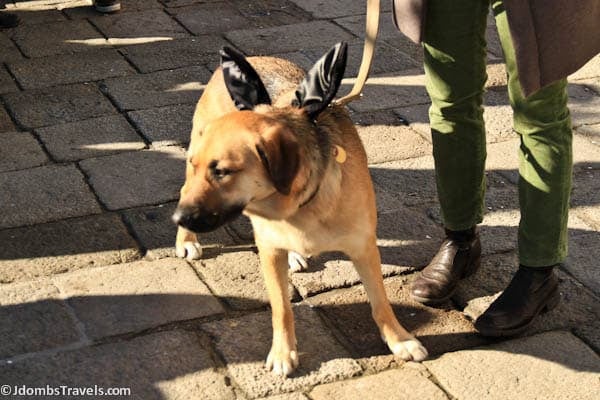 7. Eat Venetian fritelle!
Carnevale, the Italian for what we translate as Carnival, actually means "farewell to meat." The celebration ushers in the meat-free period of Lent and so revelers in the past would use up the rich ingredients they had on hand. To compliment the savory dishes often eaten during the Carnival period, Venetians invented the sweet treat called fritelle. It's a fried ball of pastry dough and often filled with cream or nutella and sprinkled with powder sugar. You'll find fritelle exclusively during Carnival, so be sure to taste this unique Italian treat!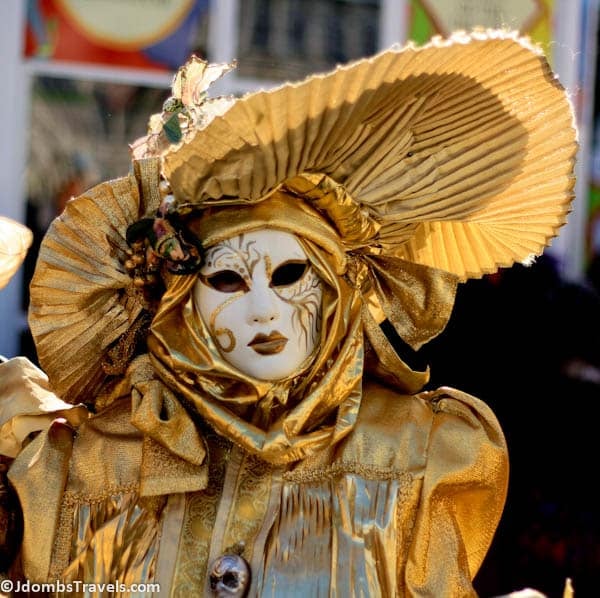 8. Go on a pub crawl
The best time to see masqueraders is actually during the daytime and Venice doesn't have much of a nightlife scene. So when in Rome, er Venice, do as the Venetians do! A giro d'ombra, loosely translated as a pub crawl, is actually a very Venetian thing to do and dates back hundreds of years. Dress in your Carnival finest and join fellow travelers from around the world on a guided tour to some of Venice's best bars. You'll enjoy typical wines from the Veneto region and finish off the night with one of my favorite Italian drinks, the Venetian Spritz. Be sure to book online in advance as this pub in particular crawl also sells out quickly.
Venice Carnival is actually very affordable—with all of these suggestions priced at €40 per person or less and many of them completely free!