Last week an article circulated around the internet about some tourists—Roman tourists no less!—that were shocked to receive a bill for €100 (about $133) for four coffees in St. Mark's Square in Venice, Italy. Venice is certainly full of tourist traps that can turn into expensive lessons like this one (read the fine print on the menu!), but knowing how to avoid them will save you from leaving Serenissima with a sour taste.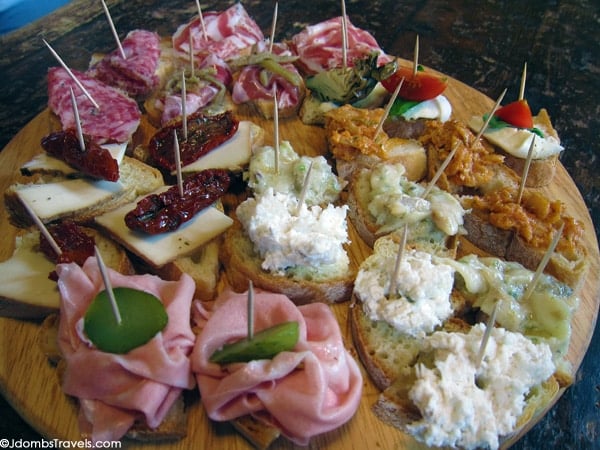 Tourist Trap: Dinner with a view of the Rialto Bridge
Let me set the scene. You've wandered along the Grand Canal for that perfect photo of the Rialto Bridge crowning the canal in all it's glory. Just as your shutter clicks, you hear the lilted Italian accent behind you inviting you in for the special tourist menu complete with a free Bellini. Don't. Turn. Around. Just walk away as quickly as possible! Sure, the view is a spectacular one of the Rialto Bridge, but I guarantee your meal will not be.
What to do instead: Graze at Venice's best cicchetti bars
Cicchetti are like Spanish tapas and cost €1-2 each. They are typically eaten standing up and are the most authentic Venetian cuisine you can have. A couple of my personal favorites are all located just steps away from the Rialto Bridge and frequented by locals. You won't find any menus; just point to a couple that make your mouth water from the case of the day's freshly made cicchetti.
Try: Cantina Do Mori at Sestiere San Polo, 429 or All'Arco at San Polo, 436.
Tourist Trap: Gondola ride
The movies would have you believe that a gondola ride along Venice's canals is incredibly romantic. You envision yourself gliding along a deserted canal as a gondolier in black and white stripes sings in Italian and you steal a kiss with your lover. The reality is a gondola ride will run you around €80 for a 20-minute ride as your gondolier shouts back and forth with his gondolier friends in Italian, leaving you feeling like you're on a packed ride at Disney World. And the singing? That will cost extra.
What to do instead: Learn to row your own Venetian gondola
Venice has only one rowing school for tourists and Row Venice delivers an experience you'll truly remember for a lifetime. Not only did I row my very own gondola along Venice's beautiful canals, but I also got a history lesson and learned a lot of fun facts about being a gondolier! A 2-hour lesson will cost €60 for singles, €40 per person for doubles, or €100 for a family (two adults and two children).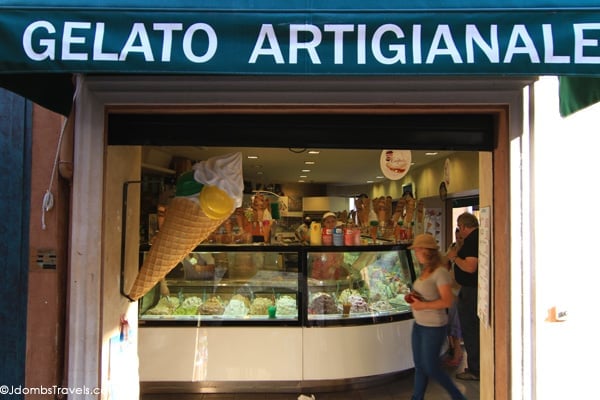 Tourist Trap: Gelato artigianale
There's nothing better after traversing Venice's 400+ bridges on a hot day than two scoops of  gelato. You spot a gelato shop with beautiful, colorful gelato piled high in the case, topped with fresh fruit. Must be the good stuff, right? Wrong.
Artisanal gelato is made by hand, using fresh ingredients. The gelato that is piled high in the case is piled high because it has been whipped—and this is the first indication that it is not artisanal or even made on site. Another surefire indicator the color. Banana (banane) is a common flavor and it should be grayish, not bright yellow, and mint (menta) should be white instead of green.
What to do instead: Seek out Venice's best gelato shops
The tiny Gelateria Alaska, tucked away on Calle Larga dei Bari, 1159, in the Santa Croce neighborhood, is Venice's best gelateria in my opinion. Run by owner Carlo, who you'll almost always find behind the counter, makes his homemade gelato daily. When he's out of a certain flavor, that's it for the day. Some of the flavors sound wild, but give them a try! His ginger gelato (zenzero) is a bit spicy, but surprisingly delicious. Another favorite of mine is the basil (basilico), amazingly refreshing on a hot summer day and pairs perfectly with strawberry (fragola).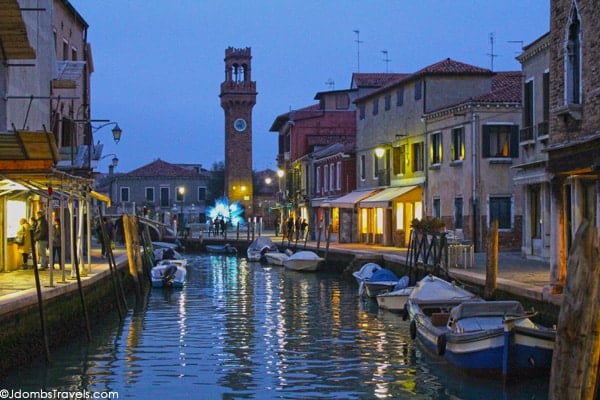 Tourist Trap: Murano glass shops on the Rialto Bridge
Murano glass is so named because it actually is made on the island of Murano. Though it travels only a 20-minute boat ride across the lagoon, Murano glass can be marked up to double or triple the price in most shops on the Rialto Bridge or in St. Mark's Square. And some of it isn't even real; it's made in China! If you absolutely must buy Murano glass in Venice, there are a few places I recommend such as Segreti Veneziani (also known as Rialto 79) where you'll receive a certificate of authenticity for every piece.
What to do instead: Take a trip to Murano
Murano is easy to reach from Venice via vaporetto (water bus) on the 4.2 line from S. Zaccaria (the stop just in front of Doge's Palace in St. Mark's Square) or the 3 line from Piazzale Roma or Ferrovia (the bus and train stations). Once on Murano, wander in and out of the various glass shops and factories. Even if you're not buying, it's fun to see the glass makers melting and then molding glass into works of art. A 12-hour travel card costs €18 per person.
Tourist Trap: Coffee in St. Mark's Square
The whole idea behind this post came from the most recent €100 bill for four coffees in St. Mark's Square, so I certainly can't leave you without a tip to avoid this tourist trap! St. Mark's (San Marco in Italian) is Venice's most beautiful, and actually only, piazza. But beware that occupying just about any of the outdoor tables in the piazza comes with a price tag.
What to do instead: Take your coffee at the bar
There is always a higher price for table service. This is because in Italy, servers are paid a wage instead of working for tips like in the U.S. A cappuccino or cafe americano that costs €1 at the bar can cost up to four times that when sitting. So, first wander out of St. Mark's Square. You'll find bars in just about any alley leading out of it. Second, live like a local and order your coffee at the bar standing up. You can actually get a coffee and a delicious pastry for the cost of just the coffee and sitting down for a few minutes!
For more from Jennifer on traveling smart in Italy, click here, and on Venice's famous Carnival celebration, click here.