If you're following along with our trip to Europe, let me bring you up to speed: First we flew from Toronto to Barcelona, then sailed for seven days on the Enchanted Princess (spoiler alert: it was incredible!), spent two wonderful nights in Rome, which included a Flytographer photo shoot (yep, our annual Christmas card photo is done), then took the fast train to Naples so we could get on a ferry to the island of Ischia. We left off after just arriving at the port Molo Beverello from a taxi I ordered using the must-download app if you're traveling in Europe, FreeNow.

Why Ischia?
Ischia is a volcanic island that's six miles (10 km) wide and four miles (7 km) long. It's located in the Tyrrhenian Sea between the Gulf of Gaeta and the Bay of Naples. For most people, it's famous for its warm mineral springs and incredible vistas but in our family, it's the island my grandparents emigrated from in the 1920s. Up until recently, few Americans had ever heard of Ischia, while most know of its much smaller and more expensive neighbor, Capri.


Getting to Ischia
To get to the island of Ischia, there are multiple choices in terms of ports, types of boat and ferry companies. Most of the fast boats are large catamarans that hold almost 300 passengers. They're similar to those servicing Nantucket, Catalina Island and the Great Barrier Reef. Travel time for the 18-mile (30-km) jaunt is 55 minutes (if you don't stop in Procida). I was told the best place to purchase tickets in advance is from traghetti-ischia.info/en.
Buying ferry tickets
I did purchase tickets through Traghetti and it was easy. Just note that the email confirmation they send you isn't your actual ticket. You still need to go to the ticket office when you get to the port to check-in and get your actual tickets. I didn't print anything up, I just showed the confirmation email on my phone and the ticket agent printed three tickets and handed them to me. I went back to the line and told the agent there were four of us traveling but my three-year-old didn't need one since she was free of charge. It cost 21.30 euros for each adult and my six-year-old son's ticket was 14.90 euros. The total was 57.50 euros.


I don't think you have to book tickets in advance, though, as I saw many locals buying tickets on the spot. But I didn't want to chance it with two little kids.


Molo Beverello
We had an hour before the 2:35pm ferry departed so my wife took the kids to one of the souvenir shops while I guarded our bags. When they returned, I grabbed us slices of pizza from the café next door while they guarded the bags. The pizza was okay but they reheated it in the microwave, which is kind of mortifying for an Italian. Next time, I will pass on their pizza and get a caprese, which looked amazing.


Boarding
We had a nice spot in the shade so I didn't bother lining up in the sea of passengers waiting to board. We didn't get in line until I saw it moving and by then, it was a bit confusing as one section of the line was going to Positano while the other was Ischia-bound. There was a bottleneck getting on the ferry as everyone had large bags.


Baggage
I didn't realize that you need to pre-pay 1.50 for each checked bag and we had two large ones. The boat was about to leave and fortunately, the crew let me slide. I offered them the last 2 euros I had in my pocket but surprisingly, they declined.


Fast Ferry
The fast ferry was packed … and I mean packed. All the seats downstairs were taken and the ones on the upstairs deck were too. Fortunately, my wife found some seats upstairs in the inside cabin but they weren't together. They sold every seat on the boat.
After we departed, I put my bag on my lap to make room for the poor passengers who boarded after us. I was too cramped to go explore but a bar attendant came down the aisles a couple times trying to sell fresh-made limoncello spritzers.


The ride was 50 minutes and wasn't pleasant at all since it was sold out and most of the windows were pretty dirty; that's just the nature of ferries so it's best to be outside.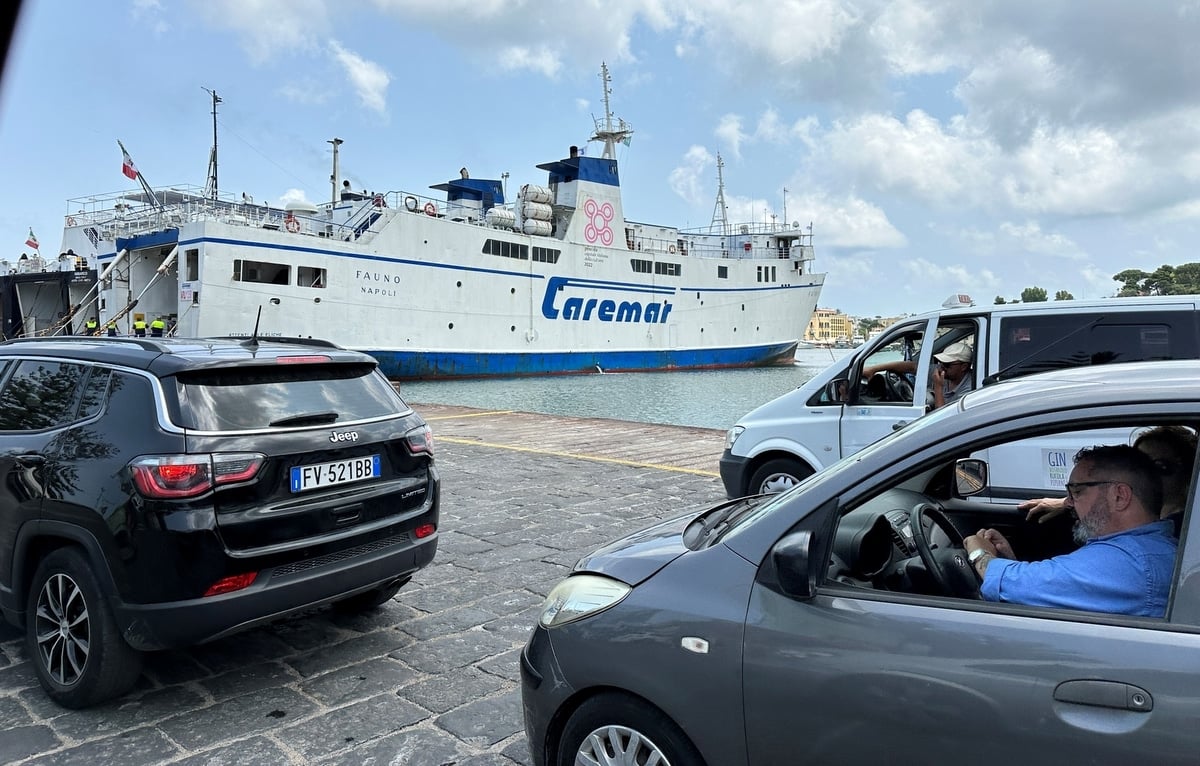 Slow Ferry
On the way back, we decided to take the slow ferry, per the recommendation of the GM of our hotel, the fine Regina Isabella. I told him about our experience on the fast ferry and he recommended the slow ferry since we weren't in a hurry and had so many bags.  He was spot-on as not only is the slow ferry much cheaper, it was so much more comfortable. The hotel concierge purchased our return tickets for 35 euros for the three of us.


Boarding
The driver from Regina Isabella dropped us off right in front of the boat. I mean, he bypassed all the other cars to get us right to the front. He was a baller. I'm really glad he made the effort because trying to push our suitcase just a few yards on the cobblestone was a workout; the same goes for getting up the ramp to the ship.


Once on the ship, I placed the two big bags in the large baggage racks on the same level as the carport.
I was going to put my backpack with just extra clothes in it there as well but one of the crew members advised me not to.
Then we took an elevator to the second floor, which had a ton of indoor seating and was air conditioned.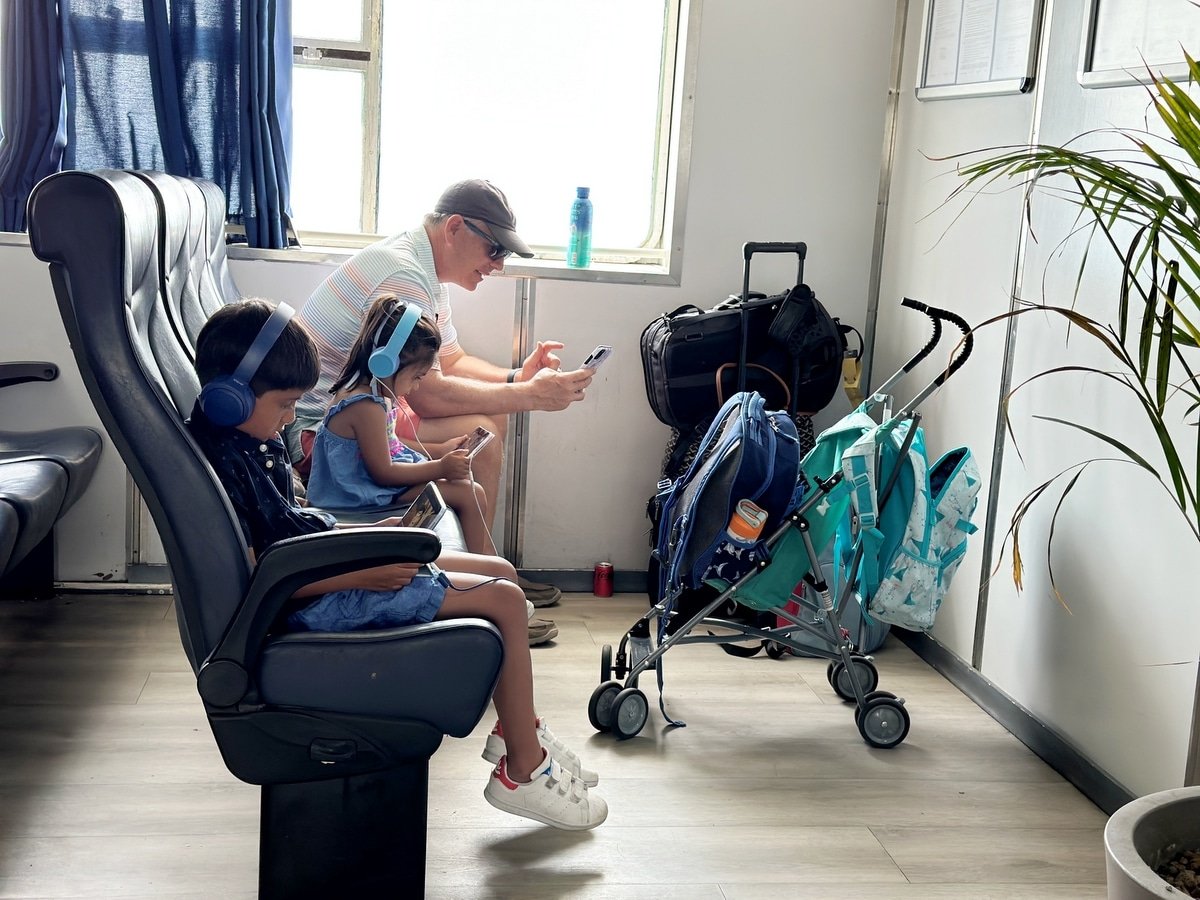 We snagged the bulkhead, which had so much legroom, it was easy to store our carry-on bags.


About 30 yards in front of us was a large snack bar and a couple of bathrooms (not the nicest). There also looked like business class seating in front but there was no signage.


There was a steep stairwell to the outdoor seats on the upper deck and a large area to roam around and enjoy the fresh air and take in the sights. Since the fast ferry's windows were so dirty, you couldn't really appreciate the surroundings but on the slow ferry, it was the opposite.


We took the 2pm ferry out of Ischia and it was almost empty. Meanwhile, the fast ferry near us looked like it was packed. FYI: We experienced smooth sailing on both ferries and my phone worked the whole way with T-Mobile and my Ubigi eSIM.


The next time we go to Ischia, we're definitely taking the slow ferry unless we're in a hurry or have no bags. We all preferred the slow one because it was more comfortable, less crowded and much cheaper.
KEEP READING: 
–12 Things to Know Before You Travel to Europe
–12 Things You Never Knew About Italy
–7 Things to Do in Naples, Italy
–12 Things to Know Before Going to Paris
–19 of the Best Off-the-Beaten Path Things to See and Do in Paris
Want more travel news, tips and deals? Sign up to Johnny Jet's free newsletter and check out these popular posts: The Travel Gadget Flight Attendants Never Leave Home Without and 12 Ways to Save Money on Baggage Fees. Follow Johnny Jet on MSN, Facebook, Instagram, Pinterest, and YouTube for all of my travel posts.