A big thanks to the Regina Isabella Resort for hosting our stay so we could provide this detailed review of our experience.
If you're following along with our epic trip to Europe, let me recap how it all started: First, we flew from Toronto to Barcelona, then sailed for seven days on the Enchanted Princess, spent two nights in Rome, which included a Flytographer photo shoot, then took the fast train to Naples so we could get on a ferry to the island of Ischia. We took the fast ferry there and the slow ferry back but we much preferred one over the other.

Why Ischia?
So, why Ischia? There are a number of reasons why we traveled so far to this remote island but the main one is that both of my grandparents grew up here and my dad just passed away in March so I wanted to do something special for my family. My wife and kids (ages six and three) had never experienced it and it's been nine years since I stepped foot on the island. This was my fifth visit and the last two were with my dad so it was emotional for me.
If you're not familiar with Ischia, it's a volcanic island 18 miles (30 km) off the coast of Napoli (Naples), located in the Tyrrhenian Sea between the Gulf of Gaeta and the Bay of Naples. Up until a decade ago, few Americans had ever heard of Ischia, though many know of its much smaller and more expensive neighbor, Capri. FYI: Ischia has 25,000 total hotel beds while Capri only has 5,450.

It takes 55 minutes to get to Ischia on the fast ferry; the journey is 30 minutes longer on the slow one from Naples. The island is six miles (10 km) wide and four miles (7 km) long. The population in Ischia is 70,000, but in the summer, that number rises considerably. Like in Capri, most hotels in Ischia are seasonal. They open in early April and close at the end of October. The island gets around six million visitors a year but most make the mistake of visiting just for the day.
The Regina Isabella Resort
There are only three 5-star luxury hotels on the island. The last time I was there, I stayed at one of them, the San Montano Resort and Spa, but this time, I stayed at the oldest and the most famous and prestigious hotel on the island, the Regina Isabella, which has been welcoming both tourists and film royalty since the early 1950s.
Here are all of the reasons you should stay at the Regina Isabella Resort in Ischia.

Service
The hotel's service begins the moment you step off the ferry. There's a driver waiting for you with a hotel sign. If you take the fast ferry, they can't pull right up to the dock like they can for the slow ferry so it's a little bit of a walk. Fortunately, our driver took all of our heavy bags. The service doesn't stop at arrival. Once on property, if you call down from your room, they answer the phone right away, which strangely, is rare these days. The uniformed staff are all extremely friendly and welcoming, ready to help with any request. 
History
When you first walk into the hotel, you're taken back in time. The Regina Isabella Resort was built in the 1950s and the lobby feels like it hasn't been remodeled since then. But therein lies the charm. It's part of the hotel's authenticity and beauty, and is what makes it so special. It feels like old-school Italy and that genuine feeling can't be replicated with a new build or modern refurbishment. There's a romantic glamour here that oozes of a time gone by. 
According to the hotel's website, the Regina Isabella's founder was Angelo Rizzoli, a legendary publisher and film producer. "He had long been fascinated by the island's villages and by the tradition of thermal baths, and in 1956 he extended the historic Baths of Queen Isabella, constructing a hotel complex on the ancient Greco-Roman ruins. Within a few years, Ischia and the Regina Isabella Hotel became a center of attraction for the international jet-set."
Hollywood's elites of past and present have all stayed here, like Richard Burton, Elizabeth Taylor, Clark Gable, William Holden, Sophia Loren, Matt Damon, Francis Ford Coppola, Jude Law, Gwyneth Paltrow, Sting, Oliver Stone, and Selena Gomez. In fact, while we were there, I noticed a man eating breakfast who looked liked the Edge from U2 but someone later told me it was a famous Italian star, though unfortunately, I can't remember his name.

Majolica Tile
One thing you're going to notice as soon as you start walking around the hotel is the incredible and colorful hand-painted majolica tiles that covers all of the floors. The vibrant tiles, full of intricate detail, are different all over the hotel, making them a visual delight. They can also be used to navigate your way around the hotel's interior – you'll come to know whether you're headed in the right direction or not based on the tiling on the floor. 
Rooms
The hotel is much larger than I expected, with 128 rooms divided between three sections: Regina Isabella, Sporting and Royal. We were in the latter, which was a long and somewhat confusing walk from the lobby but thanks to the beautiful hand-painted tiles, we never lost our way.
All the rooms in the Royal wing have names dedicated to celebrities who have stayed there and our rooms had the names Charlie Chaplin and Alfred Hitchcock on the plaque.
To get to our room involved taking two elevators, which, like in most of Europe, are tiny.

The rooms, just like the hotel, are decorated in a Mediterranean style with the richly-colored hand-painted majolica tiles you see throughout the rest of the property. Each room has mid-century furnishings but with 21st-century touches. They are all equipped with air-conditioning (key, especially in 2023), satellite TV, radio, safe, minibar, telephone, (free) Wi-Fi and more. My T-Mobile service worked the whole time, including on the ferry. I also supplemented my cell service with an eSIM from Ubigi.

But the best part about our room, besides the ample space, was without a doubt, the view. Our kids loved sitting on the small balcony, watching the birds and the boats below and soaking in the sun and the spectacular views that make you shake your head to see if it's all real or just a beautiful dream.
Bathrooms
We had two rooms because in Italy (and most, if not all, of Europe), if there are more than two people in your party, you need to get two hotel rooms or a suite. The Regina Isabella covered our stay so we had a connecting room with two types of bathrooms. One had a large jacuzzi while the other had an oversize shower with a bench and rainfall shower head.
The bathrooms come with lavish amenities and fun slippers for the whole family. The kids got a real kick out of them and even wear them now at home. The bathrooms also have bathrobes and a hairdryer.
The rooms have an old school system to let the staff know that you don't want to be disturbed (NON DISTURBARE) with a red light or that you want the room serviced (SERVIZIO) with a green light. 

Continuing with the back-in-time theme, the room keys come with heavy tassels attached. You're supposed to drop your key off at the front desk when you leave the hotel but we just plopped ours in Natalie's already too-heavy bag. It's probably not even necessary to lock your room because the island is very safe, unlike nearby Naples, but of course it's always wise to do so. Room Rates: The garden view with balcony starts from €349. The sea view with balcony starts from €510.


Pools
The hotel has four swimming pools. I only visited three of them, two outdoor pools and one indoor pool. But the main pool, perched between the two restaurants and overlooking the beach is where it's at, especially because it's a salt water pool and so warm (89F). The kids loved the roped-off shallow section where they could swim safely, and the pool noodles the hotel provided.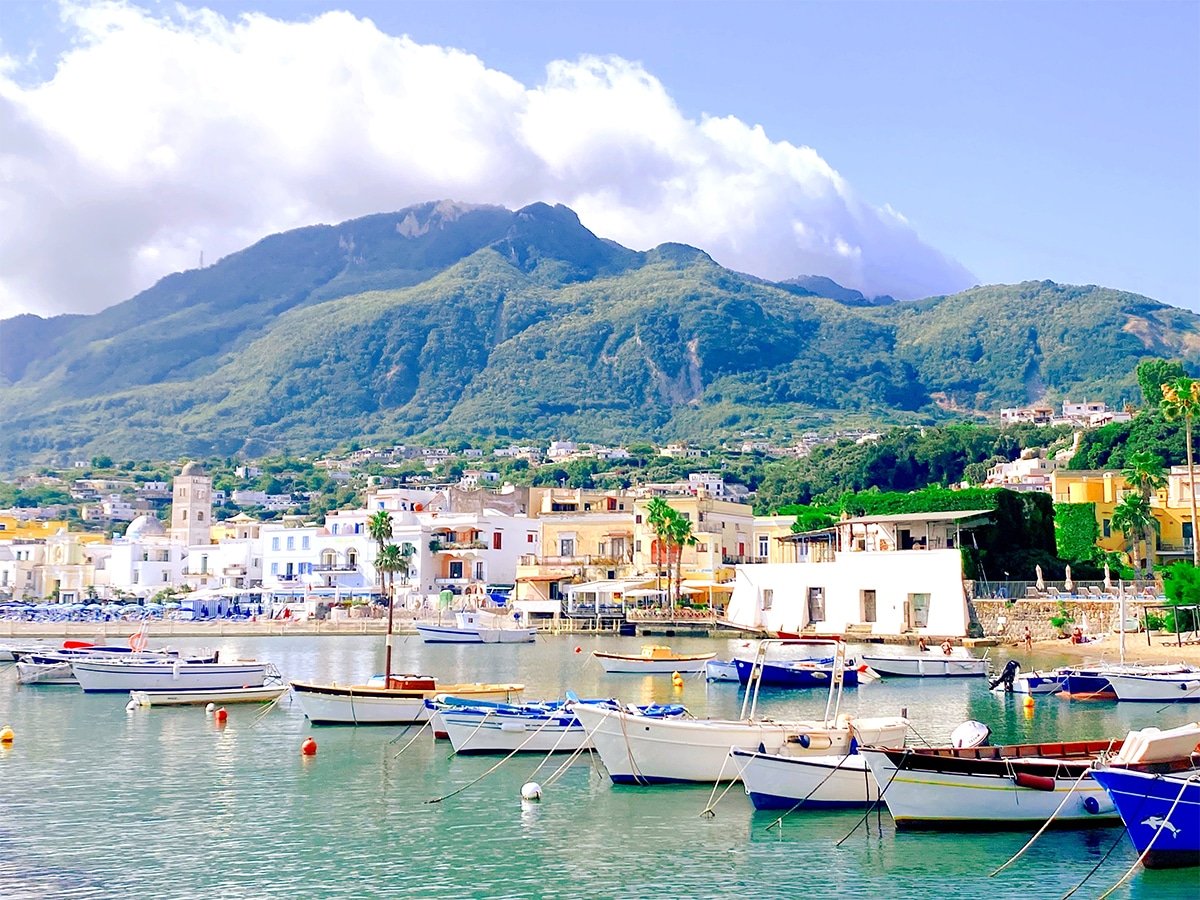 But again, the real showstopper is the view from the pool. My wife never wanted to get out of the pool thanks to that view and the blissfuly warm water.

Outdoor showers
You know you're at a luxury hotel when the two outdoor pool showers have hot water. When I took my kids to rinse off the salt water, they didn't want to get out of the shower. I didn't either.

Kids pool and club
The other pool I visited was the shallow, blue, kids pool, which looked nice but was never busy. I'm not sure if it was because it's kind of hidden in the back or the water was too cold. There's also a kids club and some parents we met from New Zealand raved about it. Our kids didn't go as we just didn't have enough time to do it all.

Tyrrhenian Sea
The hotel has a small private beach, which my kids loved but it's nothing special except the views. What is special and where 99% of the guests spend their time is the hotel's two jetties, outfitted with deck chairs and umbrellas. Pictured above is the view from the jetty.

To get there requires a short walk over a beautiful arched bridge (wear sandals since I got a nasty splinter). From there, you can swim in the warm, glistening waters of the Tyrrhenian Sea.
Wellness facility and spa
Regina Isabella has a popular wellness facility and spa that guests come just to experience. It's really elaborate and there's even an in-house doctor you need to see before undergoing some of the unique treatments. I just quickly toured around it one day to check it out but we only had 48 hours and I just couldn't bring myself to spend our short time indoors when outdoors was so spectacular. If I'm fortunate to return (my family is already campaigning to go back), I'll report on everything that I missed like the wellness facility, the spa, the gym and the natural hot springs pool.

Food
Another reason people come to this hotel is for the food. The Regina Isabella has three restaurants and three bars managed by Michelin-Star Executive Chef Pasquale Palamaro.

We ate dinner one night at Indaco, which has been awarded a Michelin Star since 2013. One bite of the food and you'll know why. Just one look at the food and you'll start salivating.

As an added bonus, the Maitre'd and I shared the same last name so perhaps he's a long lost cugino (cousin).

Breakfast buffet
The breakfast buffet, which is included in all rates and served in the same restaurant with the same fantastic views, is even more tempting. I would rank this breakfast buffet as one the top 10 greats for their pastries alone.

They have all the delicacies you could possibly hope for, from my dad's favorite sfogliatella to my favorite, a peanut butter and chocolate tart. My wife swears the bomboloni (Italian donuts) were the best she's ever had.

I think my daughter may feel the same about the croissant al cioccolato.



I promise you, you won't go hungry … or thirsty as they continuously serve fresh squeezed OJ and cappuccinos. When I say I gained four pounds, sadly, I'm not exaggerating. But if food is an integral part of travel, you'll have a first-class experience here and enjoy some of the best that Italy has to offer.

Location and proximity to town
One of the best things about the Regina Isabella is its location. It's a 15-minute drive from Ischia Porto …

… and a three-minute walk to the center of the charming village of Lacco Ameno d'Ischia.

There you will find plenty of shops and restaurants and a medium sized grocery store that sells everything you need, including Barilla or De Cecco pasta for one euro a box. While the kids couldn't resist checking out all the Italian cookies …

… it was the fresh raspberries they devoured on the side of the road. They were so good, I had to go back and get more three times.

My son needed a haircut so we went to a nearby barber. While Jack was getting his hair cut, my daughter said she wanted one too.

She had never had one before (except a quick trim from my wife during the pandemic) so what better place than my grandfather's birthplace, where he started out as a barber, for Olivia to have her first hair cut? It felt like a bit of a full-circle moment.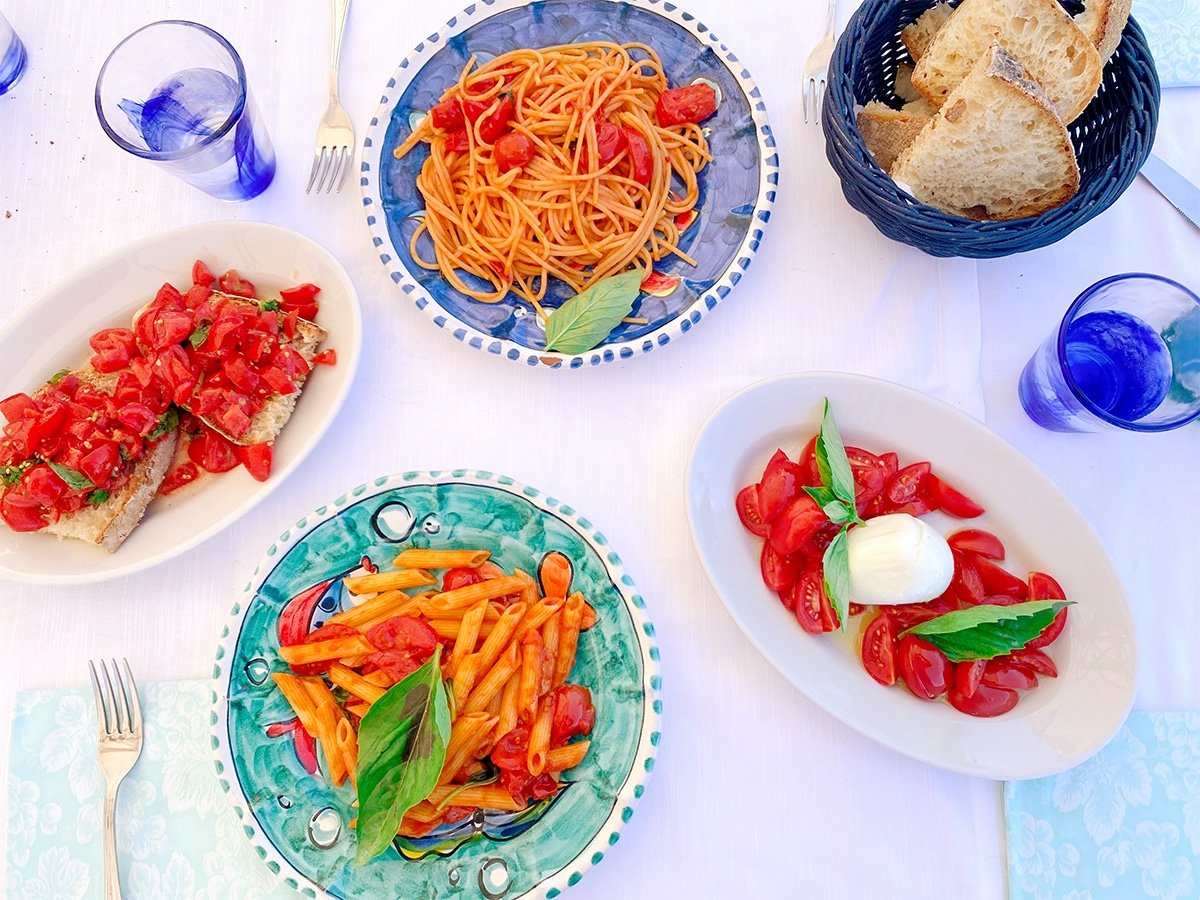 Our favorite meal in town was lunch at Ristorante Il Delfino.

It's right on the water so after the kids ate they just walked a few yards to the beach and played in the warm, shallow water.
Our time in Ischia was way too short but staying at the Regina Isabella Resort gave my family an incredible taste of the island that's so special to us. The kids and my wife loved it so much, they all begged that we make this an annual tradition. I hope I can make it happen and I hope you can too.
KEEP READING: 
–12 Things to Know Before You Travel to Europe
–12 Things You Never Knew About Italy
–7 Things to Do in Naples, Italy
–12 Things to Know Before Going to Paris
–19 of the Best Off-the-Beaten Path Things to See and Do in Paris
Want more travel news, tips and deals? Sign up to Johnny Jet's free newsletter and check out these popular posts: The Travel Gadget Flight Attendants Never Leave Home Without and 12 Ways to Save Money on Baggage Fees. Follow Johnny Jet on MSN, Facebook, Instagram, Pinterest, and YouTube for all of my travel posts.