One of the most tedious parts of traveling is dealing with the airport and security, in particular. You just never know how long the line will be, which is nerve-racking and can make it difficult to plan your time. Here are 10 airport security hacks to help make your airport experience smoother. RELATED: You Won't Believe What These Travelers Tried to Slip Through TSA Security Checkpoints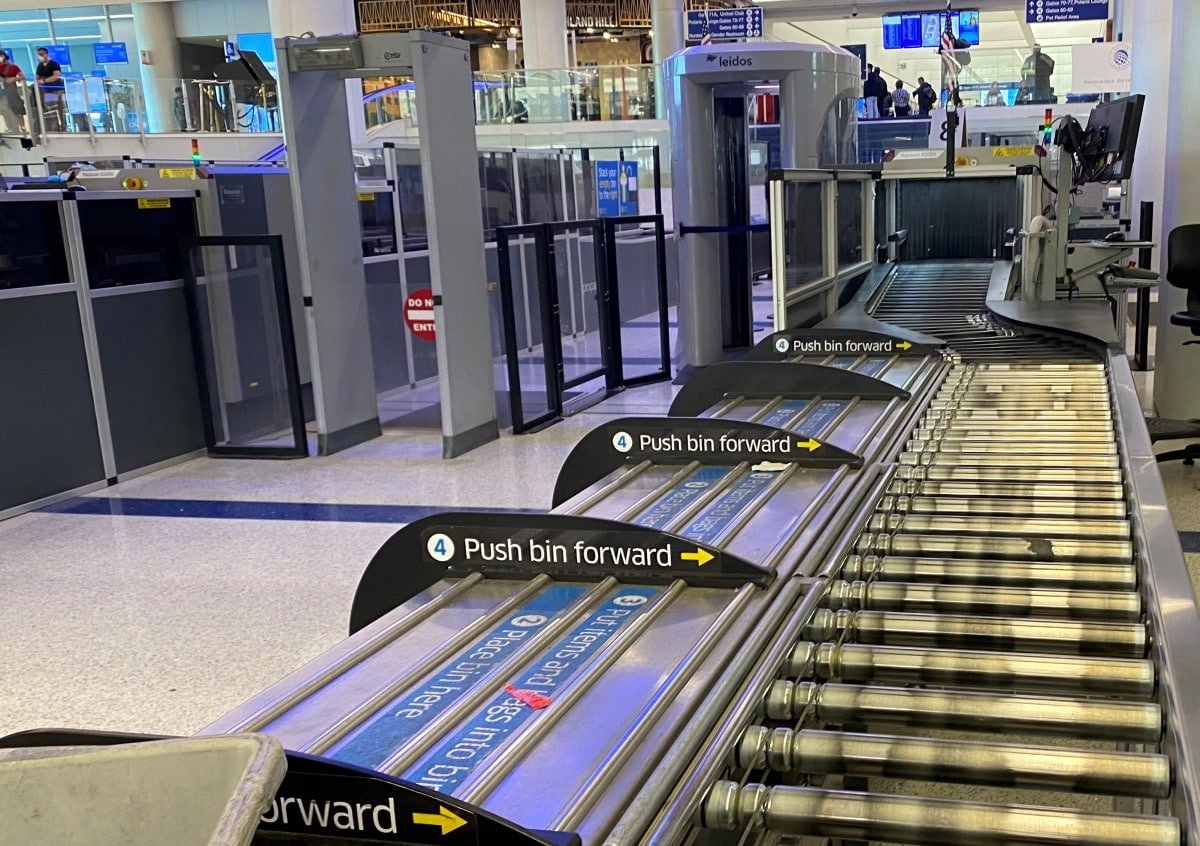 This post contains references to products from one or more of our advertisers. We may receive compensation when you click on links to those products. For an explanation of our Advertising Disclosure, visit this page.
1. Get TSA PreCheck
If you've ever waited in a long security line and, while staring around aimlessly in boredom, you noticed another line where passengers are just zipping through because they don't need to take their shoes off or laptops or toiletry bag out, then you've seen TSA PreCheck. It's the government's Trusted Traveler program, which began in 2013 and costs $78 for five years. Usually, you have to apply for it but they've been known to give it for free to low risk travelers (senior citizens) and elite frequent flyers. But instead of getting TSA Pre, apply for Global Entry since it's only $15 more and enables you to zip through immigration when returning to the USA as well as gives you TSA PreCheck for free. TIP: Here's how to get TSA PreCheck & Global Entry access for free.
2. Sign up to CLEAR
What's even better than TSA PreCheck is having a CLEAR membership. CLEAR is a private biometrics company with a partnership with the US government that uses scans of your eyes and face and turns it into touchless ID so you can bypass those long, slow lines at over 50 U.S. airports, as well as some sports and entertainment stadiums/arenas and venues (here's a list; make sure you check not only the airport but terminal, too) by quickly scanning your irises and ticket. TIP: CLEAR is $189 a year but here's how to get CLEAR for a lot cheaper.
RELATED: 5 Tips for Avoiding Airport Parking Pandemonium
3. Download the TSA app
One resource that even frequent travelers don't realize is available right at their fingertips is the Transportation Security Administration (TSA). They have a handy free app for both Android and iOS that allows travelers to check how busy the airport is likely to be on your specific day and time of travel, based on historical data. They also provide other important information like how to prepare for and get through the security checkpoint quickly as well as delay information and current weather conditions at your favorite airports nationwide. There's more too.
4. Ask the TSA on Twitter/FB Messenger
Not sure what you can bring through security like that apple pie for Grandma's Thanksgiving dinner? Believe it or not, the TSA is very active on Twitter and Facebook Messenger. Using their handle @AskTSA, they respond extremely quickly during work hours (8am to 8pm EST on weekdays and 9am to 7pm EST on weekends). For example, the last question asked at the time of this publication was from a woman named Agnes who tweeted: "@AskTSA my #tsaprecheck is not showing up on my boarding pass. I called @united and verified all my information was correct. I called @TSA directly (had the matter escalated) and it was confirmed that all my information is correct. It's just finger pointing now. Please help!" Four minutes later, the TSA responded with: "We'd be happy to help, Agnes. Pls click on the link to send us your full name, KTN, airline, confirmation number, flight number, date of travel and departure airport." Amazing customer service, right?
5. How to bring bottled water through security
No one wants to spend $5 on a bottle of water or drink the nasty tasting water from the dirty airport fountain. I often see people trying to sneak bottles of water through security all the time but they're easy to spot on the X-ray machine so you're not going to get away with it. But there is one hack that lets you bring full bottles of water through the security checkpoint. They have to be fully frozen. Here's more on the subject. You might also want to travel with a collapsible water bottle like this one that's easy to pack and can be filled up on the other side of security.
6. Pack smart
Even if you have TSA PreCheck and CLEAR, you still need to pack smart so you don't hold up the line. I put all of my loose belongings in my carry-on bag, including my belt, even though I don't have to take it off because I know that more often than not, it sets the metal detectors off and it's a pain to go back. When I'm traveling internationally, especially through London's Heathrow, I make sure all of my electronics and liquids (even a little tube of lip balm) are placed in a bin so they don't take what seems like hours to go through your bag. People miss flights because they're so meticulous and slow. I highly recommend traveling with a tech organizer like this one to keep all your tech chargers, cables and cords organized.
7. Secret third carry-on
Full disclosure: Scottevest used to be one of my sponsors and they still pay me a small referral fee but I recommend their products because I truly believe in them. My favorite thing about Scottevest is that a jacket or vest acts like a third carry-on, which is key when you have too much stuff or if your airline weighs your carry-on bags and you're over the limit by a few pounds. Most Scottevest jackets have 20+ pockets so you can put everything from your laptop to your phone inside. See this promotional video I made for them to give you an idea of what you can carry. I also love it because you can secure your money and passport so it acts like a money belt when traveling in dicey areas. Scottevest.com or buy from Amazon.com
8. Store your ID on your Apple device
If you live in Arizona and have an Apple phone or watch, then you will be happy to know that last winter (March 2022), the "TSA in collaboration with the State of Arizona and Apple, deployed a new technology that allows airline passengers to use their state-issued mobile driver's license or mobile identification card in Apple Wallet on iPhone or Apple Watch to verify their identity for airport security screening purposes." That means you can add a digital version of your license or ID to Apple device for TSA identity verification purposes. No more fumbling trying to find it or being hosed if you lose it. Even better news: This will soon be rolling out to Connecticut, Georgia, Iowa, Kentucky, Maryland, Oklahoma and Utah as well.
9. Don't panic if you lose your ID
If you lose your wallet or it gets stolen and you have a flight to catch, don't sweat. There are still ways the TSA and airlines can verify who you are. According to the TSA's website: "In the event you arrive at the airport without valid identification, because it is lost or at home, you may still be allowed to fly. The TSA officer may ask you to complete an identity verification process which includes collecting information such as your name, current address, and other personal information to confirm your identity. If your identity is confirmed, you will be allowed to enter the screening checkpoint. You will be subject to additional screening, to include a patdown and screening of carry-on property." Now if you're flying internationally and you lost your passport – that's a very different story! If you don't have a REAL ID you better get crackin' as the TSA is going to be cracking down. Here's what you need to know.
10. Choose the right line
If there are multiple security lines, I always scope out the crowd for length but also for who's in it. In the movie Up In The Air, George Clooney's character Ryan Bingham hilariously says, "Never get behind people travelling with infants. I've never seen a stroller collapse in less than 20 minutes. Old people are worse. Their bodies are littered with hidden metal." 
I hope these 10 airport security hacks help make your travels much smoother and cheaper. Let me know in the comments if I missed anything.
KEEP READING:
–8 Ways To Make Sure An Airline Doesn't Lose Your Bag … And That You Don't Get Robbed or Stalked
–The Trick For Getting Airport Luggage Carts for Free
–Airline Lost Your Luggage? Do This If You Want to Get Compensated
–Why Frequent Fliers Use Apple AirTags or Samsung SmartTags When They Travel
–An Airline Executive's Number One Tip for Avoiding Lost Luggage When You Fly

Want more travel news, tips and deals? Sign up here for Johnny Jet's Daily Travel Tip newsletter! Just fill in your email address and check the Daily Travel Tip box—and you'll have Johnny's best tips, straight to your inbox each day!