This post contains references to products from one or more of our advertisers. We may receive compensation when you click on links to those products. For an explanation of our Advertising Disclosure, visit this page.

If you ask any frequent flier their best travel tip, the majority will answer with, "Don't check bags." This way, you don't have to show up to the airport extra early to check it, wait around for what seems like an eternity at the baggage carrousel upon arrival, worry about it getting lost or having items stolen. A carry-on bag will also save you money on baggage fees, allow you to take public transportation more easily and get on a different flight if your original one is delayed or canceled. RELATED: Airline Executive's Number One Tip For Avoiding Lost Luggage When You Fly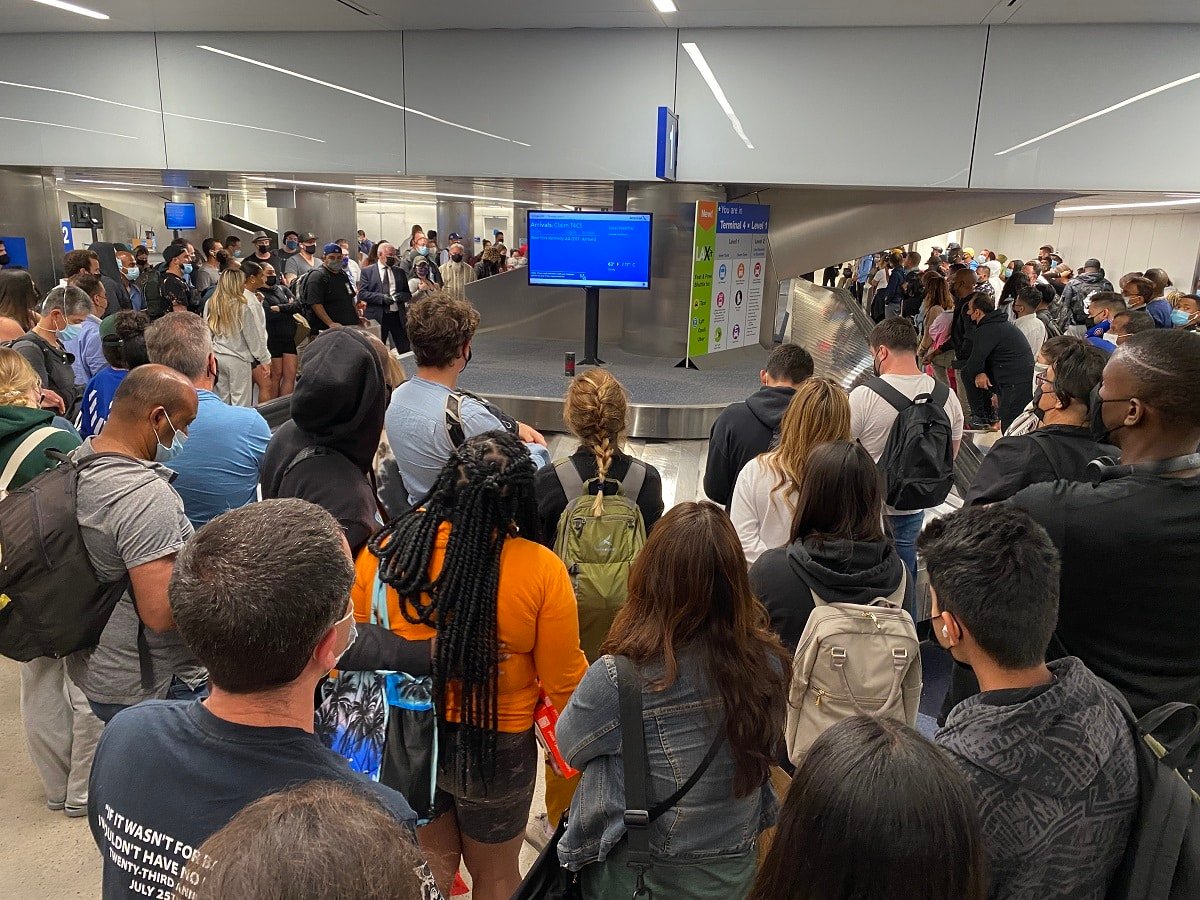 However, I realize not everyone can travel with carry-on only. I'm one of them when I'm flying with my two little kids, ages seven and four. But we do take all kinds of precautions, which I'll get to into shortly.
There are record numbers of travelers flying these days so airports and airplanes are packed. Just today, the TSA reported that their officers screened 2,760,352 people at airport checkpoints nationwide yesterday, October 22. Four years ago on the same day (pre-pandemic), those numbers were 2,478,287. That's a huge increase.
There's also been a problem with labor shortages, which has really made travel challenging and miserable for those who check bags. According to The Guardian, "the rate of mishandled baggage almost doubled globally in 2022, with 26m pieces of luggage delayed, lost or damaged. That mishandled luggage rate soared to 7.6 bags per 1,000 passengers in 2022, up from 4.35 in 2021 and 5.6 in 2019, according to the aviation data company SITA's annual insights report. For international flights, the mishandling rate was 19.3 bags per 1,000 passengers, more than eight times higher than the rate of 2.4 for domestic flights."
Fortunately, I think the airlines have gotten better at not losing luggage but we won't find out for sure until the reports come out next year. In the meantime, here's how to prevent lost baggage.
How to Prevent Lost Baggage
For a couple of years now, I've been advising readers that the key to avoiding the majority of travel hassles is to fly off-peak, fly nonstop and not to check a bag. And if you have to check a bag, then drop an AirTag in it so you can track your bag yourself.
Also, be sure to take a photo of the outside and the inside of your bag, put your name and phone number/email address on both the outside tag and put one on the inside (just in case the outer one gets ripped off). I have a lot more tips about how to prevent an airline from losing your luggage, which you can read about here.
Track Your Bag
So what happens when your luggage doesn't come out onto the carousel at your arrival destination? Well, first off, hopefully, you didn't waste an hour of your life waiting around because you had an AirTag in it and you already knew it didn't make the flight. BTW: Some airlines like American, Delta and United have great apps, which will at least tell you if your bag was loaded or not but it won't help with actually finding your bag if it's in a huge pile like the one below:
London Heathrow baggage system failure today. #LHR ?? pic.twitter.com/u8Xp9IrgPh

— Joshua Jered (@Joshuajered) June 18, 2022
Don't Lose the Airline's Baggage Tag Stub
Whenever you check a bag, the airline agent usually sticks the baggage receipt stub to the back of your ticket or hands them to you. Don't lose them. I almost always take a quick photo just in case they fall out of my pocket or bag. This way, I have proof that I checked a bag and can give the agent the bar code number just in case the tag got ripped off en route.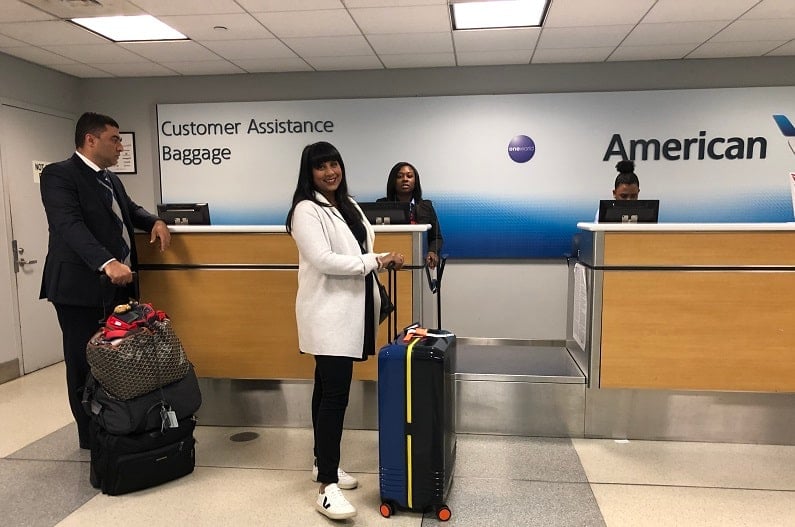 Report Lost Bags ASAP
If your bag doesn't make it, the first thing you need to do is make a beeline to the baggage office and report it. If you don't report it within a certain number of hours (usually four), then you're not going to get compensated.
Have a Bag That Stands Out
So many bags look alike, especially black ones, which is why you want to have a photo of the exterior of your luggage so you can let the baggage office agent know exactly what it looks like. It's also one of the reasons why I rarely travel with black bags anymore. These days, I use ROAM luggage from an awesome company that lets you design your own bag. The two suitcases pictured above are both from ROAM and they are extremely sturdy, spacious and easy to spot in a sea of black bags. No one will try to walk off with one of these! FYI: Use this link to get $50 off your ROAM purchase.
Know Your Airline's Rules/Contract of Carriage
Each airline has their own rules on what they cover and don't cover, including information about compensation for lost, damaged or delayed bags. Below, I've listed direct baggage info links for the major U.S., Canadian, European and Australian airlines so you can brush up, depending on who you're flying with:
North America: Air Canada | American | Delta | Frontier | JetBlue | Hawaiian | Southwest | Spirit | United | WestJet. International: Air France | British Airways | KLM | Lufthansa | Qantas
To give you an idea of the airline's language, here's what Spirit Airlines posts on their website: "Delayed bags are rare and we're sorry this happened to you.  Please make a report immediately upon arrival at the airport. Inform a Spirit representative in the Baggage Claim area or Baggage Service Office. If you can't locate the office, please track down a Spirit agent at the airport to better assist you. Guests traveling domestically must file an incident report and receive a File ID within 4 hours of arrival. Guests traveling internationally must file an incident report and receive a File ID within 21 days of arrival."
Hawaiian Airlines says something similar: "If your item has been lost or damaged, please visit a Hawaiian Airlines baggage service counter at one of our airport locations to file a report. You must submit a preliminary notice of your Claim to us within four hours after the arrival of the flight on which the baggage or personal property was transported, or should have been, transported."
Always Pack Extra Clothes in Your Carry-On
Once you've filed the claim, some airlines will give you a little toiletry kit so you can at least freshen up but hopefully you've at least packed a day or two's worth of clean clothes in your carry-on, as well as a bathing suit if you plan on going swimming since it's not always easy to find an inexpensive swimsuit in island destinations. TIP: Always pack your valuables and medications in your carry-on, as well as extra, in case you get stuck.
Have Receipts and Photos
What many travelers don't realize is that you need to have receipts of any lost item claims – especially if the item is over $25. That's right. I know … who keeps receipts? But it's a good idea to start scanning your receipts for future trips and know exactly what you've packed, which is why I advised taking a photo of the interior contents above.
For example, Air Canada states on their website: "While you are without your belongings as a direct result of your delayed baggage, we will reimburse you for reasonable expenses that you've incurred for rentals or essential items. Examples of essential items may include but are not limited to clothes and toiletries or sport equipment rental. All claims must be supported by receipts." The last sentence is very important. Keep all receipts.
WestJet, another Canadian airline goes into more detail as they state: "Itemized receipts are required to be reimbursed for reasonable expenses incurred as a direct result of your delayed baggage. For flights within the Americas, you may be entitled to an amount up to $100 CAD/USD for the first 48 hours while your baggage is delayed. After 48 hours, you may be entitled to a further $150 for a total of $250. The foregoing does not limit a passenger's rights to claim damages, if any, under the applicable convention or under the law. For flights into Europe, you will be reimbursed up to the equivalent of $100 CAD in either Euros or GBP."
United States Government Rules
The U.S. government has a dedicated webpage on Lost, Delayed, or Damaged Baggage. They outline: "Under DOT regulations (for domestic travel) and international treaties (for international travel), airlines are required to compensate passengers if their bags are damaged, delayed, or lost."
The DOT alerts travelers that: "Airlines may have different policies to determine when a bag is officially lost.  Most airlines will declare a bag lost between five and fourteen days after the flight, but this can vary from one airline to another."
What is the airline's responsibility when your bag is lost?
The DOT says: "Once an airline determines that your bag is lost, the airline is responsible for compensating you for your bags' contents – subject to depreciation and maximum liability limits. Airlines are also required to refund any fees you paid the airline to transport the bag that was lost. Airlines may require receipts or other proof for valuable items that were in the lost bags."
Limits on Baggage Liability
This is straight from the DOT: "Domestic Baggage Liability For DOMESTIC flights, DOT regulation allows airlines to limit their liability for a lost, damaged, or delayed bag. Airlines are free to pay more than the limit, but are not required to do so. The maximum liability amount allowed by the regulation is $3,800."
"For most INTERNATIONAL flights, a treaty called the Montreal Convention applies to the carriage of baggage.  The maximum baggage liability for flights covered by the Montreal Convention is currently 1,288 Special Drawing Rights (approximately $1,780.00 US).  This is the most that airlines must pay a passenger for a lost, damaged, or delayed bag.  Airlines are free to pay more than the limit, but are not required to do so."
Check Your Credit Card
Some premium credit cards will reimburse you for lost or delayed bags as long as you paid for either your airline ticket or the baggage fee with their credit card, so check with your issuer.
Buy Travel Insurance
Many insurance companies will offer baggage insurance so inquire about specific plans. Full disclosure: I have an annual plan with Allianz as one of their brand ambassadors and my plan covers delayed and lost baggage.
Blue Ribbon Bag Service
There's also a unique baggage service plan you can get. If you're really worried about an airline losing your bags, or dealing with the lengthy process of getting a refund, check out Blue Ribbon Bags Service (BRB). BRB is a New York company that, for a $5 service fee, pays $1,000 for each bag lost by the airline after four days missing—no receipts for baggage contents required. If you pay more, you get more. Paying $7.50 nets you $1,500 per bag, and $10 will earn you $2,000.
My luggage has been lost multiple times from a variety of airlines, including American (AA), United and Air France (AF). The Air France incident was almost comical because I was on one of the airline's press trips and my bag, as well as that of another journalist, was lost for a few days and even their CEO couldn't locate it for us. They did give us a toiletry kit and reimbursed me about $400 for the clothes I ended up buying. BTW: $400 doesn't go a long way in the south of France.
The American Airlines incident happened just a few years ago while flying LAX to New York and American was great about it. We were traveling with our newborn son so I had to go to a pharmacy to pick up all the usual baby supplies at 1am but I learned a lot of these tips from that experience so we should all be thanking them.
Has an airline lost your luggage? What happened and did you get compensated? Share your experience in the comments.