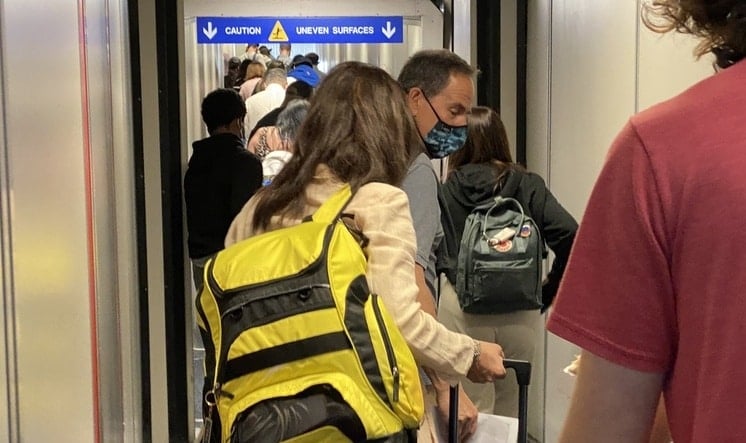 This post contains references to products from one or more of our advertisers. We may receive compensation when you click on links to those products. For an explanation of our Advertising Disclosure, visit this page.
No doubt you've seen countless headlines about the air travel chaos that's plaguing airlines and airports around the world. Just this past weekend, airlines delayed or canceled over 19,000 flights in the U.S. alone. My friend and travel analyst Henry Harteveldt, an industry analyst at Atmosphere Research Group, told ABC News: "The summer of 2022 is likely going to go down as one of the most miserable summers for travel."
I've been predicting this for months and it's happening all over the world, from Amsterdam to Zurich. The problem is that when the pandemic arrived, the travel industry got hit the hardest. Airports, airlines, amusement parks, car rental shops and hotels all became ghost towns. Businesses dramatically reduced their workforce and now, thanks to the labor shortages that created, they can't keep up with the surge of travelers. Now that most restrictions have been lifted, everyone is eager to get back out there to reconnect with loved ones, meet with colleagues and explore the world again.
According to a Delta Air Lines spokesperson: "A variety of factors continue to impact our operations, including challenges with air traffic control, weather, and unscheduled absences in some work groups."
Henry agrees, as he says, "we have is an unfortunate confluence of several problems. First, bad weather. But the bad weather problems are compounded by staffing shortages both at the FAA and several air traffic control centers and at the airlines themselves."
It's not an easy fix to hire new workers to replace those who were either laid off, took an early retirement or found a new line of work. You can't just pull someone off the street and have them start taking reservation calls, manning airport security checkpoints, directing air traffic or fly airplanes. Training takes a lot of time.
Willie Walsh, president International Air Transport Association (IATA) told CNBC this week from a conference in Doha: "It's fair to say that you know people's attitude to employment has changed through these two years. It's not just for people in the aviation industry but in all industries. You know the concept of working from home, flexible working conditions, very very different from what we've seen before. And unfortunately the airline industry can't really offer that advantage. Pilots have to be present, cabin crew have to be present, people loading the bags have to be at the airport. So we can't offer the same flexibility as other industries have been able to offer, which means that you know it will be more challenging for us to attract talent."
As you see in the interview, Willie is an optimist and so am I but I'm also a realist, which is why these 20 tips will help you survive this summer's travel chaos. Here's how to level up your travel game and avoid the madness:
1. Postpone
If you can postpone your trip until September, you will most likely avoid most of the headaches as kids will be back in school, crowds will dissipate, prices will go down, the weather will be better and the airlines and airports will have hired more staff by then.
2. Travel midweek
If you can't postpone, then fly Tuesdays, Wednesdays and Saturdays to avoid peak travel days. My family and I flew New York to Toronto a few weeks ago on a Wednesday on an 8:30am American Airlines flight and encountered no lines at either airport.
3. Take an early flight
If you take the first flight of the day out, you will avoid traffic to the airport and increase your chances of getting out on time. That's because aircraft and crews will most likely already be in town so you won't have to wait for either. Once a flight gets delayed or canceled, it becomes a domino effect. It's also the least likely time for a thunderstorm to occur.
4. Download the right apps
It's always a good idea to download your airline's app as well as TripIt and Flighty to track your plane and stay updated the minute your airline's schedule changes. If there is a change, some airlines, like United, will send push notifications right to your phone.
5. Keep checking
Check reservations and seat assignments multiple times. I do this right after I book, a month before my trip, a week before and, of course, the day I'm checking in, just to make sure the airline hasn't canceled my flight or swapped the type of aircraft.
6. Arrive extra early
Arrive to the airport extra early; three hours for a domestic flight at a major airport and even longer at international airports like Amsterdam, London's Heathrow, Dublin, etc. The reason? If you miss your flight, the airlines don't have anywhere to put you as most planes are going out full so you could be stuck for days.
7. Avoid connections 
Avoid connections unless there are no other options. The more flights you have to take, the greater the chances of something going wrong.
8. Avoid long lines
One way to avoid long lines is to sign up to TSA PreCheck, CLEAR and Global Entry. Just keep in mind that all but CLEAR take time to sign up for and not every airport has lanes open. If traveling to/from Canada, get NEXUS. For Mexico, get SENTRI.
9. Hire a concierge service
If you know an airport has long security or immigration lines and you don't have any fast track privileges, look into hiring a concierge service to escort you to the front of the lines. It's expensive but it's definitely worth it for some business and leisure travelers.
10. Use Twitter and follow local news
Follow your airline(s) and airports on Twitter as well as local news outlets to find out if there's going to be any construction, incidents or strikes. For example, the Local Norway just informed me that 1,000 SAS pilots could go on strike by late June. You won't find this kind of information via U.S. news organizations. Twitter is also a great tool to contact your airline and avoid long hold times.
11. Reserve airport parking
If driving to the airport, make advanced parking reservations as spots are filling up a lot faster than they have in the past as travelers' habits have changed. You really don't want to scramble at the last minute and get thrown into a tizzy. If not driving, don't rely on ride services or taxis. It's best to get a reliable ride from a friend or a car service. I use Blacklane (full disclosure: I'm a brand ambassador). Good to Know: Use my Blacklane code JOHNNY15JUNE22 to save 15% off your first Blacklane ride when booked in June for future rides.
12. Don't check a bag
I know not checking a bag is easier said than done but after seeing photos of the mountain of lost baggage at London's Heathrow this week, you may decide that now is the time to learn. Besides, if my wife can do it, so can you. Here are all the reasons why you shouldn't check a bag.
13. Track your bags
Of course, there are times when you must check a bag. And with all the lost and delayed luggage happening all over the world, don't rely on the airlines to keep track of your bags. Instead, place an Apple AirTag or Samsung SmartTag in the bag and track it yourself. I also have one in my carry-on, God forbid someone steals it. Here's how they work.
14. Carry on valuables, medications and a change of clothes
If you can't do just carry-on, then at least always carry-on your valuables like medication, money, chargers, cameras, etc. Also bring a change of clothes in case someone spills a drink on you or you get stuck for a day or two.
15. Pack extra medications and a first aid kit
In addition to carrying your medication onto the plane, be sure to pack a couple of extra weeks of your meds, just in case you get stranded or test positive for Covid. I also bring a no-contact infrared thermometer, pulse-oximeter and more. Here's what's in my first aid kit.
16. Bring a sweatshirt and a bathing suit
Even if you're flying from Hawaii to Tahiti, always bring a sweatshirt because airplane cabins are usually freezing cold to keep viruses at bay. I dress in layers and even keep a winter hat and socks in my carry-on bag all year round. If going to a beach destination or anyplace with a pool, pack your bathing suit in your carry-on – especially if traveling with kids. If the airline loses your bag, you won't have to scramble or shell out big money on a bathing suit you don't even like.
17. Get travel insurance
Covid forced travel insurance companies to reevaluate their pandemic coverage and now many plans include it. Always read the fine print and get a policy to give you a peace of mind. Full disclosure: I was one of Allianz's brand ambassadors for years.
18. Have a back-up plan
You should always have a back-up plan but this summer, you really need to have multiple. Book with an airline that has several flights a day to your destination, book with a U.S. carrier for international trips since it's easier to get a refund or if you change your mind you can use the credit to go somewhere domestic. If you absolutely need to be somewhere, then consider booking a refundable back-up ticket on another airline that connects in another region of the country or world (in case there's bad weather) a few hours later just in case your original airline has staffing issues. Here's how it works.
19. Leave a day or two early
If you're going on a cruise, to a wedding or something else you just can't miss, then leave a day or two (or three) early just so you don't chance it. I did this prior to the pandemic for cruises just so I wouldn't miss the boat, could get acclimated to the time zone and I could explore the port city.
20. Be extra nice
There's an old saying, 'You catch more flies with honey than you do with vinegar.' I learned this decades ago to be nice to everyone but especially gate agents and flight attendants, as they work extremely hard, get little recognition and can really make or break your trip. That's why I always bring a bag of chocolates for them. Next time you fly, just observe how other passengers treat them. Most are not very pleasant at all and some are just downright rude. Being nice goes a long way in the travel industry … and in life in general.