When the pandemic first began, it became clear that I wasn't going to be traveling for a while. Like everyone in the travel industry, I got hit hard financially, so in an effort to stop the bleeding, I cut costs … and quick. One of the travel-related ways I did this was by downgrading my Citi / AAdvantage Platinum Select World Elite Mastercard, since it costs $450 a year and the perks aren't that great unless you're traveling. I also canceled my CLEAR membership. RELATED: 10 Airport Security Hacks Every Traveler Needs to Know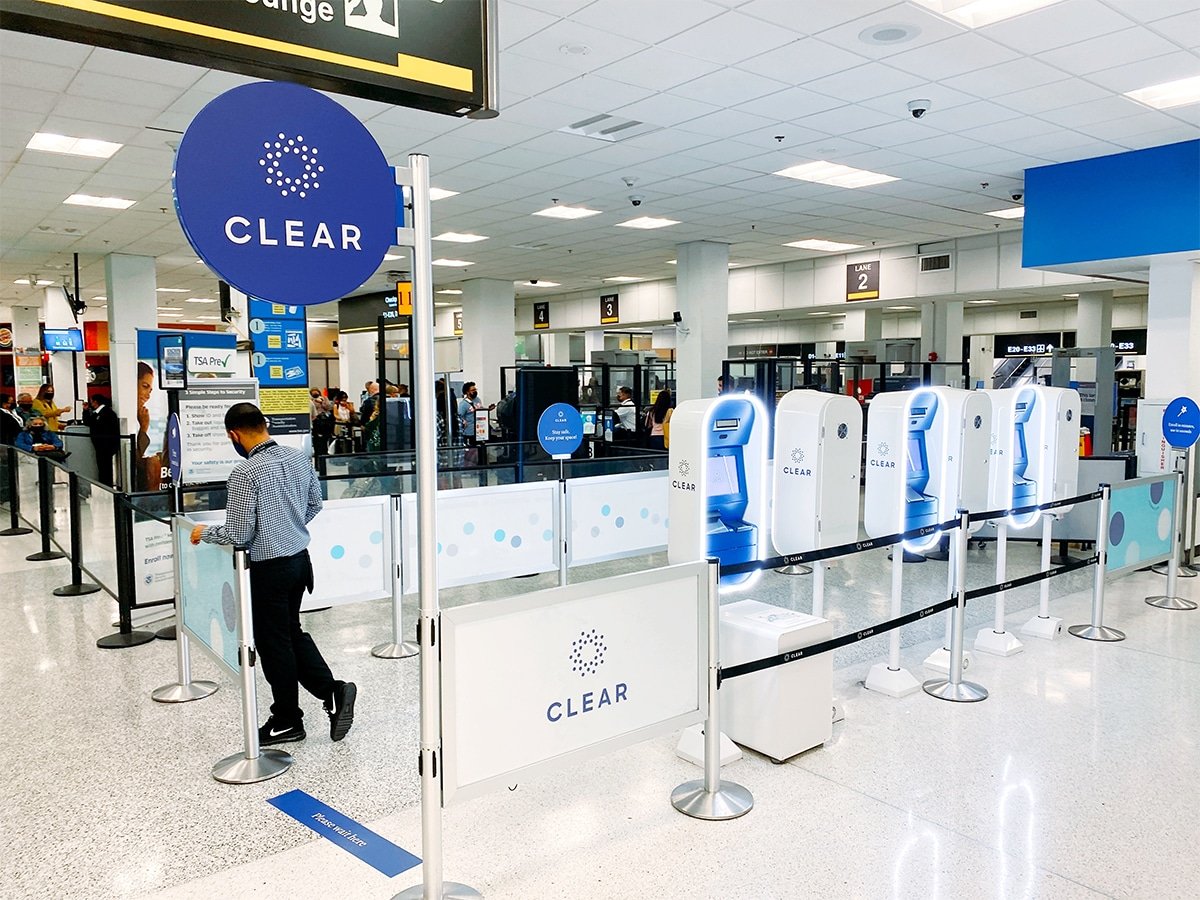 CLEAR, in my opinion, is one of the best things to happen to frequent travelers since TSA Pre and Global Entry. CLEAR is a private biometrics company with a partnership with the US government to transform your eyes and face into touchless ID so you can bypass those long, slow lines at over 50 U.S. airports, as well as some sports and entertainment stadiums/arenas and venues (here's a list; make sure you check not only the airport but terminal, too) by quickly scanning your irises and ticket.
TIP: Another good reason to get CLEAR is that you don't need to take your driver's license out.
With leisure travel back in full swing in the USA and TSA checkpoints understaffed, the way to beat the crowds, long waits and stress is by having CLEAR. It costs $179 a year but there are some secret ways to get it cheaper, besides being an uber-elite frequent flier on Delta or United. I wish American Airlines had a partnership with them, too.
If you want to knock that price down to $119, just sign up for Delta Air Lines' or United Airlines' frequent flier programs. They're free to join and by spending two minutes to register, you'll save $60. If you're traveling with your family, then know you can add up to three adults to your account at $50 a pop. Children under 18 are free. So I just reinstated my wife's and my own membership because we're traveling again.
TIP: If you enroll using my affiliate code, we each get two months free of CLEAR.
Combine CLEAR with TSA PreCheck and you can breeze through the airport in minutes. TSA PreCheck is a separate program run by the government and costs $85 for five years. It allows pre-screened travelers to use a separate security lines where you don't have to take off your shoes, jacket or take out your laptop or liquids. Even better, get Global Entry, which is another program that includes TSA Pre, costs just $15 more and allows users to breeze through international immigration when returning to the U.S.A. Learn more about getting both TSA Pre or Global Entry, including which credit cards will cover their fees for free!
Note: If you travel to Canada often like I do, then get NEXUS. It's $50 for five years and includes, Global Entry, TSA Pre and allows users to cruise through Canadian Customs. But note that you will have to interview in Canada or at a Canada/USA border site, which has both US and Canadian officials. Learn more about NEXUS here (sorry, no discounts).
CLEAR is a sure way to start your trip off on the right foot because no one wants to stand in slow security lines any time of year, but especially when a virus is still out there.
How To Sign Up
1. Enroll online or in-person: Save time by starting online or on the CLEAR mobile app.
2. Finish at any of CLEAR's locations: Complete your enrollment with your eyes and face, no appointment needed.
3. You're all set to use CLEAR! Instantly access dedicated CLEAR Lanes at security.
if you sign up now using my affiliate code, we'll each get two months free.
KEEP READING