One of my top travel tips is to pack as little as possible on your trips. Ideally, you should travel with carry-on bags only. Not only will you save money on checked baggage fees but most of all, it will save you time and aggravation. TIP: If you absolutely must check a bag, make sure you pop an Apple AirTag or Samsung SmartTag inside so you can always track it yourself. 
This post contains references to products from one or more of our advertisers. We may receive compensation when you click on links to those products. For an explanation of our Advertising Disclosure, visit this page.
For example, you won't have to show up to the airport super early, you don't have to worry about someone stealing items from your bag or the airline losing it or waiting around for what seems like an eternity for it to come out on the baggage carousel. RELATED: Stop Overpacking! 10 Things You Don't Need to Pack
When you travel light it's also much easier, quicker and cheaper to take public transportation. Just keep in mind that some low-fare carriers like Allegiant, Frontier and Spirit can charge up to $99 to use the overhead bin.
Unfortunately, not all travelers can travel with just carry-on bags. I became one of those travelers when my kids came along. Now, we travel with two rolling suitcases, two carry-on bags and we each have a backpack (we learned the hard way that you should always travel with a change of clothes in your carry-on when our toddler vomited all over my wife mid-flight … and I captured the insane photo).
Depending on the situation, like if the kids are sleeping or we have a bunch of presents we're bringing to family members, it's easier to grab a luggage cart. But can you believe some U.S. airports (ahem, SFO) are charging as much as $8 to use a luggage cart?
I find this appalling because it's no way to welcome travelers, especially foreigners who are visiting for the first time.
SHOCKER: San Francisco International Airport now charges for luggage carts for arriving international travelers, quietly enacted during the pandemic! $8 a cart! A big deal given the fight the late Pulitzer-winning @sfchronicle columnist Herb Caen made in 1986 to make them free pic.twitter.com/KhL0Ce6zCD

— Ron Lin (@ronlin) February 26, 2023

What makes it even worse is that in most, if not all, countries that I've been to, luggage carts are free. Especially for international travelers.
If you're traveling with a lot of luggage, you'll find this tip helpful: Instead of shelling out up to $6-$8 for a cart, just go outside of arrivals near baggage claim. Unfortunately, international travelers who have to go through immigration in the U.S. will have to wait to clear customs to try this tip.
But for those who are on domestic flights or are coming from countries with USA pre-clearance like Canada, Ireland, Aruba, Bahamas, Bermuda and United Arab Emirates (only Abu Dhabi airport), I can almost guarantee you there will be unlocked carts that have not been returned near the taxi stand and pick-up areas.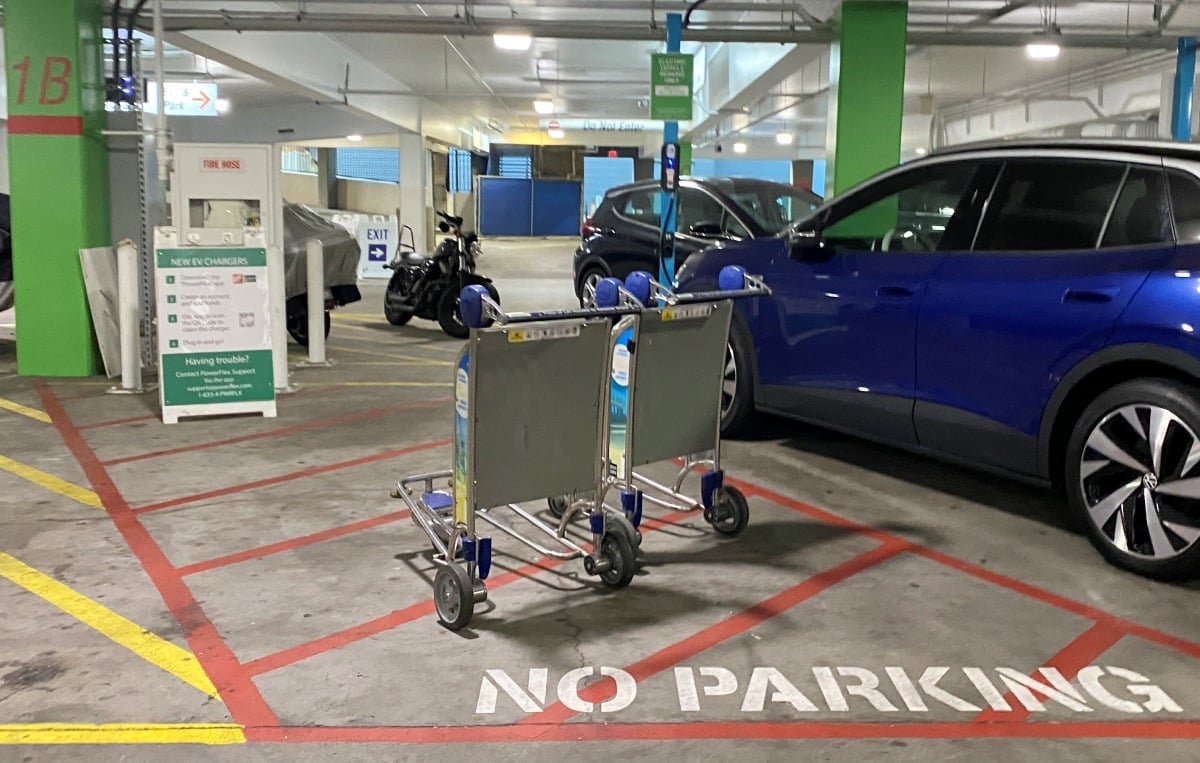 If you still can't find one, then walk to the parking lot and you will definitely find a cart there. There are usually plenty of them. This is what every limousine driver does as well.
Besides, hunting for a luggage cart gives you something to do while waiting for your bags to come out, which always seems like an eternity.
RELATED:
–Don't Ever Travel With This Kind of Bag in 2023
–Why Frequent Flyers Use Apple AirTags and Samsung SmartTags When They Travel
–Stop Overpacking: 10 Things You Don't Need to Pack
–Another Surprisingly Smart Reason to Take a Photo of Your Checked Luggage
–This $5 Luggage Service Guarantees Your Checked Airline Bag Will Arrive or They'll Pay You $1,000
Editor's note: This is a recurring post, regularly updated with new information.
Want more travel news, tips and deals? Sign up to Johnny Jet's free newsletter and check out these popular posts: The Travel Gadget Flight Attendants Never Leave Home Without and 12 Ways to Save Money on Baggage Fees. Follow Johnny Jet on MSN, Facebook, Instagram, Pinterest, and YouTube for all of my travel posts.