Six weeks ago, I booked my family and I tickets from Los Angeles (LAX) to Toronto (YYZ). My preferred U.S. carrier is American Airlines (AA) since I have elite status, therefore I get priority check-in, priority boarding, free seats with extra legroom and free checked bags. So it only makes sense I book with American or one of their partners. RELATED: 12 Essentials That Will Make Your Travels Smoother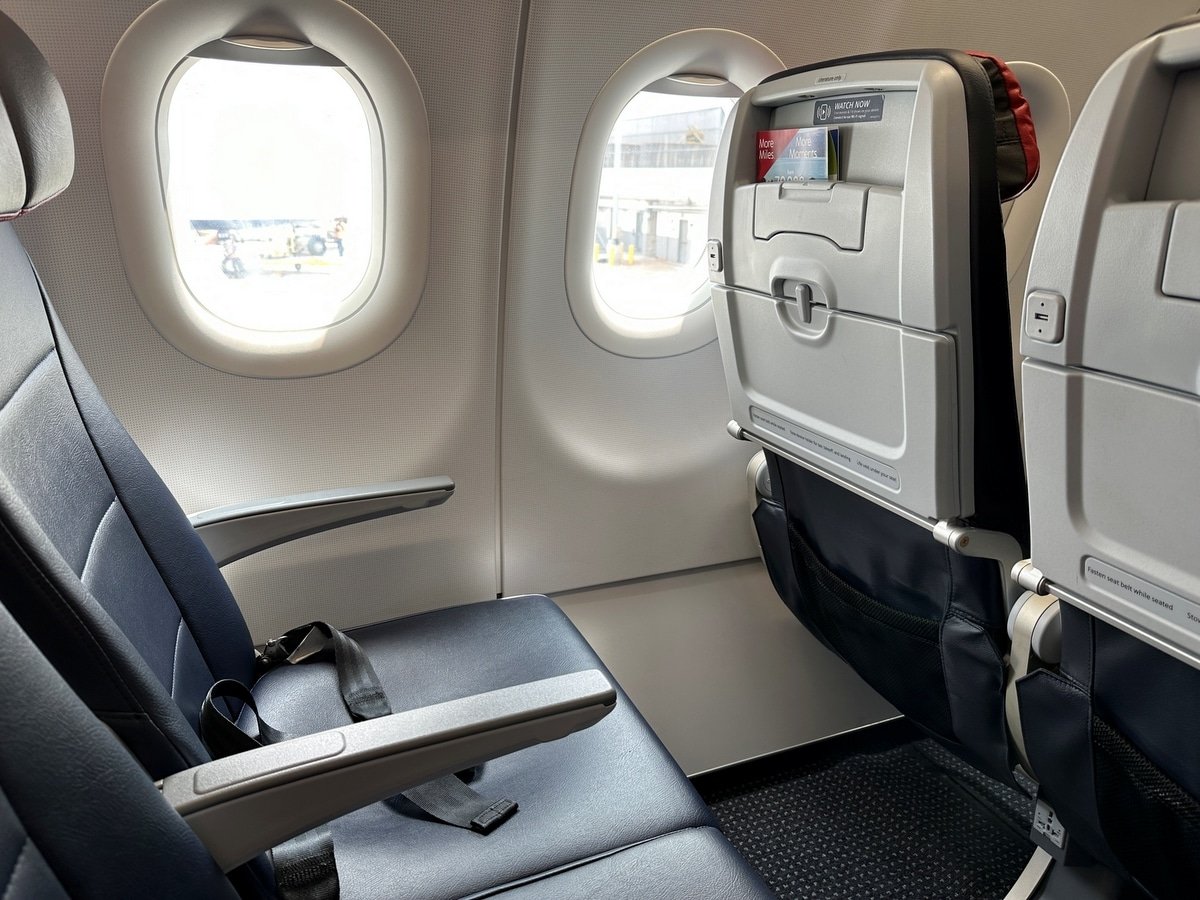 This post contains references to products from one or more of our advertisers. We may receive compensation when you click on links to those products. For an explanation of our Advertising Disclosure, visit this page.
The only problem is that American Airlines no longer offers a nonstop flight between LAX and YYZ, only Air Canada (AC) and West Jet do. We flew Air Canada a couple of months ago and it was great with the exception that our checked baggage took 90 minutes to come out. In fact, an Air Canada employee quipped that we were lucky it only took that long. Here's that trip report and the reason why Air Canada's baggage is such a problem at Toronto's Pearson International Airport. 
Fares between LAX and YYZ on American Airlines weren't cheap unless I was willing to make a long layover, which I felt was safer than making a tight connection because these days, if you miss your flight, you could be stuck for a while … or at the very least, get stuck in a middle seat, which is neither something I want nor something I can even do when traveling with two little kids (six and three years old).
RELATED: Yay! American Airlines Brings Back One of Its Best Online Booking Features
So I did something I've never done before. I booked an 11-hour layover in Philadelphia and then booked a room at the PHL Airport Marriott. When you factor in the $325 for the hotel, it doesn't save a lot of money unless you have four people in your party. So not only did we save $200, we didn't have to be stressed about missing our connection and it made for a fun little adventure and a great story.
Besides, I've always wondered what this airport hotel was like since it's right on-property and doesn't require a shuttle. BTW: At the time of booking, we had no real summer plans. We were just going to see my wife's family and figure out our next adventure from there. But two weeks ago, I found a great deal on last-minute tickets to Europe and a cruise. We have a busy couple of weeks so I probably would have otherwise passed on the PHL layover but I'm still glad we did it.  
Thirty-six hours prior to departure American sent me an email saying that they needed volunteers so they offered to change our flight free of charge. I almost took the bait to do the more expensive routing I had originally wanted but I checked the seating chart before accepting and they didn't have any seats together so we kept the original plan. On top of that, the Marriott requires three days notice to cancel so we would have lost the money and points.  
Our flight to PHL was at 2pm and we arrived to LAX at 12:30pm. We would have been earlier but the entrance of LAX's horseshoe was backed up. Just getting into the airport took about 20 minutes.
AA operates from three terminals at LAX: T4, T5 and TBIT (Tom Bradley International Terminal or Terminal B) and our flight was departing from T5, which I don't love since it's dated and there's not a lot of seating. But they do have a few good food options. My kids love it because there's an FAO Schwarz store.
There were three people in line at both the main cabin check-in and priority lines. I chose the latter, naturally, which ended up being a mistake. There were only two agents working in each and all customers in the priority line had problems. After seeing the Main Cabin queue was clear, I jumped in that line even though we were next. Natalie stayed in our original spot to make sure we were next, which we should have done from the get-go).
At this point, I was sweating it slightly because if you don't check your bags within 45 minutes of the flight, they're not making it. The Priority line won by a nanosecond and we made the cutoff by 15 minutes.
The agent was checking our bags through to YYZ but Natalie said she preferred to have them at our hotel and I can't blame her, in case something goes wrong like a major event or one of us gets sick. So the agent printed new tags and the bags got off in Philly.


We used CLEAR and quickly cleared the TSA PreCheck line. Our flight should have been just minutes from boarding but the inbound flight was late and they hadn't even deplaned the passengers when we rolled up. Obviously we were going to be late even though AA was still showing on-time on the departures board and in their app.  TIP: Our kids haven't used a stroller in years but for this big trip, we bought this inexpensive umbrella stroller (under $30; pictured above) and we will donate it in Europe instead of lugging it home.


A few minutes later, sure enough, American posted a 25-minute delay, which wasn't bad so we went to get some food. We used the Grab N' Go from Rock & Brews because we really like their El Segundo restaurant but their Grab N' Go at LAX needs some help – especially their pizza ($13). It's like cardboard.
We boarded the plane and it was the first time our three-year-old wanted to hand the flight attendants the chocolates we brought them. We do this every time since we know how hard they work. Usually, she has her big brother do it but she's growing up.
The flight attendant was really nice and I asked if she could have the pilots sign the kids' logbooks. She told the pilots and they were super nice and invited the kids into the cockpit. However, since we had bulkhead seats, I didn't want to lose the overhead bin space because no one wants to swim upstream after landing. Natalie followed me to drop off her bags but it took her a while to get upstream back to the cockpit to get the kids. The kids were just leaving and the flight attendant said she'd taken photos for us and airdropped them to me. Very kind.

As boarding was starting to wind down, I looked on AA's app to see how full the plane was and was pleasantly surprised to see 35 open seats. And guess what? The seat next to me was one of them, which was a huge score.


Good to know: It turns out we didn't even need the overhead bin space because the A321neo no longer has a wall dividing first class and coach so bulkhead passengers can place their bags under the first class seats in front of them.


Notable flight observations
-Prior to takeoff, the gate agent came onboard and handed a lithium battery to the couple across the way from me. Turns out they foolishly left it in their checked bag. TSA must have screened the bags and they showed up, which is comforting because it's dangerous to check lithium batteries. Here's why.
-The older gentleman across the aisle from me almost dropped his heavy carry-on on my head as he tried to put it in the overhead bin. Fortunately, I looked up from my phone and blocked it from thumping me. I wrote about this important tip, recently but I emphasized deplaning, not boarding. 
-The crew announced that they had a limited selection and amount of food on the plane so be sure to bring your own. They only had snack boxes ($8) and fruit and cheese plates ($11), which I obviously had from the photo above.
-Our gate-checked stroller came out within a couple of minutes, which was a welcome surprise.
-A number of passengers were talking about the nightmare of I-95 collapsing last week but they said passengers travelling between the airport and downtown aren't affected.


-We're getting ready for our big European trip and I've been sharing some of my wife's and my own planning tips, packing suggestions, must-have gadgets and other tricks. One of my tips is to always pack gaffer tape. Good thing I had some because my son broke his special kid's volume-controlled headphones so I taped it together to avert a crisis. I used it again later that night at the hotel, which you can read about in my Philadelphia Airport Marriott review.
Our flight details
We pushed back at 2:25pm.
We took off at 2:39pm.
Flight time was 4:44.
We touched down at 10:03pm.
We arrived at the gate at 10:08pm.
Our bags came out at 10:27pm.

KEEP READING
• How to Save Money With a Secret Third Carry-On
• How to Use Your Wireless Headphones to Watch In-Flight Movies
• 10 Airport Security Hacks Every Traveler Should Know
• How to Get the Best Coach Seat on the Plane
• The Sleep Hack Every Traveler Needs to Know
• Never Get Your Valuables Stolen on the Beach
Want more travel news, tips and deals? Sign up to Johnny Jet's free newsletter and check out these popular posts: The Travel Gadget Flight Attendants Never Leave Home Without and 12 Ways to Save Money on Baggage Fees. Follow Johnny Jet on MSN, Facebook, Instagram, Pinterest, and YouTube for all of my travel posts.