Readers often ask me for my tips to make their travels smoother, including which travel accessories and gadgets I bring on my trips. Here's a round-up of items that I love to make travel easier. RELATED: Great Amazon Deals For Travelers
This post contains references to products from one or more of our advertisers. We may receive compensation when you click on links to those products. For an explanation of our Advertising Disclosure, visit this page.

1. Luggage
Obviously this isn't a gadget but it's definitely your starting point. Get your trip started on the right foot with the right luggage. If you travel a lot, invest in durable luggage even though it's more expensive. I have a Briggs & Riley rolling briefcase that has a lifetime warranty and I put all of my work stuff in it including gadgets (more on those in a minute). I also travel with a large leather duffel bag, which I strap on to my roller bag using a Lugbuddy (more about that below). When traveling with our little kids, my wife and I use much larger suitcases. We've been traveling with ROAM luggage for the past few years and really like it. It's the only fully-customizable luggage brand (you can choose from a million different color combinations to create a suitcase that is uniquely yours). Because your bag is so unique, it's easy to spot on the baggage carousel. Get $50 off your ROAM luggage purchase using this link. If you're flying a low-fare carrier like Spirit Airlines and don't want to be charged $99 to use the overhead bin, then get one of these bags to make sure it fits in their bag sizer and will fit under your seat.

2. LugBuddy
A LugBuddy is essentially a fancy bungee cord that allows you to quickly strap your duffel bag to your roller bag so you can cruise through the airport or around town without it falling off. Unfortunately, they don't make the LugBuddy anymore but these similar products do the same job. This is a definite must-have for me.



3. Airtags
Unless you're traveling with little kids or going somewhere cold, try to avoid checking bags. This way, you won't have to show up to the airport early and wait around what seems like an eternity after you land, waiting (hoping!) for your bag to show up on the baggage carousel. Last month, my family and I waited 90 minutes at Toronto's Pearson International Airport for Air Canada to unloaded our bags. The most shocking part is that, according to one of the baggage workers, we were actually lucky as some flights can take up to four hours for bags to come out. Checking bags doesn't only add hours to your trip time but it makes it more difficult o take public transportation and of course increases your chances of bags getting lost or stolen. After last year's airport chaos, savvy travelers learned to pop an Apple AirTag or Samsung Smart Tag in their bags so you can track them yourself and not rely on the airlines. They're under $30 and show exactly where your bag(s) are so your stress levels will go down. RELATED: This $5 Luggage Service Guarantees Your Checked Airline Bag Will Arrive or They'll Pay You $1,000.

4. Travel umbrella
A travel umbrella is so small and compact to throw into your bag and can really make or break your trip. I remember when my wife and I started dating, I bought us each a travel umbrella. They were extremely compact so they'd fit in any bag or purse, even my back pocket. When we landed in London and got off the tube, it was pouring outside. Our hotel was just three blocks so I said, "Let's just walk." Turns out my wife didn't like my taste in umbrellas (it was apparently too garish for her) so she didn't pack hers. Well, guess who rolled up to the hotel looking like a drowned rat? That's right … ME, since I gave her mine. And keep in mind, unless you're staying at a really luxurious hotel these days, it's difficult to find a hotel that will even loan you an umbrella. And trust me, you don't want to buy a cheap one from a street vendor. I made that mistake one rainy afternoon in New York City and that $5 umbrella ended up costing me over $200 because the cheap black dye that ran off it ruined my beautiful tan jacket.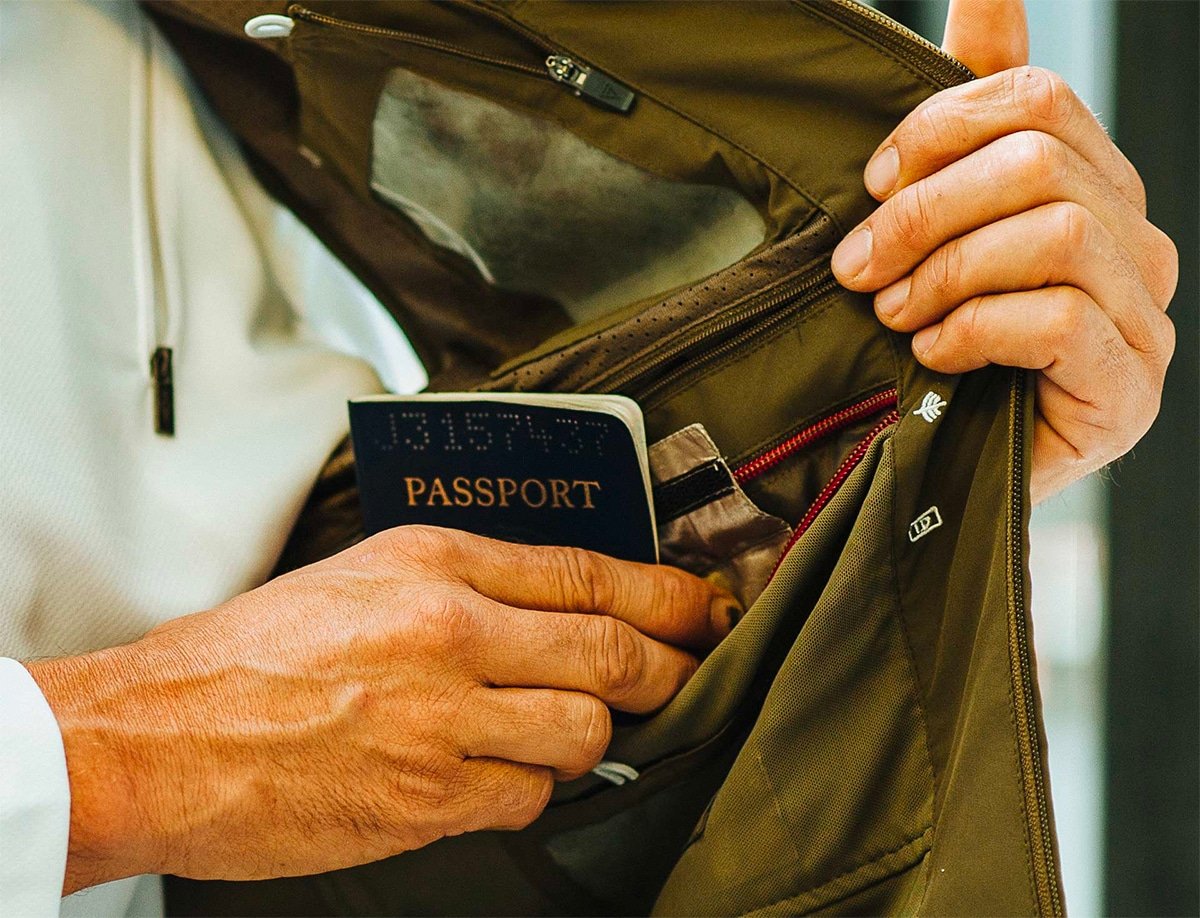 5. Scottevest/Crossbody Bag
Speaking of jackets, I usually travel with a Scottevest because their jackets and vests act like a third carry-on. This is key when you have too much stuff or if your airline weighs your carry-on bags and you're over the limit by a few pounds. Most Scottevest jackets and vests have 20+ pockets so you can put everything, from your phone to your laptop inside and many of the pockets are hidden so it's a great place to put valuables. If you don't want to spend the money on a Scottevest (they're expensive but they're quality products and you'll get what you pay for), consider an anti-theft crossbody bag. My wife recommends this one for its size, shape, style and slash-resistant body construction.

6. RFID Blocking Passport Sleeves
One of the most valuable things I keep hidden in my Scottevest jacket pocket is my passport. These days, most passports, ATM and credit cards have radio-frequency identification (RFID) chips in them and savvy thieves know it. So they hang out in busy airports, rail stations and port terminals using electronic skimmers to try and steal your data. The chances are low but one way to make sure this doesn't happen to you is using RFID blocking sleeves. They're cheap and you can even buy color-coded ones to quickly identify which family member's passport is which.

7. Portable charger
Ask any flight attendant what the one travel gadget is that they never leave home without (besides their phone, of course!) and they will most likely say a portable charger. Not all planes have power ports and when they do, they don't always work. Believe me: No one wants to get on or off of a long flight with a dead battery. It also sucks when you're out touring around and you have to run back to your hotel room or find a seat next to an outlet in a restaurant to charge up. To avoid those scenarios just bring a portable charger like this one so you can charge up on the go.

8. Universal power adapter and mini power strip
Speaking of power, if you're traveling internationally, you will want to make sure you bring the right power adapters. If you're traveling to multiple countries, it's best to have a universal power adapter so it will work no matter where you are in the world. They're cheap and don't take up much space in your carry-on. If you're charging more than one device, instead of bringing multiple power adapters, bring a mini power strip. This way, all you need is one adapter to charge multiple devices at the same time. This is key for cruising as many ships (especially older ones) don't have a lot of power outlets in the room.

9. Eye mask and ear plugs
If these items were ranked in order of importance an eye mask and ear plugs would be number one. If you want to get solid sleep on a plane or in your hotel room, then you need to have an eye mask and ear plugs. There's no excuse for not traveling with them. And when you bring your own, you can be guaranteed it'll be soft and comfy, unlike the ones that airlines sometimes hand out, which I find scratchy and too tight. The eye mask I swear by is this Lewis N Clark comfort eye mask that is so soft and fluffy and will block out the light on the plane, even your seatmate's reading light and any bothersome light in hotel rooms that don't have blackout curtains. Ear plugs are self-explanatory. You can buy a jar like this so you never run out or try these LOOP earplugs, which my wife prefers for the better, more secure fit and comfort.

10. Headphones
I know some people will not travel without noise-canceling headphones either because they want to have them on hand to drain out the loud hum of the engines or the sound of a crying baby. They definitely work for engine noise but I think noise-canceling headphones only increase the sound of a baby crying or people talking (maybe that's just me). That's why I put earplugs in and make sure my phone or laptop is loaded up with soft music to really help drain out any outside noise. Just make sure your seatmates can't hear your music so before putting the earplugs in, hold your headphones next to you with the sound on and see how loud it is. If you don't want bulky headphones and prefer to use your earbuds, then check out AirFly, which pairs your wireless earbuds with any inflight entertainment system.

11. First aid kit
In my roller bag, you will always find my first aid kit, which has everything from anti-diarrheal medicine to Zyrtec and everything in between including Band-Aids, a thermometer, Tylenol, cough drops, Tums, tweezers, pulse oximeter, nose drops and eye drops. The list goes on and you can see the rest here.

12. Gaffer Tape
I used to carry duct tape but my friend suggested gaffer tape since it doesn't leave a residue. He was right and it can be used for a multitude of purposes like fixing your suitcase, blocking out annoying lights or covering up a peephole. You'll be glad you have it on hand. If you don't want to travel with a large roll, buy some mini rolls or create your own smaller roll by wrapping tape from your large roll around a small object like a straw or lip balm like I do. Then pack the larger roll in your checked baggage.
So there you have it. I hope these gadgets and accessories help make your travels much smoother. If you think I left anything out, please let me know in the comments section!
KEEP READING: 
–The Most Comfortable High Heels You Will Ever Wear … Seriously, They Are a Game-Changer
–An Easy Way to Get Healthy Right Now
–Why Packable Jackets Should Top Your List of Winter Travel Must-Haves
–Add These 8 Items to Your Toiletry Bag When You Travel
–Why Packing Cubes Are a Travel Essential

Want more travel news, tips and deals? Sign up to Johnny Jet's free newsletter and check out these popular posts: The Travel Gadget Flight Attendants Never Leave Home Without and 12 Ways to Save Money on Baggage Fees. Follow Johnny Jet on MSN, Facebook, Instagram, Pinterest, and YouTube for all of my travel posts.