During the pandemic, I ragged on Air Canada (AC) like you wouldn't believe. So much so that their PR team stopped inviting me to events and responding to my questions. But I was simply reporting on what was going on and what Air Canada did over the pandemic was not right. In fact, it was borderline criminal since they refused to refund money, even after they canceled flights.
This post contains references to products from one or more of our advertisers. We may receive compensation when you click on links to those products. For an explanation of our Advertising Disclosure, visit this page.
After it took months to get my money back, I pretty much swore I wouldn't fly them again. But my wife is from Toronto (YYZ) and we live in Los Angeles. My preferred airline is American Airlines (AA) but they stopped their daily nonstop flight five years ago.
Since I have elite status on American Airlines, we usually fly them because I get all the add-ons for free. But when I priced out tickets to fly to Toronto for Easter, Air Canada was not only cheaper than AA but they fly nonstop on a widebody plane. So even with the extra fees for seat assignments and baggage (1st bag: $30; 2nd bag: $50) it was still a no-brainer.
Air Canada has four flights a day between LAX-YYZ and all but one are narrowbody aircrafts (A320, A321 and 737 MAX). For the one widebody, AC used to use a plush 777-300 and then a 787 but currently it's an A330-300. Not my favorite widebody but I still prefer it over the others.  
I purchased the tickets for $180 and ended up spending another $61 for seats with extra legroom. However, when I went to check-in at 9pm the night before for our 11:40am flight, I was offered to upgrade for as little as $146.
I was intrigued. The widebody flights have lie flat seats in business class and AC was offering upgrades for $942, which is pretty steep but still a lot cheaper than their usual $2,800+ price tag.
But my kids are so little (six and three) that they don't even like sitting in these type of seats. During the pandemic, we were so cautious that I used tons of miles for us to fly First Class in AA's lie-flat seats between New York and L.A. When we landed, my son said, "Please, Dada. Don't ever make me sit in those seats again. I want to sit next to Mama." I learned my lesson.
However, I have econophobia and don't like being stuck in tight seats on a transcontinental flight. Plus, I no longer have status on Air Canada or their Star Alliance partners so I would have to wait in a long check-in line, pay for baggage, board the plane last and pay for food.
That why, when I saw that the upgrade to Premium Economy wasn't that expensive, especially compared to what they were originally asking ($858), and I learned that you get priority check-in, boarding, two free checked bags and food for free, I was interested.
But before I decided to do it, I wanted to see what seats were still available because it they weren't together, I wouldn't do it. So I logged onto ExpertFlyer.com; it's not easy to use so here's a guide on how to use ExpertFlyer and determine if a membership is worth it for you. When I saw there were a couple of rows available, I plopped down my credit card.
We were assigned Row 13, which showed blocked seats but they must have opened them up. Why I almost didn't buy the upgrade was because AC's terms and conditions warning states: "Upgrade fee is non-refundable. We will do our utmost, but cannot guarantee to provide a Business Class or Premium Economy meal." Another reason is because I had paid $60 to begin with for extra legroom seats so I was regretting throwing down that money unless they factored it in to my offer but I doubted it. I tried emailing their PR to ask these questions but got no response. 
According to my Flighty App, our A330 plane was 21 years old and SeatGuru showed that Air Canada configures their Premium Economy 2x3x2.


When I woke up at 4:45am, I had a message from Flighty stating that our aircraft had been changed to a 787-900, which I'd much rather be in but as Flighty warns, a plane swap could affect your seat assignments. I quickly looked up AC's 787-900 plane configuration on SeatGuru and thankfully Premium Economy had the same number of seats (21) and the same configurations so I didn't have to scramble. I also confirmed by looking in my Air Canada reservation.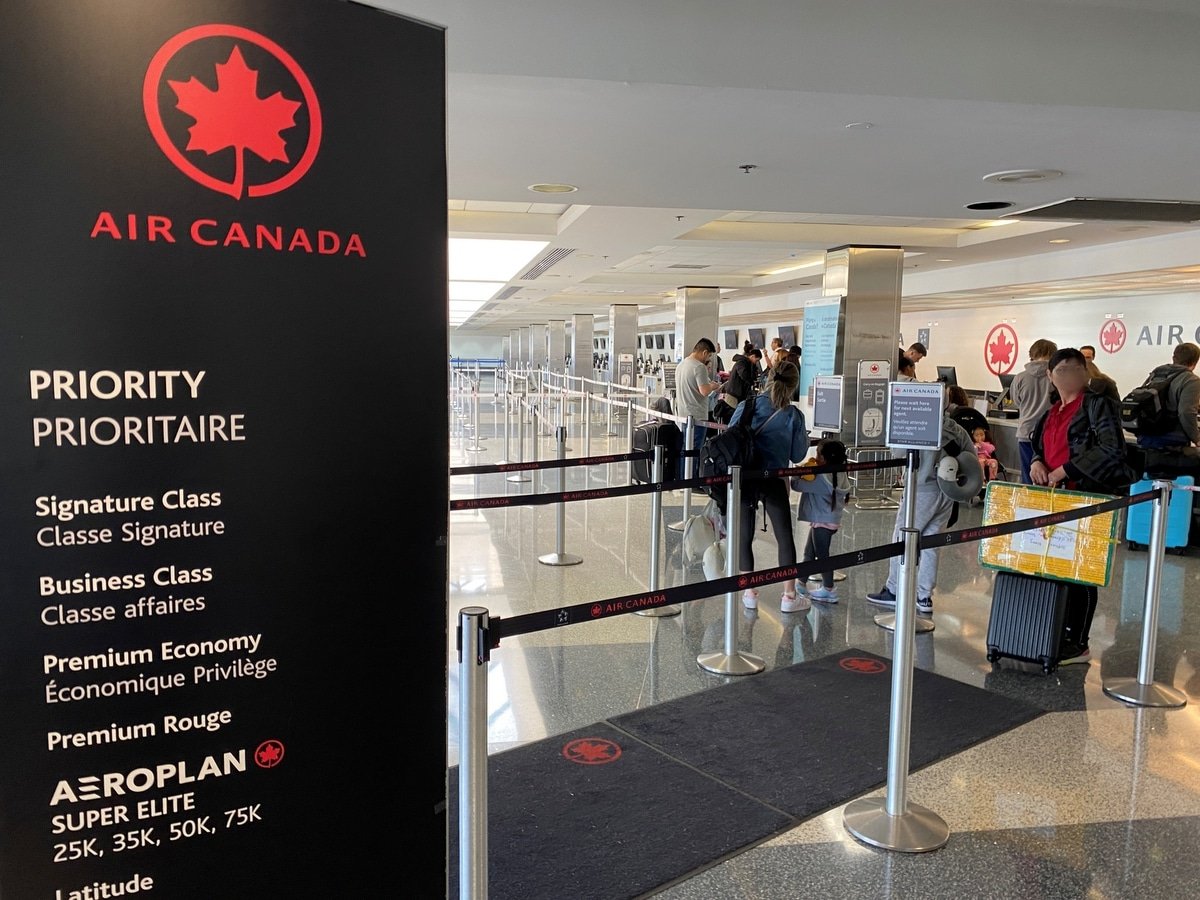 A short time later, Flighty and Tripit alerted me that the flight would be 15 minutes late. We arrived at LAX at 9:45am, two hours and 10 minutes before departure. Surprisingly, for Good Friday, there was no traffic going into the airport and no line at the check-in counter. There was no line to check in, at either the regular line or Priority.
The same was true for security. Since there was no line at TSA Pre, we didn't bother using CLEAR.
I hadn't been to Terminal 6 at LAX in a long time but I used to fly in and out of there frequently so it brought back memories. It has definitely been spruced up but you can still see they kept the main frame. What's different is that they've added local food options like Wahoo's, Habit Grill and Wolfgang Puck.
We were flying out of one of the last gates, 69A, and that whole section was so crowded, we hung out near Gate 64.
Unfortunately, I watched a woman on crutches miss her flight because she wasn't paying attention to the screen or announcements. She was flying to Newark on Alaska Airlines and the gate agent couldn't have been friendlier. She apologized profusely, put her on United and offered her a $125 travel credit or 4,000 miles. I'm pretty sure it was because she needed a wheelchair for long distances and by law, the gate agent was supposed to check in on her every 30 minutes (at least, that's what I overheard).
Our gate was a mess. So crowded, you couldn't hear announcements very well and there was a lot of waiting around. They finally started boarding wheelchair users at 11:15am.That was followed by Zone 1 (Super Elites and Business Class) followed by Zone 2 (Premium Economy). Both are in their own dedicated line.
After that, they allowed families with kids under six followed by Zones 3 to 6.
We handed the flight attendants a bag of chocolate Easter eggs and our kids' flight logs for the pilots to sign. She was very thankful and later said that surprisingly, five other passengers had brought them treats, including $5 Starbucks gift cards (their favorite).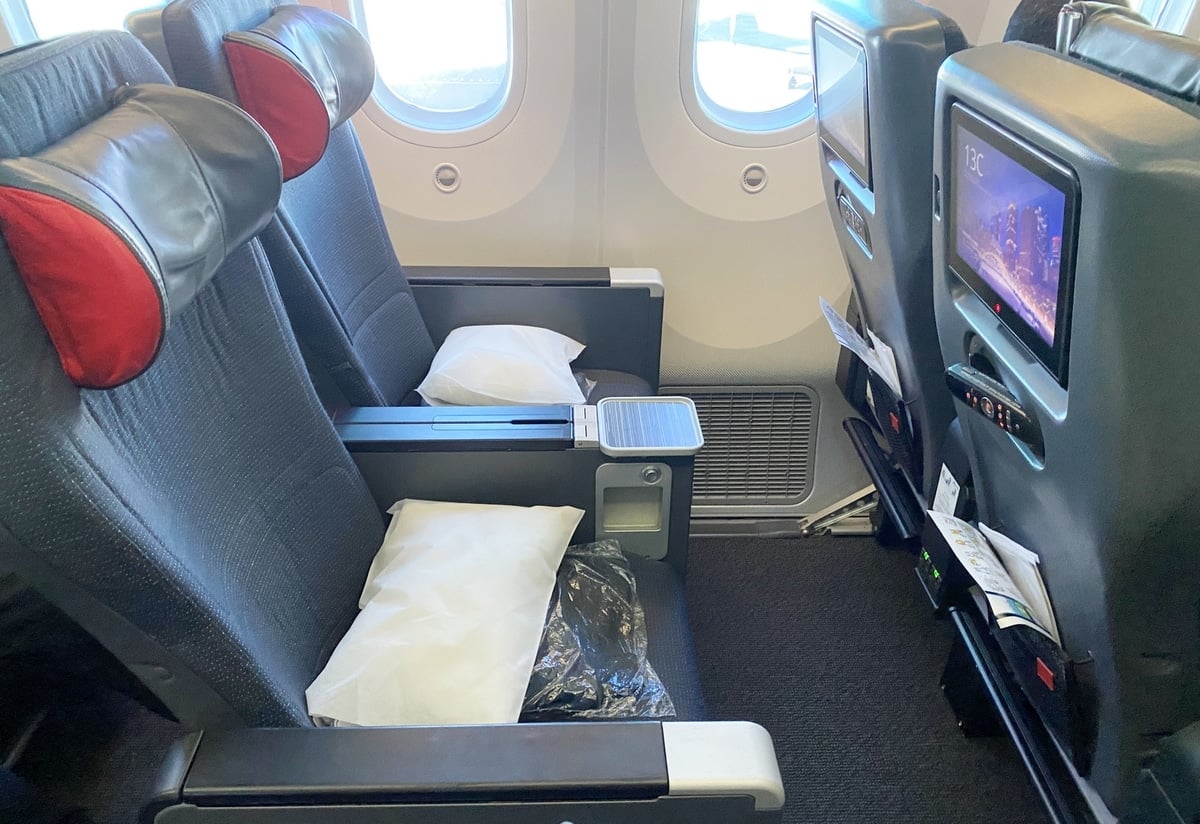 We were happy with our seats though the bulkhead is the best since you don't have to worry about anyone reclining in your face. When the person fully reclines, you really need to recline your seat to move out of the way. They recline 7 inches. FYI: Seats are 19.5 inches wide and have 38 inches of pitch (legroom).


There's also a kickstand attached to the seat in front of you.
The seats in front have 11-inch entertainment screens with hundreds of hours of on-demand entertainment. Just the comedy section had over 100 movies to choose from, from Caddy Shack to Ticket to Paradise.
There's in-seat power at every seat, a USB port for charging, an adjustable headrest, a pillow and a blanket.
Just as they shut the aircraft door to push back, the pilot announced that the ground staff had discovered a problem with one of the cargo hatches and it needed to be repaired. It took an hour to fix but we were just fortunate that that's all the delay there was.
I used our cabin's lavatory and I forgot how much I love 787s. They have windows in some lavs and it really makes a difference.
When we did push back from the gate, my Flighty App said taxi time to takeoff would be 33 minutes but it was more like five.
During the delay, the flight attendants passed out bottles of water and the meal menu (click this link for current offerings).
APPETIZER
Heritage mix salad, julienne apples, pomegranate seeds
MAIN COURSE
Chicken tagine, pearl pasta, green beans, olives
Vegetarian paella, red peppers, green beans, peas, tomatoes, olives
DESSERT
Carrot cake
Here's the coach menu.
The seatbelt sign went off six minutes after takeoff, which almost never happens on U.S. carriers. It's usually 40 minutes.
Once in the air, flight attendants distributed hot towels (they were warm and kind of dry). Then drinks in real glasses, along with a bag of pretzels.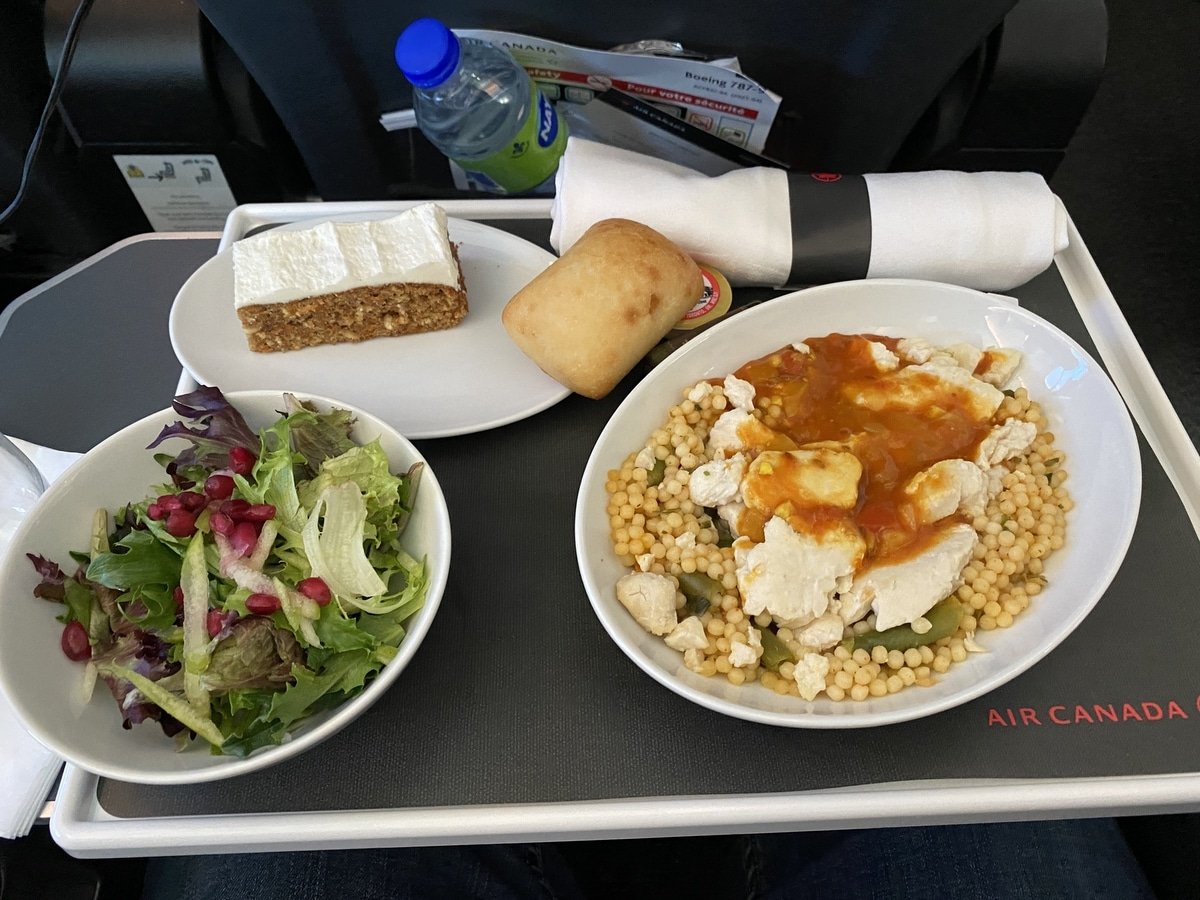 Then came lunch. I chose the chicken tajine, which was just okay but the salad was delicious and the bread was surprisingly warm and soft. The carrot cake wasn't very good.
Flight time was just 3 hours and 55 minutes and about an hour before landing, flight attendants in our cabin came by with a basket of potato chips, KitKats and Lindt dark chocolate bars.
When we landed, our gate wasn't available so we waited about 10 minutes. Customs was quick, even for those without NEXUS cards. It was then possibly the longest walk ever to baggage claim. I'm talking at least a quarter of a mile, but it was mostly a scenic and pleasant walk.


But what pretty much ruined the whole pleasant experience was baggage claim. It was a mess and after waiting an hour, I asked one of the baggage agents walking by about it and she told me it's always like this because there are so many flights and there's just one-way traffic for the tows.
I told her that we never wait long when we fly American Airlines into YYZ and she said it's because Terminal 3 is a lot older and there aren't a lot of flights coming in. We waited 90 minutes for our bags to come out and they were one of the first for our flight. One passenger was so irate he yelled out loudly multiple times.
According to our Blacklane driver, we were lucky because he has had passengers wait four hours for their bags. My sister-in-law also said that her best friend flew back from Mexico recently and it took 2.5 hours for their bags to come out. That's just unacceptable.
So if you're flying into or via Toronto and need to check a bag I wouldn't fly Air Canada. If you do, be sure to pop an Apple AirTag in it as they lost a lot of bags the night we were there, including our booster seat but I wasn't sticking around in their long line to fill out a report.
Speaking of Blacklane, if you need a reliable ride to or from an airport, consider Blacklane, which I use. Since I work with them, I have a 15% off promo code for first time JohnnyJet.com readers: JOHNNYXBLACKLANE0423.
RELATED: How to Beat the Madness at Toronto's Pearson International Airport