This post contains references to products from one or more of our advertisers. We may receive compensation when you click on links to those products. For an explanation of our Advertising Disclosure, visit this page.
I just spent over a month in Toronto and almost every day, there was a local news story about the madness at Pearson International Airport (YYZ). And the anxiety-inducing news coverage isn't just limited to local media outlets. In fact, the New York Times published a story today titled: "Turbulence on the Ground at Toronto's Pearson Airport" and last month, Ryan Whitney, a former NHL star called YYZ "the worst place on earth." (see tweet below).
I live at Toronto Pearson International airport. The worst place on earth. I smell so bad. pic.twitter.com/PfdnHcO7Ad

— Ryan Whitney (@ryanwhitney6) June 6, 2022
On top of this, it's just been revealed by CNN and FlightAware that Toronto leads the way this summer for the most delays out of any airport in the world and is ranked number four (4) for the most cancelations. Here's the story and the other rankings.
However, I've flown through Toronto's Pearson Airport multiple times and didn't have any problems. Here are my tips for improving your experience as well as some from a couple Canadian travel experts.
1. Fly mid-day
Almost every travel expert will tell you to take the first flight out of the day to avoid the summer chaos since those aircraft most likely spent the night at the airport and are on the ground. Same goes for the crew flying the plane. That's true but the reason this isn't a good idea for Toronto's Pearson International Airport is because there are so many flights departing in the early morning that there's a huge crush at security and at the immigration line (if you're flying to the USA). You'll likely fare better flying mid-day.
2. Fly mid-week
Flying mid-week is to avoid crowds is true for any airport and any time of year except during certain holidays like Thanksgiving. But flying mid-week, like Tuesday or Wednesday, and I might add Saturday, will save you from being around thousands of people since on those days, there are fewer people flying, for obvious reasons: they're either working, in school or want to get the most out of their vacation days and depart at the end of the week like Thursday or Friday.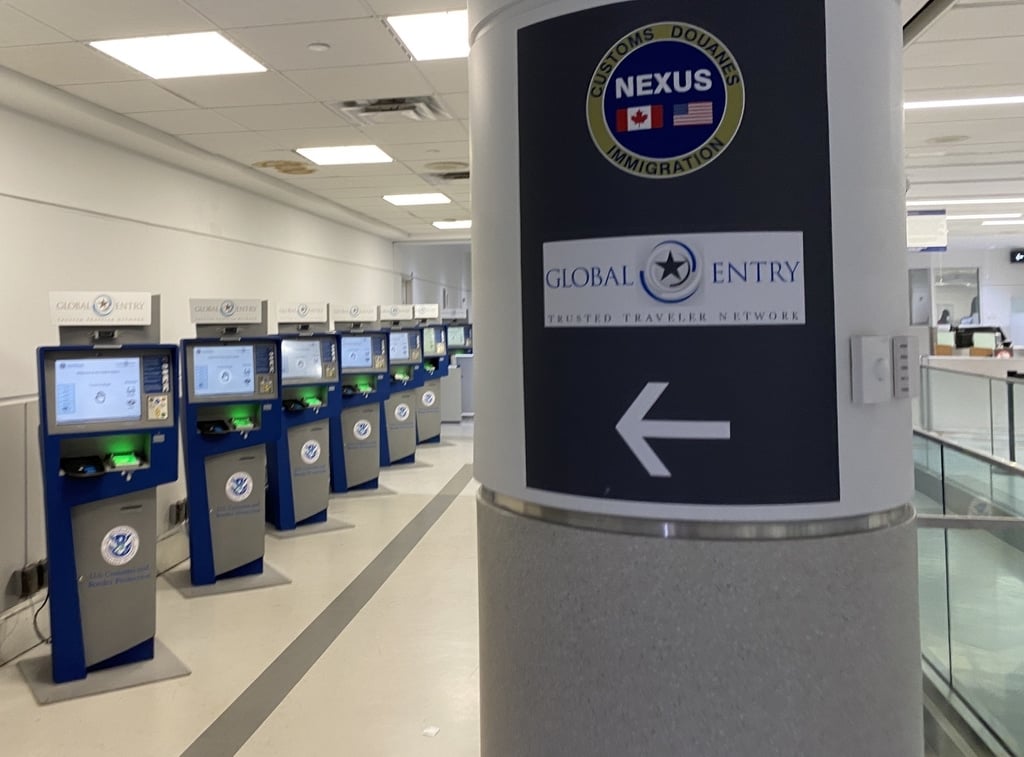 3. Get Nexus/Global Entry
You've probably heard of me talking about Global Entry, which is an expedited customs clearance program for pre-approved, low-risk air travelers entering the United States. The Canadian equivalent is NEXUS and it's better than Global Entry; it's half the price of Global Entry ($50 for five years) and includes Global Entry and TSA PreCheck.
It takes at least a couple of months to get NEXUS so apply now for Christmas or next summer's trip but once you have it, it will make your airport experience so much better and quicker. You will have a shorter security line and then, if you're flying to the USA, you can use the Global Entry machines, which will most likely have no line. The only downside, besides it taking so long to get approved, is that you will have to make an appointment at one of the CBSA and CBP joint locations, which are along the U.S. / Canadian border, unlike Global Entry, which is available at most major U.S. airports.
4. Buy a premium ticket or an upgrade
We just flew American Airlines and I used miles back in August for first class tickets to fly from YYZ to LAX via DFW. It cost me 22,000 miles but it came with a lot of perks besides a much bigger seat, less crowded cabin, free checked bags, food, drinks and priority boarding. It allowed us to check-in at the priority line, which was empty while the main cabin line was crazy long and slow. In the photo above, you can see the main cabin check-in line versus the empty line for priority check-in.
5. Don't check bags
I know this is easier said than done but it can be done. Trust me. My wife is living proof as she went from traveling with a bag the size of a steam trunk for a weekend trip to carry-on only for an around-the-world trip. Even before the pandemic caused labor shortages, checking bags was always a hassle since you need to show up early, wait in a long line, pay a fee to check your bags, hope and pray they make the flight and then wait around at baggage claim, which always seems like an eternity.
But since this latest travel surge, most of the hassles around the world are baggage-related. I'm sure you've seen the huge mountain of bags at London's Heathrow Airport or heard that Delta flew an A330 plane with no passengers and 1,000 of their customers' bags that had been stranded there.
If you have little kids or are traveling in the winter, it's pretty much impossible not to check a bag. If you have to check one, pop an AirTag into your checked bag so you can keep track of its location. Apple AirTags are the product of the summer so if you don't have any you can buy them for under $30 a pop or grab a 4-pack for multiple bags. If you're an Android user, you can use Samsung SmartTags.
Travel journalist and expert Jenn Weatherhead Harrington agrees. "Checked bags have kind of always been an issue at YYZ—even before now, it would sometimes take an hour for a checked bag. So I'd recommend to always do a carry-on, but given that everyone else is doing that too, get a luggage location tag, just in case the airline says there won't be enough overhead space and the check your bag at the gate."
6. Arrive early on both ends
When flying out of YYZ, be sure to leave plenty of time for the long lines because if you miss your flight, there are not a lot of empty seats on alternative ones so you will probably be stuck for days.
If you're arriving into Canada, then avoid the afternoon and evening when many international flights land. On our way to Toronto recently, we took an 8:30am flight from New York's LaGuardia so we arrived around 10am and there was no line at customs. When I commented that there was no line, the agent quipped, "Don't worry, the line will get long later!"
Jenn, who's flown in and out of Pearson International Airport 13 times so far this year says to get to the airport as early as you can ahead of your flight … and to bring snacks. "There's no point in being hangry and waiting in an annoying line. You might as well be happier with your favorite snacks," she says.
7. Don't Fly Air Canada
Most of the problems I've been hearing about YYZ involve either Air Canada or the beautiful Terminal 1, which is the terminal they use. American Airlines and the other airlines use Terminal 3 (there's no Terminal 2). Earlier this month, Air Canada and Pearson were ranked #1 in delays worldwide.
8. Always Keep Your Passport Handy
If you're arriving into Pearson International Airport internationally, Jenn says to keep your passport out and accessible once you're through customs. "They're bringing back random testing again and the customs officer will put either a green sticker (no test required) or a pink sticker (you've been selected for random testing) on your passport. Once you're through baggage claim someone will ask to see your passport to see that sticker. Most people put it away once clearing customs and this causes a big back log of people searching for their passport again."
I also just heard from another Canadian travel expert, Jim Byers, who has this advice: "Morning is generally better. NEXUS is a godsend to avoid long security and US customs lineups for flights to the States. And yes, avoid checking a bag. I'd also say book a seat near the front if you don't usually do so, because carry-on bins are getting jammed up. If you can fly out of the Toronto Island Airport (Porter flies to Chicago, Montreal, Ottawa, Newark and many other cities), definitely do that right now. They've been much better than Pearson."