As I mentioned in my Los Angeles to Philadelphia (PHL) trip report, fares weren't cheap flying between L.A. and Toronto unless we were willing to make a long layover in PHL. We chose to save some money and felt it was safer than making a tight connection because these days, if you miss your flight, you could be stuck for a while or at the very least, get stuck in a middle seat, which is neither something we wanted nor something we could really do since my wife and I were traveling with our two little kids (ages six and three). RELATED: 12 Essential Items That Will Make Your Travels Smoother

This post contains references to products from one or more of our advertisers. We may receive compensation when you click on links to those products. For an explanation of our Advertising Disclosure, visit this page.
 So we did something we've never done before: We booked a 10-hour layover in Philadelphia and then booked the Philadelphia Airport Marriott for $325. It wasn't cheap but one of the hotel employees told me they've seen rates go up to $599 a night (like when Taylor Swift was in town performing). But I just did a quick search on Expedia and you can get it for as low as $209 if you book in advance. I would, since this hotel does sell out often. 
I always wondered what this airport hotel was like since it's right on-property so I was excited to check it out and have a little adventure with my family.


First of all, if you're staying at the Philadelphia Airport Marriott, you want to arrive and depart out of Terminal B since it's just a six-minute walk. American Airlines has a nifty little map on their app giving customers step-by-step directions there or anywhere else in the airport.


Fortunately, we arrived into Terminal B at Gate B5 (just after 10pm) so we had a short walk. Unfortunately, we were departing the next day from Terminal F which, according to the app, is 1.3 miles away, either a 45-minute walk or a short shuttle. More on that in a minute.


Terminal B was relatively quiet and most, if not all, restaurants we walked by were closed. But a few of them were very well designed.


It was indeed really easy to get to the hotel and there were plenty of signs guiding the way. Instead of dragging the whole family down to baggage claim, I went by myself while they waited in the wide and deserted overpass that links the airport to the hotel. The kids needed to get the wiggles out anyway so it was perfect for everyone.
I went down to baggage claim, which was about a three-minute walk. It was there that I saw everyone standing around the empty carousel and I thought, "What am I, a fool? I don't need to be here. I can monitor when the bags come out using American's app and our Apple AirTags." So I went back up the stairs to hang out with the fam. Right when I rolled up, our daughter said she had to go potty, so I said, "Let's just go to the hotel."


We walked a hundred yards into the hotel. You enter on the second floor and the lobby is on the first. I checked in while my wife took the kids to the loo, which she said was very clean and well-kept. The crew working the front desk were very cool and offered bottled water to everyone checking in.


I was happy I remembered to ask these five important questions when checking into a hotel including whether or not our room had a connecting room door. I asked this for two reasons: One was to spare the poor people next to us in case the kids couldn't fall right to sleep and the second was so that we don't get disturbed by any noisy neighbors. The agent said the hotel was sold out but he could move us to a corner room with a queen bed and a pullout couch that was not yet checked into.
Score! Or so I thought. We took the elevator to the fourth floor and dragged the luggage and kids all the way down the long hallway. But it turned out there wasn't a pullout. So I tried calling down to change rooms but their automated system is annoying and couldn't determine what I needed help with so it was quicker to just walk back down to the front desk.
I passed some clueless businessman walking in the hallway, talking on speaker phone at full volume at 11pm. Meanwhile, I was trying to make sure my kids only whispered while walking down the hallway so as not to disturb sleeping guests. It's crazy how inconsiderate so many people are. And don't even get me started on people talking on speakerphone or watching videos without earbuds on the airplane. It happens on every flight, including the last two I took.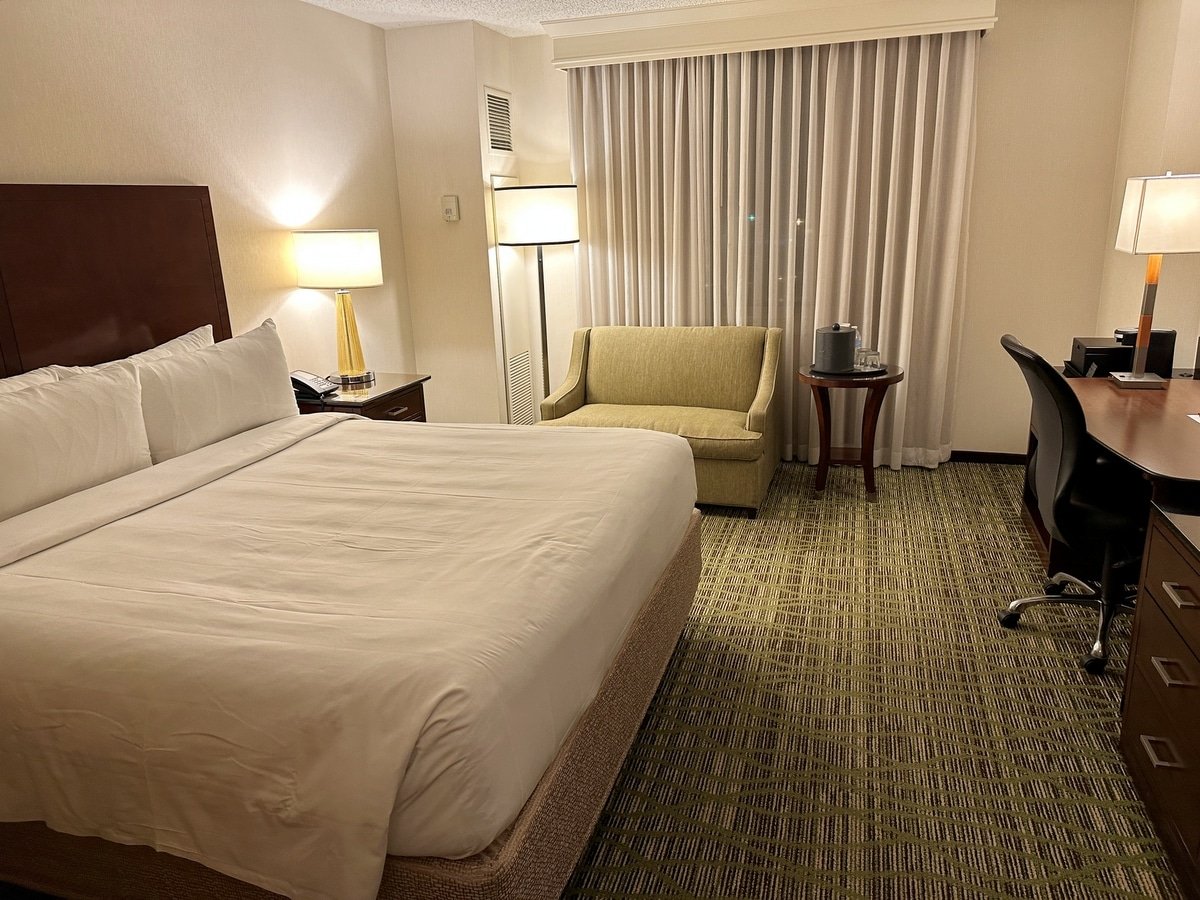 Our new room was on the 9th floor and it did have a pullout couch but not quite what I imagined. It was a small couch that turned into a single bed. I regretted not taking our original room with two full size beds, especially since the pullout didn't have sheets and there weren't any in the closet.
The phone system isn't too bad if you're aggressive and the front desk said they would send housekeeping right up. Fifteen long minutes later, I called back down to find out what the status was and was told they would check on housekeeping. A few minutes later, the manager delivered the bedding and said housekeeping had left for the day. Good thing I didn't wait to follow-up.
The pillow he brought for the pullout was much nicer than the nasty, bulky pillows that were on the bed. My wife quipped, "Are these a joke?" They were pretty bad, like inflated balloons.


While waiting for the bedding, I turned on the TV. There are 40 channels including a Netflix sign-in but there were no other kids channels.   
The shower and tub are old and the water came out of the tub faucet even if you pulled up really hard on the diverter. What I did like about the shower is that the shampoo, conditioner and shower gel were all secured to the wall and had large print, which is key when you're over 40.


The building is definitely old but what's nice about old buildings is that walls are usually thicker. Ours did seem that way but we were only there for nine hours. In the morning, I went to admire our view of the runway but the windows were dirty. At least they were thick as you don't hear outside noise. We were also pretty far from any planes.
Good to know:
-They have a 24/7 gym.
-If you're not a Marriott Bonvoy member, WiFi is $13.99. It's free to sign up.
-Lots of airline crew stay there.
-I was happy I had gaffers tape, something I recommend all travelers pack, because a tiny annoying flashing light on the back of the TV was lighting up the ceiling. Not having a pitch-black room is one of my pet peeves so I tore just a tiny bit off and covered the light. I also never travel without my Lewis N. Clark sleep mask to ensure a good night's sleep.


I woke up early to find information about where I should check our two bags. The front desk morning shift didn't answer the phone so I went on a reconnaissance mission.
Again, if you're flying out of Terminal B, this hotel couldn't be any easier. But the Toronto and other regional flights go out of Terminal F. Marriott has a shuttle but I didn't want to lug the bags and get the kids up so early as they were zonked and still on west coast time.


So I grabbed my passport, the two bags and walked to ticketing in Terminal B. The first thing I noticed was the TSA Security line was crazy long! American's app warned me that it was a long wait but I didn't believe it.


What the app doesn't say, which the AA check-in agent informed me of, is that if you have TSA PreCheck, you're golden. Just walk past the security line, go downstairs to ticketing and at the end of that hall is TSA Pre. Unfortunately, they don't have CLEAR.


There was a short line at Priority check-in, the agent was super friendly and said it was no problem to check my bags there. She said to let my kids sleep since TSA Pre is quick and there's a three-minute shuttle to Terminal F on the other side.


She was right. It couldn't have been any quicker as shuttle buses go between Terminal B and Terminal F every three to four minutes, according to the worker guiding us on to the bus.


Once in Terminal F, you get dropped off at the food court. So naturally, I grabbed a bite (a Philly Pretzel egg sandwich) and then filled up our travel water bottles at a fountain.


While waiting for our flight to board, I overheard the gate agent next door announce that they were looking for two volunteers for their Montréal flight.
They were offering $1,200 to take a flight 12 hours later. $1,200 is tempting and we would have done it if we didn't have a trip to Europe a couple of days later that we couldn't afford to miss and especially if we could secure this hotel again.
Good to know: The Marriott Philadelphia Airport requires three days notice to cancel.
KEEP READING:
–The Grossest Thing in Your Hotel Room Isn't What You Think … And Might Even Be Dirtier Than the Toilet
–My Terrifying Hotel Fire Experience and What I Learned from It
–This Portable Safe Helps Keep Your Valuables Safe
–How Much to Tip Housekeeping & Make Sure They Get It
–Think Before Leaving Your Toothbrush out in Your Hotel Room
–Why You Should Always Lock The Deadbolt While In A Hotel Room
Want more travel news, tips and deals? Sign up to Johnny Jet's free newsletter and check out these popular posts: The Travel Gadget Flight Attendants Never Leave Home Without and 12 Ways to Save Money on Baggage Fees. Follow Johnny Jet on MSN, Facebook, Instagram, Pinterest, and YouTube for all of my travel posts.