It never dawned on me to write a post about tipping hotel housekeepers until I received a tweet from a reader asking: "@JohnnyJet Johnny, do you leave a cash gratuity for room service at the end of your stay? My dad taught me that back in the day & I've never stopped. Is that old fashioned? Or still correct? Thanks." Instead of just replying to Terrell I retweeted: "I tip every day because there's different housekeepers" to all. RELATED: Should You Tip on Takeout?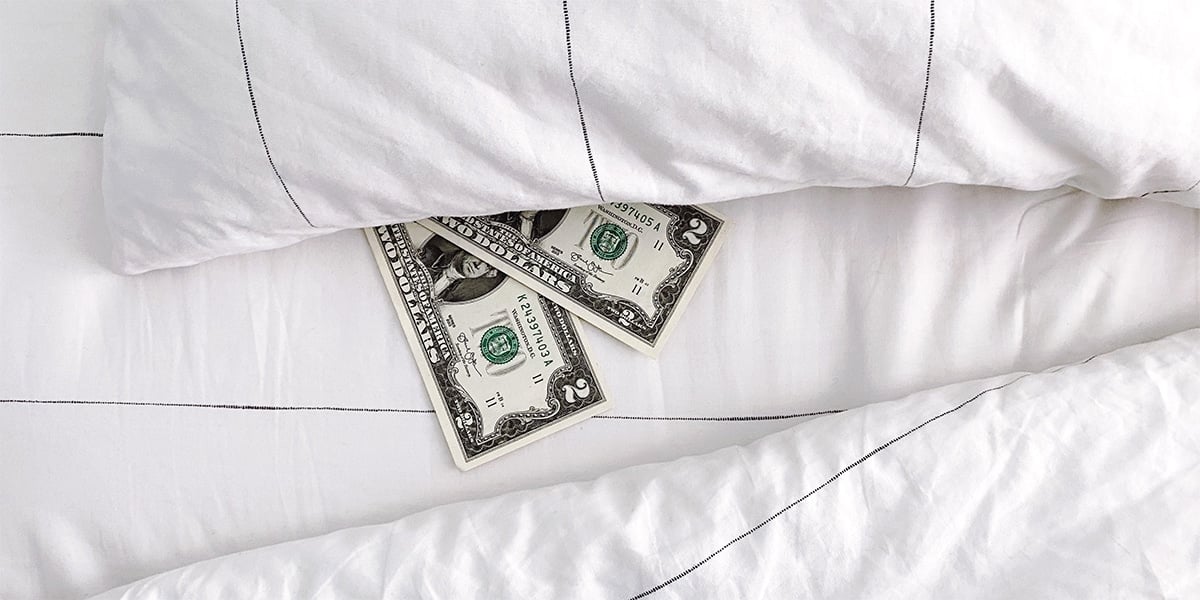 What caught me off guard was that I had a number of people reply, including Sree Sreenivasan who is a big-time journalism professor in New York City. He commented: "@JohnnyJet Thanks for this tip, Johnny. I never thought about the different folks on different days, so I leave a single tip at the end of the stay."
Then someone asked me: "@JohnnyJet Hi Johnny, what is the recommended rate or amount of gratuity per day?"
I replied that it all depends on the room, country and services. I don't always get my room serviced but when I do, I tip about $5 a day and leave it under the pillow so minibar people don't snag it.
How Much To Tip
If you're traveling around the US, then I would leave between $3 and $10 a day, depending on the hotel category and the size of the room. I sometimes leave Starbucks gift cards, which I keep in my carry-on, usually to thank gate agents or flight attendants but when I run out of cash, I will leave them for housekeeping.
Tip Every Day, Not One Lump Sum
I tip every single day instead of one big lump sum at the end of my stay because there could be different housekeepers each day, depending on their shifts and schedules. For instance, you may have the same housekeeper working all week but the a different one on the weekend. It's not right that they get rewarded for their colleague's hard work. Also, housekeepers could be assigned different floors each day. At a hotel, it's not like a cruise ship where you tend to have the same person for the duration of the cruise.
Why I Decline Housekeeping
I actually rarely have housekeeping come in to my room for a few reasons:
1. I don't want people snooping around my things or risk having stuff stolen.
2. I try to be eco-friendly by not having my towels and sheets washed daily.
3. Some hotels will give guests credit or points if they decline housekeeping.
4. I'm not a messy person.
Don't Be A Slob
My mom taught me a long time ago to always pick up after myself. I remember when I was kid and we were in a hotel, I thought my mom was crazy because each morning, she would clean up our hotel room, including picking my tissues up from the floor after I missed the "basket." I now realize she was just being courteous so if I do have housekeeping service my room, I tidy up before we leave for the day. I say 'we' because when I travel with my kids, we usually get the room cleaned because they are like two little Tasmanian Devils.
I Use The Same Towel and Sheets
For the most part, I don't need or even want my sheets and towels changed daily. I don't do it at home so I'm not going to do it on the road. Unless, of course, one of my kids throws up, which has happened once or twice.
Where I Leave The Tip
I once shared a room with a friend and I left a $5 bill on the counter. We left the room to check out and I remembered that I'd forgotten my toothbrush in the shower. So I went back to the room and noticed that the $5 bill was gone. It turns out my no-good. now ex-friend, had taken the cash. Ever since then, I leave it under the pillow, mainly because I don't want the mini-bar attendant or a supervisor to come in and grab it. Because if my friend did it, you know others will.
Otherwise, I try to give the tip directly to the housekeeper when they enter the room and then I leave. If I don't see them, I will sometimes write a thank you note.
Make Friends
I almost always try to make friends with the housekeepers not only so that they will treat my stuff with care but also because I feel bad that they have to clean up other people's messes. I see the way many guests treat housekeeping. I try to treat them like they're my mother.
Do Your Research
If you're heading out of the country, then do your research about what the tipping customs are. In some countries like Japan, it's rude to leave a tip.
These are my general tipping guidelines but everyone has different thoughts on what's acceptable and the entire topic of tipping can be divisive. This video below, created using information from CNN Money, which sourced their information from the Emily Post Institute, offers a breakdown of what you should actually be tipping all the different people you encounter during a hotel stay:
What do you think? Do you agree with these suggestions?

KEEP READING

Want more travel news, tips and deals? Sign up to Johnny Jet's free newsletter and check out these popular posts: The Travel Gadget Flight Attendants Never Leave Home Without and 12 Ways to Save Money on Baggage Fees. Follow Johnny Jet on MSN, Facebook, Instagram, Pinterest, and YouTube for all of my travel posts.