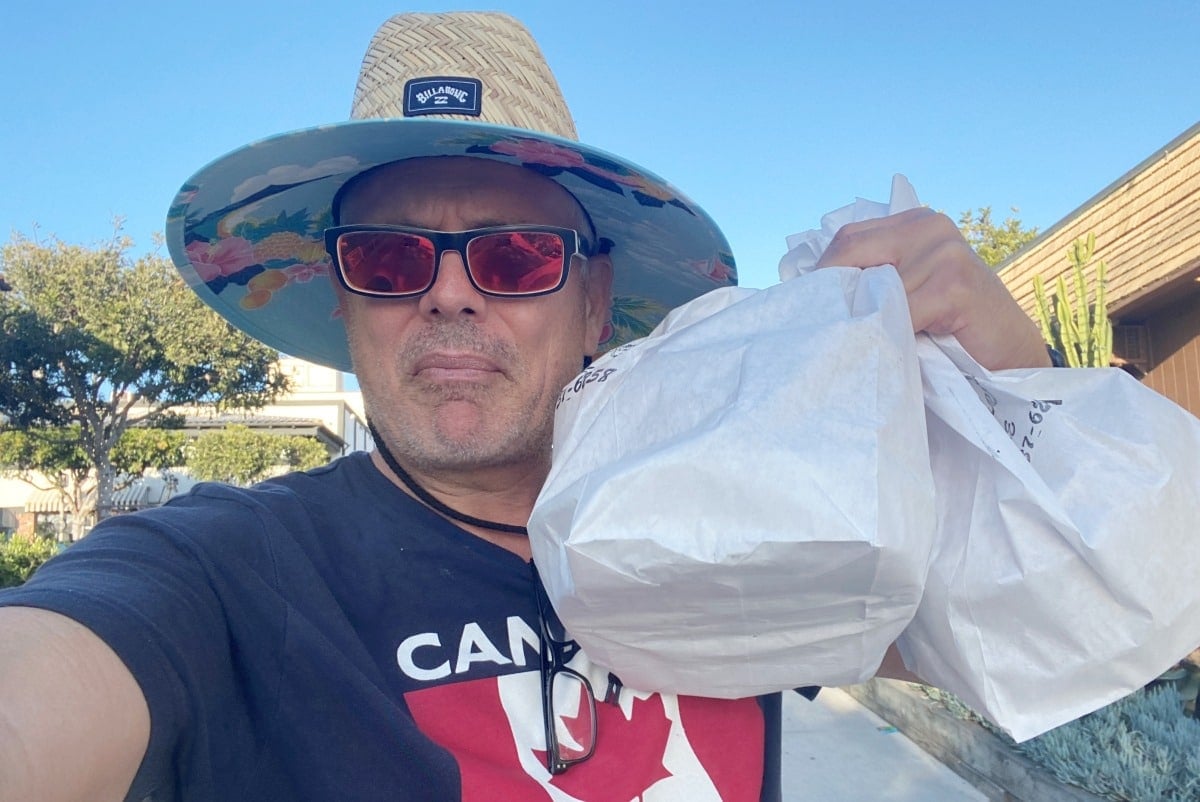 I consider myself a generous person and when I go to restaurants in the U.S., I almost always tip 20% unless the service is just flat out bad. However, since the pandemic, I've really limited my indoor dining. Very rarely do I eat indoors unless the restaurant is empty or I'm desperate. Fortunately, I live in Los Angeles so my family and I can dine outdoors year-round.
RELATED: How Much to Tip Housekeeping and My Trick to Make Sure They Actually Get It
Usually we just order takeout and I will go pick it up, which almost always leaves me in an awkward situation. I'm truly perplexed about whether I should be tipping on takeout that I go and physically pick up. If it's a restaurant I frequent often and know the staff, I give a few dollars but it just seems like an unnecessary added expense. Do you agree?
I also feel like some restaurants are too aggressive with tips, too. For example, take the screenshot above. I ordered four sandwiches from a Palm Springs sandwich shop website and before checking out, they required me to enter a tip. I find that even more awkward and offensive. Maybe it's just me but I felt if I didn't tip, my food might be sabotaged so it's not worth a few dollars. I know it's silly but that's the way it made me feel. The same goes for delivery apps, which require the tip in advance. This doesn't seem right because isn't a tip a reward for good service?
RELATED: The Best Pizza in New York City – Do You Agree?
I just did some research and according to Did You Know, tipping began in a London coffee shop in 1668. "It was in Lloyd's Coffee House that a brass container for the benefit of waitrons was first inscribed with the words "To Insure Promptness". The idea was that a patron would put an amount of money into the container before sitting down to insure promptness of service from the waitrons."
They now say: "Whatever or wherever the origin of the word "tip", it is now given after being served, whether the service was prompt or not." I agree.
USA Today interviewed an expert on the subject: "Tipping on takeout orders is the right thing to do," says H.G. Parsa, professor of lodging management at the University of Denver. "Even takeout involves some amount of service, and we should tip those employees."
The Today Show covered the subject last month and said: "With such days in the rearview mirror and indoor dining back at full strength across the country, takeout isn't as substantial a piece of business as it once was for José and Dear Margaret, but the generosity and goodwill of their regulars has not abated. The tipping norm for their restaurants — takeout or dine-in — remains at 20% or slightly above."
Tipping 20% for takeout? If that's the norm then I've really have not been as generous as I thought. I understand that restaurant workers during the pandemic took a huge hit, which is why I really upped my tips big time during lockdown but now that most have gone back normal, it doesn't seem right.
Of course, none of this even touches on the fact that restaurant owners should be paying their workers fair wages and not passing that responsibility on to their customers. What do you think? And how much do you tip on takeout? KEEP READING: Are You Obligated to Switch Seats on a Plane