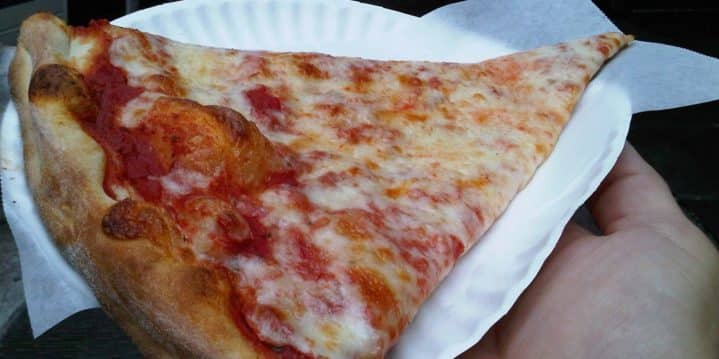 A slice of pizza from New York City is, without a doubt, one of my top-five favorite foods. But where do you find the best pizza in New York City?  There are tons of great options in NYC, but whenever I'm in town I make sure to stop at my favorite NYC pizza spot: Don Filippo's, a hole-in-the-wall right near my old apartment at 79th and Lexington. And there are plenty of other great pies, including those from Rubirosa, located on Mulberry Street in the heart of Nolita (stands for "north of Little Italy"), and NY Pizza Suprema, where TPG's Scott Mayerowitz took me once.
RELATED: New York City Taxi Fares Are About to Get a Lot More Expensive
In fact, there are so many great places to eat pizza in New York City that choosing where to go can be overwhelming. So, I decided to ask some of my travel friends who live in the Big Apple for their picks. In the list below, you'll find plenty of trusted pizza options to choose from so you don't have to traipse all around town looking for a slice. My hope is that you don't get bad pizza in NYC, which believe it or not, is easy to do. Consider those $0.99 slices all over town: Yeah, I admit they hit the spot when you're starving and it's late at night, but I would seek out the places below before you settle.
Without further ado, here's where to find the best pizza in New York City, according to travel experts:

Lombardi's has been my NYC go-to for years. It's a popular spot, so there can be a bit of a line to dine, but they also offer free delivery, and my apartment happens to be just at the edge of the delivery zone! Lombardi's finally has online ordering, too, which has made it far easy to get my pie fix. I always get the original margherita with pepperoni. The marinara sauce is a little sweet, the mozzarella is fresh and the crust is always cooked perfectly. It really is a perfect pie.
—Zach Honig, Cardless
One of the most wonderful things about living in New York is the pizza. Rumor has it that the tap water in New York, which is supposedly the best in the country, is what makes the pizza so good here. As a New York resident, I've tried pizza all over the city, but my absolute favorite has to be Lions and Tigers Detroit Pizza in Chelsea. The pizza is square, and you can't get it by the slice, but believe me, you won't want to. It's absolutely fantastic and by far the best I've had in New York, or anywhere for that matter. The guys who work there are really, really nice as well. I have to be honest, I have a bit of a hard time recommending something with the name of a city other than New York in it, but hey, at least it's not Patriots and Red Sox Boston pizza.
—Dan Nainan, danielnainan.com
RELATED: Should You Tip on Takeout?
I've lived in Manhattan my entire adult life and I've eaten at just about every pizza place on the island, some literally thousands of times. My favorite slice in Manhattan is Joe's Pizza in the West Village. It's the quintessential New York street slice. The go-to is the plain cheese slice and it's best eaten late at night! Trust me, I estimate I've eaten there over 3,000 times in 19 years! For a full pie, try the incredible sausage pie at John's on Bleecker around the corner from Joe's. And for a taste of Napoli in New York try Keste on Bleecker across the street from John's! Try the "Pizza del Rey!"
—Lee Abbamonte,leeabbamonte.com
There's a LOT of great pizza in New York City, especially this year, with Naples's own Sorbillo opening on the Lower East Side. But my fave is Totonno's in Coney Island. In the same family since 1924, with a blazing hot oven, it serves perfect Neapolitan pies (crisp on the edges, a tad soupy in the middle). There's no better pilgrimage in summer, when you can head to the rides and beach on Coney Island, skip Nathan's and walk to Totonno's for a pie. I always get the margherita: simple and great.
—Pauline Frommer,Frommer's EasyGuide to New York City 2018
I always take out-of-towners to John's of Times Square (260 W. 44th Street)—and not necessarily because of the pizza. Oh, it's good pizza, no doubt, cooked in one of four 800ºF coal-fired brick ovens, plus plenty of pastas, salads, and sides on the menu. But I come here for the fabulous interior. John's is housed in what was once the Gospel Tabernacle Church, built in a grandiose style in 1888. Some diners take their meals in the former choir loft, others beneath the stained-glass windows in the walls. But for my money, there's no better spot to enjoy your pie than directly beneath the incredibly ornate stained-glass ceiling, one of the most elaborate in New York City. John's took over the then-derelict space in the mid-1990s, and fortunately maintained many of the old church's fine 19th-century architectural details. The crowds inside are fun, the noise level is deafening, the interior is a marvel, and the pizza—well, I guess you could say it's divine.
—Mark Orwoll, markorwoll.com
My favorite pizza place in the city is NY Pizza Suprema near Penn Station. This is where to go for a classic NYC slice. The decor looks like it hasn't been changed since the 70s (and it hasn't). I love the grease, the cheese that will burn your mouth, and the rich sauce. Go there, get a slice of cheese, and enjoy that little slice of gooey, unhealthy but delicious heaven.
—Nomadic Matt,nomadicmatt.com
I usually think of Joe's when asked for a good NYC slice, but right now my favorite is the fresh mozzarella slice at tiny Luigi's in South Slope, with heaps of fresh mozz and a sprinkle of pesto. I eat it on the street, just beyond the heat of the oven. For a sit-down, wood-fired pie, I love Emily, Speedy Romeo, Roberta's, and Pauly Gee's, all within a 30-minute radius in Brooklyn.
—Ian Livingston, formerly with JohnnyJet.com


Got your own favorite NYC pizza spot? Share it in the comments!