Last Sunday while at church, I got a text from my sister, telling me that or 94-year-old dad had fallen for the second time in recent days and that he was being rushed to the hospital. My heart sank because the doctor had warned us a week earlier that if he fell and hit his head again, resulting in another brain bleed, it would most likely be game over. Of course, it was a holiday weekend but I knew I had to get there as soon as possible. But flights from LAX to NYC were either completely sold out or had only middle seats left. Not to mention, fares were crazy expensive. RELATED: 12 Things in Travel You Need to Know Today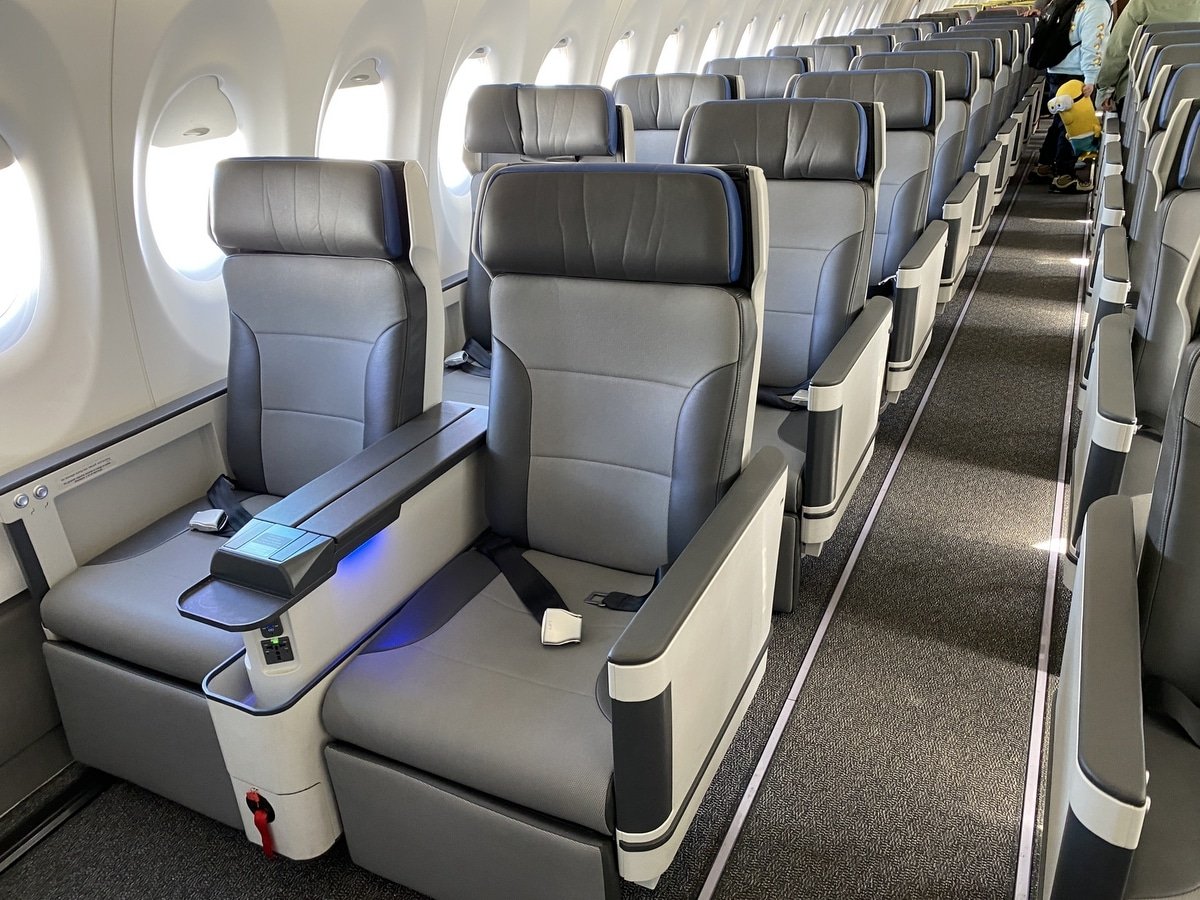 I was going to hop on a United Airlines flight to Newark (EWR) but four coach tickets with extra legroom was going to be $2,400 and that didn't include a checked bag or priority boarding. I lost my elite status with them years ago when I jumped ship to Delta and then American.
American Airlines (AA), my preferred carrier since I have Executive Platinum status, flies an A321T between LAX and JFK, which is great if you're in First or Business but not in economy unless you're in the exit row (row 15) and you're not permitted to sit there when traveling with little kids.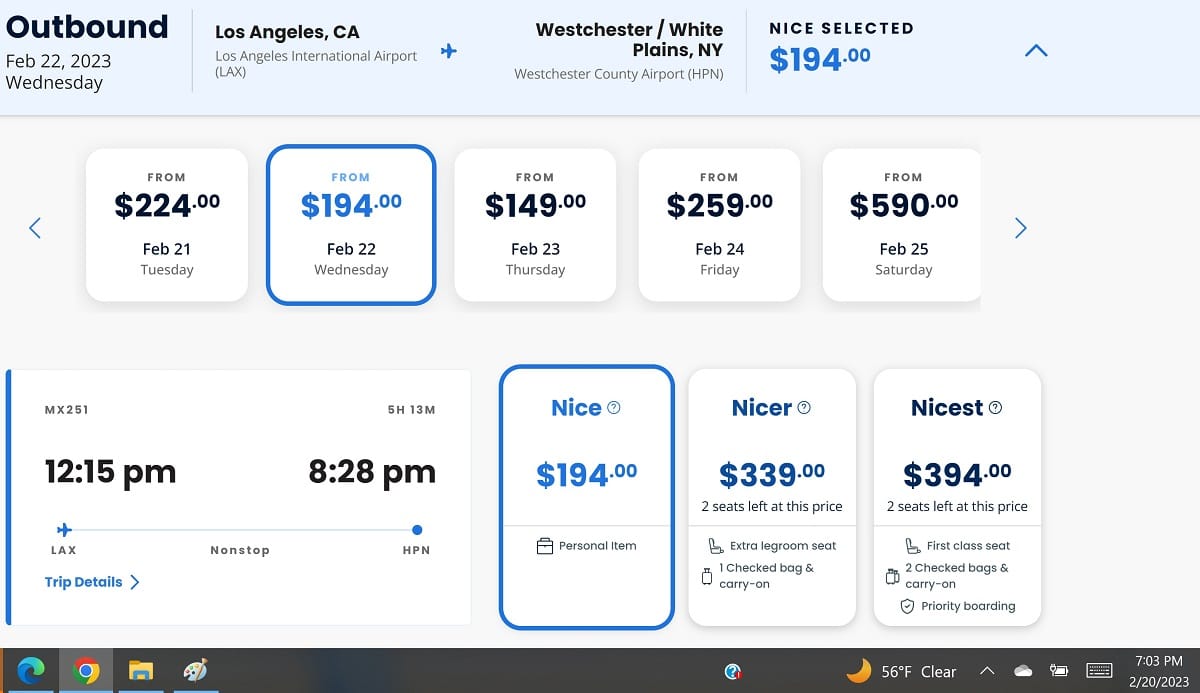 A couple of days earlier, I had arranged four one-way tickets on Breeze Airways (thanks to their PR team) in their Nicest Seats (Breeze Airways' first class) but it didn't seem like we could wait. Fortunately, by the time we got home from church, the doctor had said there was no immediate danger, which was a huge relief. But my dad definitely wasn't out of the woods.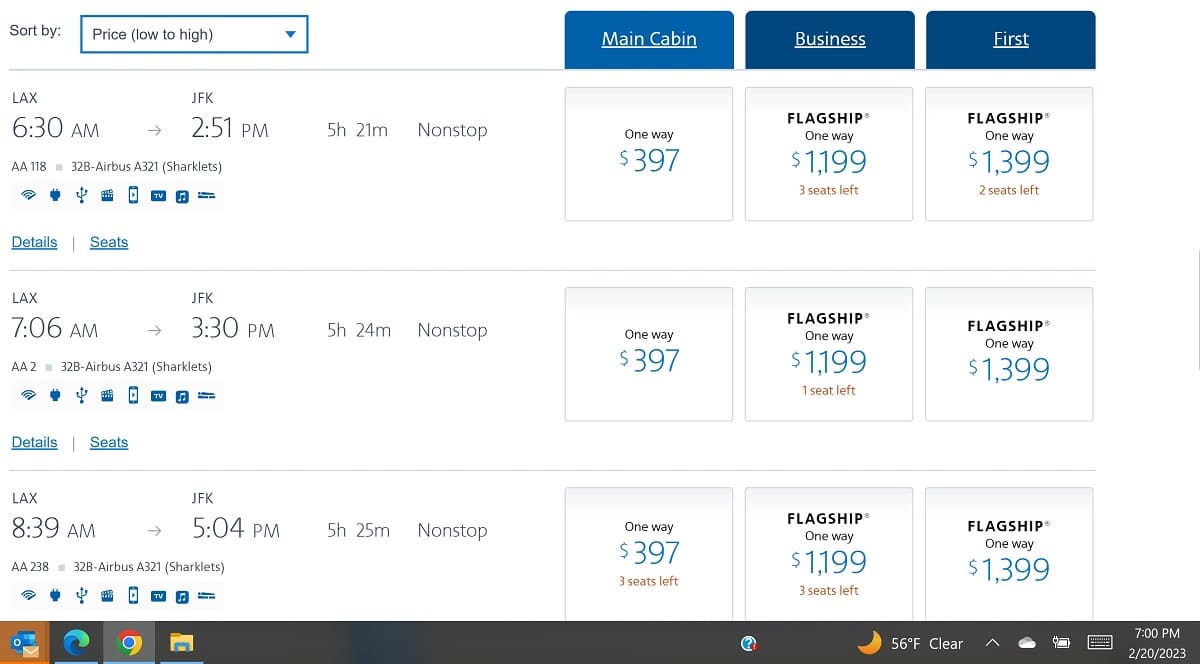 Breeze's Nicest Seats cost $394 per person. Meanwhile, American and United were both charging $397 for coach, which makes Breeze a no-brainer where money is concerned. BTW: Did I mention that Breeze's economy airfares start at $69 (now $79).
So, what's Breeze Airways' First Class (Nicest Seats) really like? Here's my report: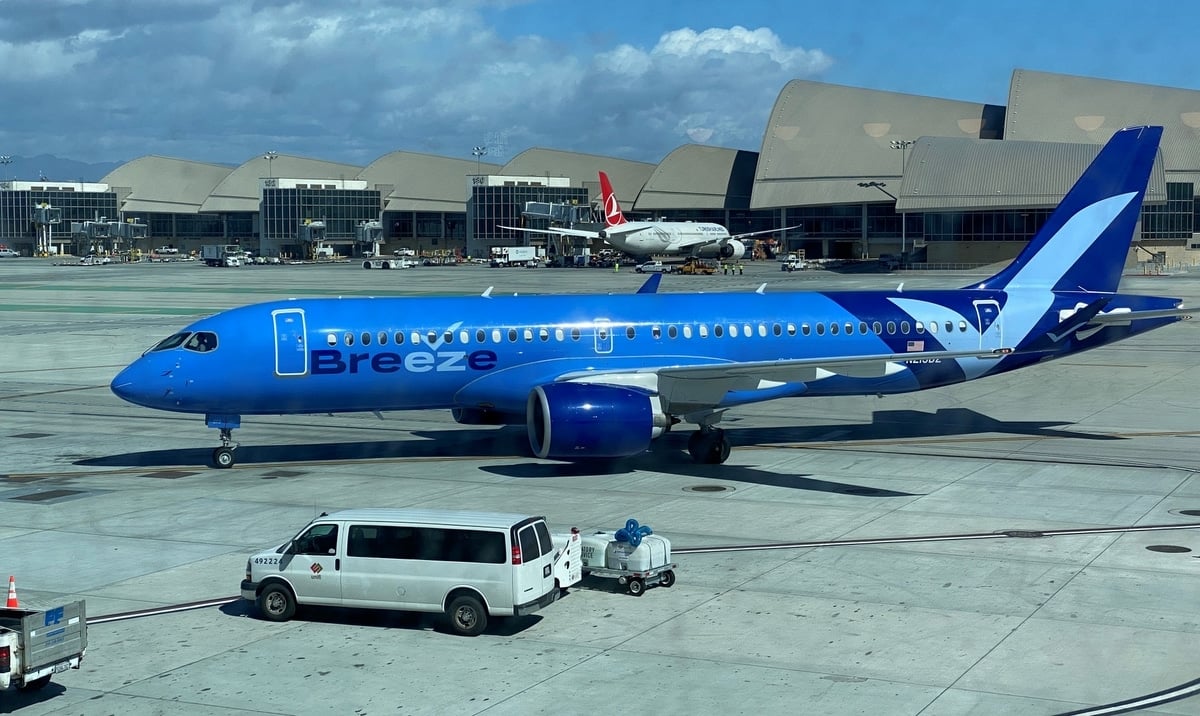 First, of all, Breeze Airways is one of the newest U.S. airlines to start up. It was founded by David Neeleman, the founder and former CEO of JetBlue, and now a serial airline entrepreneur as Breeze is his fifth start-up, after JetBlue, Brazil's Azul, Canada's WestJet, and Utah-based Morris Air (later purchased by Southwest).
Breeze Airways began with 39 nonstop routes between 16 cities. They now have now offer a mix of 143 year-round and seasonal nonstop routes between 35 cities in 21 states. The most exciting route for me is Breeze's White Plains, New York (HPN) to Los Angeles' (LAX)m which began on November 2, 2022. If you subscribe to my weekly newsletter, then you might remember that I was supposed to be on the inaugural flight but I had to cancel at the last minute after coming down with an upper respiratory infection.
I grew up only 30 minutes away from HPN but rarely flew out of there since the runway is relatively short and can only handle small commercial jets that didn't go past Chicago or Fort Lauderdale. But thanks to the introduction of the brand-new Airbus A220, airlines can now make the cross-country flight and passengers don't have to fight the terrible traffic from JFK or Newark.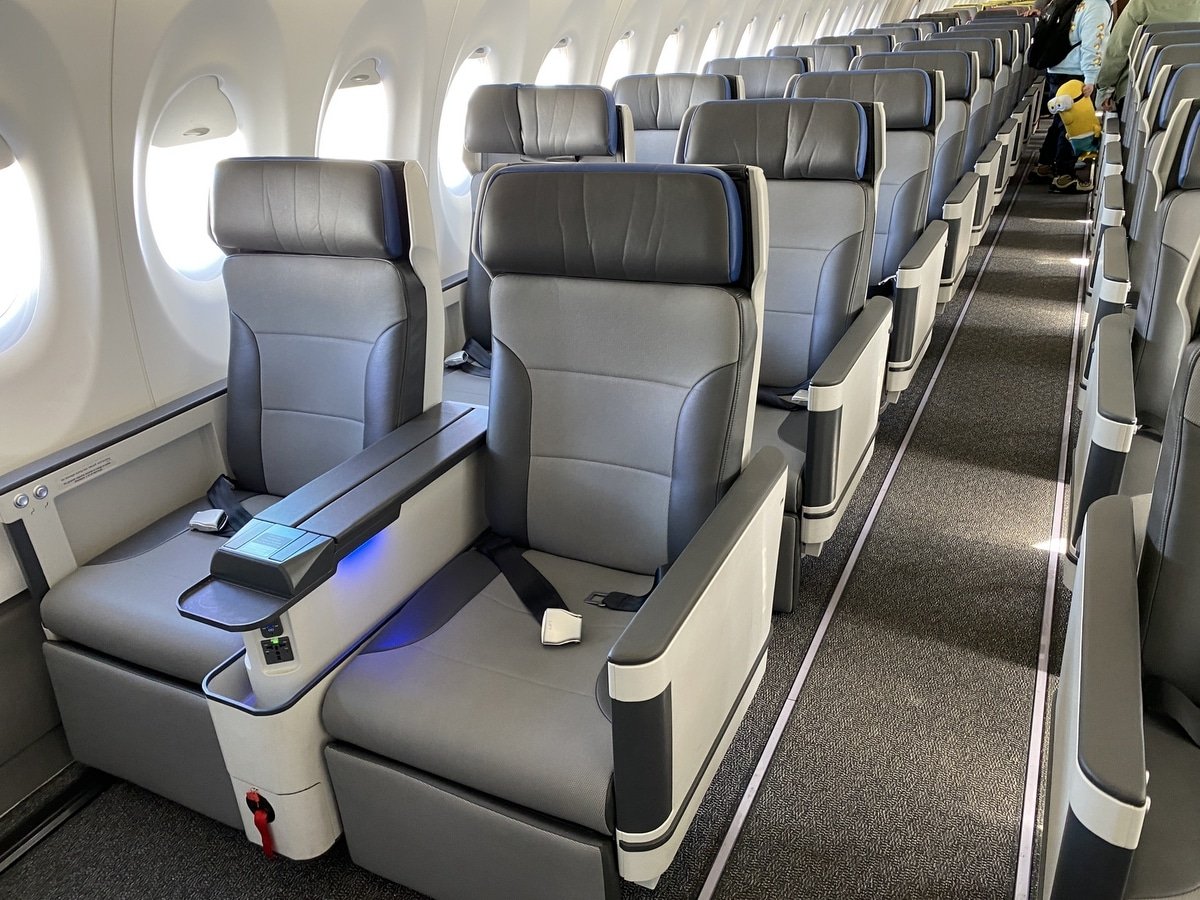 As David said on launch day: "Having lived so close to Westchester airport for many years, I wasted tons of time driving to JFK or Newark to travel to the west coast. Now we'll offer daily flights to the highest demand markets from New York, with the state-of-the-art Airbus A220 aircraft which pairs unrivaled comfort with 36 first class, 10 extra legroom and 80 standard seats – and half the noise footprint of past generations.  There is literally no faster or more comfortable way to get from Westchester to the west coast."
He's absolutely right; I used to joke to my friends that the most difficult part about flying home to L.A. from New York was getting to JFK airport.
Breeze has a simple website and app. When I got my seat assignments on Tuesday, I saw that our seats weren't all together. It was because the flight was almost sold out, which is understandable since their airfares are so low. I jumped on the Breeze app and thought I had switched our seats to something much more enticing to get other passengers to switch. For example, you can't ask someone to move from an aisle to a window or vice versa. So I tried grabbing seats that other passengers would have no qualms switching for. RELATED: Are You Obligated to Switch Seats on a Plane?
However, I must not have hit 'save' because when I went to check-in online, our seats were back to the original ones and I quickly learned that you can't change your seats within 24 hours of departure. Since Breeze is a low-fare carrier, they've cut all kinds of costs, including the fact that there was no phone number to call. I should have reached out to them on Facebook Messenger or texted them at (501) 273-3931 but I didn't learn about that until researching this article.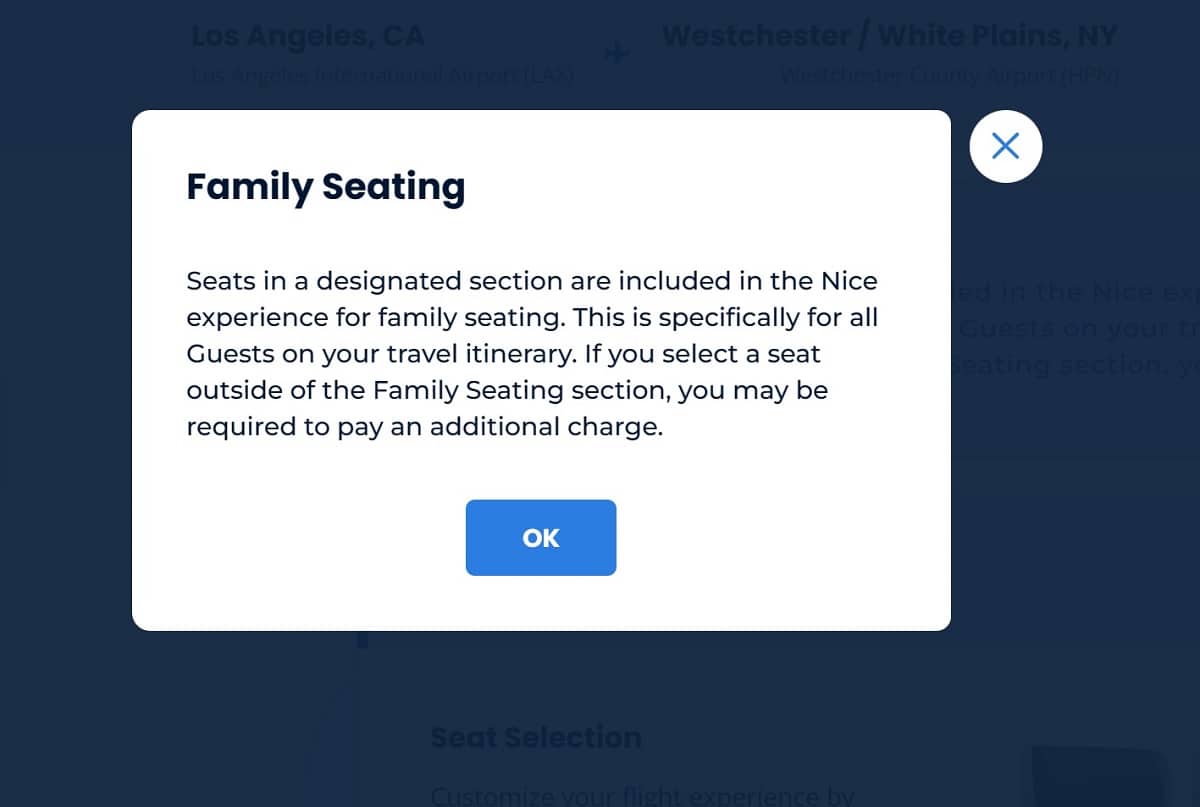 FYI: Breeze Airways has always offered Family Seating. According to their website, when I searched fares for a family of four: "Seats in a designated section are included in the Nice experience for family seating. This is specifically for all Guests on your travel itinerary. If you select a seat outside of the Family Seating section, you may be required to pay an additional charge."
When I received their email to check-in (the day before), I'm glad I read it in full because I might have just shown up at the wrong terminal. It turns out Breeze's check-in is at Terminal 1 and then they bus passengers to the Tom Bradley International (TBIT) satellite terminal. See below:
"Hello, Thank you for joining us tomorrow on your flight from Los Angeles (LAX)! For easy navigation around the Los Angeles International Airport, please check out our nice travel tips:
Our ticket counter is located on the second floor of Terminal 1, by Allegiant Air and Sun Country. We open two hours before your departure time to answer questions and check bags.
After moving through TSA in Terminal 1, make your way to the bus zone to depart from the West Gates at Terminal B (The Tom Bradley International Terminal).
Even if you're only bringing a carry-on bag, Terminal 1 to the bus will be your best route to the gate."
They do the reverse on arrival at LAX.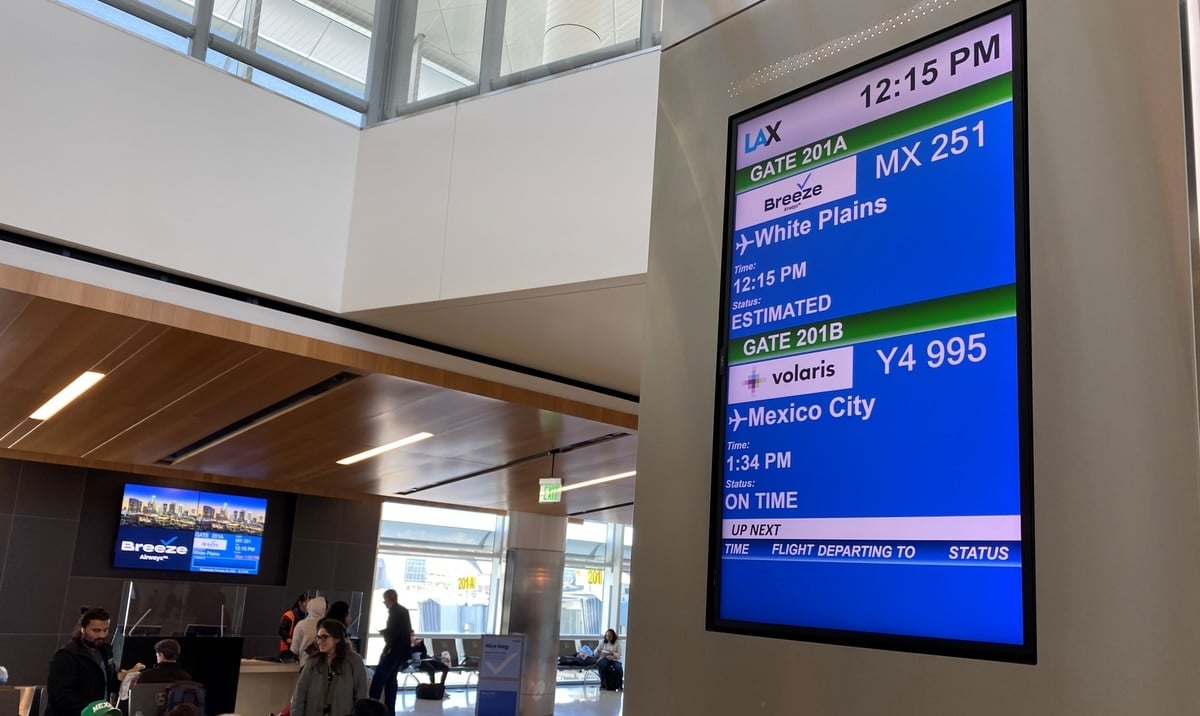 Our flight was at 12:15pm (they just switched it to a red-eye departing LAX at 9:40pm and arriving at 5:55am).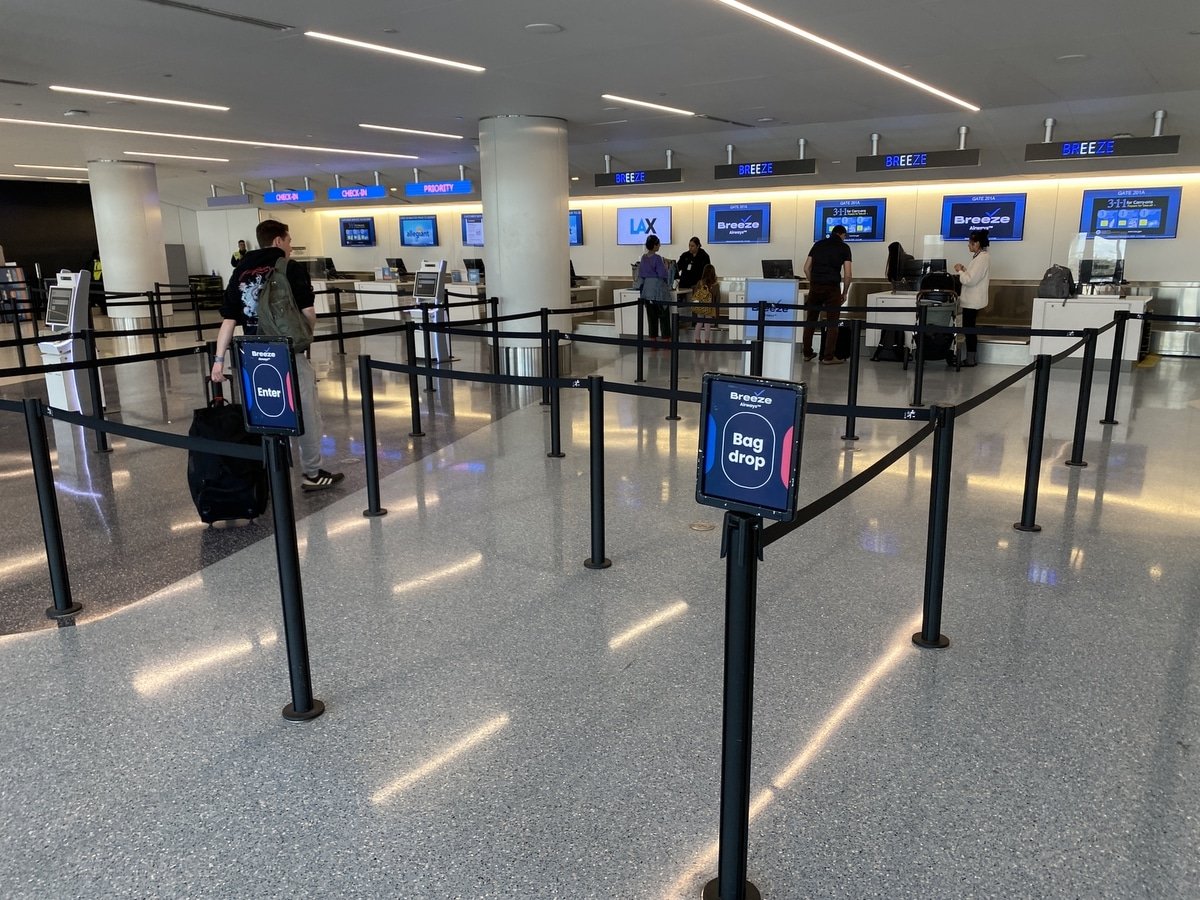 There was no line at check-in, which was quick. Nicest Seat passengers get two free checked bags. I had a booster seat so the agent gave me an old school gate check tag at the check-in counter—not at the gate, which was new for me (another way to cut costs and save time).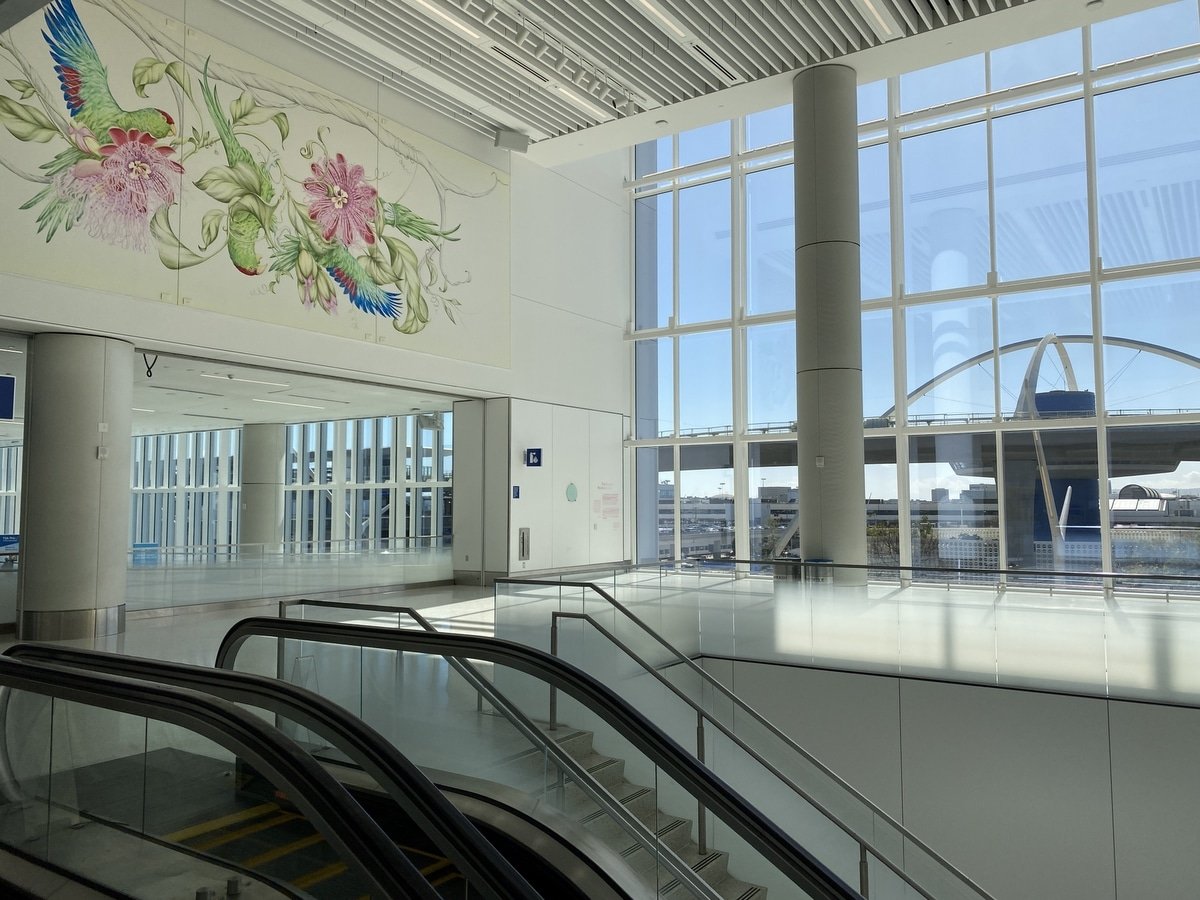 The new T1, which is predominately Southwest Airlines, is beautiful especially post security.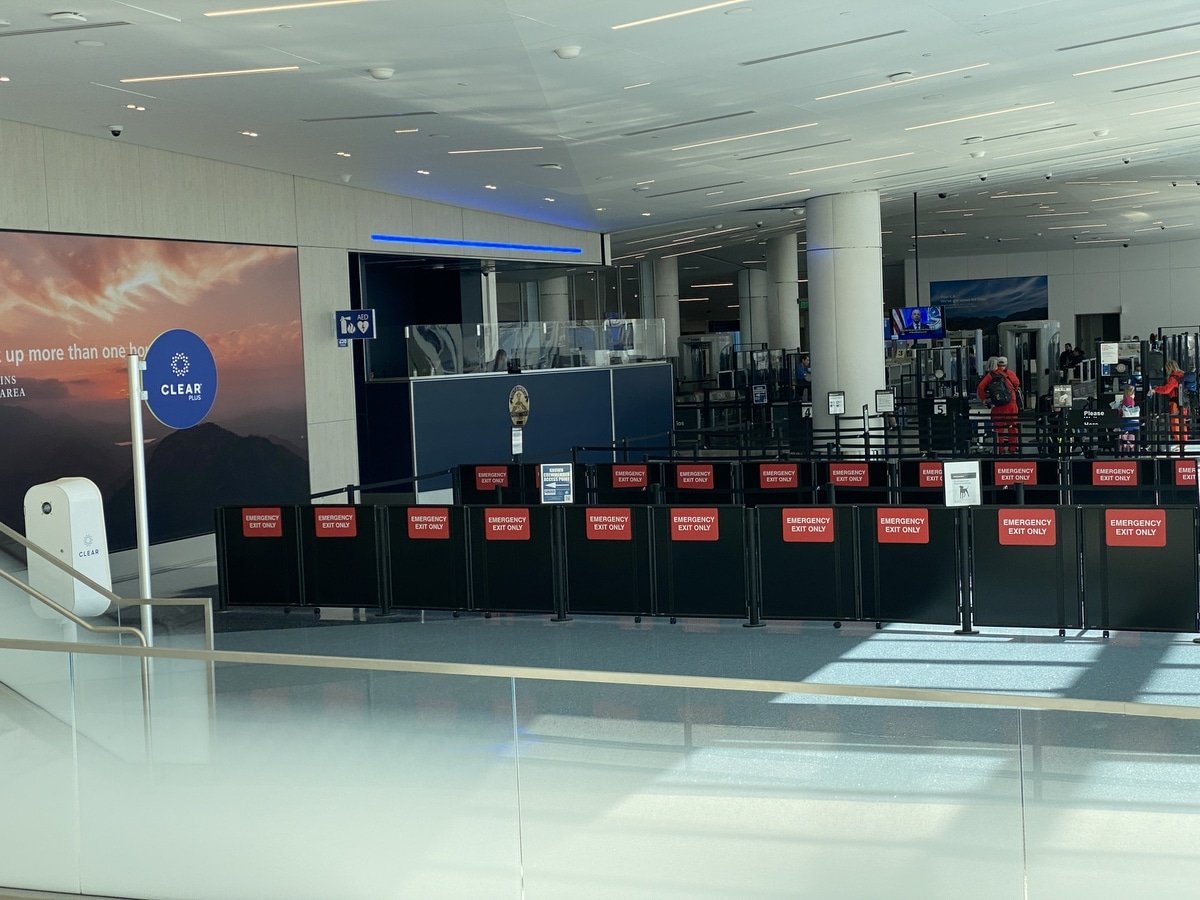 Speaking of security, there are two checkpoints in T1 and when I asked the TSA agent if it's always this quiet, he said it usually is because for some reason most passengers choose the checkpoint at the front of the building. Note: I have Clear but it wasn't open, at least on this end, but I don't blame them since there was seriously no one in front of us. RELATED: CLEAR is the Best Thing to Happen To Frequent Travelers – Here's How to Get it For Cheap
I did make a rookie mistake though, and forgot to input all of our Known ID numbers so we didn't get TSA PreCheck. I didn't realize this until I was in line and the TSA agent told me to take my shoes off. Luckily, children 12 and under don't have to take theirs off. No problem, except I forgot to take my laptop out and the agent had to rerun my bag.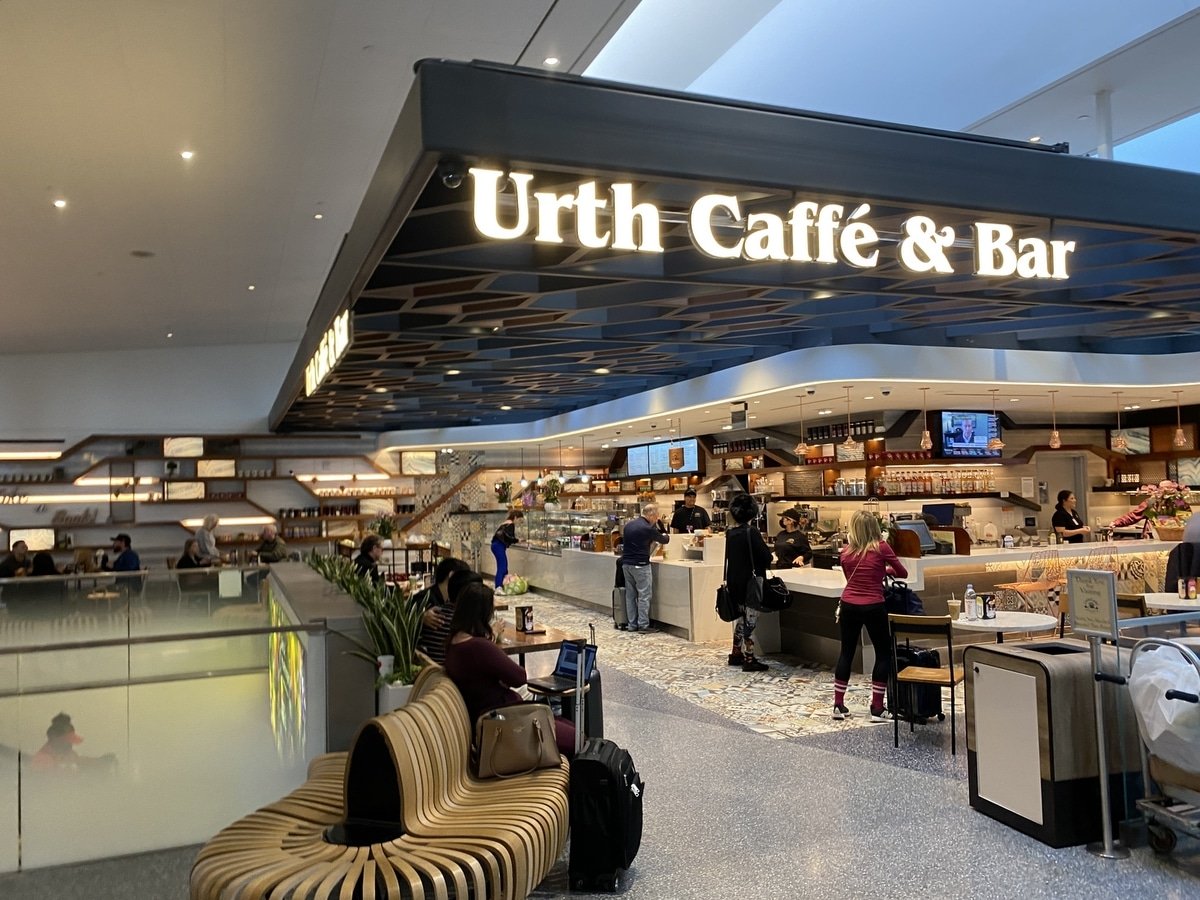 We took a right into Southwest's main terminal to explore; it has all kinds of great places to eat, including Urth Café and Rock & Brews. Here's LAX's website to see all the dining options.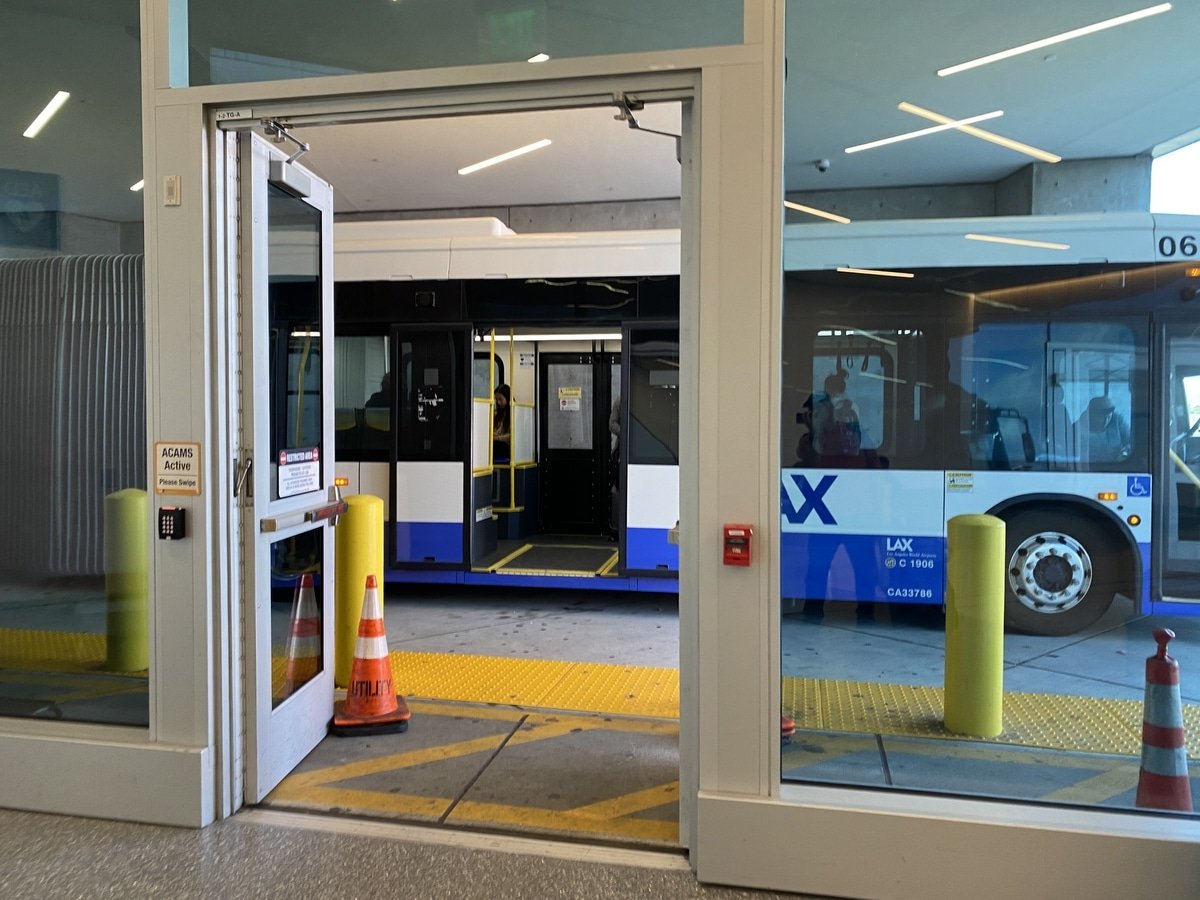 Taking the shuttle was a breeze since the extended bus was already there. It wasn't crowded on a Wednesday at 11am and the ride is only five minutes.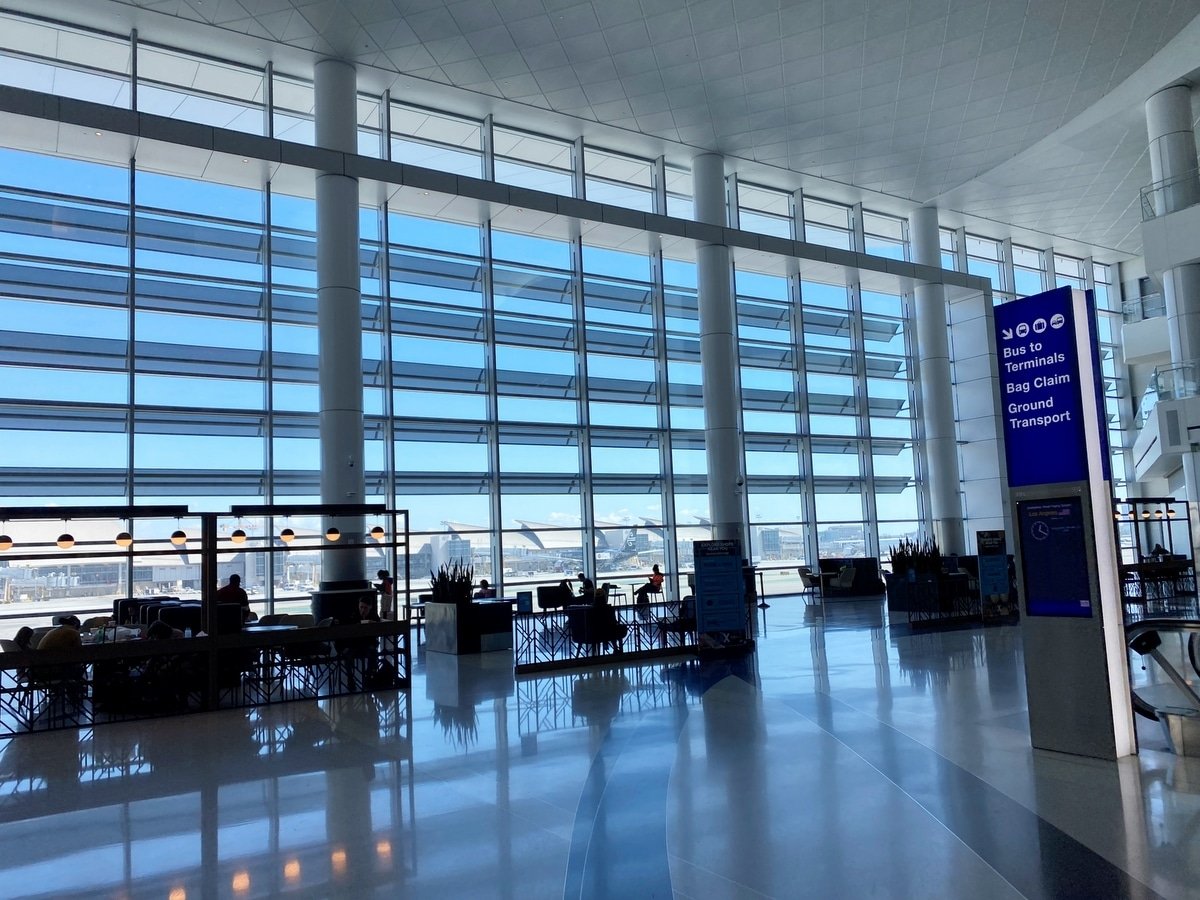 TBIT is my favorite airport terminal in the U.S. I'm talking about the main building, not the satellite terminal that Breeze operates out of. Don't get me wrong, the satellite is nice but I don't think it's finished yet. Food options are limited; I asked the gate agent if they serve food onboard and when she said no, we scrambled. The closest place to our gate was Burger King so for the second time in five weeks (and the second time in a decade), I ate there.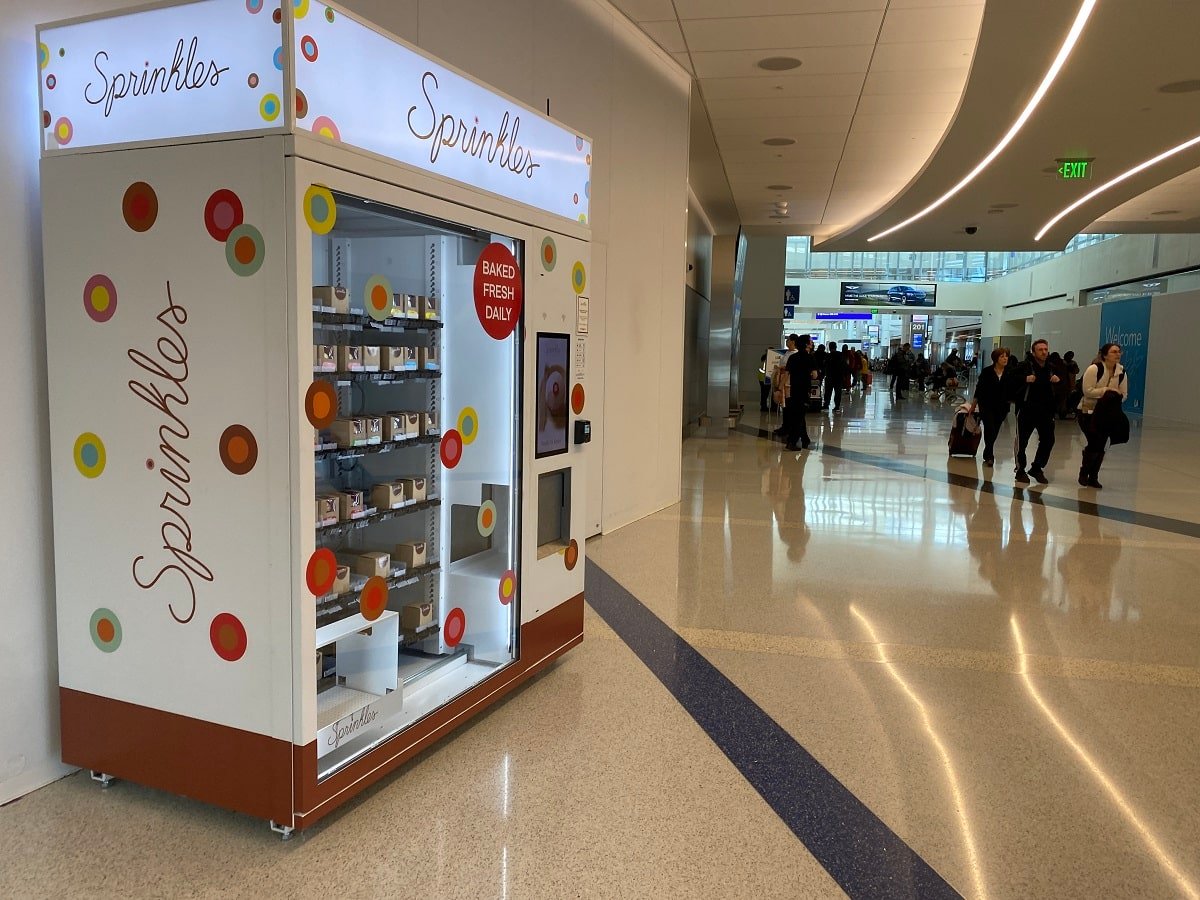 Of course, in true LA fashion, there was a Sprinkles cupcake vending machine in the terminal, which is always a treat but at $6.45 a pop, it was a hard pass.
Our flight was delayed by about an hour because of strong headwinds and my Flighty app did a good job letting me know when the plane landed in L.A.
Breeze pre-boards wheelchairs first, military in uniform and families with kids under six.
We were the second family in line. My wife later told me that ahead of us was an actor on a hit TV show who I had a conversation with. He said he chose Breeze since it was so much cheaper and it's quicker to get into Manhattan than JFK.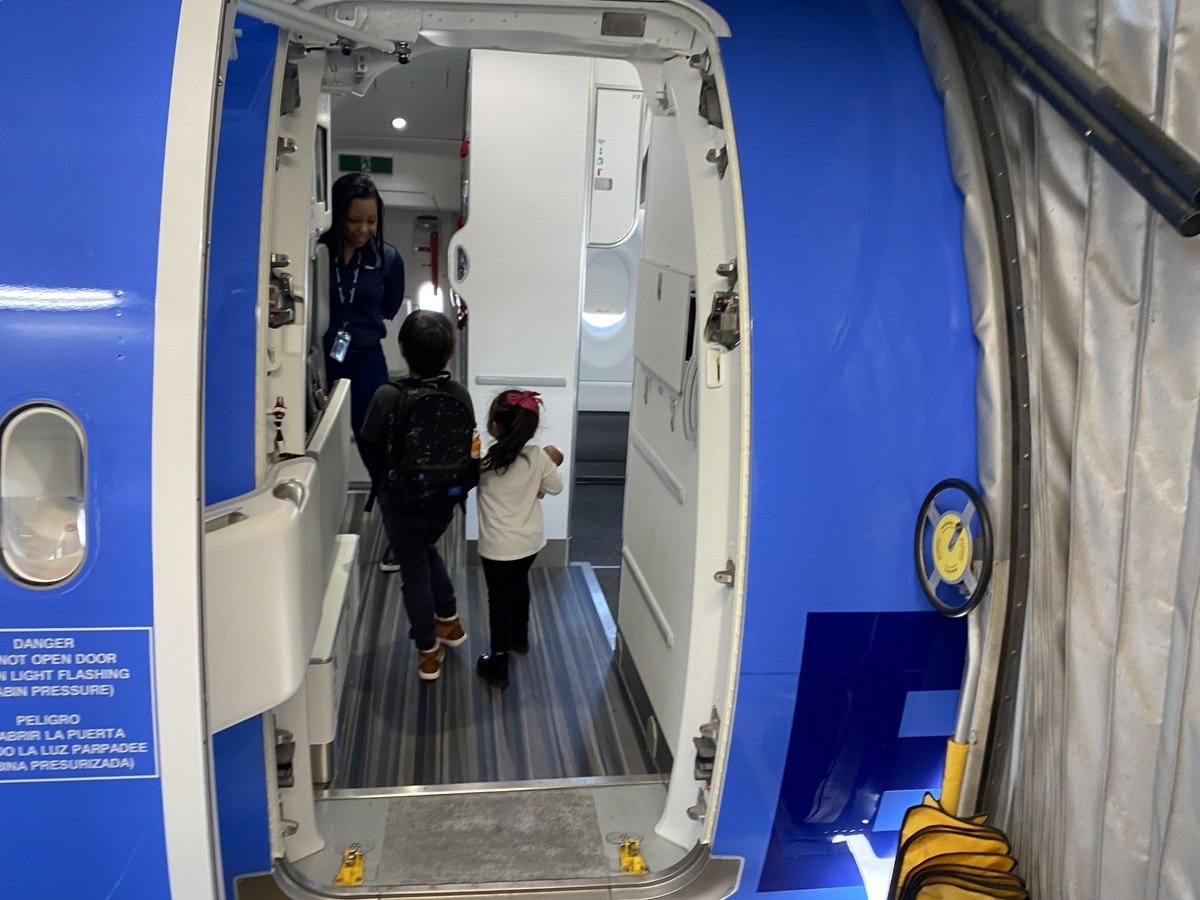 This was my first time on an A220 aircraft and I've got to tell you, it's really nice. I thought it was going to be much smaller than it was.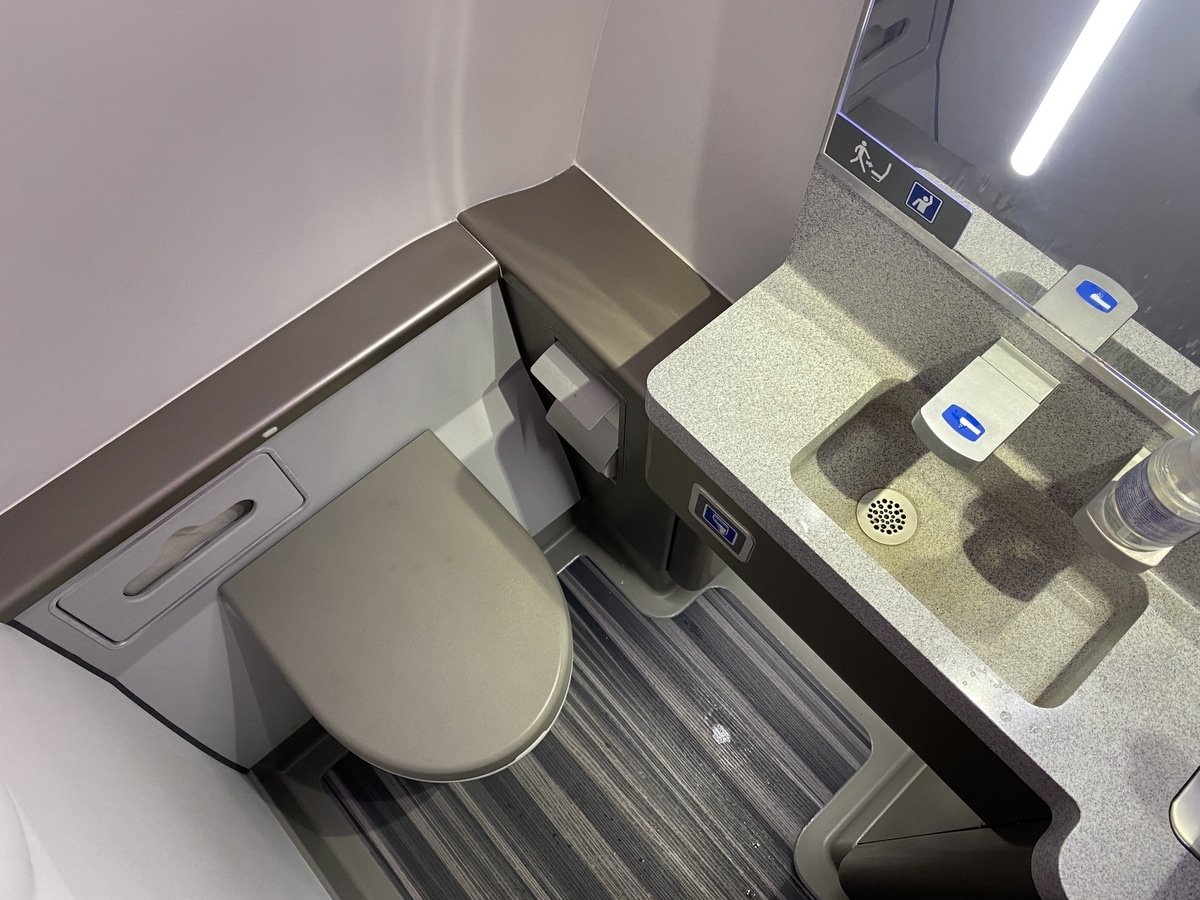 You could tell the plane was brand new, the windows seemed larger, the bathroom up front was a good size, the two in the back were fine and there's mood lighting. What's awesome, one of the three flight attendants (Justin), put the mood lighting colors on rotation for a few minutes to give the flight a fun feeling.


The captain made his pre-departure announcement from outside of the cockpit, which was a nice personal touch.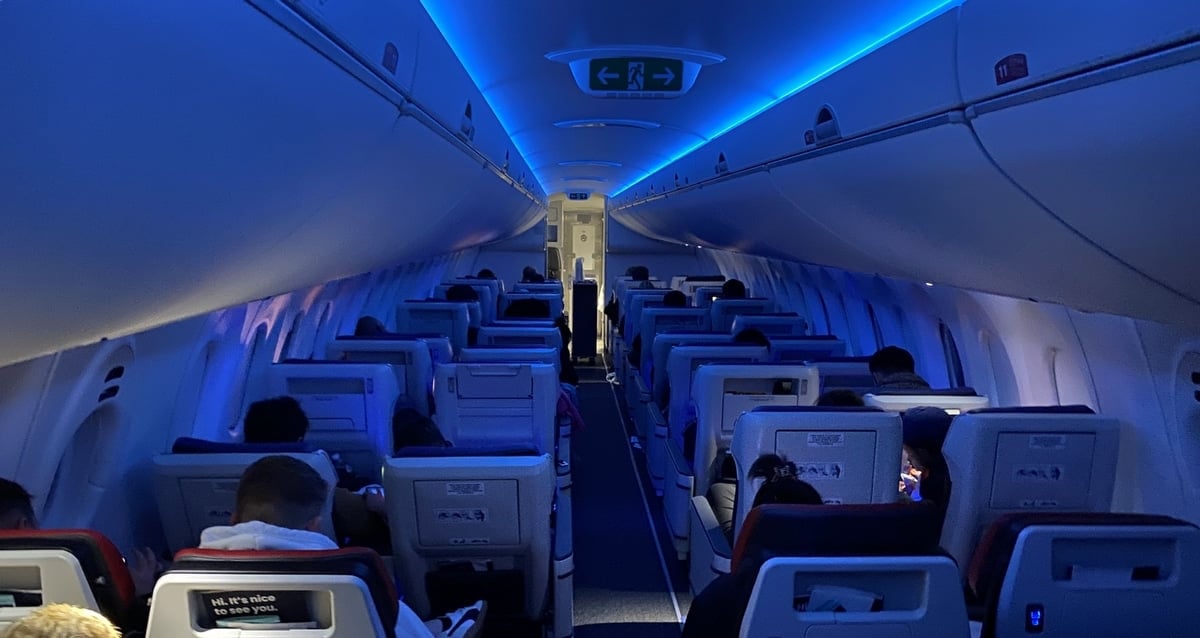 Breeze configures their cabin with a 2×2 configuration in first class and 3×2 in Nicer (Premium Economy) and Nice (Economy). There's a total of 126 seats.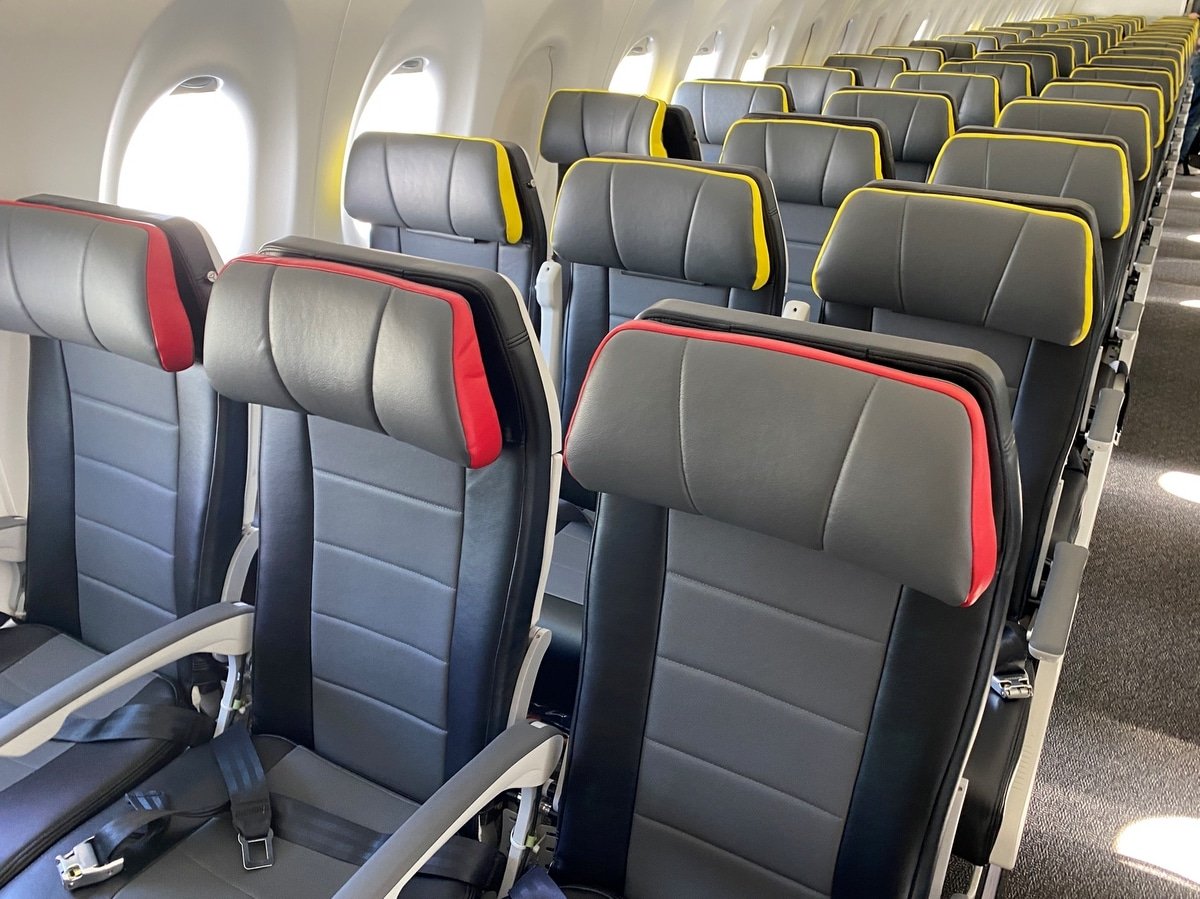 There are no wall dividers between classes. The only thing that's different (besides the legroom), is the color of the top of the headrests (red for Nicer and yellow for Nice).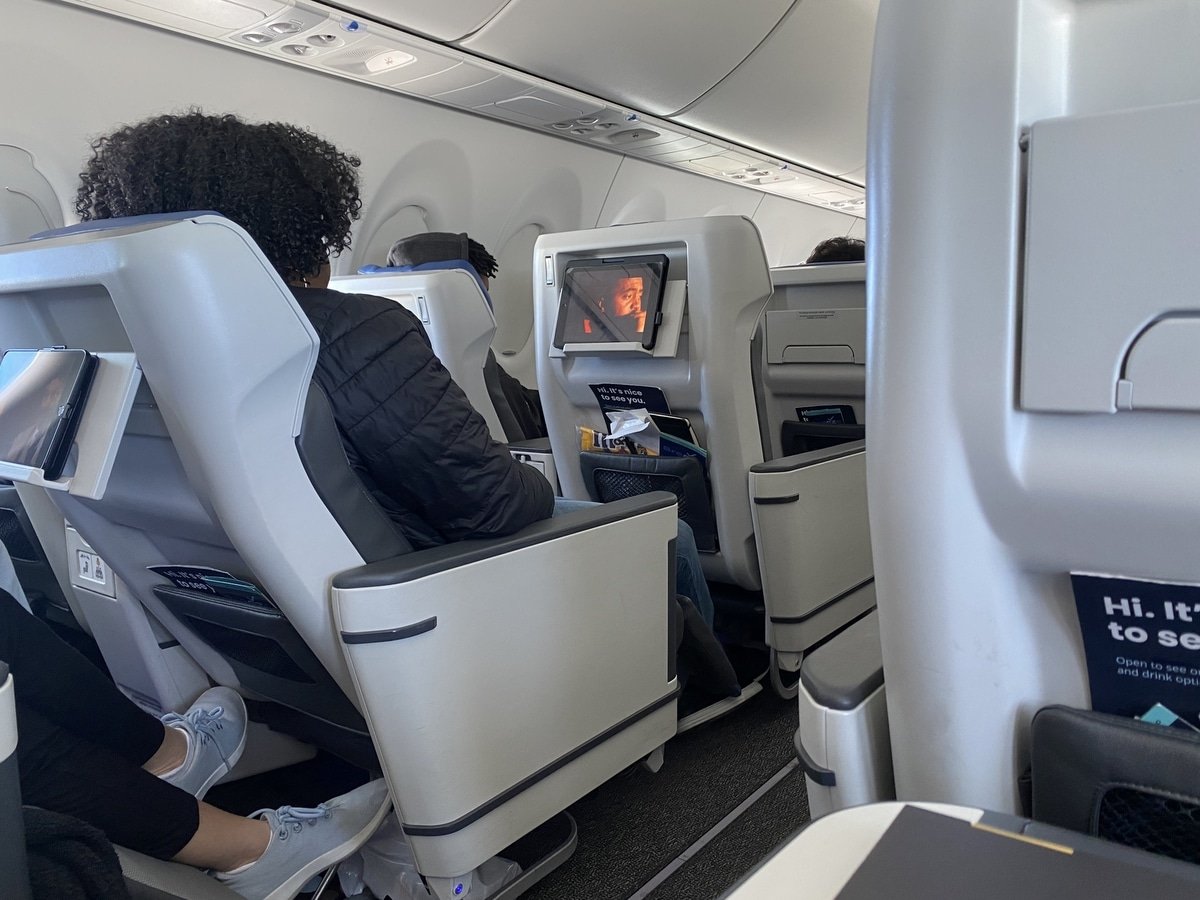 There are no pre-departure drinks, bottled water, blankets or pillows. There are no WiFi or entertainment systems (yet). And during boarding, the casually and comfortably dressed flight attendants made numerous announcements to download entertainment to your device before takeoff. There's also no in-flight map, which is a bummer since I love to know where we are flying over.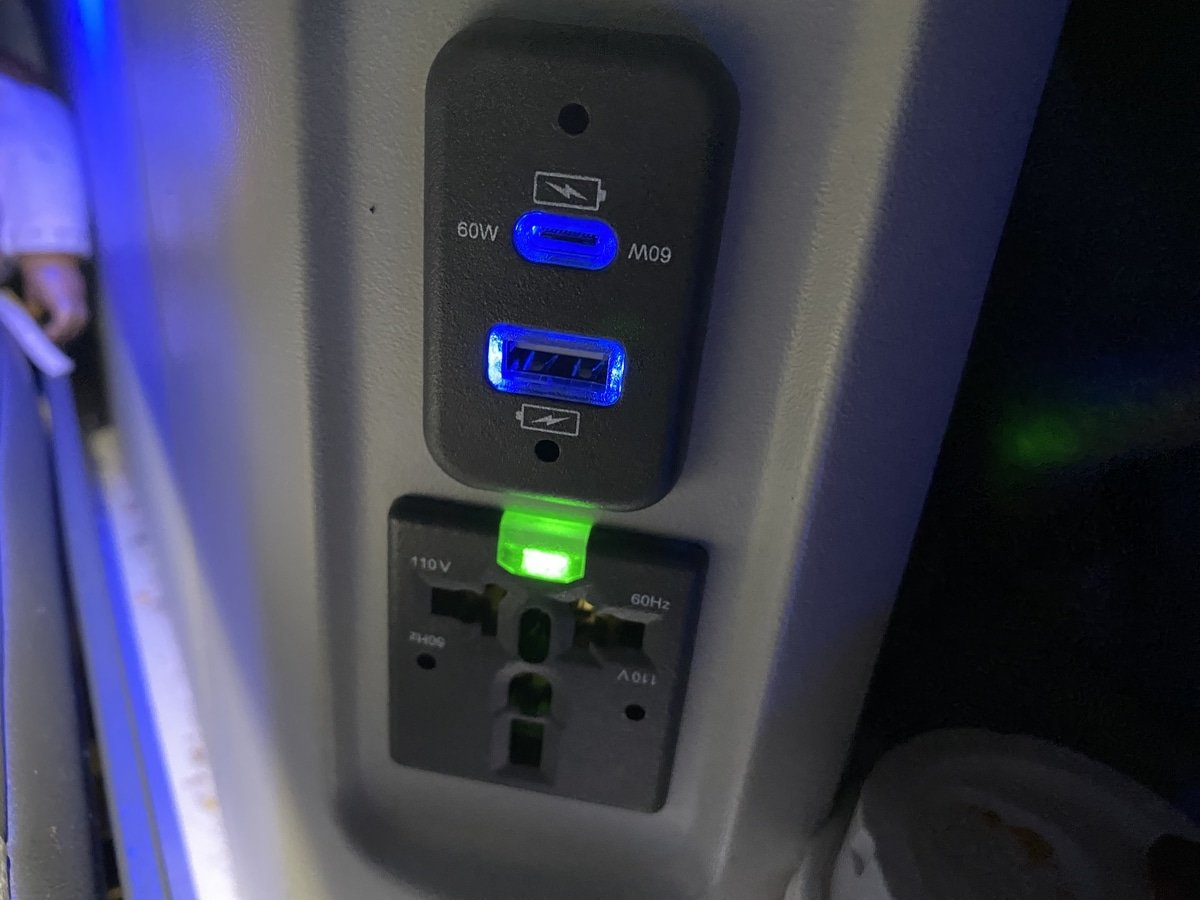 Fortunately, all seats have power outlets and USB/C ports.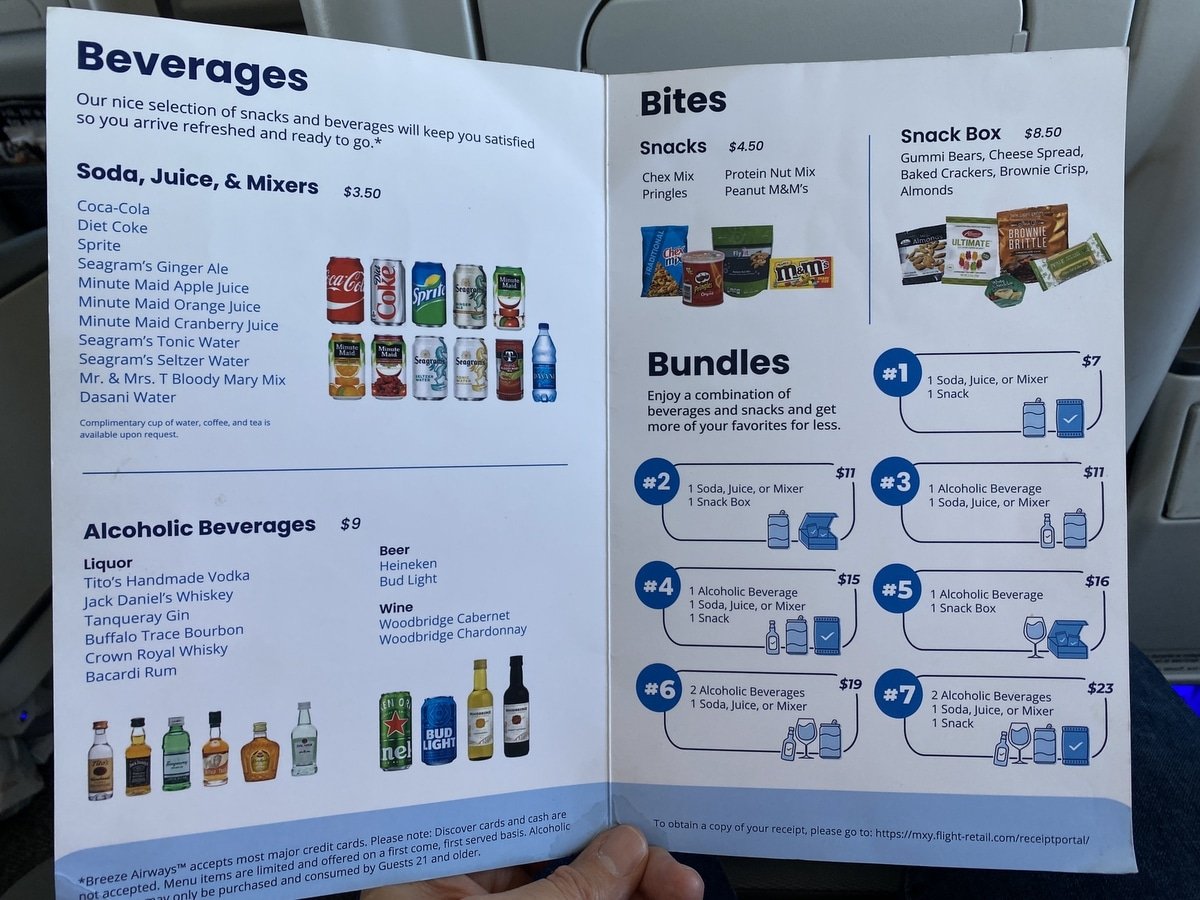 About forty minutes after takeoff, the friendly flight attendant came down the aisle with a device taking drink and snack orders. Turns out Nicest fares include one drink (alcoholic or non) and one snack. Passengers have a choice of: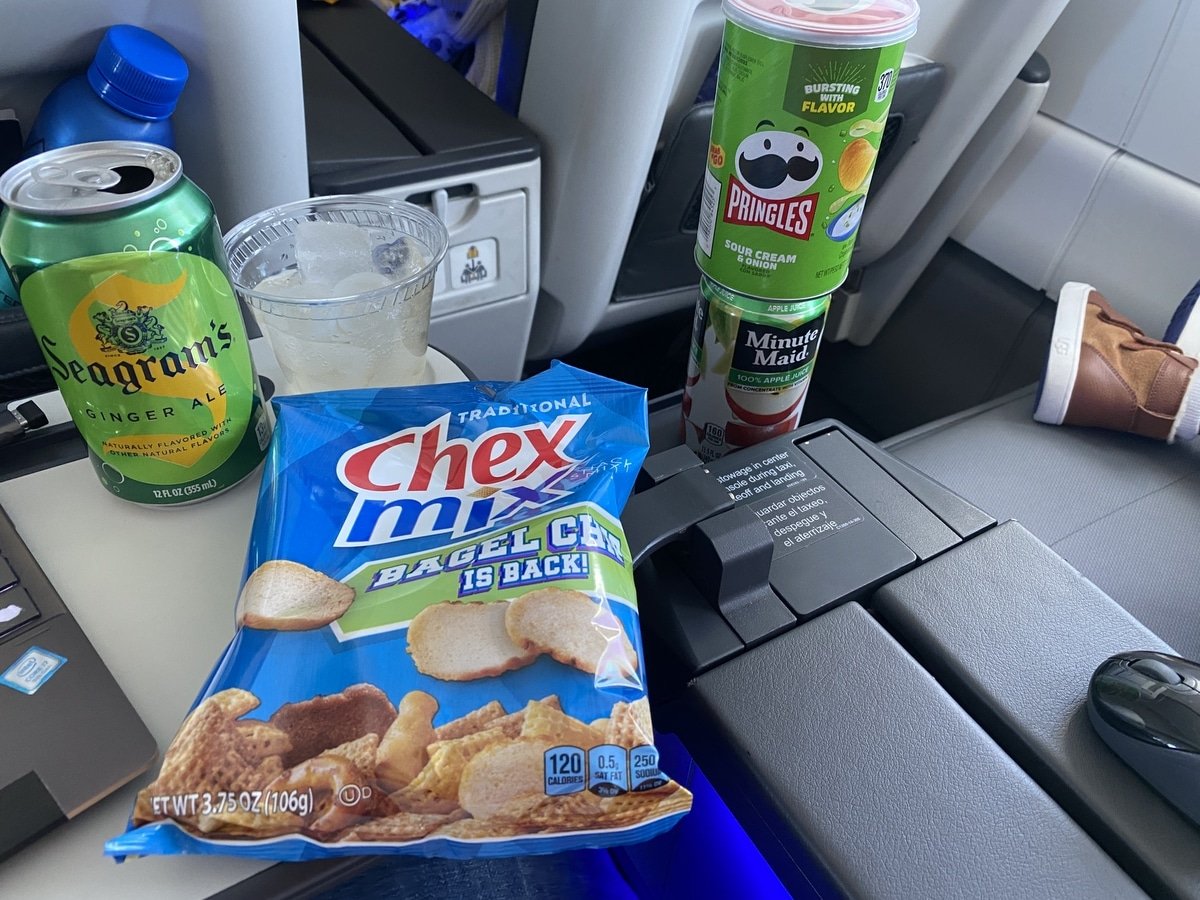 Sour Cream & Onion Pringles (2.5 ounces).
Chex Mix (3.75 oz)
Peanut M&Ms
Protein Nut Mix
Note: They no longer offer bottled water as a beverage but they did come around with water about 1:20 before landing. According to one of the FAs, they're going to be changing the menu and drinks and the A220 will be getting WIFI and entertainment systems, which their other aircraft have.


I almost postponed the trip after looking at the turbulence forecast. A couple of pilot friends brought up their internal maps and both said that the flight was going to be extremely bumpy the whole flight. I didn't want my kids to get spooked since they love flying, but since my dad was in the hospital, we took the chance.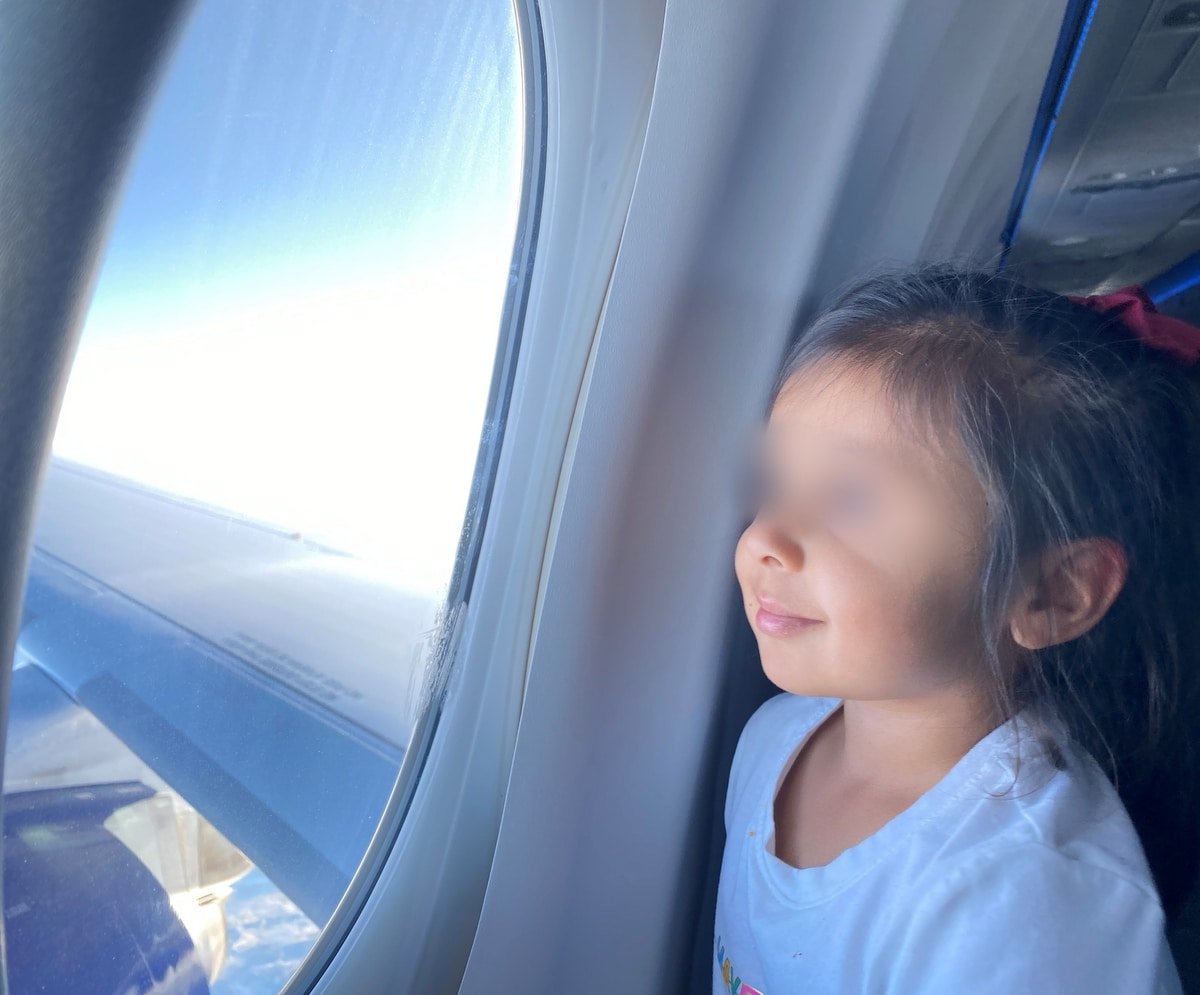 I'm so glad we did because my wife said it was one of the smoothest flights she's ever been on. It really was smooth until we started to descend but it wasn't anything out of the ordinary.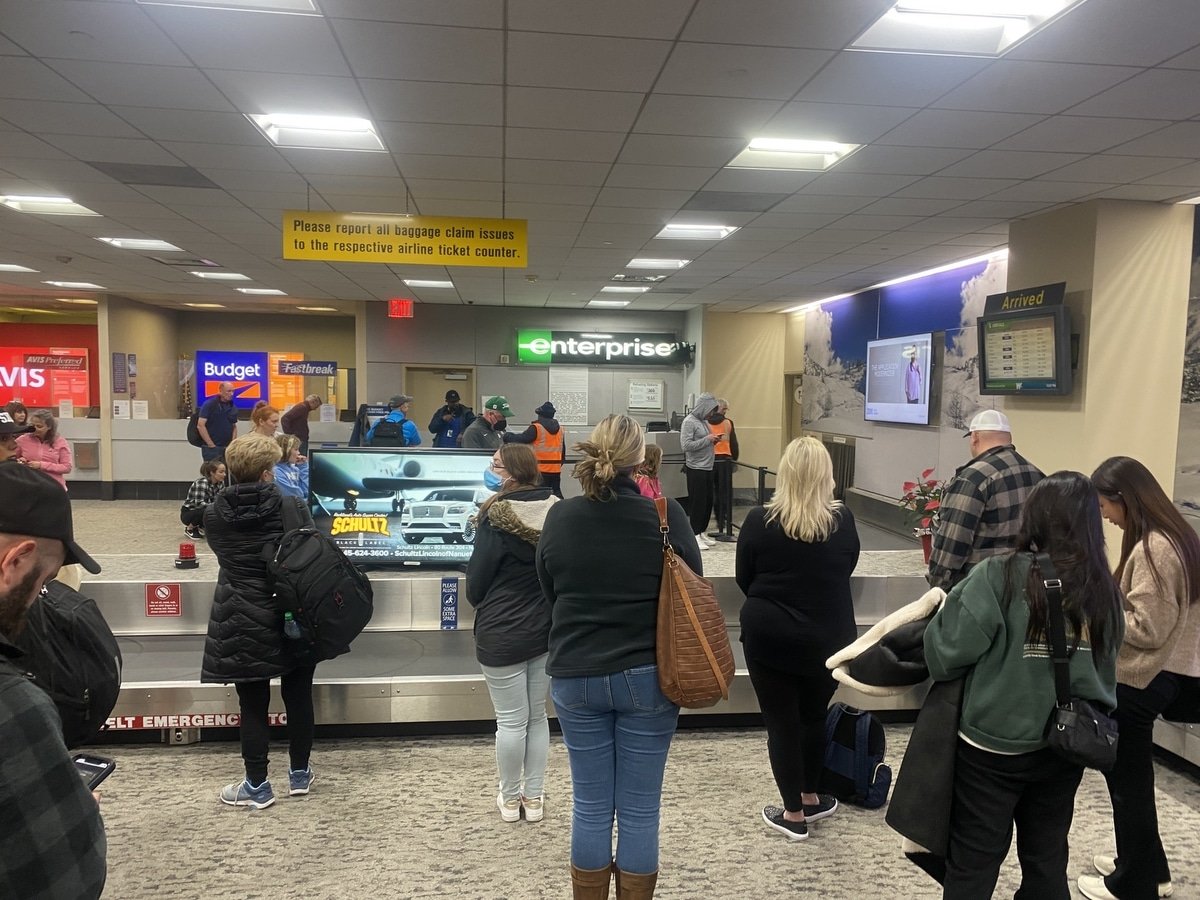 The Westchester Airport is small with just one baggage claim and the bags did take a good 15 minutes to come out but it probably seemed long since we had such a short walk to the carousel.
When we landed and I checked my email, Breeze had sent passengers some BreezePoints for the delay. Here's what it said: To make your not-so-nice delay right, BreezePoints on us.
"Hello! We know changes to travel plans are never nice, and we sincerely apologize. Thanks for understanding the delay on your Breeze flight #251. We got you. If your Guest account was linked to this reservation, we have issued 2,000 BreezePoints ($20 value), redeemable for up to six months. To view your BreezePoints balance, log in to your Guest account here."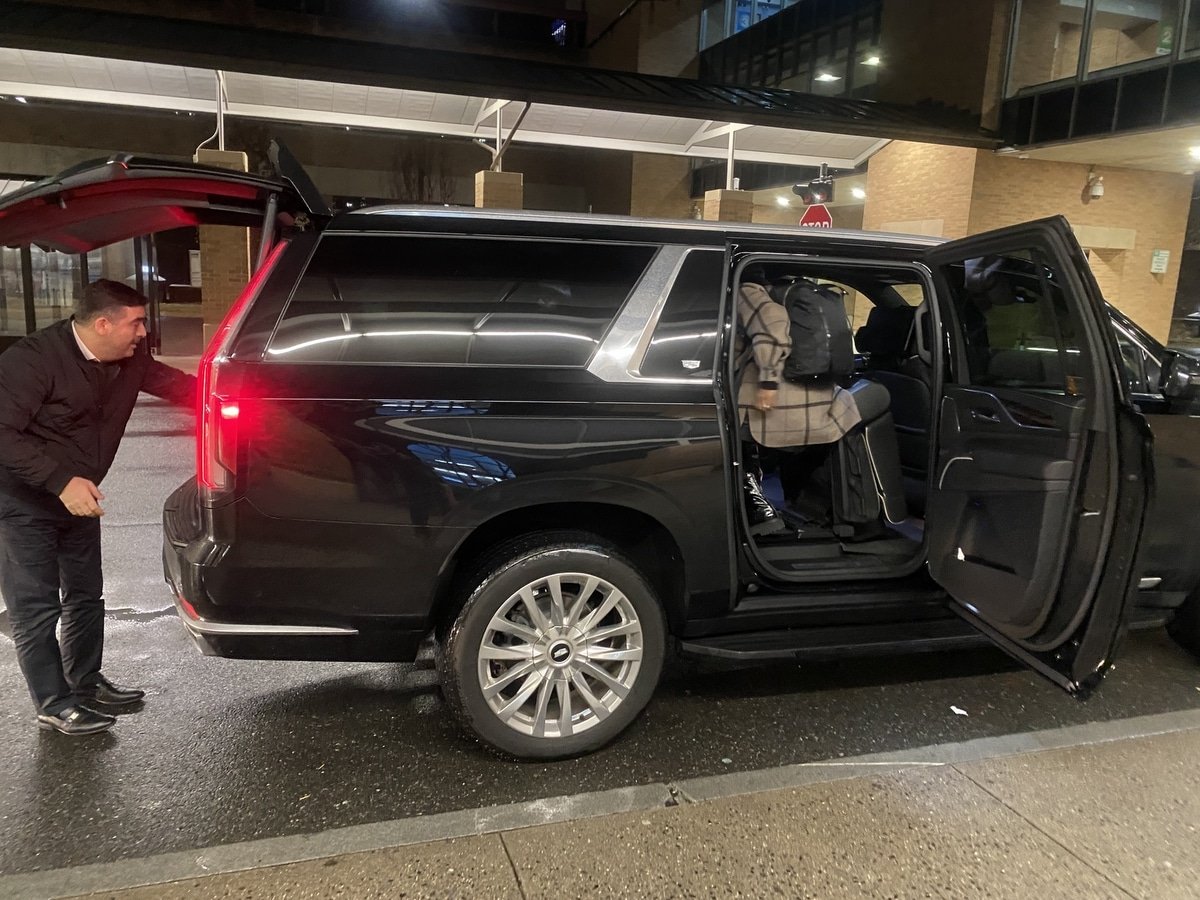 Our Blacklane driver was waiting curbside and we were at our hotel twenty minutes later. If we'd flown into JFK, it would have been at least double the time or triple. BTW: Here's my Blacklane promo code JOHNNYXBLACKLANE0323 for 15% off your first ride. Read more about Blacklane and how to do airport pick-ups like a boss.
KEEP READING:
–8 Ways To Make Sure An Airline Doesn't Lose Your Bag … And That You Don't Get Robbed or Stalked
–The Trick For Getting Airport Luggage Carts for Free
–Airline Lost Your Luggage? Do This If You Want to Get Compensated
–Why Frequent Fliers Use Apple AirTags or Samsung SmartTags When They Travel
–An Airline Executive's Number One Tip for Avoiding Lost Luggage When You Fly
Want more travel news, tips and deals? Sign up here for Johnny Jet's Daily Travel Tip newsletter! Just fill in your email address and check the Daily Travel Tip box—and you'll have Johnny's best tips, straight to your inbox each day!