Aloha from Hawaii! I purchased these tickets in early October for $189 to fly Los Angeles (LAX) to Honolulu (HNL) on December 31. But after seeing hotel prices over New Year's, we decided to travel five days later and to Maui (OGG) first. That turned out to be a good thing, as airfares dropped to $110 each way, which is amazing. I wrote about the deal in my newsletter and mentioned it on Leo Laporte's The Tech Guy since it's such a score. RELATED: 7 Hacks For Getting the Best Coach Seat on a Plane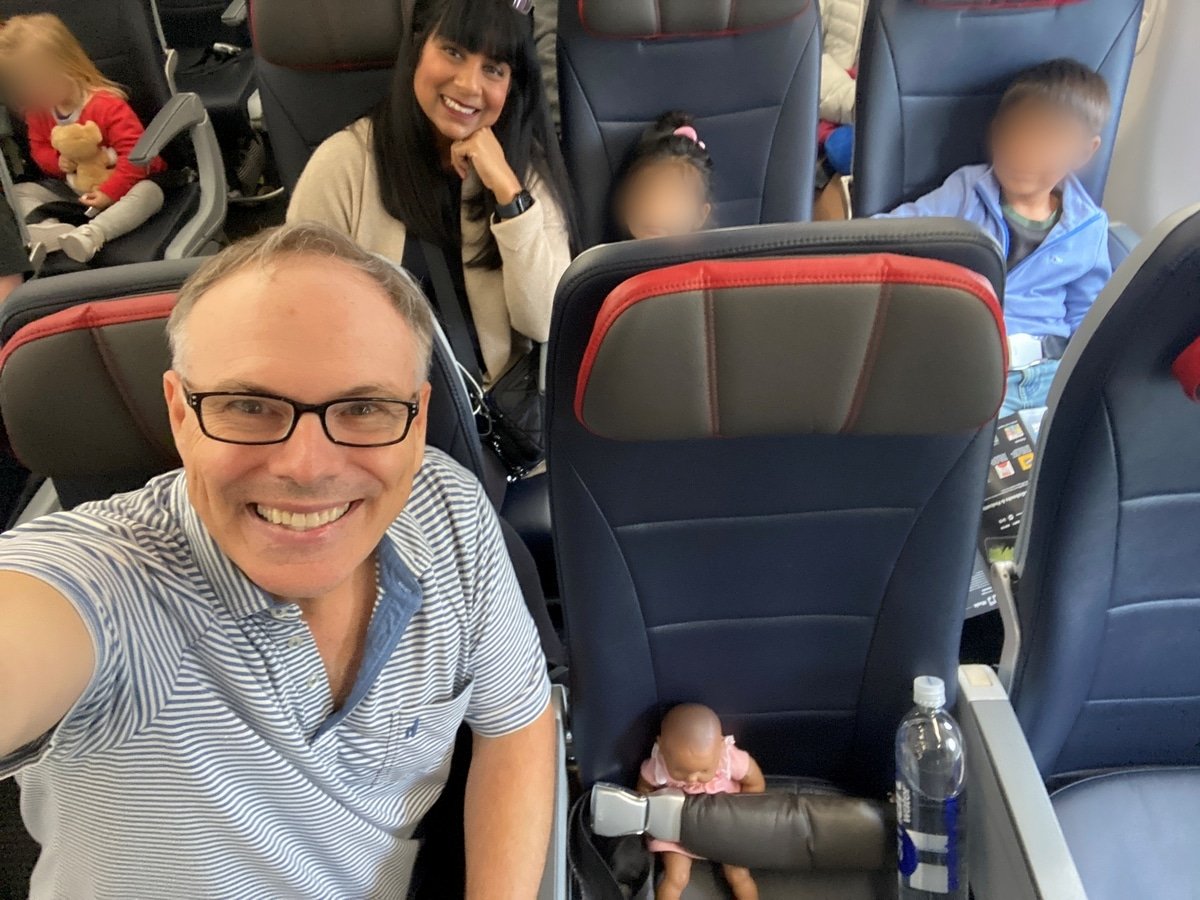 This post contains references to products from one or more of our advertisers. We may receive compensation when you click on links to those products. For an explanation of our Advertising Disclosure, visit this page.
Buying an Extra Seat
About a week before the trip, I was looking at the seat map to make sure our seats weren't moved (I also set a seat alert for this very reason – here's how) and noticed that the seat next to me in the bulkhead row was still open. It was still only $159 so I thought I would treat myself to a mini upgrade and buy an extra seat for the first time. Especially after Covid, my econophobia has really kicked in, and I didn't want to risk having someone sick breathing down my neck or someone encroaching on my space so I couldn't work.
I wasn't sure how to do it so I called American Airlines (AA) to inquire and asked if people do it often. The agent said that they or a travel agent has to do it and they just put the name EXST as my first name. She said she hasn't had someone do it in a while but the agents at the airport both at check-in and at the gate said customers do it all the time.
I asked whether, if the flight is oversold, they will give the seat away and she said, "No, you paid for it." That's pretty cool but, on the flip side, I wouldn't want to deprive a standby passenger from getting on. Fortunately, the plane had over 30 empty seats.
FYI: Although the price online was $159, it turns out it was $154 because there's no security tax on an extra seat. It took about 20 minutes on hold for the agent to reach the tariffs department to figure that out or get it approved.
Almost had our tickets canceled
Fortunately, I mentioned to the agent (who's been working at AA for 37 years), that on my AA app, it still showed we were flying the LAX-HNL flight on the 31st as well as to OGG on January 5. The agent looked at it and said it's because the person who rebooked us did it wrong and all of our tickets would have been canceled as we would have been marked as no-shows. Gulp. That would have truly been terrible as you know the prime seats would have been snagged and I would have had to spend hours arguing and proving my case. So, it turned out making that phone call was extremely fortuitous and that was the best $154 I've spent in a while … and that's before it made our flight super comfortable.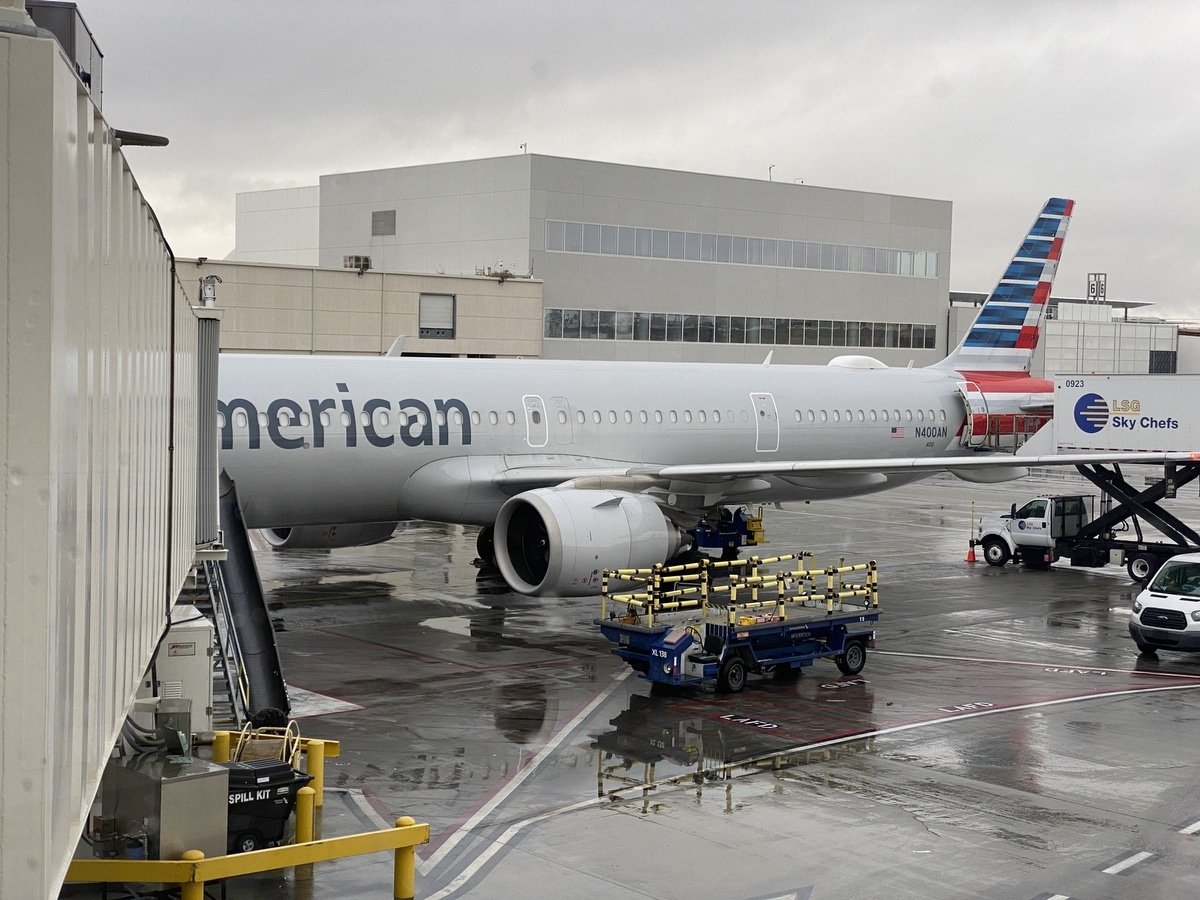 American flies A321neo
American flies the A321neo between L.A. and the islands from LAX. It has 198 seats with 20 recliner seats in First Class, 47 seats in Main Cabin Extra (3-5 extra inches of legroom) and 129 Main Cabin seats with 30 inches of pitch. It's not my favorite plane or airline to fly to the islands because I prefer widebodies, either on Hawaiian or United, but since I have Executive Platinum elite status with AA, it's difficult to pass up the free seats in Main Cabin Extra, checked baggage and priority check-in and boarding.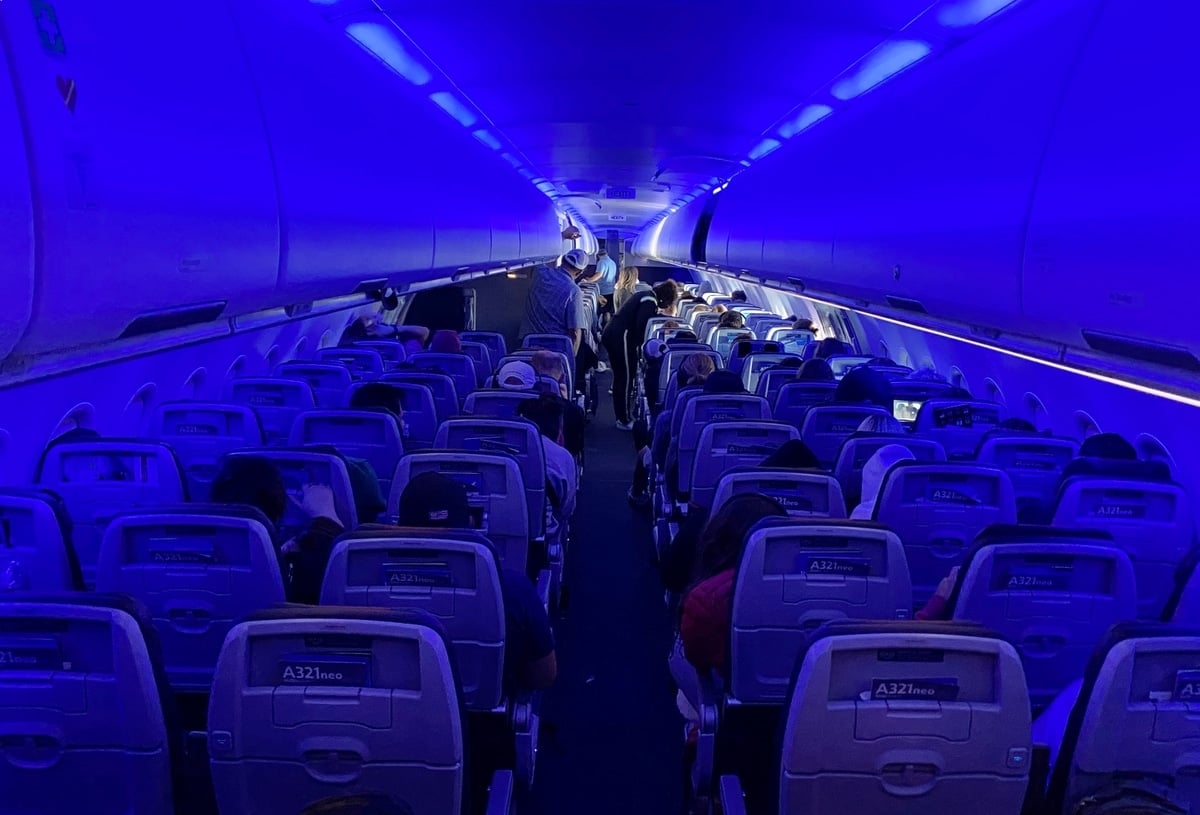 When I booked the flight, the seats were wide open so I reserved myself an aisle in the bulkhead and my family in the row behind me. My wife prefers to have under seat storage (for all the things the kids need), which most bulkheads don't have but this plane actually did as there's no wall between first class and economy.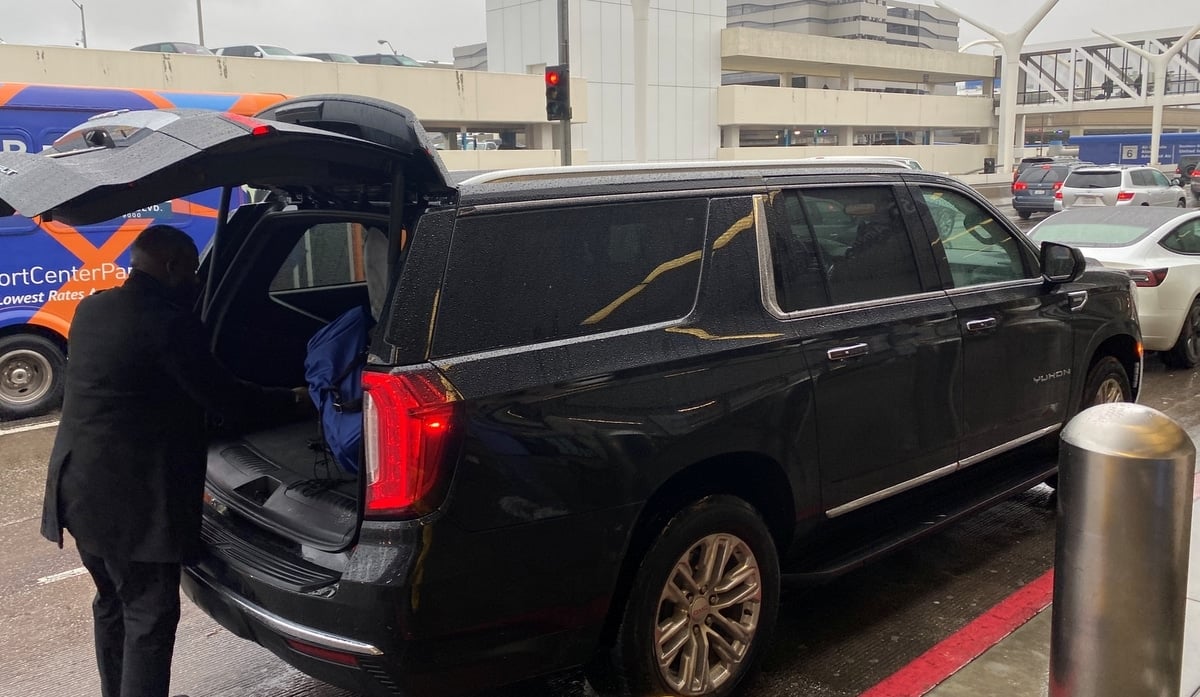 Took Blacklane to LAX
Since I do some work with Blacklane and have some credits, I booked us a ride to LAX. What's great about Blacklane is that they have professional drivers who always show up on time, which is the most important thing. It was pouring rain and our driver, who was originally from Nigeria, was excellent. He backed right into our garage, loaded up and had a car seat as I requested (FYI: by CA law, they're not allowed to set it up). He also had an umbrella so we wouldn't get wet getting in and out and got all the bags for us when were arrived at the airport. If you've never taken Blacklane before and want to do airport pickups or drop-offs like a boss, then here's a 15% promo code (JOHNNY15JAN23) for first-time users.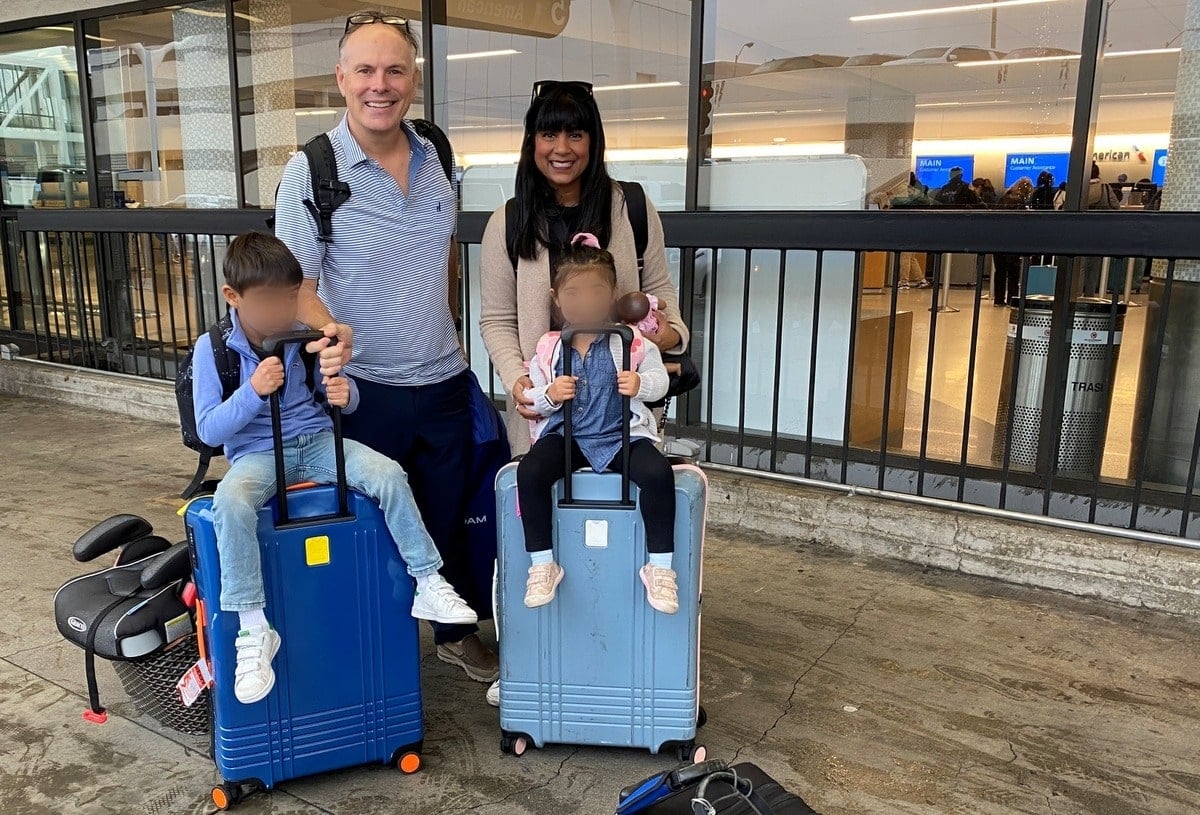 Flight notifications
For flight notifications, I use a variety of apps: Flighty, TripIt and the airline's app. All three told me we were flying out of T5 and not T4 like I thought we would be. What I like about Flighty is that it gives you all kinds of information, including actual flying time, taxi time at each airport as well as how old the plane is (our was just one year old) and when the incoming plane arrived. Surprisingly, it arrived the day before at 2pm from HNL and they didn't use it for 20 hours. Seems like a waste as an executive once told me that an airline doesn't make money unless the plane is in the air.
Terminal 5
Check-in at T5 was super quick for the priority line. There were a few people in front of us but the line moved swiftly … like one minute. We checked two bags, a car seat and a booster. Since it was raining, we put our packing cubes of clothes in large garbage bags to protect them from the elements, just in case our suitcases sat outside while loading.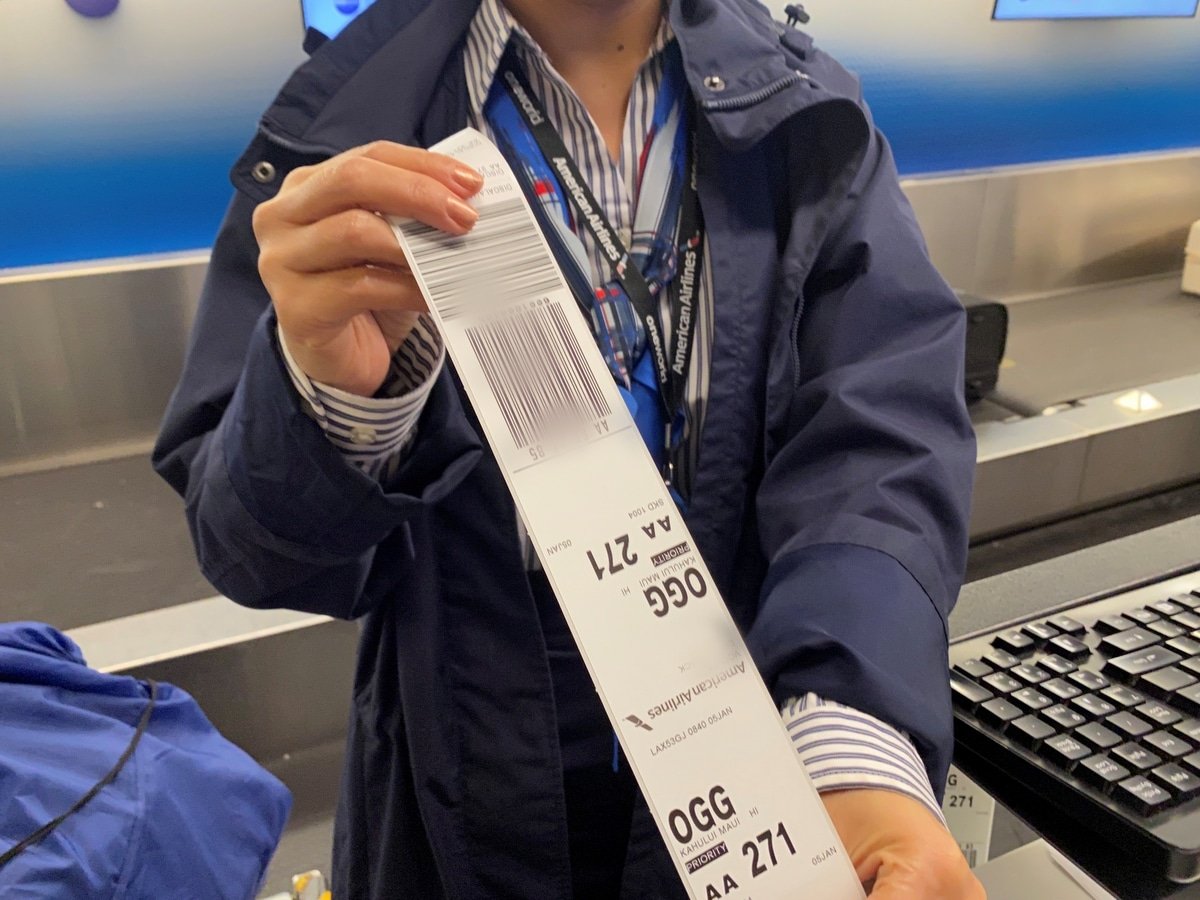 Tracking luggage
I made the rookie mistake of forgetting to put my Apple AirTag in the checked bag. I had left it in my carry-on where I keep it, since I usually travel solo and don't check a bag. I like always knowing where my carry-on is. But AA does a great job tracking bags in their app, showing when the bag was checked in, loaded on the plane, unloaded and arrived. But AirTags are still great to have because if the bag doesn't make it or gets lost, then you know exactly where it is.
Security
Went upstairs to security and used CLEAR. They had an army of workers and we quickly scanned our eyes and boarding passes and were escorted to the front of the TSA PreCheck security line. Took just a few minutes for us and all of our bags to go through and we had a few people in front of us. RELATED: CLEAR is the Best Thing to Happen to Frequent Travelers – Here's How to Get it For Cheap

T5 Dining
T5 is not my favorite terminal at LAX. It's one of Delta's old ones and now I see why they moved. It's kind of depressing. AA uses it as well as JetBlue and Spirit. The only thing good about it is that it has an FAO Schwarz store that of course kids love perusing and some good local dining options like Lemonade, Loteria and Rock & Brews. But there aren't a lot of bathrooms and my wife said the line for the women's was long. The men's wasn't but it was packed and pretty dirty.
Citi Card
Normally, we would go to the Admirals Club lounge but I remembered the day before that I had downgraded my Citi / AAdvantage Executive World Elite Mastercard during Covid to save the $450 yearly fee. I was going to upgrade now that I'm traveling more; I figured it's worth it, especially if a flight gets delayed or canceled. But you can't upgrade a card instantly and then gain lounge entry. With Citi, it takes 11 days the agent said. BTW: Calling the Citi number on the back of the card to speak to someone about upgrading is a ridiculous process. I had to listen to five sets of options before getting something remotely close and it took close to five minutes. It was so annoying I almost hung up. The agent, who sounded like she was in an Indian call center, said next time just keep hitting zero and it will get you an agent.
Boarding
We only had about 30 minutes to pass as boarding started 45 minutes before departure. The agent said it's because AA regards Hawaii flights as international, which is why they board 15 minutes earlier. She also said the plane is weight-restricted so it wasn't full. The flight attendant later told me there was a lot of cargo onboard.
Flight
Since my kids said they had to go to the bathroom just before boarding, we ended up boarding at 9:27am with Zone 4. Surprisingly, there was no backup in the jetway. In fact, it was like we were first to board even though there were dozens of people already on the plane. My kids gave the flight attendants and pilots chocolate and asked the FAs if the pilots could sign their flight logs. The flight attendants were very appreciative and all but two of them were very friendly.


Our 10:04am flight pushed back at 10:14 and took off at 10:33am.  Flight time was scheduled for five hours and 26 minutes but I think it was a bit longer. We had free WiFi for the first 40 minutes of the flight, which was great. The flight attendant said it usually cuts off at about 200 miles out. There were a bunch of kids on the flight including a baby in the row behind us who screamed for the whole flight (I'm not exaggerating). But everyone around us rolled with it because … it's what babies do. It was definitely most stressful for the parents who kept apologizing and I saw the dad order a hard drink. I almost needed one and I don't drink. RELATED: Should Airlines Offer Kid-Free Flights?


There are no entertainment systems on these newer planes but the seatbacks have a nifty phone and tablet holder and you can download AA's entertainment app to view their selection. We bring iPads with kid-friendly headphones (with volume control so their ears don't get blasted) and it keeps them quiet, happy and entertained for the whole flight.
There was no hot food. I was going to order the oatmeal ($9) but they didn't load it. Natalie had a charcuterie platter and I got the beef jerky. It was the best I've had and I was excited to see that the company, Field Trip, is from Westport, Connecticut, next to the town I grew up in.
About 30 minutes out, you can start seeing the Big Island and as we got closer, we could see the snow on top of Mauna Loa. I hear it's erupting but you can't see the lava flow from the plane. We made a big turn over Maui so we had some great views.  The flight was smooth the whole time except at the end when we had light bumps descending through the clouds. I saw whales breaching but from that high up you can just see the splash.
We landed at 2:11 (two hour time change from PST this time of year) and sat on the runway for a good 10 minutes, waiting for the tarmac to clear.
Baggage claim was a zoo but our bags came out at 2:50pm.
Overall
We rented a car and I'll tell you about that experience soon. But overall, I can't tell you how happy I am that I purchased the extra seat next to me as it really was a mini upgrade for me and my family. Another reason it was so good is because the person who was supposed to sit in the window in my row either didn't show up or got upgraded so I ended up having the whole row to myself. My son jumped in the window so we ended having two rows with an empty seat in between.
KEEP READING
Love to save money when you travel? Sign up to Johnny Jet's free newsletter and check out these popular posts: 10 ways to find cheap flights and 12 ways to save money on baggage fees. Follow Johnny Jet on MSN, Facebook, Instagram, Pinterest, and YouTube for all of my travel posts.