On 60 Minutes last night, President Joe Biden declared, "the pandemic is over.' That statement enraged some popular doctors who tweeted their objections and dismay.
Dr. Eric Ding, an epidemiologist and a former alum at Johns Hopkins and Harvard immediately tweeted: "Heck no. With all due respect, @JoeBiden — you're wrong. Pandemic is not over. Almost 3,000 Americans are dying from #COVID19 every single week. A weekly 9/11 is a very big deal. Don't even get me started on #LongCOVID—wreaking havoc on millions more."
So did Dr. Eric Topol, the founder and director of the Scripps Research Translational Institute, who said, "Wish this was true. What's over is @POTUS's and our government's will to get ahead of it, with magical thinking on the new bivalent boosters. Ignores #LongCovid, inevitability of new variants, and our current incapability for blocking infections and transmission."
RELATED: Why You Shouldn't Drink Tea, Coffee or Tap Water on a Plane
With 400 Americans dying a day from Covid, it's obviously not over. My family and I have been very careful when we travel and have been fortunate not to get the virus (knock on wood). One device I credit for keeping us safe when we travel is the Wynd Plus. It's a portable air purifier with HEPA filters, about the size of a water bottle.
It costs $199 (includes free shipping) and creates a bubble of purified air around you by filtering, dust, allergens, smoke, and pollution from your personal space. And because of COVID-19, I now use it on the plane, in hotels and during some indoor meetings. FYI: Use promo code "JOHNNYJET" to get 10% off your Wynd personal air purifier.
I learned about Wynd from my good friend Mike Freed, who is the managing partner of Post Ranch Inn. Post Ranch Inn is located in Big Sur and is arguably the nicest hotel in America; it's no surprise that it's often frequented by celebrities.
RELATED: The 7 Dirtiest Things on a Plane, According to a Flight Attendant
When the pandemic hit, business for the A-list hotel really suffered, like pretty much everything and everyone in the hospitality and dining industry. Post Ranch's Sierra Madre restaurant, exclusive only to hotel guests and once very popular, became a ghost town. But when things started opening up again, Mike partnered with Wynd to provide clean personal air in the restaurant. He purchased one of these powerful portable air purifiers, which
can be plugged in or run on an 8-hour rechargeable battery, for every table in the restaurant. He also purchased 10 larger purifiers and positioned them throughout the restaurant.
The Washington Post published an article about this state-of-the-art technology, which is helping to keep people safe and put them at ease. According to the article: "Since the setup, if successful, could potentially be utilized in other restaurants and indoor spaces, the Washington Post asked several experts on indoor air to review the restaurant layout and strategy. They agreed it should work to make the dining experience considerably safer, while noting 100 percent safety is unattainable."
RELATED: 5 Things a Hotelier Says She Would Never Do at a Hotel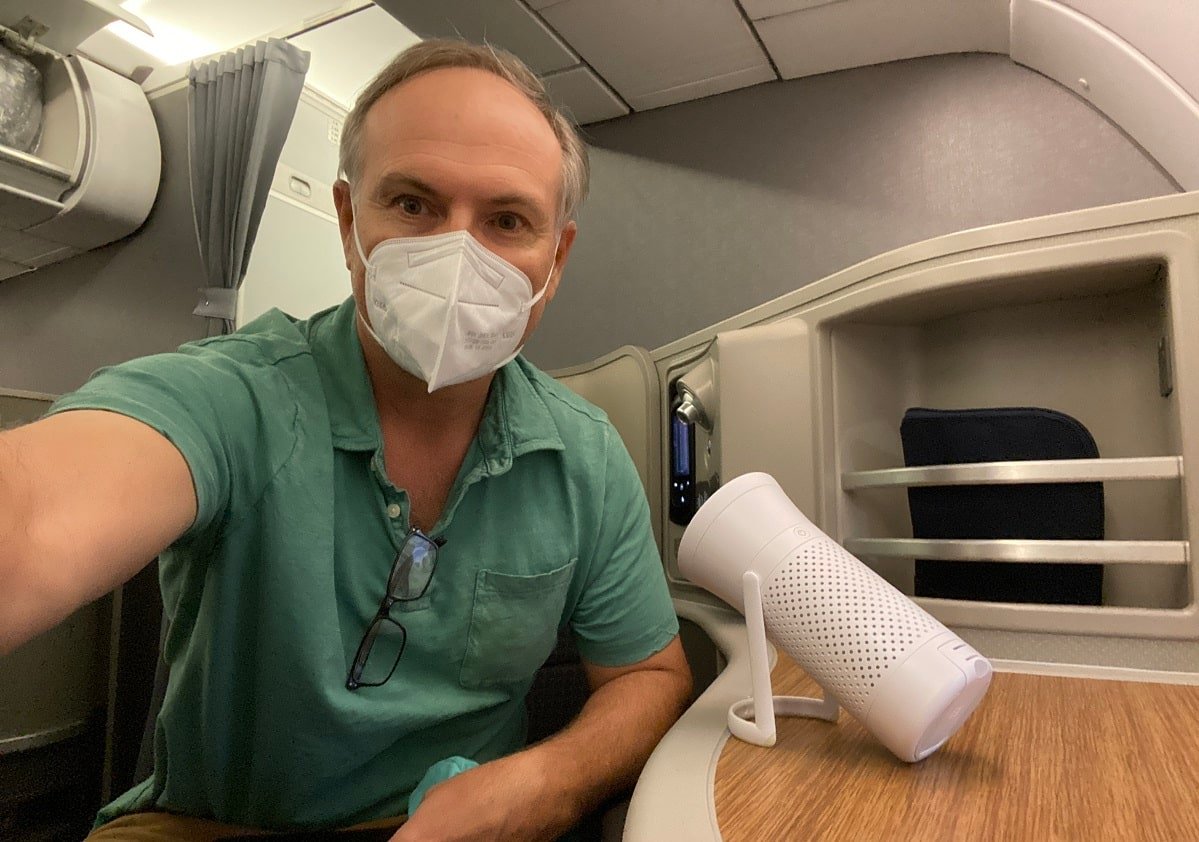 Considerably safer … that's a big deal. I bring mine along on all of my flights for an extra layer of protection, even though the cabin air is filtered through HEPA filters.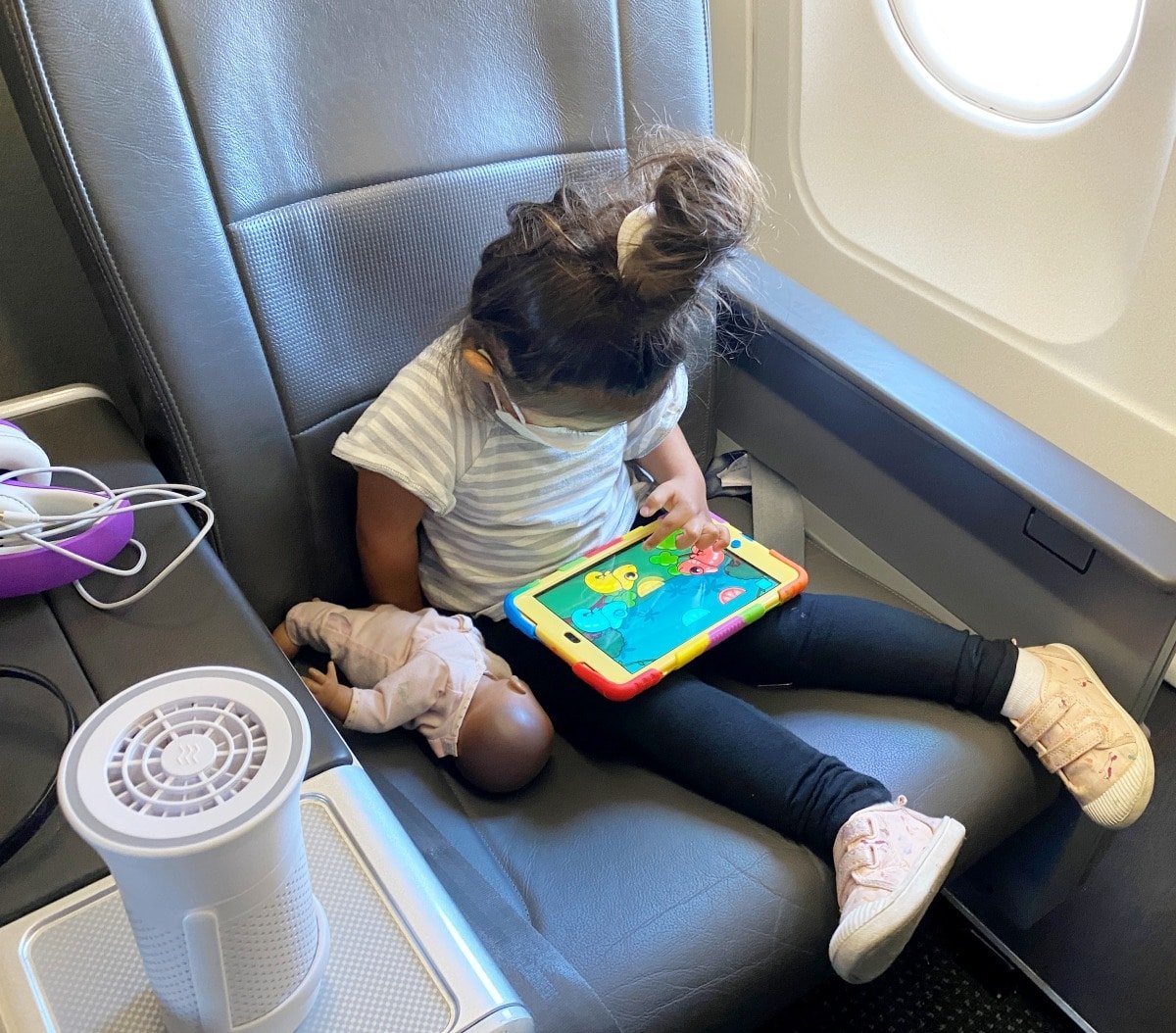 I also use it on the airplane when I'm traveling with my kids, especially our youngest who is not vaccinated.
I also brought it to my doctor's office for my annual physical and was shocked to see that the exam room didn't already have an air purifier like so many doctor's offices me and my kids have been to.
I used Wynd in my hotel room since there were no windows to open to clean the initial air.
I also use it when visiting my dad in his senior home so I'm not bringing anything to him and vice-versa.
And I used it in my Blacklane car service to the airport when it started to rain and I had to roll the windows up.
As their website says, Wynd Plus really is a powerful cleaning product in the palm of your hand. Use promo code "JOHNNYJET" to get 10% off your Wynd personal air purifier.