Obviously I'm not a flight attendant but there have been many periods in my life where I've flown as much as one, if not more. In a 41-second TikTok video by flight attendant Kat Kamalani, which you can watch below, titled The Nastiest Parts of an Airplane From A Flight Attendant, she showcases 7 quick tips and highlights the dirtiest things on an airplane (see her video below). Many of the tips are common sense and I've written about them before but especially due to our experience living through a global pandemic, it never hurts to reminded about the things that carry the most germs so we can avoid them and stay safer and healthier while flying. TIP: My wife and I never fly without this hand sanitizer – it's moisturizing and smells great.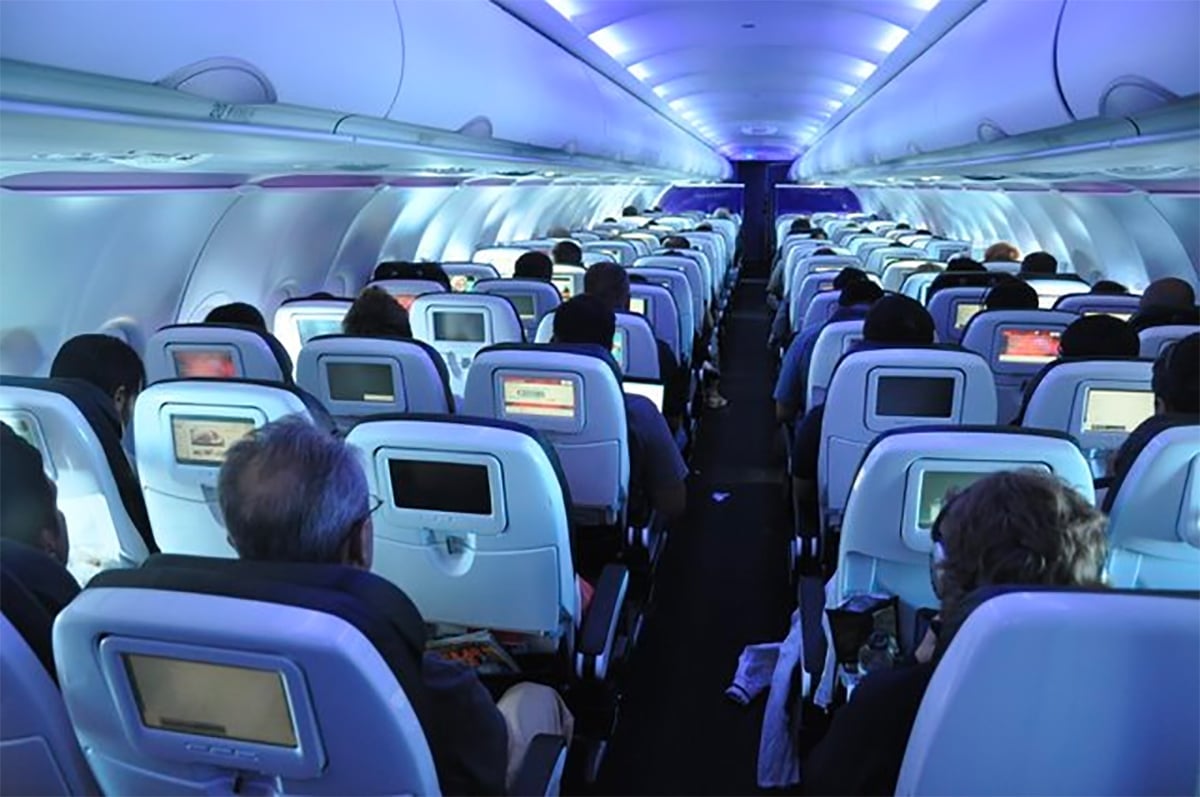 This post contains references to products from one or more of our advertisers. We may receive compensation when you click on links to those products. For an explanation of our Advertising Disclosure, visit this page.
Here are Kat Kamalani's 7 tips about the dirtiest things on an airplane:
1. First things first, do not touch the seatback pocket. They clean them out between flights but they don't sanitize them. Think of all the dirty tissues, barf bags and garbage that have been in there.
2. Next, if you're going to use your tray table make sure you sanitize it. I have seen so many parents use this as a changing table for their child's diaper and then they put it in the seat back pocket. TIP: I always travel with these travel packs of disinfectant wipes for this purpose.
RELATED: Disposable Gloves: To Wear or Not to Wear
3. Yeah, those air vents, they've seen thousands of hands. Wipe them down before you touch them.
4. Next up is our safety guide cards. We don't sanitize them and a lot of people touch and read them to pass the time.
RELATED: 5 Things a Hotelier Says She Would Never Do at a Hotel

5. In the fifth tip, she shows a video of a seatbelt buckle and says, "Yeah, just wipe it."
6. Next, when entering the lavatory, use a tissue to lock the door. *I also recommend using the tissue to unlock the door as well.
7. The seventh and final tip Kamalani gives is geared towards female travelers so I had no idea about it. "You can always find pads hidden in a compartment in the lavatory," she says.
You don't have to be a user of TikTok to view the video (I've embedded it below) and although most of these tips are common sense, it's still great that she's getting the message out there so passengers who don't fly often (and even those who do) can stay healthier.
KEEP READING
Want more travel news, tips and deals? Sign up to Johnny Jet's free newsletter and check out these popular posts: The Travel Gadget Flight Attendants Never Leave Home Without and 12 Ways to Save Money on Baggage Fees. Follow Johnny Jet on MSN, Facebook, Instagram, Pinterest, and YouTube for all of my travel posts.