If you're following along with our epic summer trip, then you know that we were traveling for over a month. Here's a quick recap of our travels: We flew from home in Los Angeles (LAX) to Philadelphia, spent the night in an airport hotel since it was much cheaper than flying nonstop and more of an adventure. We then flew to Barcelona and hopped on a Princess Cruise for seven nights before ending up in Rome. We toured around Italy for almost a week before flying to Munich, Germany and then went back to Toronto for a couple of weeks to spend time with my wife's family. I've been writing all of our trips in order but I'm jumping this one to the front since it was such a crazy airport experience. Here's how it went down.We showed up to Toronto's Pearson International Airport (YYZ) at 9am for a 10:55am flight to New York's LaGuardia (LGA).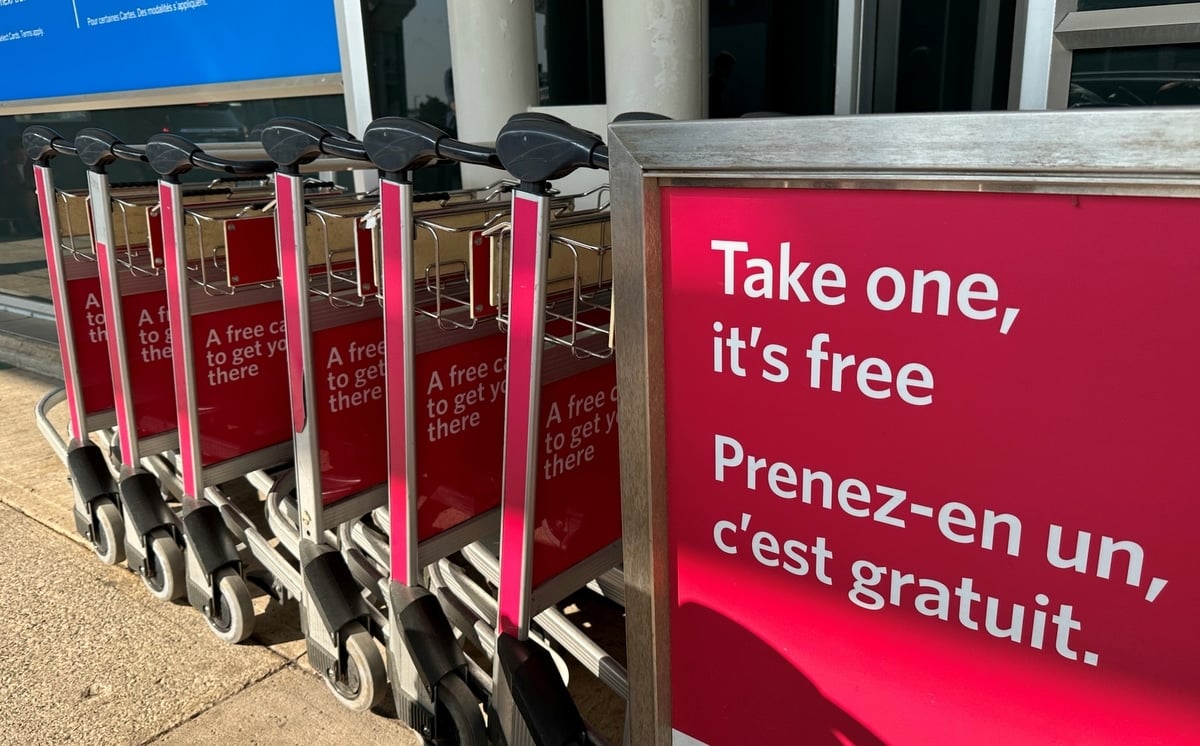 This post contains references to products from one or more of our advertisers. We may receive compensation when you click on links to those products. For an explanation of our Advertising Disclosure, visit this page.
I'm not sure why U.S. airports can't do this but at least at YYZ, luggage carts are free. It makes a huge difference when traveling with a lot of luggage. LAX now charges $8 for a cart! Crazy but here's how you can get a luggage cart without paying.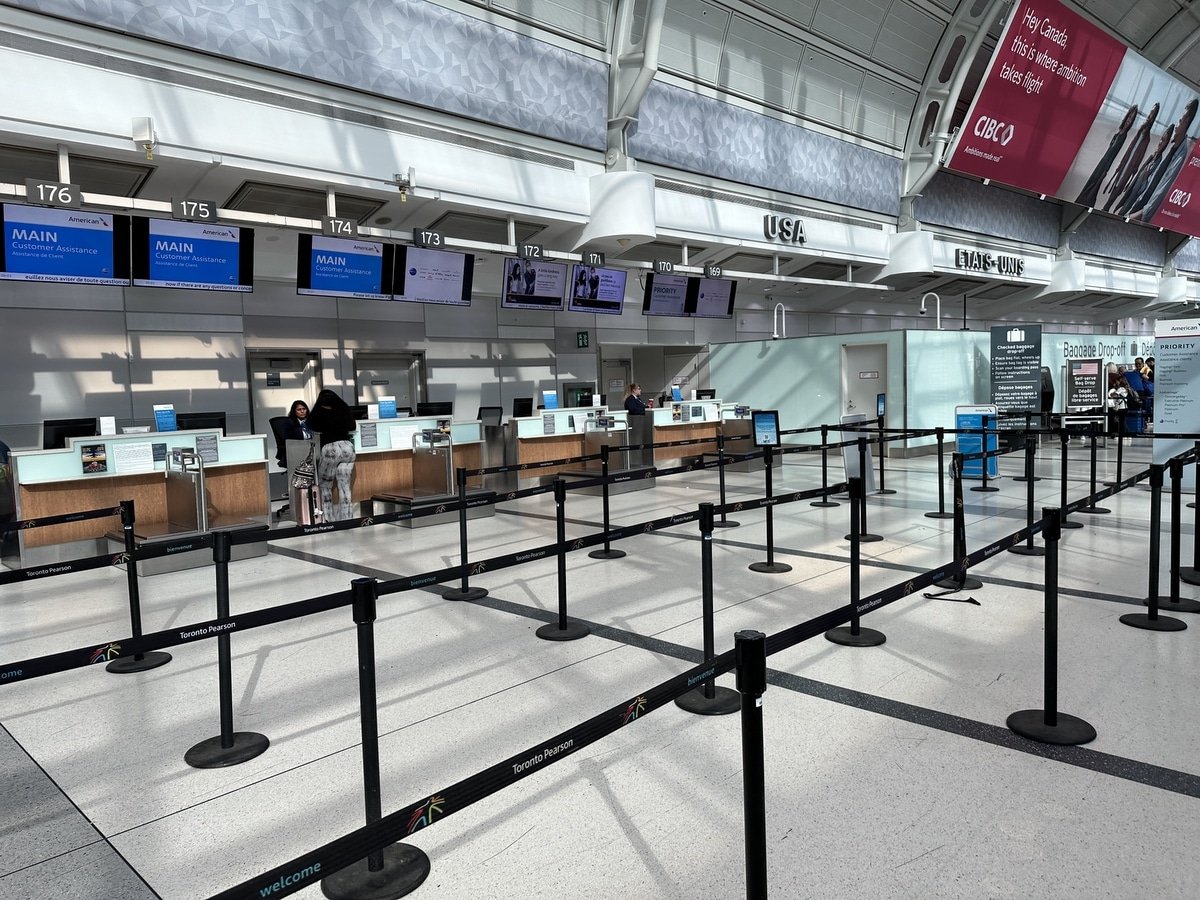 Check-in
There was no line at American Airlines for either Economy or Priority check-in. We went to the latter since I have Platinum status. There were two agents behind the desk and the one on the left smiled, while the other looked a little grumpy.
Rookie mistake
I made the rookie mistake of stopping and waiting for an agent to call on me instead of going directly to the friendly one. After some small talk, I got the unfriendly one to warm up a bit but not enough … and one of our bags was 61 pounds, which is 11 pounds overweight.
Overweight bags
That's a no-go if you don't have top-tier elite status. I lost my Executive Platinum status a few months ago but I'm working my way back up. I'm currently just 2,000 Loyalty Points away from Platinum Pro, which would allow me to have bags up to 70 pounds each. I'll reach the next level at the beginning of next month when my credit card bill posts.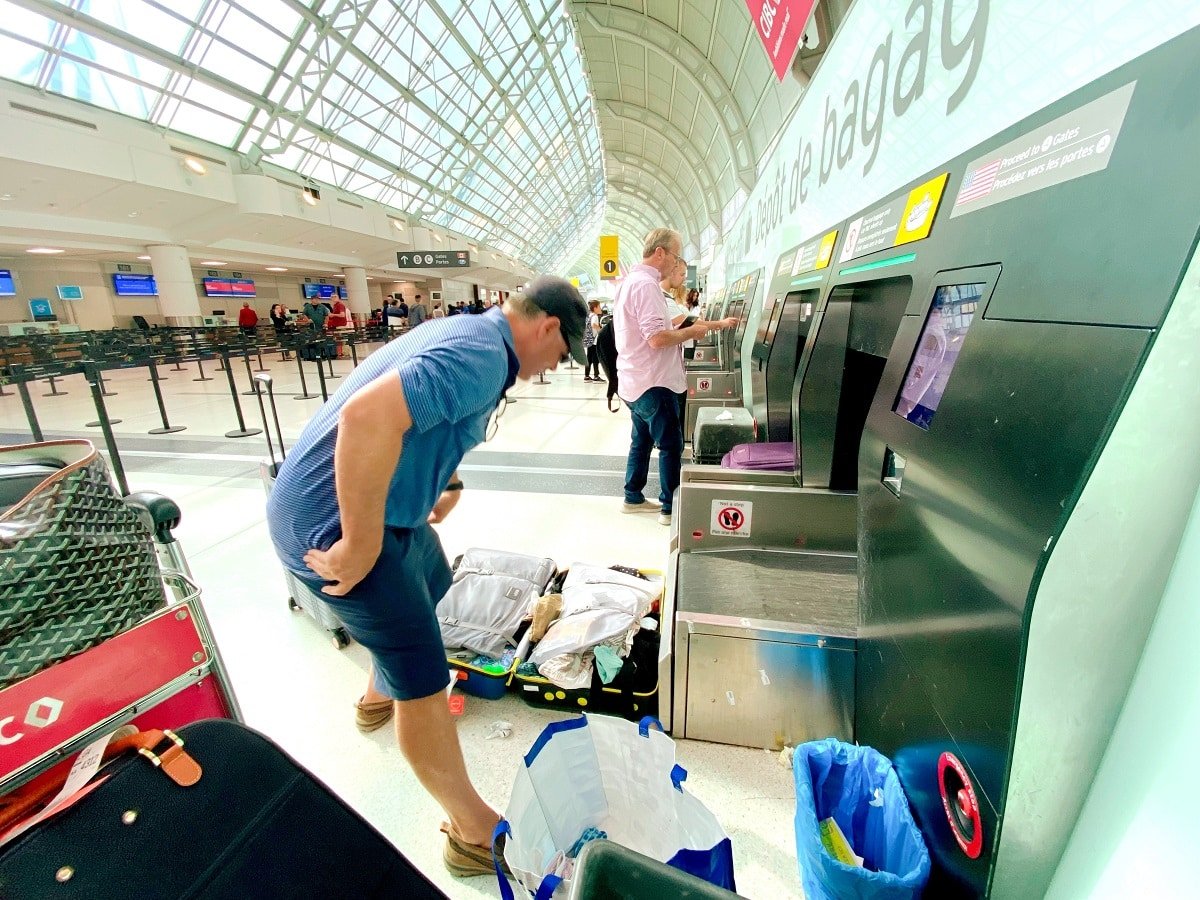 Pulling clothes out again
The agent said we can either take some stuff out or pay $105. You guessed it. We took some stuff out. I had actually planned for this to happen as I had used a handheld digital luggage scale to weigh the bags before heading to the airport.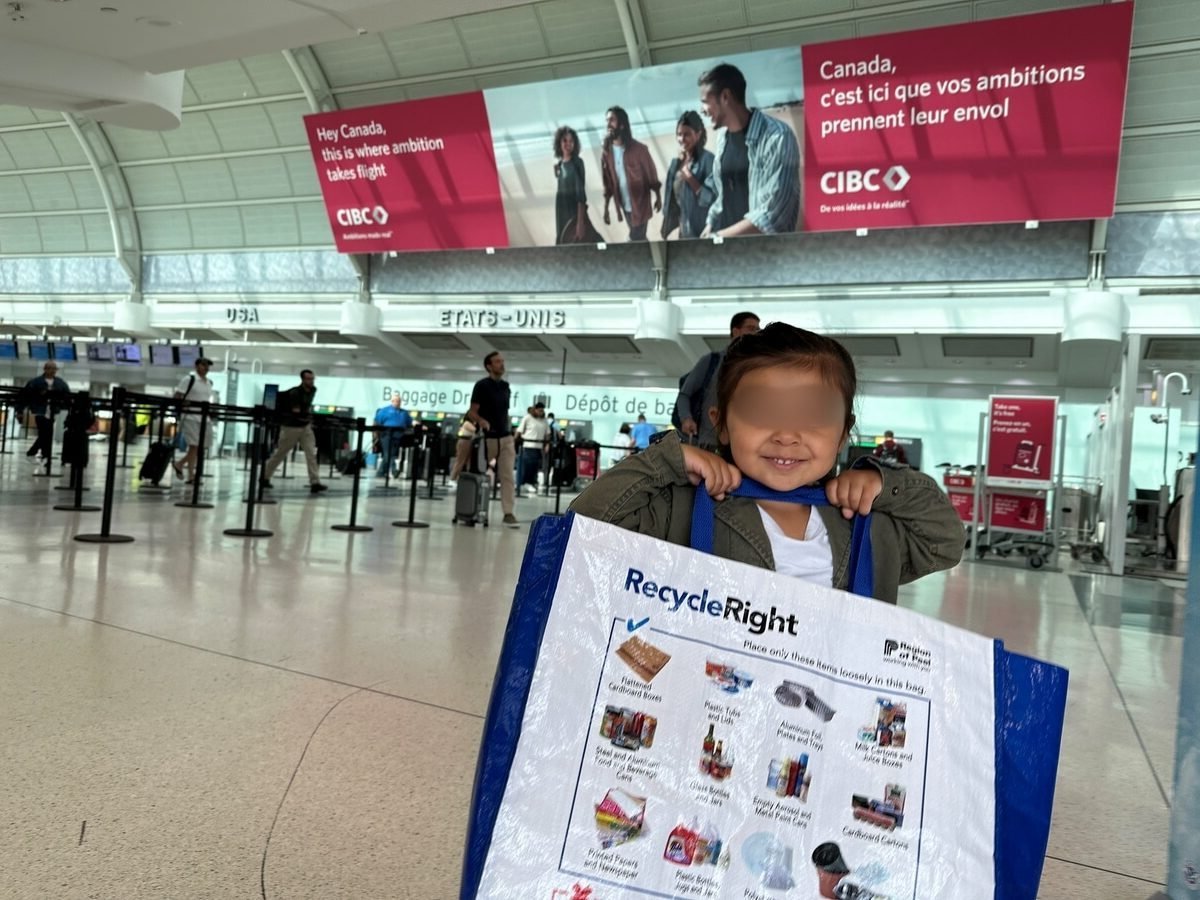 Extra bag
When I read the weight of the bag, I grabbed one of my mothers-in-law's recycle bags (we were staying at her place) since all of our other bags were filled to the gills. Pro Tip: Always carry an extra, compact foldable bag for instances like this.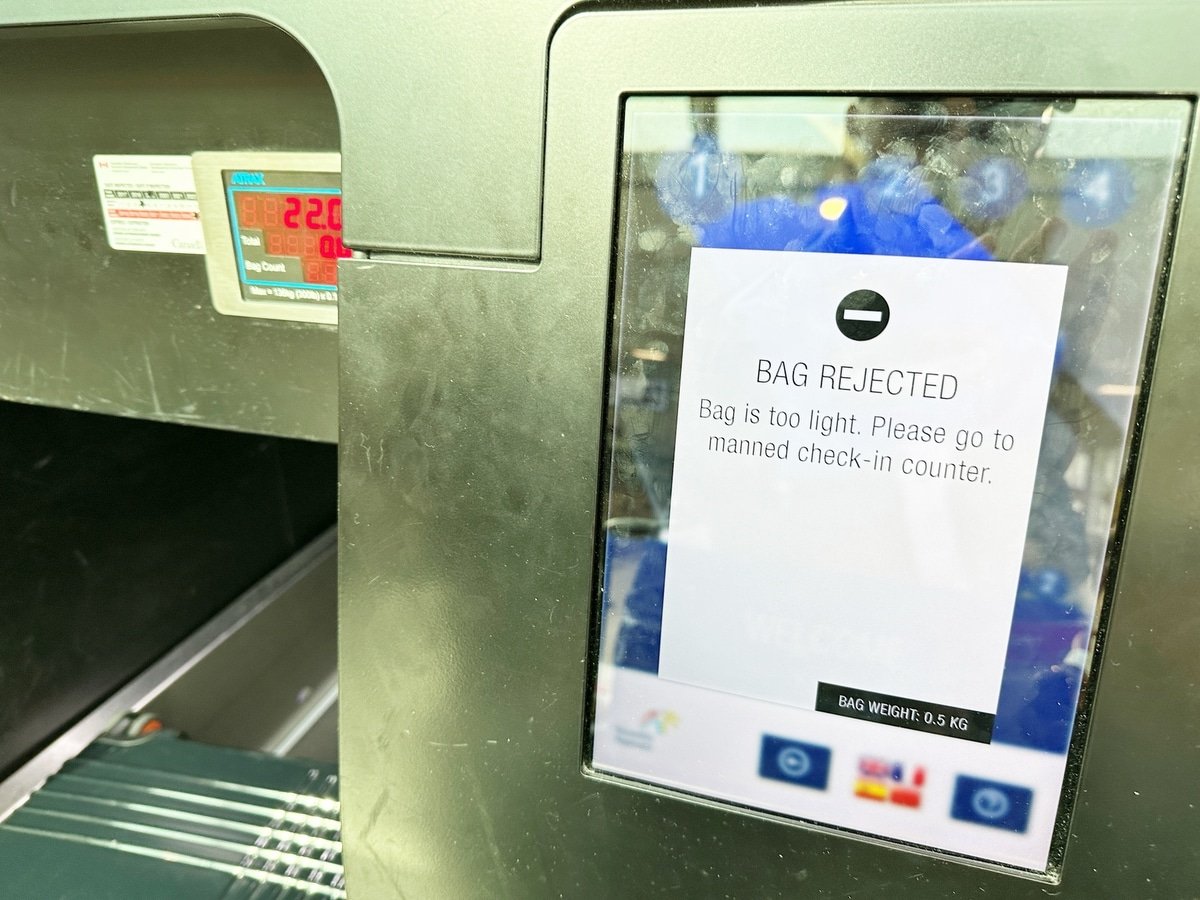 Automated baggage system
What's crazy is that when we went to check the bags in around the corner, using YYZ's automated baggage machines, the machine actually rejected my bag, saying it was — get this — too light.
My wife and I got a good chuckle and I told the baggage agent what we had just gone through and the embarrassment of opening up our suitcase at the First Class counter and shoveling clothes and books from one bag to another. The friendly agent said, "Don't worry. You can put your clothes back in and I will override the system." So we opened up the suitcase for the second time and shoved the clothes back in (we hung on to the heavy books). BTW: I later tried to tip her as a gesture of my gratitude but she wouldn't take it.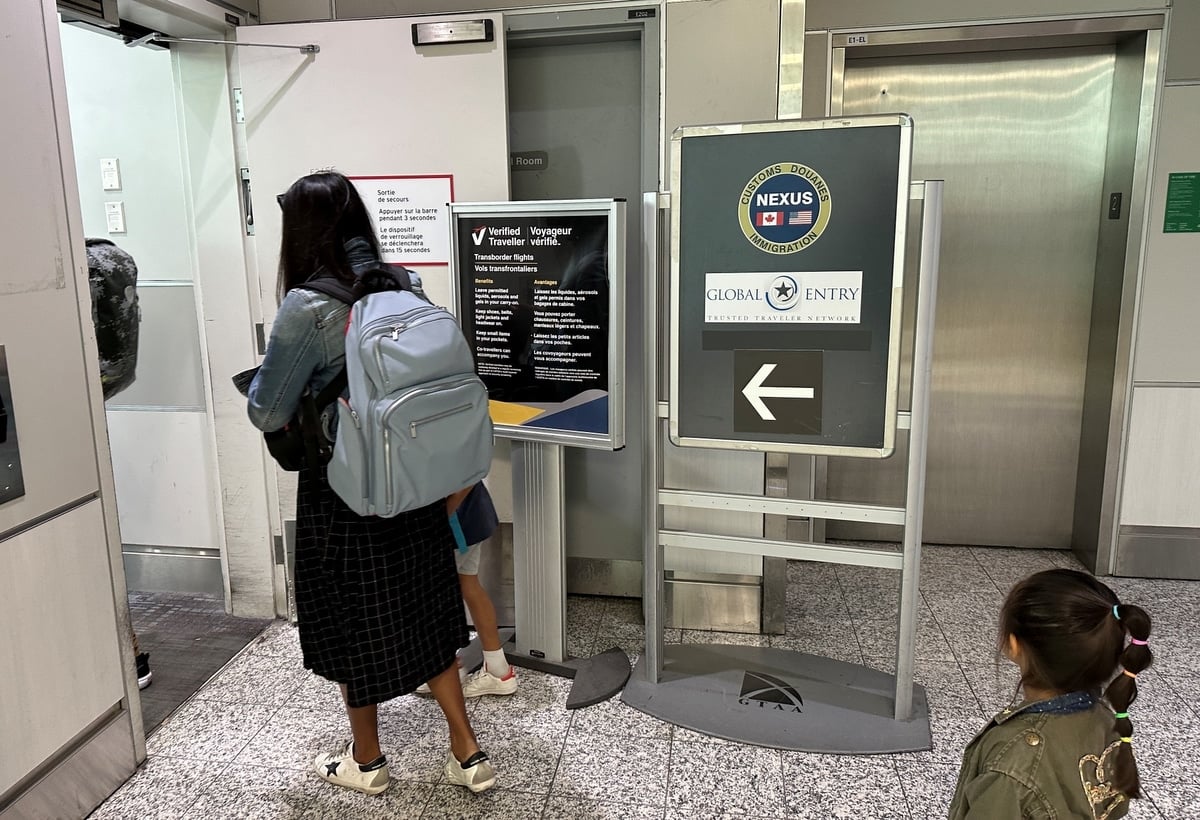 Security line
Our next stop was security so we showed our NEXUS cards to the worker who was checking to make sure everyone qualified. There were just a few people in front of us and I always let single business travelers go in front of our circus but so far, they've all been well-dressed men who politely decline, often because they're fathers themselves and say they know what it's like traveling with young children. RELATED: Should Airlines Introduce a Dress Code? Would This Decrease the Number of Unruly Passengers? Some Experts Think So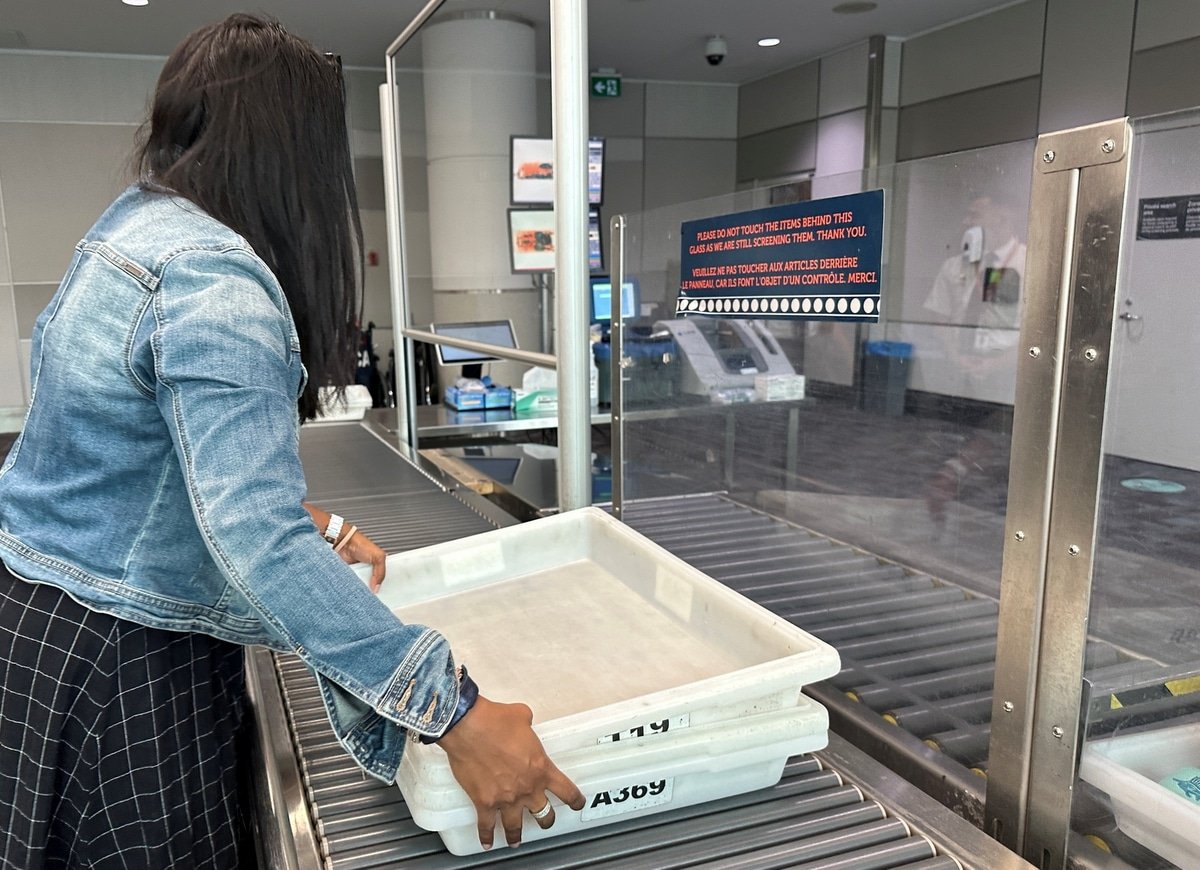 Tip: Want to speed up the security line? Put your bins away to make room for the others coming down the line. If everyone did this, it would help move things along much quicker.
U.S. Immigration
Our next stop was U.S. Customs and Immigration as Canada has pre-clearance for U.S. flights, which is great. There was no line for those with Global Entry and a relatively short line at the regular line. When the agent asked if we all had Global Entry and we said yes, she said, "All of you? Including the baby?!" She looked at us like we're ballers. I guess we are when it comes to travel because we don't like to stand in lines.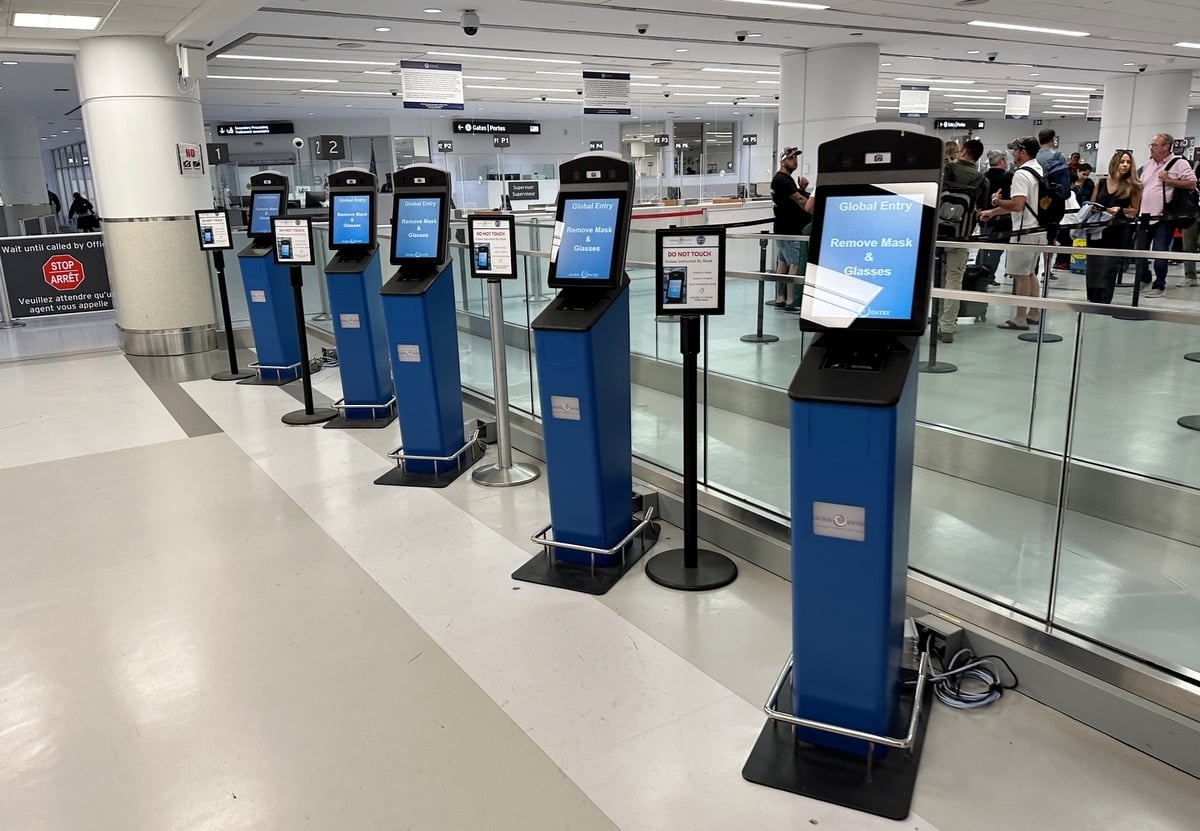 New Global Entry machines
The new Global Entry machines are pretty slick (and slim). Just walk up to it, scan your face and it tells you to proceed to the agent. It doesn't print a ticket like the old machines did. It didn't work for my three-year-old but the agent said it wasn't a problem and took a photo of her at her kiosk.
Getting a NEXUS appointment
My son's NEXUS card expired last September but before it expired, I reapplied so he could get a two-year extension. He's been conditionally approved and now we're just waiting to get him interviewed by both Canadian and U.S. agents. There are no appointments available in Canada and we almost drove down to Niagara Falls like we did last summer to renew mine and my daughter's. Here's that experience.
But I canceled as my son wasn't feeling great the day before his appointment and I needed to rent a car. So I inquired about doing a walk-in appointment and the U.S. agent was ready to do it if my son had met with Canadian officials first. Since he hadn't, she suggested that next time, we go to the NEXUS office outside of Terminal 1.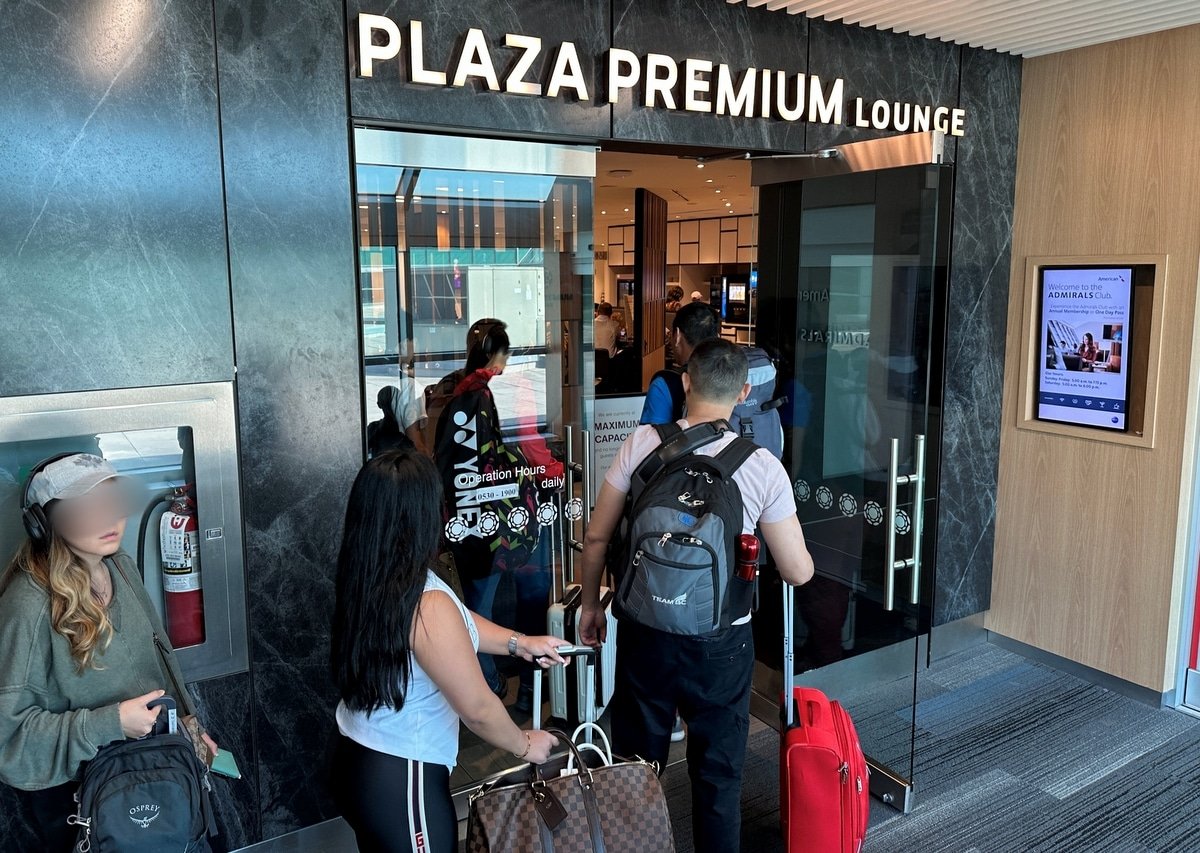 Premium Plaza Lounge
We were going to pass time and have breakfast in the Premium Plaza Lounge but there was a line out the door and a sign saying: "We're currently at maximum capacity and no longer accepting guests at this time." When I told my wife, who was standing 10 feet away that it was full, a woman in front of me said that they were still letting people in but you'd have to wait until someone leaves.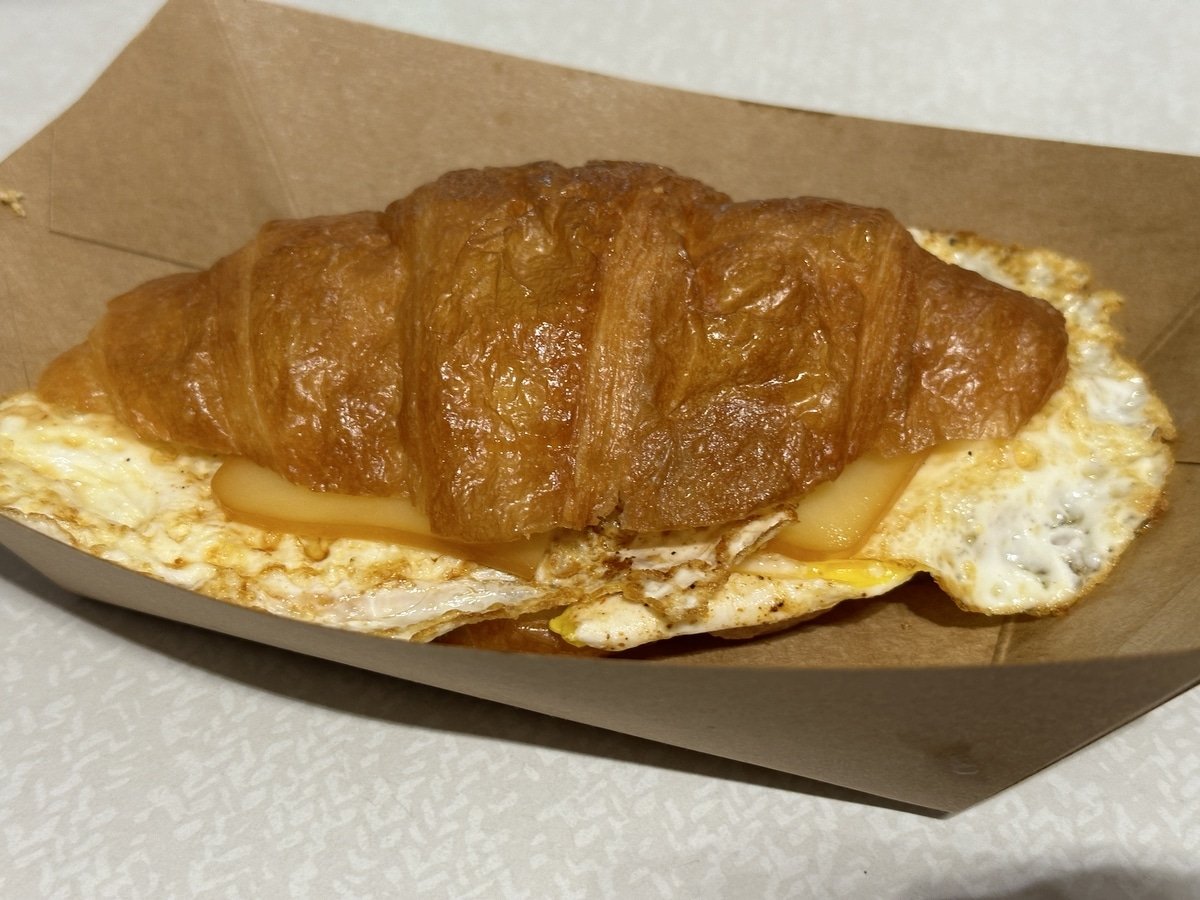 Food court
I wasn't into waiting just to get into an overcrowded lounge so we went back downstairs to the food court and I got a $10 egg and cheese on a croissant. It was way too salty. My kids got rice and beans next door. There weren't any tables available so I hovered around until I saw one open up. My kids wanted to sit at the high top, which had two seats so I divided up our four top to be nice and a woman sat next to me with what appeared to be a cold. Doh!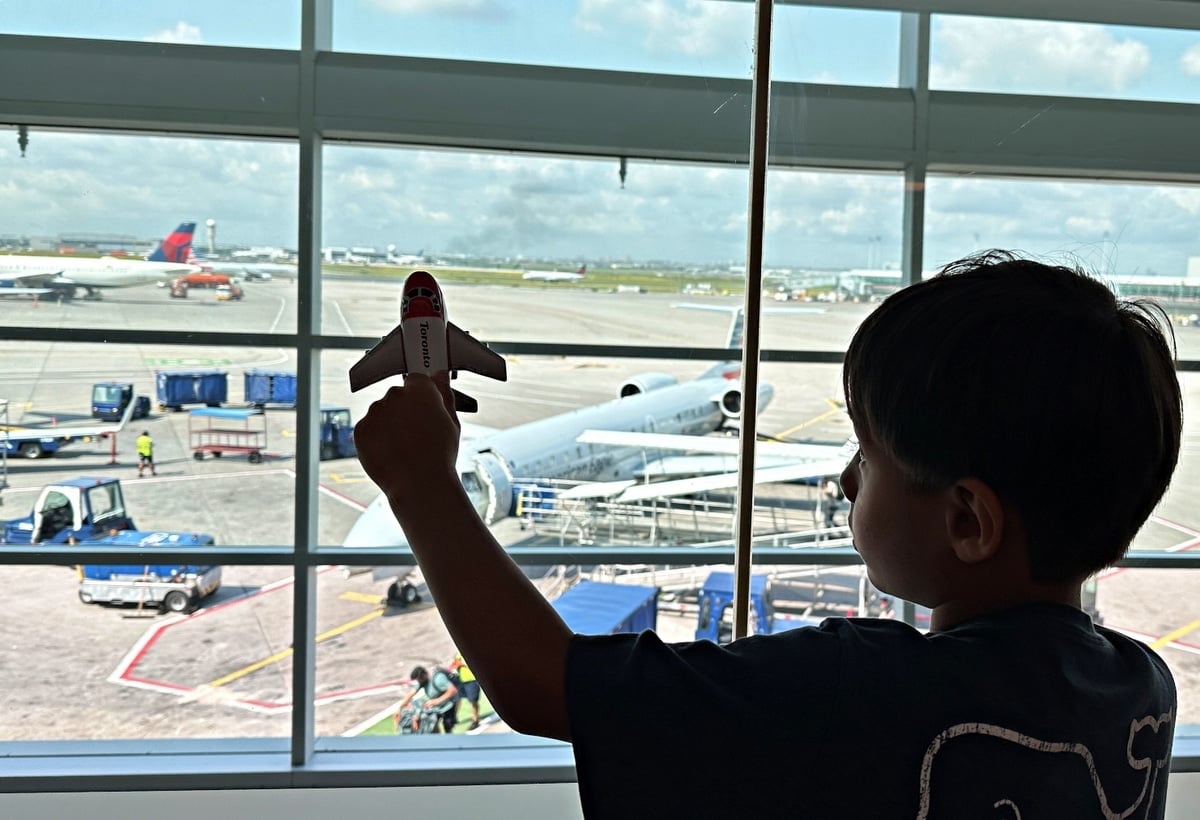 Toy airplanes
My wife passed some of the time by hitting a souvenir shop with the kids. She bought them these little airplanes they loved with the money their Nana had given them but you can get them on Amazon for half the price.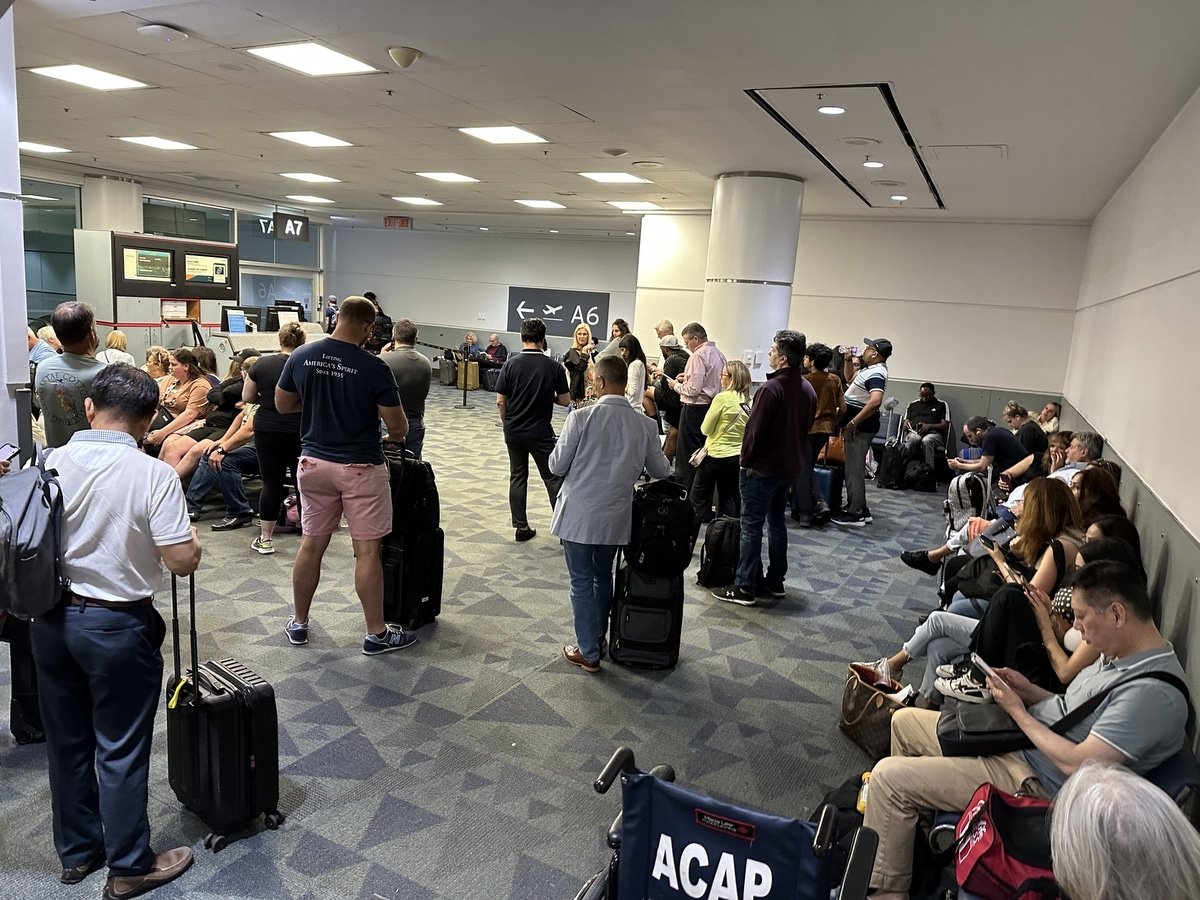 Flight delay
Our flight (AA 4312) went out of gate A7 and it was a zoo thanks to the Miami flight boarding next to ours that was delayed by over five hours. That made our hour delay very tolerable. We got lucky because we came very close to taking the same flight a day or two later and I checked afterwards only to discover that Saturday's flight was 4.5 hours delayed and Sunday's was canceled altogether.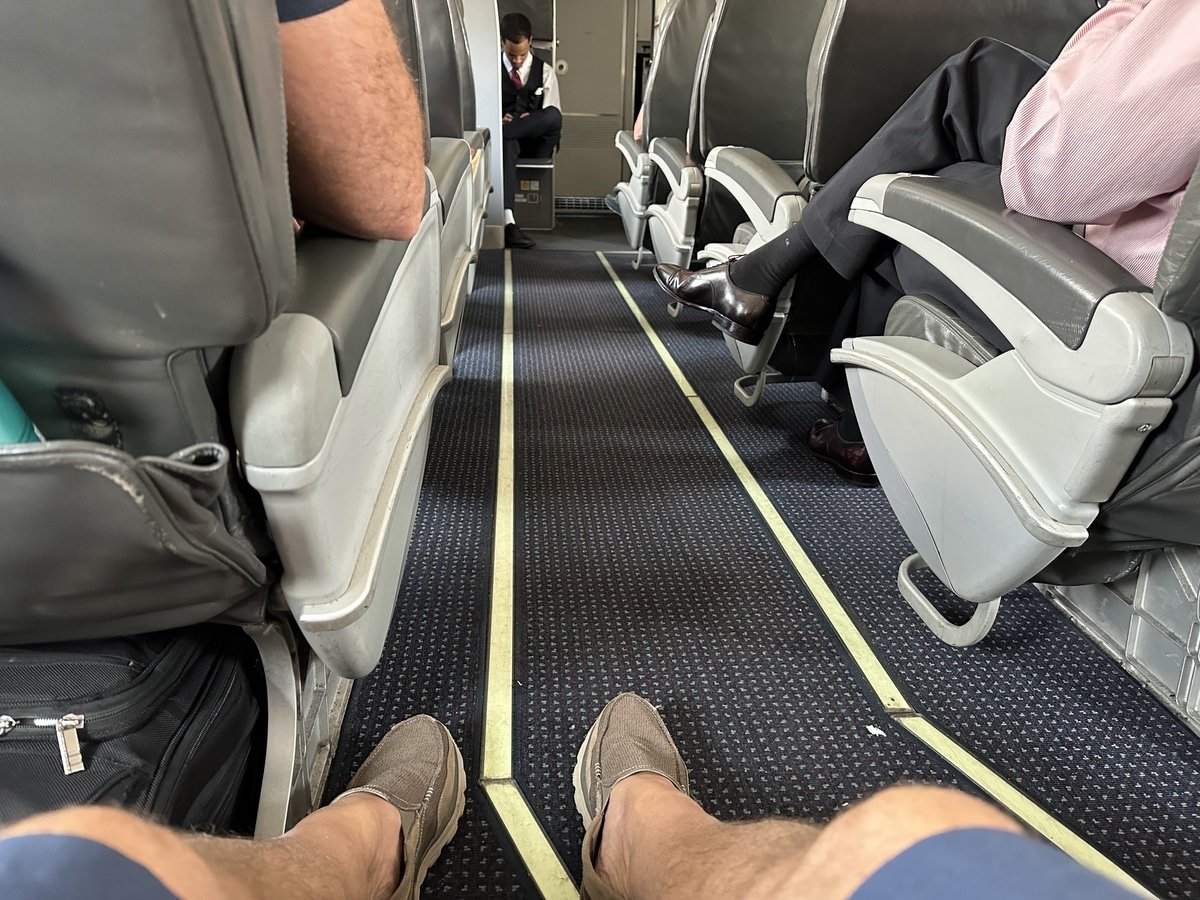 Boarding
When we boarded, my kids gave the flight attendants and pilots Canadian candy bars and asked the Captain to sign their flight logs at a convenient time. I was in seat 8C in the best coach seat on the plane since there's no seat in front.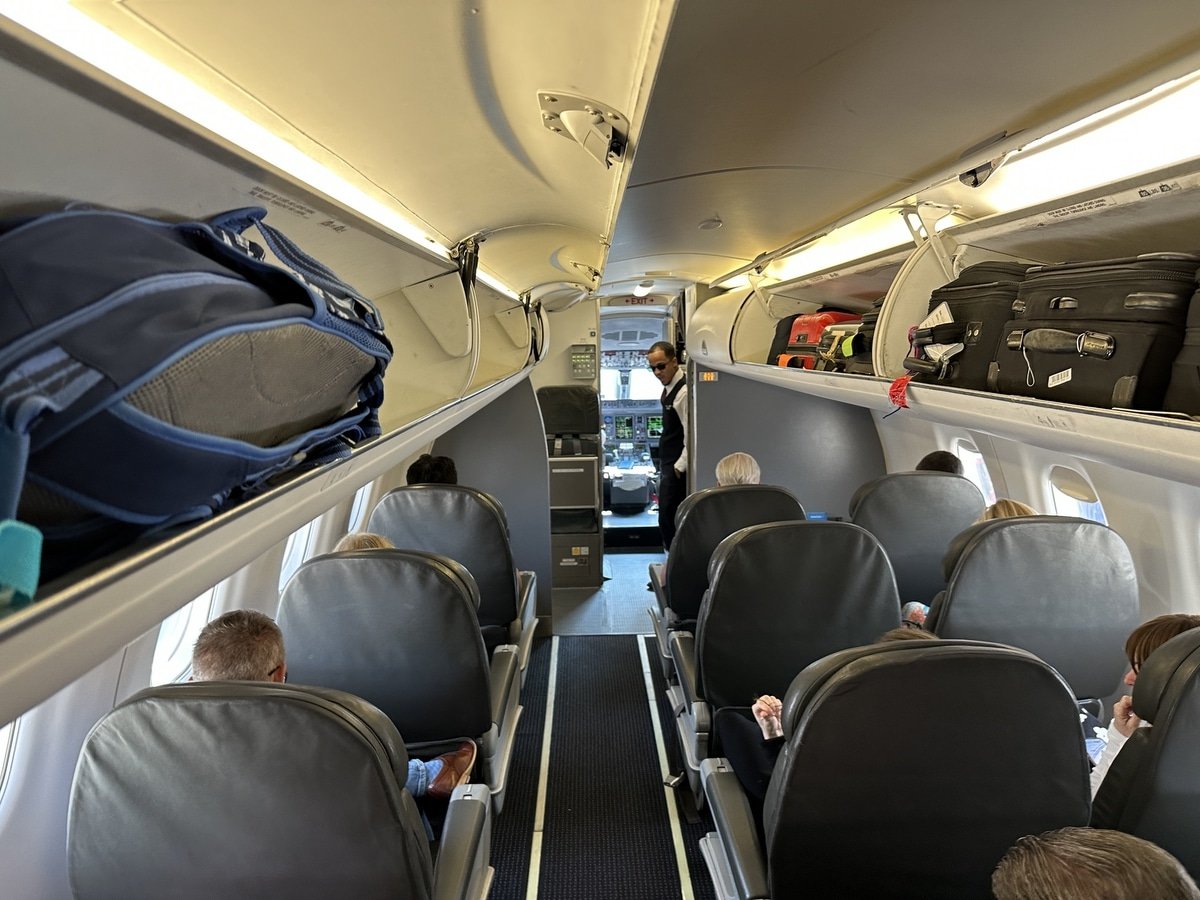 It's not good if you have a medium size carry-on since the bins can't hold it. I used my son's seat's (8A) storage. There's not a lot of overhead storage on the E175 so you better get on early or check your bag. Regular size carry-ons don't fit.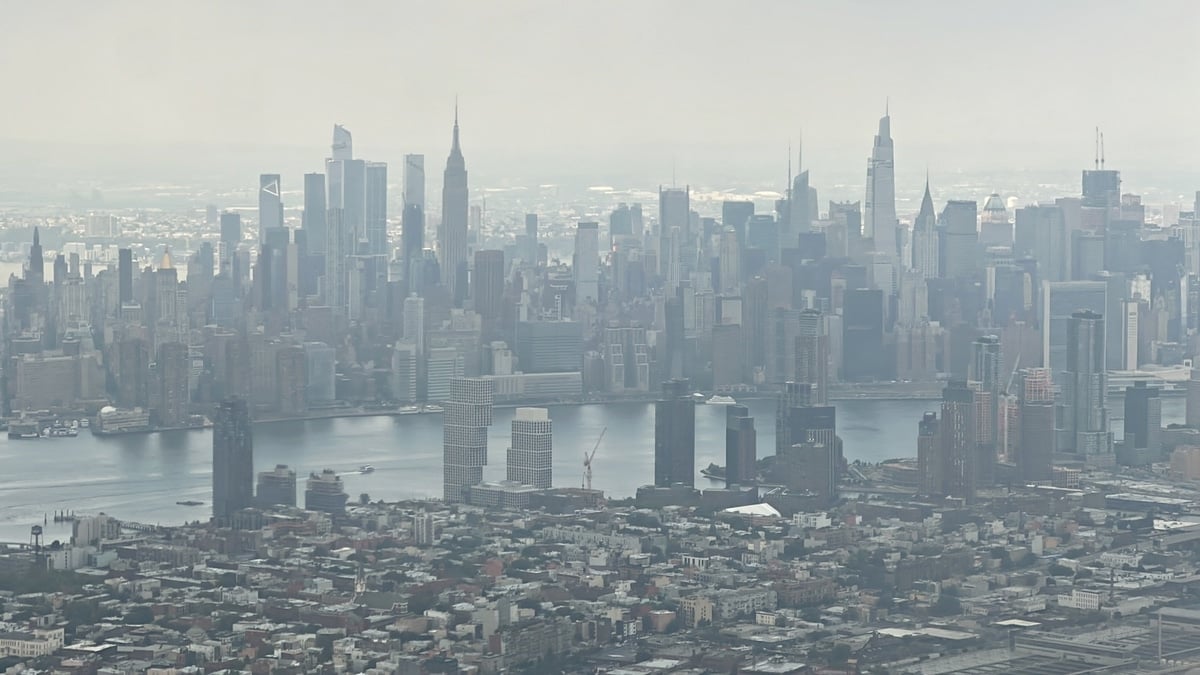 YYZ-LGA
Our flight time was 58 minutes. It was smooth despite thunderstorms in the area. The flight attendant served drinks and a choice of pretzels or Biscoff cookies. We had a great view of Toronto and then Manhattan as the flight path took us up and down both the west side and east side. Too bad it was cloudy.

LGA
Once on the ground, it was a long walk to baggage claim but it's a beautiful walk. The airport went from a disaster to one of the best. My kids and everyone else are mesmerized by the waterfall feature. They also have large family bathrooms, which makes going with kids so much easier.
Baggage
Our bags were on the carousel by the time we got there. I've got to give it up to American Airlines as they've really turned their baggage operations around. They used to be the worst as sometimes I would wait over an hour for our bags. Now, they've been surprisingly timely and they do a great job alerting customers through their app. You should still get an Apple AirTag or Samsung SmartTag though because bags can and do still get lost and these tracking devices provide a lot of peace of mind. I know ours do on our travels.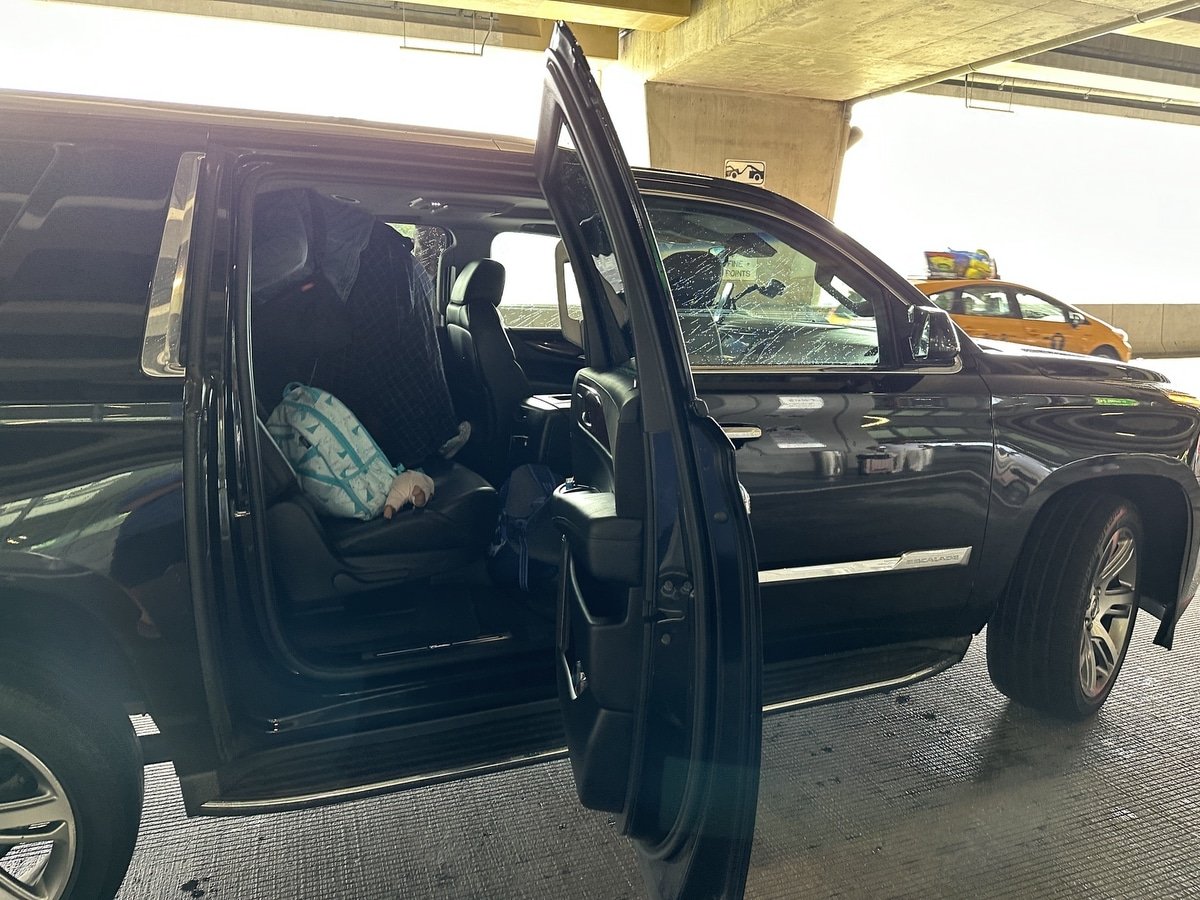 New York City / Connecticut
We were in New York City to celebrate the launch of Expedia's new One Key rewards program. As Expedia's guest, they hired us a car service. Our driver's name was Caesar and he was a five-star driver all the way. Not only was he on time but inside the car he had little bottles of Fiji water, packs of gum and a phone charging cable. To top it off, he let me borrow his Graco car seat so I didn't need to rent one from Avis. We went to Connecticut first to see family for a few days. TIP: Here's how you can really save money on your next car rental

KEEP READING
• How to Save Money With a Secret Third Carry-On
• How to Use Your Wireless Headphones to Watch In-Flight Movies
• 10 Airport Security Hacks Every Traveler Should Know
• How to Get the Best Coach Seat on the Plane
• The Sleep Hack Every Traveler Needs to Know
• Never Get Your Valuables Stolen on the Beach
Want more travel news, tips and deals? Sign up to Johnny Jet's free newsletter and check out these popular posts: The Travel Gadget Flight Attendants Never Leave Home Without and 12 Ways to Save Money on Baggage Fees. Follow Johnny Jet on MSN, Facebook, Instagram, Pinterest, and YouTube for all of my travel posts.