Want to save money on your next car rental? I'm here to help. If you've read my post on car rental tips I learned from renting a car in Maui or The Ultimate Guide To Renting A Car: 14 Tips That Will Save You Time, Money and Headaches, then you can move on to another story. But if you haven't read them, then you will definitely want to read my tip below and then follow up with these posts, which I'll link to at the bottom as well.
This post contains references to products from one or more of our advertisers. We may receive compensation when you click on links to those products. For an explanation of our Advertising Disclosure, visit this page.
I pride myself on being able to save people money and time when they travel. I followed my own advice this past week and was amazed at how much I saved.
First of all, if you're renting a car, I highly recommend not pre-paying. You won't save that much money and if the rate changes, you get sick or something comes up, like you lose your license on the flight over (like I did once), then you're pretty much up the creek without a paddle.
As I wrote in my recent Maui trip report, my advice is to "reserve early and keep checking prices. I mainly use Costco when I book car rentals. I usually check all the sites first, like Avis, Enterprise, Hertz, Auto Europe, Booking.com, Expedia, Priceline, RentalCars.com and Autoslash.
What I like about Costco is that they give you four different companies and you don't have to pre-pay. The trick is to reserve a car when you book your plane tickets and then keep checking to see if the price has gone down. Often, the price does drop, as it did on my trip to Maui and on this past trip to Connecticut … and I have screenshots to prove it.
Unfortunately, I was going to my childhood hometown of South Norwalk, Connecticut to attend my father's funeral. We were only in town for two days since my son has missed so much school he can't afford to miss anymore. So, we flew in the day before and left the day after. BTW: On this trip, we flew from Toronto to New York's LaGuardia — here's my trip report. 
If I had been by myself, I would have just gotten rides from friends, family or an Uber. But with two little kids, it's not that easy since most car seats are a hassle. Besides, I like having the freedom of going wherever we wanted.
To save on costs and to make the trips to and from the airport easier for everyone, I used two of my Blacklane vouchers for a professional driver and so I wouldn't have to deal with schlepping my kids to and from a car rental. Then, I rented from Avis in Stamford, Connecticut. Their location is right next to the train station, which is easy – especially for those coming from New York's Grand Central Terminal. FYI: If you need a luxury car service to or from an airport, consider Blacklane, which I use.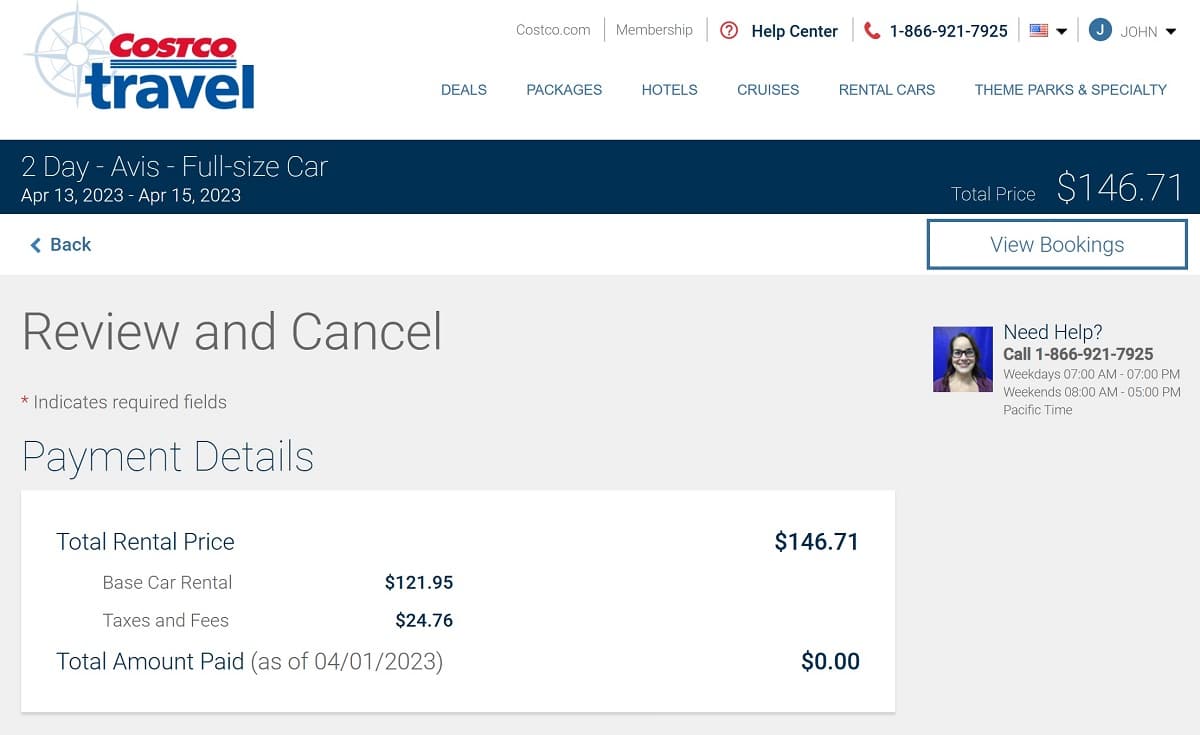 When I first booked this trip a couple of weeks ago, the rate for a Full Size car from Avis was $146. See screenshot above. 
Three days before our trip, I checked again and the price dropped to $100. That's almost a 50% savings! See screenshot above. 
Then the night before the trip, I checked again and to my surprise, the price had dropped another $14. See screenshot above. 
My total car rental was just $86 for two days, which is a pretty darn good deal. Now remember, it doesn't always work this way. It's all about supply and demand and many times, it's the opposite, which is why you should always reserve a car as soon as possible and then keep checking. If the price drops, cancel your original and rebook. 
I hope this helps and don't forget to sign up to my free travel newsletter for more travel tips like this. 
KEEP READING:
–There's No Additional Driver Fee With Costco Travel Rental Cars
–Don't Forget to Check the Rims of Your Rental Car
–Car Rental Tips I Learned from Renting a Car in Maui
–The Ultimate Guide To Renting A Car: 14 Tips That Will Save You Time, Money and Headaches

Want more travel news, tips and deals? Sign up to Johnny Jet's free newsletter and check out these popular posts: The Travel Gadget Flight Attendants Never Leave Home Without and 12 Ways to Save Money on Baggage Fees. Follow Johnny Jet on MSN, Facebook, Instagram, Pinterest, and YouTube for all of my travel posts.