If you're following along with my travels, then you know we left off in Canada after flying in Air Canada's Premium Economy from Los Angeles to Toronto (YYZ). Here's that trip report, including information on why you might not want to fly Air Canada to or via YYZ.


My family and I took a Blacklane (use code JOHNNYXBLACKLANE0423 to save 15% on your first ride) to Toronto's Pearson International Airport (YYZ). We arrived at 10:30am for a 12:45pm flight. Check-in at the American Airlines counter was quick. Once the agent tags your bags, you just walk (or roll) a few yards to the self-service bag drop. There's no sweet talking the agents so if your bag is overweight, you're paying. Unfortunately, I just lost my Executive Platinum status so I no longer get 70 lbs of weight per bag unless I'm flying first class. I'm back down to 50 pounds. Our bag was 52.5 pounds.
The agent suggested I load the overweight bag first and if the system doesn't accept it then transfer some weight from our other bag since that one only weighed 39 pounds.
Fortunately, the machine took it after two tries. It was initially rejected because I loaded it in the wrong way. To use the machine, you just scan your boarding pass then put the bag on the conveyor belt, wheels first.
Next stop was security and thanks to  NEXUS ($50 for five years, which allows for expedited security, most importantly on arrival), it was nice and quick. Every bag has to fit in a plastic tray and laptops and iPads need to be put in separate bins. However, you can leave your shoes on and I didn't take my liquids out but they enforce the same rule so don't go over the 3.4 ounce limit.
Once through security, you go through U.S. passport control. That's one of the nice things about traveling to the USA from Canada as most of their major airports (if not all) offer pre-clearance so when you land in the USA, you're considered a domestic flight.
There was no line in the immigration hall or at Global Entry (It comes with NEXUS). They have new machines so you don't have to scan your passport. In fact, there's a sign telling people not to touch the kiosk. You just stand in front of it and the machine will scan your face. That's it. It doesn't print out a receipt like in the past.
You still need to see a border patrol agent; ours was friendly and since the kids don't use the Global Entry machines, he took a picture of them for the system. Note: Even kids need Global Entry and NEXUS cards for everyone to use it. RELATED: Here's how to get TSA PreCheck & Global Entry access for free.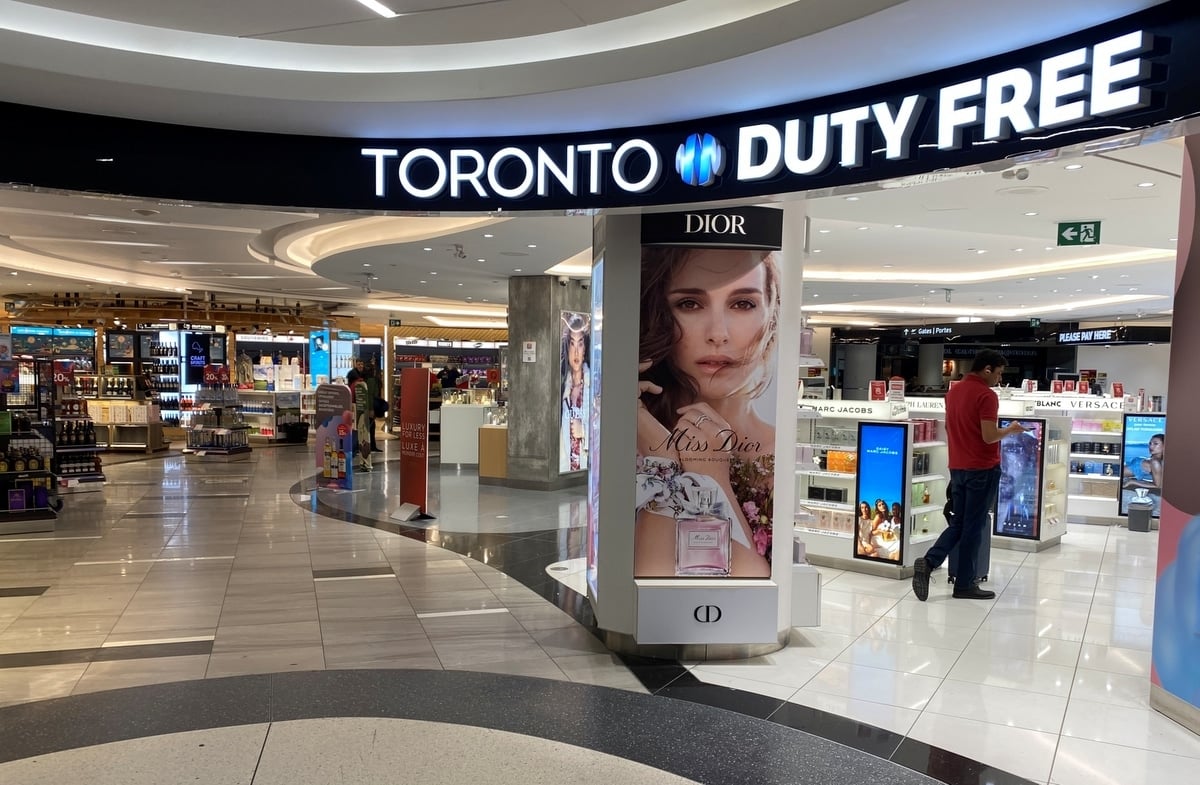 Like most international airports, the first point of entry is Duty Free, the airport's way to try and generate money on the way to the gates. We didn't bite. On the other side of Duty Free is a food court and we usually get rice and beans for the kids at El Catrin Taqueria.
In Terminal 3, there are two airline lounges: American Airlines Admirals Club and Plaza Premium. Both were crowded so we opted to hang in the main terminal.
I'm glad we did because I noticed some really tall dudes walking through the airport and overheard someone say, "See you on the court." I then looked at one of their bag tags and saw the Chicago Bulls logo so I looked up who they had played the night before and sure enough it was the Toronto Raptors.
Their road manager looked friendly; he was directing players and staff at the fork in the hallways so I went up to him and quipped, "Are you guys really flying commercial?" He said, "No, we're flying private and we're only on the commercial side of the airport because they had to go through passport control." He couldn't have been nicer and we talked for a few minutes about hoop and life. When I told him we were on our way to my dad's funeral, he passed on his condolences and said, "That's going to sting for a while." He wasn't kidding.
We boarded from gate A7 and the agents made multiple announcements that the flight was full. They said anyone who was in Zone 8 or 9 would have to check their bag and asked passengers to do it before boarding so the plane wasn't delayed. I didn't see anyone do it and the plane wasn't 100% full.
Republic Airways operates the American Airlines flight and they board 25 minutes prior to departure time. They check passports when you board, not in advance like they do on LGA to YYZ.
We gave one of the two flight attendants chocolates and asked the captain to sign the kids' flight logs as we always do. The pilot was very friendly and came over to our seats before pushback to personally hand the books back to the kids.
He then made an announcement welcoming everyone onboard and said, "Anyone who doesn't want to fly to Chicago, raise your hand now." I raised my hand like everyone else since we were going to New York/Connecticut and he said he was just checking to make sure everyone was paying attention.
AA/Republic flies an E175, which holds 76 passengers, on this route. There are 12 first class seats, 16 Main Cabin Extra (MCE) and 48 standard seats. We were in MCE, which has three extra inches of legroom.
Flight time was exactly one hour. We pushed back nine minutes early and landed 31 minutes early. But of course, the gate wasn't ready so we sat on the tarmac for a few minutes.

There is WiFi on board for $13 for the flight or if you have T-Mobile, it's free.
I love the new LGA airport and so do my kids. It's a long walk to baggage claim but it's a pleasant walk and the good news is that the bags were already out. However, there were no bags coming out of carousel number one but I found them on carousel number three. So always look for your bags on other carousels.


We then walked a few hundred yards to the airport pickups to get our Blacklane ride for the 45-minute ride to Connecticut. What's interesting is that Blacklane charges half the price to go to Greenwich or Stamford than what it costs to go 10 more miles down the road to South Norwalk, where we were staying.


So I had the driver drop me at a car rental in Stamford since I needed to rent one anyway. I will tell you about my trick for saving money on the car rental tomorrow. But in the meantime, if you need a luxury car service to or from an airport, consider Blacklane, which I use. Since I work with them, I have a 15% off promo code for first time JohnnyJet.com readers: JOHNNYXBLACKLANE0423.
KEEP READING
Want more travel news, tips and deals? Sign up here for Johnny Jet's Daily Travel Tip newsletter! Just fill in your email address and check the Daily Travel Tip box—and you'll have Johnny's best tips, straight to your inbox each day!