I was recently interviewed on Chicago's WGN Radio for Bob Sirott's Morning Drive to talk about, what else … travel. Bob asked me all kinds of questions, from how to deal with all the recent travel delays and cancellations to finding the best travel credit cards. We also talked about my 12 travel tips for travel to Europe, including using this taxi app so you don't get taken the long way and overcharged.
One of the stories Bob asked me to comment on was this: Is more casual dress on flights tied to rise in unruly passenger behavior? As I told Bob, when I first read the headline, I thought it was a ridiculous question. But when I read the article and its source, I started thinking that the author, Chris Elliott, might have a point.
He says: "There is compelling research linking behavior and attire. His research reveals that well-dressed people never cause drama on flights. Pilots report the troublemakers are the ones that look like they just rolled out of bed."
Chris writes on his website, "There's been a sharp decline of manners on board. The number of unruly passenger incidents shot up by 47% in 2022, according to a new report by the International Air Transport Association. The organization reported one unruly incident for every 568 flights last year, up from one per 835 flights in 2021."
RELATED: Should Airlines Offer Kid-Free Flights?
Chris then quotes Thomas Plante, a psychology professor at Santa Clara University, who says, "When people dress better, they tend to behave better." He thinks "a dress code might help."
When you think about all of the unruly passengers you've seen on social media or in the news, how many of them were dressed well? I can't think of any and most were indeed dressed like sloppily.
I know I'm not one to comment since I'm no fashionista. I purposely wear comfortable, baggy clothes on a plane instead of sharp-looking, tight and restrictive clothing for health reasons. You don't want to restrict the flow of blood.
However, I do know a lot of business travelers who wear suits on and off the plane but once up in the air, they change into pajamas or something much more comfortable. Then they change back into their suit prior to landing. I'm pretty sure President Joe Biden and other past presidents have done this, too.
I always change into pajamas on long-haul flights when the airline gives them to passengers. I do it almost immediately after takeoff for a number of reasons but mostly because that's when the restroom tends to be the cleanest (except on Asian airlines like Korean Air, pictured below, where the flight attendants clean premium cabin restrooms after every passenger.)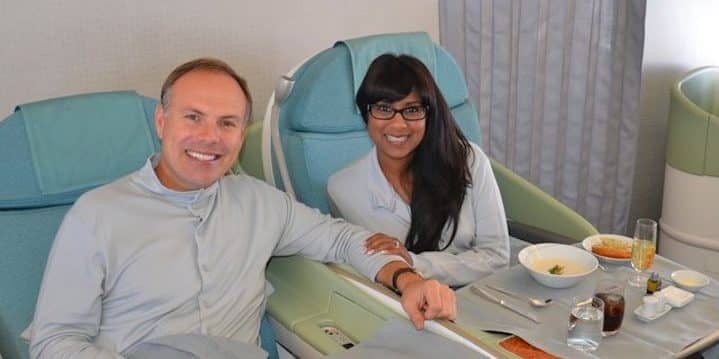 So what do you think? Should there be a dress code on airplanes in the hope that passengers will be better behaved?
KEEP READING
• How to Save Money With a Secret Third Carry-On
• How to Use Your Wireless Headphones to Watch In-Flight Movies
• 10 Airport Security Hacks Every Traveler Should Know
• How to Get the Best Coach Seat on the Plane
• The Sleep Hack Every Traveler Needs to Know
• Never Get Your Valuables Stolen on the Beach
Want more travel news, tips and deals? Sign up to Johnny Jet's free newsletter and check out these popular posts: The Travel Gadget Flight Attendants Never Leave Home Without and 12 Ways to Save Money on Baggage Fees. Follow Johnny Jet on MSN, Facebook, Instagram, Pinterest, and YouTube for all of my travel posts.