This post contains references to products from one or more of our advertisers. We may receive compensation when you click on links to those products. For an explanation of our Advertising Disclosure, visit this page.
To check luggage or not to check luggage: That is the question many travelers face. We all know that traveling with carry-on only comes with a multitude of benefits: you don't have to wait around at baggage claim, hoping your bag appears, you don't have to fear losing your bag or having it returned to you mangled, you always have all your stuff with you if you need to change flights or simply grab something from your bag, it's easier to get around and there are no checked baggage fees (unless you're flying a low-fare carrier like Frontier Airlines, which charges for overhead bin space). RELATED: Flying Spirit, Frontier or Allegiant Airlines? This is the Bag You Need So You Don't Get Charged Extra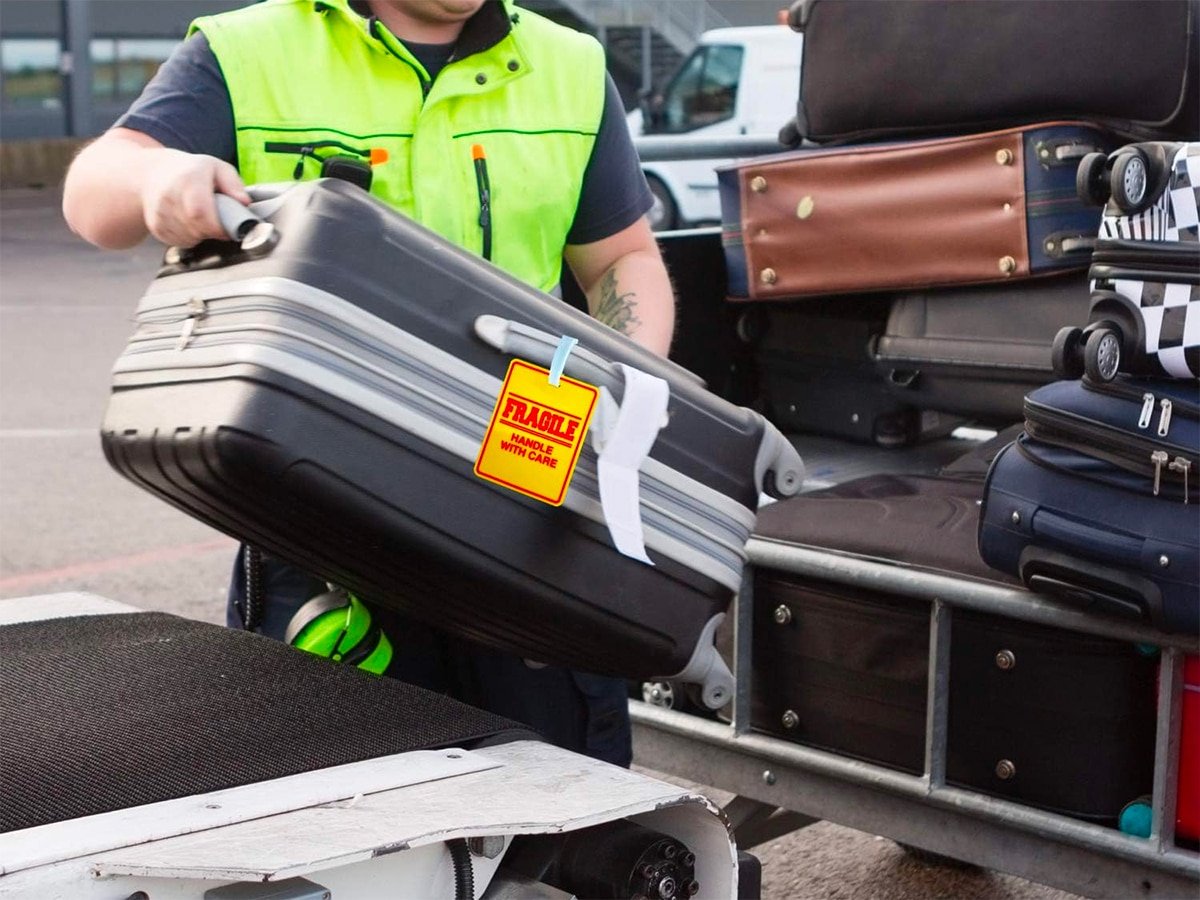 My husband and I used to travel with carry-on only, whether for a quick weekend getaway or a month-long trip to the other side of the world. We each had our packing strategies finely tuned and could whiz through airports all over the world quickly and with ease.
Those days are long gone. We now travel with two little kids and large suitcases stuffed with all the things they need. Which means that every time we travel, we have to check our bags and wait around at baggage claim (which once took 90 minutes following a late night arrival on Air Canada at Toronto's Pearson International Airport). We have to hope our luggage actually makes it to our destination (once it didn't and my husband had to make a late-night visit to a pharmacy for some essentials for our baby). We have to hope our suitcase doesn't get damaged along the way (our suitcases have come out broken, cracked and missing a wheel). Basically, checking a bag means hoping that all kinds of things don't wrong. RELATED: An Airline Executive's Number One Tip for Avoiding Lost Luggage When You Fly
When you check a bag, you want to know that it's being well taken care of but we've seen plenty of evidence that that's not always the case, like this video of baggage handlers violently slamming bags down onto the conveyor belt. Of course, accidents happen, too, like the time a passenger flying Delta Air Lines / Air France had their bag returned to them completely mangled.
Bottom line: When you check a bag, you should assume it's being handled pretty roughly and you should pack accordingly and make sure you're traveling with sturdy luggage, preferably hard-sided suitcases as opposed to soft-sided fabric suitcases.
And when it comes to the care and safety of your bag, you may be surprised by the role stickers play. Stickers? Yep, all those stickers.
For instance, when you check a bag, the check-in agent will put a small sticker on your suitcase with a barcode that gets scanned and then directs your bag to the correct airplane. If you don't remove old stickers from previous flights, the wrong barcode could get scanned, sending your bag to the wrong place where it ultimately may get lost.
Lost bags are obviously a concern but so are damaged bags. One way to give your bag a leg up with baggage handlers is to place a "Fragile" sticker on your suitcase, which lets them know to be careful with bag because of its contents.
Of course, this is no guarantee that the baggage handlers will be any more gentle with your bag – they have a hard job working quickly, lifting heavy bags and making sure the right bags get on the right planes. Have you seen the video of one baggage handler loading suitcases into the underbelly of an aircraft? It's like a game of Tetris and is a fascinating behind-the-scenes glimpse at your bag's journey.
But a 'Fragile' sticker may help. Back in 2017, Condé Nast Traveler interviewed a baggage handler named Zack who said, "Of course we see fragile tags… but if the bag has a fragile tag that looks old or is from a different airline, then it's as good as expired. Obviously, we're looking for tags or stickers issued by our airline and located on the handle, near the checked tag. If there's no current, valid tag, then it's like any other bag; if the tags are old or from another airline, then they can be confusing. Worst-case scenario is the bag suffers a fate more terrible than damage: loss."
Zack makes two great points here. One is that the 'Fragile' sticker should be new, indicating that it's been placed on the bag because of the bag's current contents and that it's not left over from a previous flight.
And secondly, he reminds travelers to remove all old stickers. As discussed above (and in this article we recently wrote on the topic), old stickers can confuse the computers that scan bags on their way to the aircraft.
So, when you're checking your bag in, ask the agent to place a 'Fragile' sticker on your suitcase. While some people feel that baggage handlers won't notice the sticker and your bag won't get any VIP treatment, it certainly can't hurt. And according to The Sun, "picking up a free "fragile" sticker from airport staff and slapping it on your bag can allegedly speed up your wait time. Often the fragile tagged luggage goes into the plane last and as a result, it comes onto the belt first."
It's certainly worth a try and you can also arrive to the airport already prepared by using your own 'Fragile' stickers, which you can purchase here on Amazon. Alternatively, you can use a luggage tag to mark your bag as fragile. These brightly colored tags are hard to miss and say, in large letters, Fragile – Handle With Care.
KEEP READING:
–8 Ways To Make Sure An Airline Doesn't Lose Your Bag … And That You Don't Get Robbed or Stalked
–The Trick For Getting Airport Luggage Carts for Free
–Airline Lost Your Luggage? Do This If You Want to Get Compensated
–Why Frequent Fliers Use Apple AirTags or Samsung SmartTags When They Travel
–Why Packing Cubes Are a Travel Essential
Want more travel news, tips and deals? Sign up to Johnny Jet's free newsletter and check out these popular posts: The Travel Gadget Flight Attendants Never Leave Home Without and 12 Ways to Save Money on Baggage Fees. Follow Johnny Jet on MSN, Facebook, Instagram, Pinterest, and YouTube for all of my travel posts.