This post contains references to products from one or more of our advertisers. We may receive compensation when you click on links to those products. For an explanation of our Advertising Disclosure, visit this page.
There's a viral video currently making the rounds on social media, that's being seen by millions of people from all over the world. RELATED: Hilarious Video of Flight Attendant's In-Flight Safety Demonstration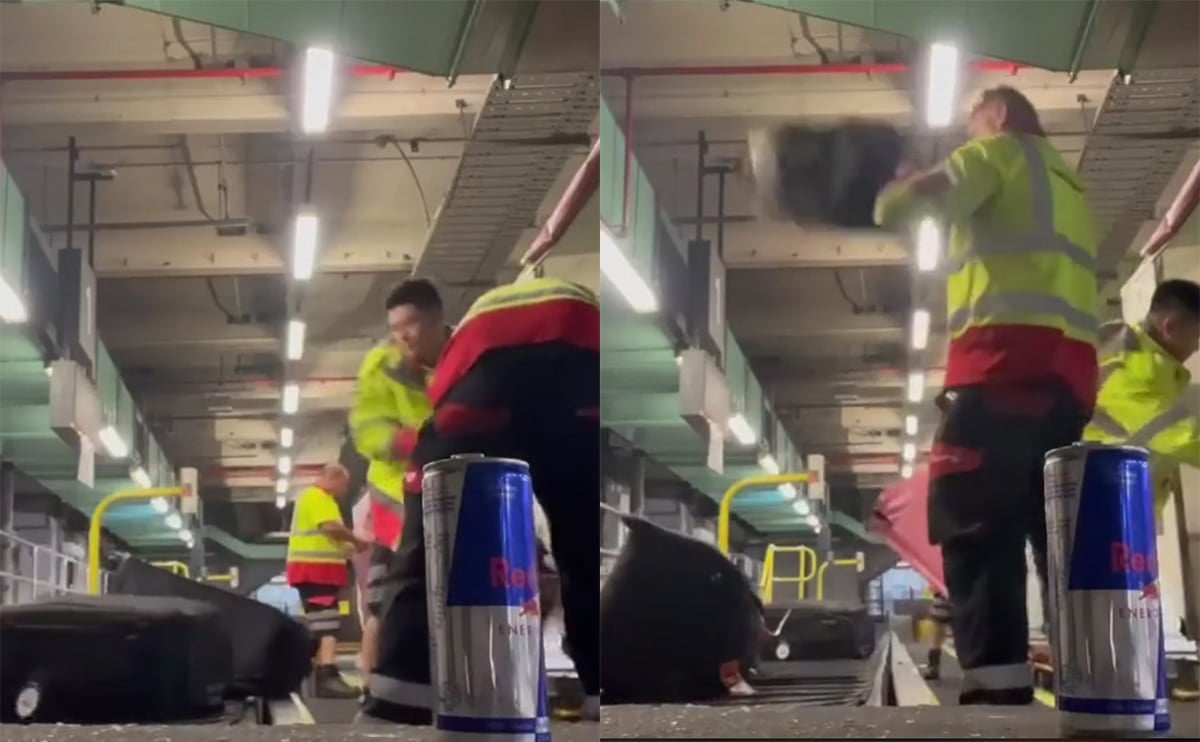 I don't think that what the baggage handler did at 10 seconds into the 1:05 clip is that big of a big deal – or at least, I don't find it surprising. But I do find the video fascinating as it shows behind the scenes and how checked luggage is loaded onto the baggage carousel. Watch the video:
According to The Guardian: "The men are employees of Qantas subcontractor Swissport, which Qantas uses to perform "ground handling services" at Melbourne airport." The news agency also reported that: "As a result, the staff in question have been stood down pending an urgent investigation."
RELATED: Why It's Time to Start Traveling With a Good Piece of Underseater Luggage
What do you think about it? Regardless, watching this video will help make you a better traveler in a number of ways:
1. The video underscores why you shouldn't check luggage.
Checking luggage adds so much more time to your trip; you have to show up to the airport early, stand in the check-in or baggage drop-off line, pay to have your bag checked (unless you're flying Southwest Airlines, have elite status or use certain credit cards), worry about the airline losing you bag or a handler stealing something out of it, waiting around for what seems like an eternity for your bag to come out at the other end. I've waited over an hour before (ahem, American Airlines at LAX) and the bag was tagged priority). This video showing the rough handling of luggage is just another reason not to travel with checked bags if you can help it and is why frequent fliers use Apple AirTags or similar tracking devices to monitor their bag's location.
2. Watching the video will make you a better packer
Seasoned travelers know that bags can be roughly handled. Just waiting at the bottom of the baggage carousel and seeing bags tumble down and crash into one another will make you realize that you should pack accordingly. After seeing this video, you'll probably want to do an even better job.
I once made the mistake of checking an expensive bottle of red wine from Europe in my bag only to find it had cracked open and had ruined most of my clothes. If I were checking a bottle of wine today (I don't even drink; it was a present), I would use a wine skin and put it or any other liquid or lotion in a plastic bag to avoid huge messes as air pressure will sometimes make caps and covers fall off. RELATED: 10 Things You Don't Need to Pack
3. You may want to invest in sturdier luggage
After seeing the video, you probably realize why those cheap $40 suitcases you buy in tourist shops only last one or two trips. You really get what you pay for. That's one reason why I travel with tough bags that have great warranties, like Briggs & Riley. It's also a good idea to have a hard case like a ROAM suitcase if you're checking fragile items because if there was a bottle of wine in that suitcase the baggage handler body slammed like he was Hulk Hogan, then it probably wouldn't make it unless it was secure in the middle of the bag with clothes wrapped around it and even then, there's no guarantee.
One of the 26,000 comments on the video was from Mikaela Testa, who wrote: "So that's why my Rimowa has cracked TWICE this year…"
My wife's Away suitcase has cracked twice as well, though fortunately, Away suitcases come with a lifetime warranty – again, you get what you pay for and Away replaced her suitcase both times. TIP: If your baggage is damaged (or misplaced), it's important that you not leave the airport and file a report right away, usually within four hours.
Another person, danielh878, quipped: "Cameras need to be streamed to baggage terminal."
I agree and would like to see cameras on the tarmac to see the progress of the bags being unloaded. I hate standing around tapping my foot, waiting for my bag but don't want to leave and risk having the bag stolen or mistakenly taken (I've been on both ends of the latter situation). This is another good reason to use Apple AirTags so you can track your bag's location at all times yourself.
MORE VIDEOS
Want more travel news, tips and deals? Sign up here for Johnny Jet's Daily Travel Tip newsletter! Just fill in your email address and check the Daily Travel Tip box—and you'll have Johnny's best tips, straight to your inbox each day!