I'm a fan of the NFL, my beloved New York Giants and travel and I just read this CNN story about "NFL free agent wide receiver Odell Beckham Jr., who was removed from a Los Angeles-bound American Airlines flight Sunday morning at Miami International Airport after refusing to comply with safety protocol, according to a statement from the Miami-Dade Police Department."  RELATED: American Airlines Flight Attendant Detains Aviation Photographer Until He Showed Images
NFL insider Tom Pelissero tweeted a copy of the police statement, which read: "At approximately 9:30 a.m., officers from the Miami-Dade Police Department were dispatched to a medical emergency at an American Airlines flight. The flight crew was concerned for a passenger (Mr. Odell Beckham), as they tried to wake him to fasten his seat belt, he appeared to be in and out of consciousness, prior to their departure. Fearing that Mr. Beckham was seriously ill, that his condition would worsen through the expected 5 hour flight, the attendants called for police and fire rescue. Upon the officers arrival, the flight crew asked Mr. Beckham several times to exit the aircraft, which he refused. The aircraft was deplaned, at which time Mr. Beckham was asked by the officers to exit the plane, and did so without incident. Mr. Beckham was escorted to the non-secure area of the terminal by the officers where he made other arrangements."
From Miami-Dade Police on Odell Beckham Jr. being removed from a flight this morning: pic.twitter.com/ieD40w4wkv

— Tom Pelissero (@TomPelissero) November 27, 2022

Of course, Beckham's attorney, Daniel Davillier, released a counter statement, which Ian Rapoport, another NFL insider tweeted, that in part read: "Earlier today, Odell Beckham Jr boarded a morning flight without any problems. The flight was delayed after boarding and prior to takeoff. Mr Beckham fell asleep with his blanket over his head, which is his normal practice for long flights. He was awakened and told that the plane was back at the gate and that he needed to get off the plane because he did not put his seatbelt on when asked. He responded that he was asleep, and would put his seatbelt on at that time. He was informed it was too late, that either he would have to get off the plane or everyone would have to deplane.
"The overzealous flight attendant insisted on removing everyone from the plane instead of simply allowing Mr Beckham to fasten his seatbelt and proceed with the flight. At no time was Mr Beckham disruptive or combative. He was willing to comply with the seatbelt requirement, but the flight attendant wanted to prove that he had authority to have Mr Beckham removed from the flight. The airline proceeded to send Mr Beckham's luggage to Los Angeles without him.
"That incident was unnecessary. Sleeping on a plane should not be a cause for removal from a flight. If they could wake him up when the flight returned to the gate, then they could have done the same thing and woken him up to ask him to put on his seatbelt."
A statement from Daniel Davilier — Odell Beckham Jr's Attorney: pic.twitter.com/2ofpyHGJ5A

— Ian Rapoport (@RapSheet) November 27, 2022

I agree with the lawyer that the incident was unnecessary but of course, I wasn't there. Odell wasn't charged but he didn't make any fans as he delayed the flight even more as all of the passenger had to deplane. One passenger who goes by @TheMalibuArtist on Twitter, tweeted a video of Odell being escorted off with this caption: "Forcing us off the plane because you were unresponsive and unruly is not comedy to the hundreds of folks trying to get home dude. Not cool man."
Forcing us off the plane because you were unresponsive and unruly is not comedy to the hundreds of folks trying to get home dude. Not cool man. pic.twitter.com/9w6Y2X0sE4

— CG (@TheMalibuArtist) November 27, 2022

I've been fortunate to have flown the Miami to LAX flight on American Airlines dozens of times and thanks to my elite status, I was often upgraded to Business Class, which, on their widebody planes, have the plush lie-flat seats. TIP: Not all of AA's MIA-LAX flights operate lie-flat seats in Business Class so if you're flying up front, be sure to pick the right flight.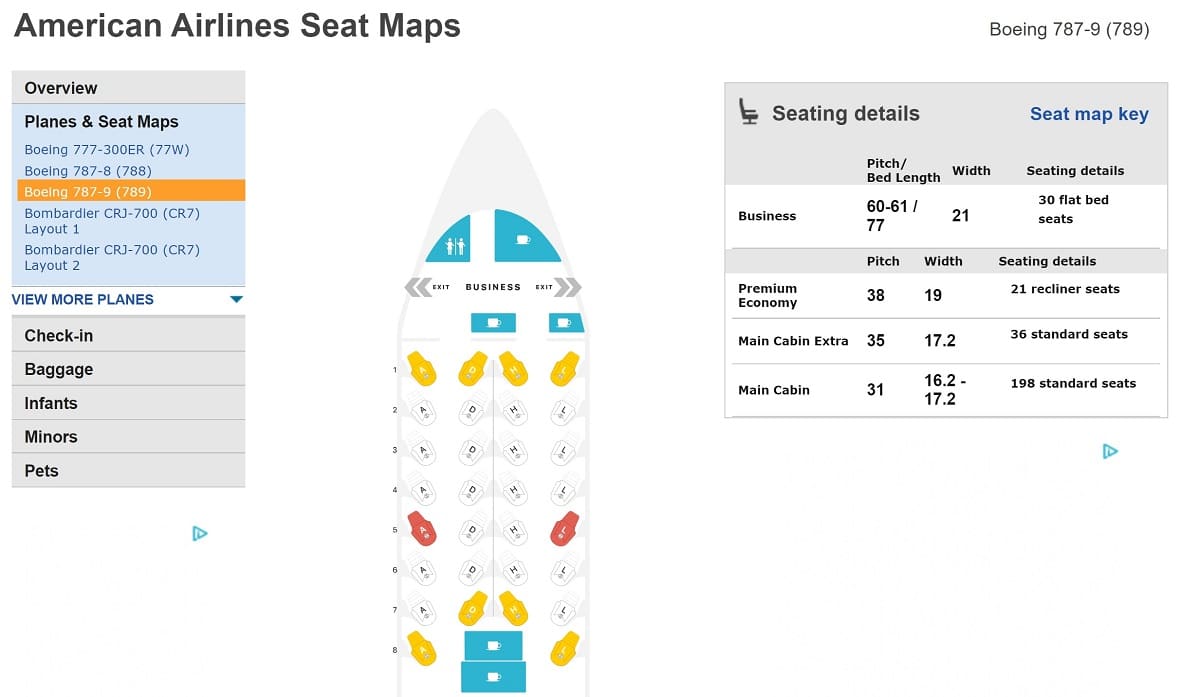 Odell was on a Boeing 787-9 Dreamliner, which, according to SeatGuru (screenshot above), has 30 flat bed seats with 60-61 inches of pitch (legroom) and 77 inches of length.
When there's a delay, it's customary for many passengers to recline their seats but when it's time to push back or take off, then seats need to be put in the upright position. Odell was obviously so tired he didn't wake up, which is suspicious or the flight attendant was indeed overzealous.
Never in my life have I experienced what just happened to me… I've seen it alll..

— Odell Beckham Jr (@obj) November 27, 2022

This incident is a good reminder for everyone that it doesn't matter who you are, you have to obey by the cabin crew's rules, especially the captain's who has the most authority and will almost always back his/her flight attendants.
According to FlightAware.com (screenshot above), the flight landed 2 hours 6 minutes late. Beckham wasn't on it and no charges have been filed.
KEEP READING