I was recently invited to a press conference in New York City and normally, I wouldn't fly in from L.A. just for a day but since they were offering Business Class tickets, it made the trip much more enjoyable. FYI: If a company is paying full fare for a domestic ticket, I would fly American Airlines (AA) so I could earn progress towards elite status since it's based on money spent on the airline or their partners. If it was international trip, I would probably choose one of their partners like Qatar Airways or Cathay Pacific. RELATED: How to Make Coach Feel Like First Class
From Los Angeles, I usually like to take the first flight out to New York since it almost always goes out on time, it forces me to get on Eastern Standard time and I can have dinner in the city. However, a week earlier, I'd signed up to be a chaperone for my son's school field trip on what turned out to be the day of my departure. I didn't want to disappoint him so I needed to take a late afternoon flight as the field trip ended at 1:30pm. I didn't want to take a redeye since my body can't function on little sleep.
Unfortunately, but not surprisingly, there aren't a lot of late afternoon nonstop flights from Los Angeles (LAX) to New York and AA's only flight was sold out. I chose JetBlue since they're one of American's partners (for the time being) and I could accrue miles and points. However, last time (Thanksgiving Day 2021) I flew in JetBlue in Mint (their First Class), the plane was old and the seats were pretty tired.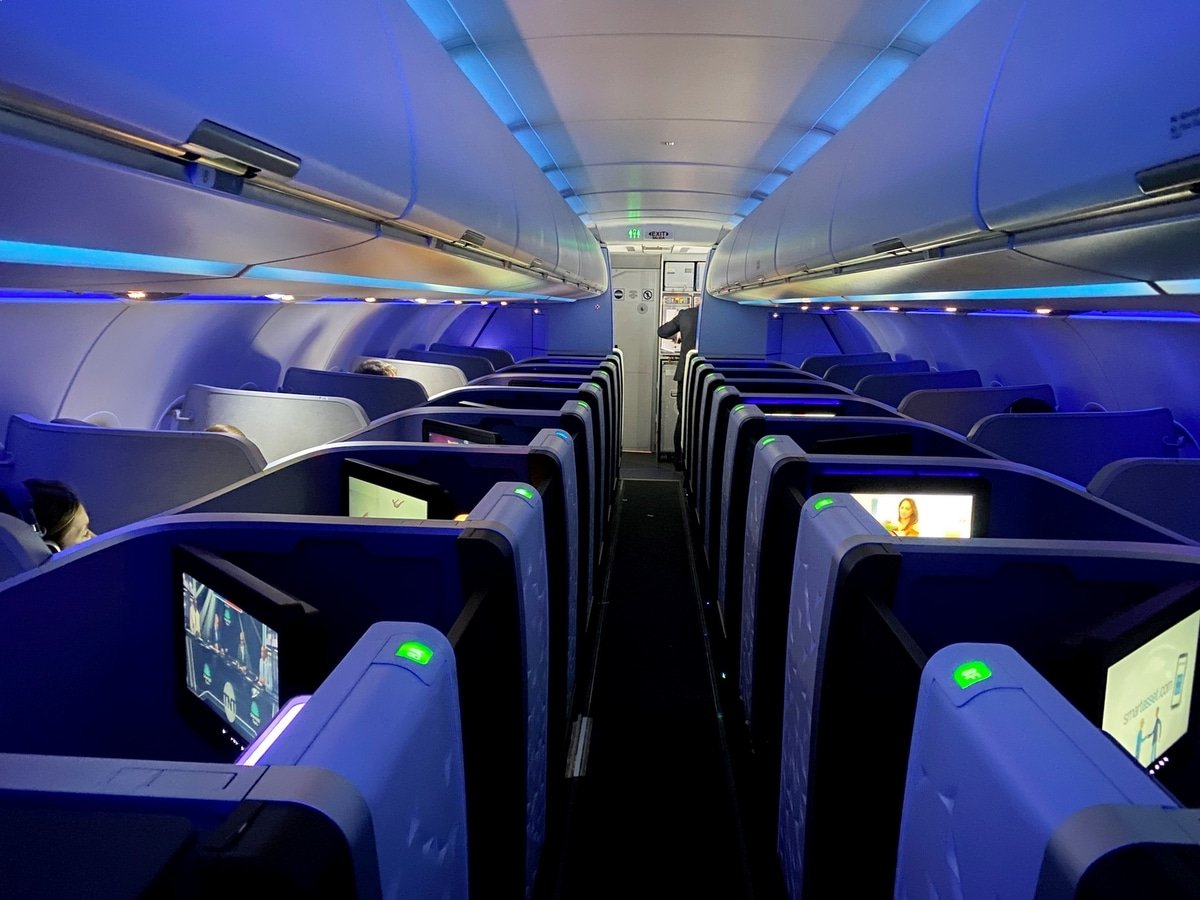 When I looked at the seat map for the 3:26pm flight, I was pleasantly surprised to see it was in one of their new A321NEO planes. These planes are normally on their European routes from New York or Boston to London, Paris and soon Amsterdam. What's great, besides being brand new, is Mint is configured completely differently. Rather than 2x1x2 it's 1×1 so every seat (or Studio) has direct aisle access and a sliding door for privacy. On the older planes, with their original configuration, there are only four Mint seats that offer a door.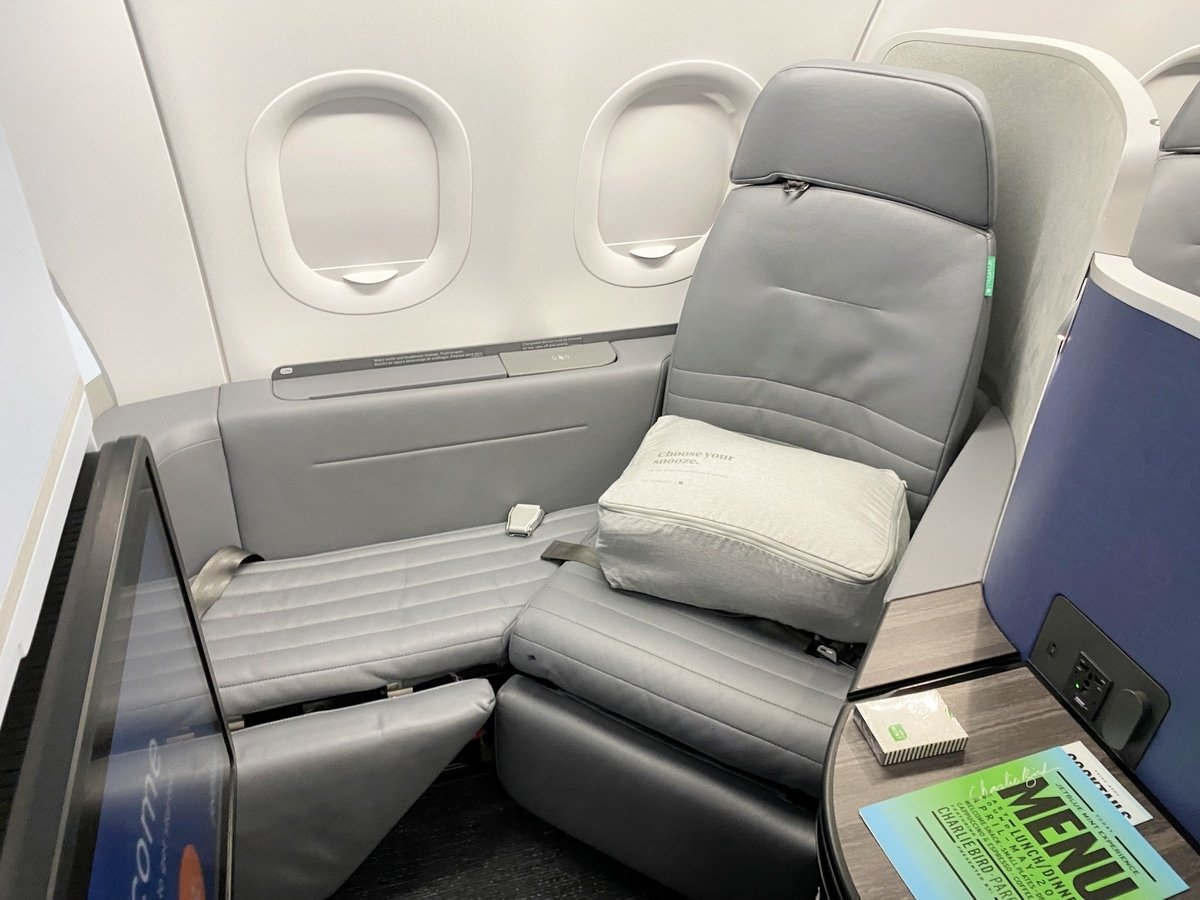 FYI: If you want a bigger seat on the new plane and are willing to pay more, then you want the Mint Studio (1A and 1F). These were all taken so I chose 4F. All the Mint seats on the A321neo are a dream for business and solo travelers. It's not ideal for families or couples who like to be together. You can't hold hands in this set up.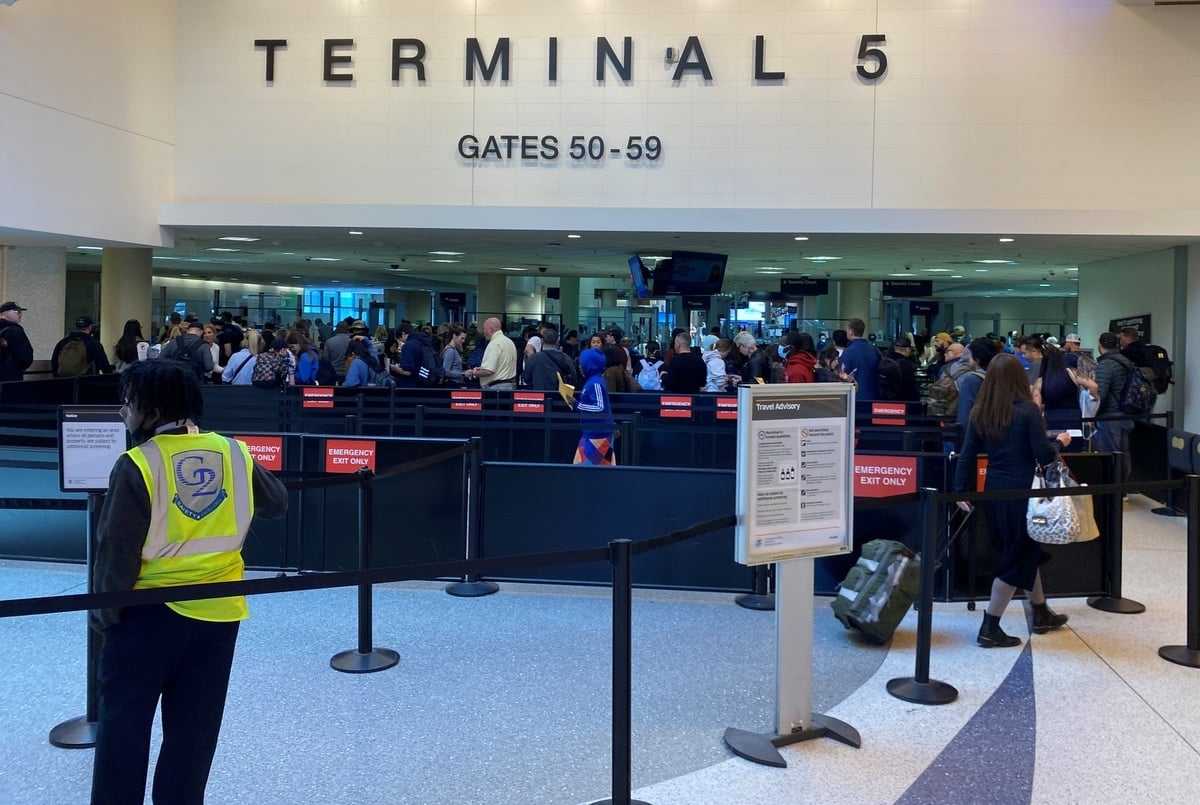 I wasn't checking a bag and checked-in online so I arrived at LAX at 2:28pm. I went straight to security, which was surprisingly busy for this time of day.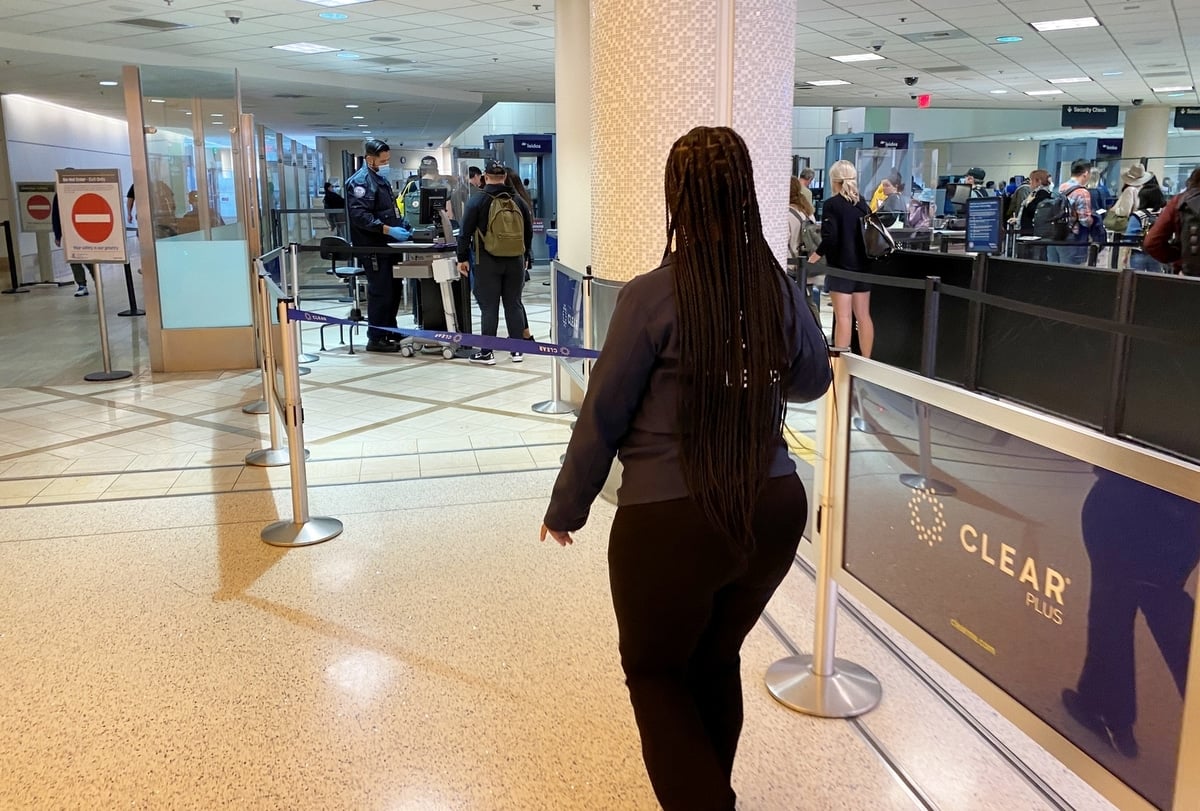 Fortunately, LAX's Terminal 5 has CLEAR and there was just one person in front of me so I quickly scanned my eyes, showed my boarding pass and was escorted to the front of the TSA PreCheck line. I cleared at 2:33pm. TIP: Here's how to get CLEAR for cheap.
Boarding commenced nine minutes later so no hanging around their dismal, overcrowded gates.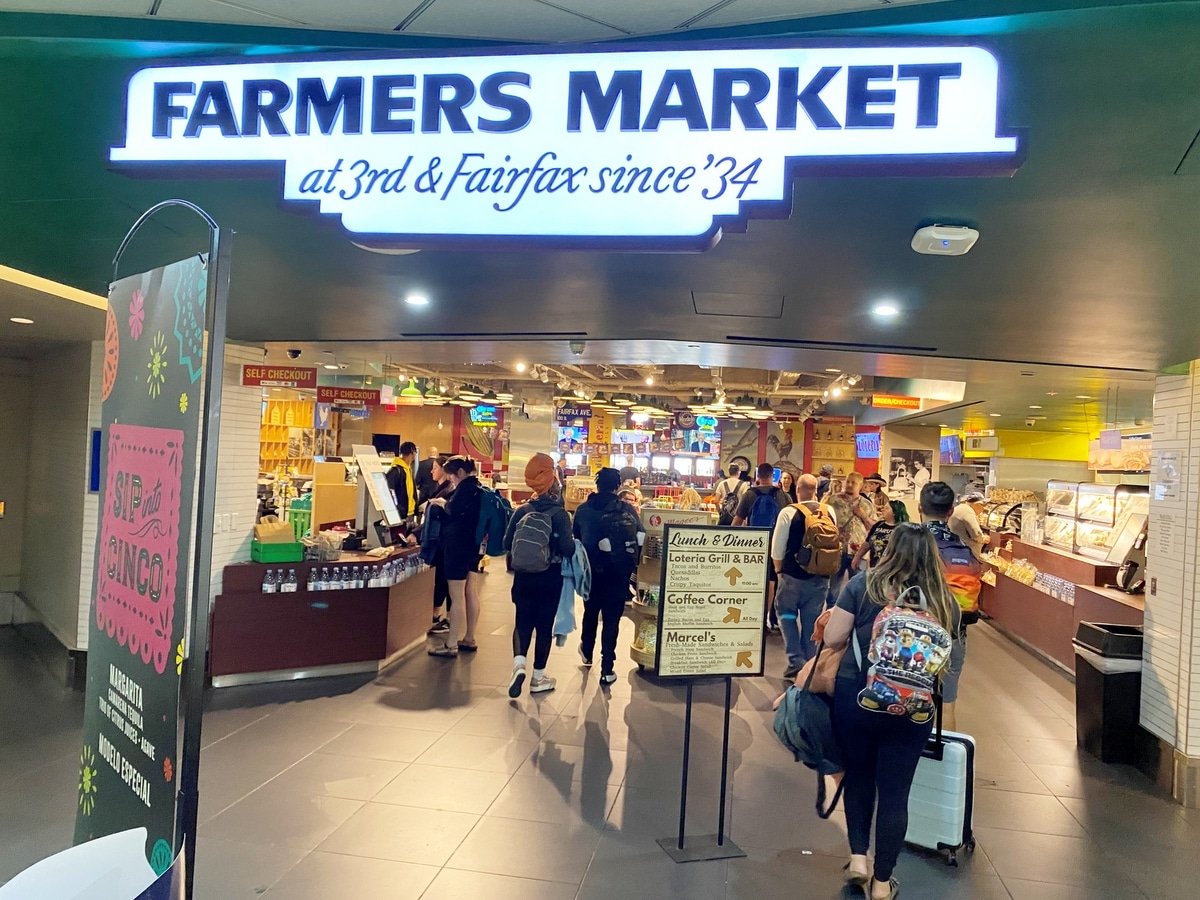 If I did need to pass time, I would have grabbed food at either Lemonade, Rock & Brews or the Farmer's Market food court, all of which are fantastic local eateries in L.A.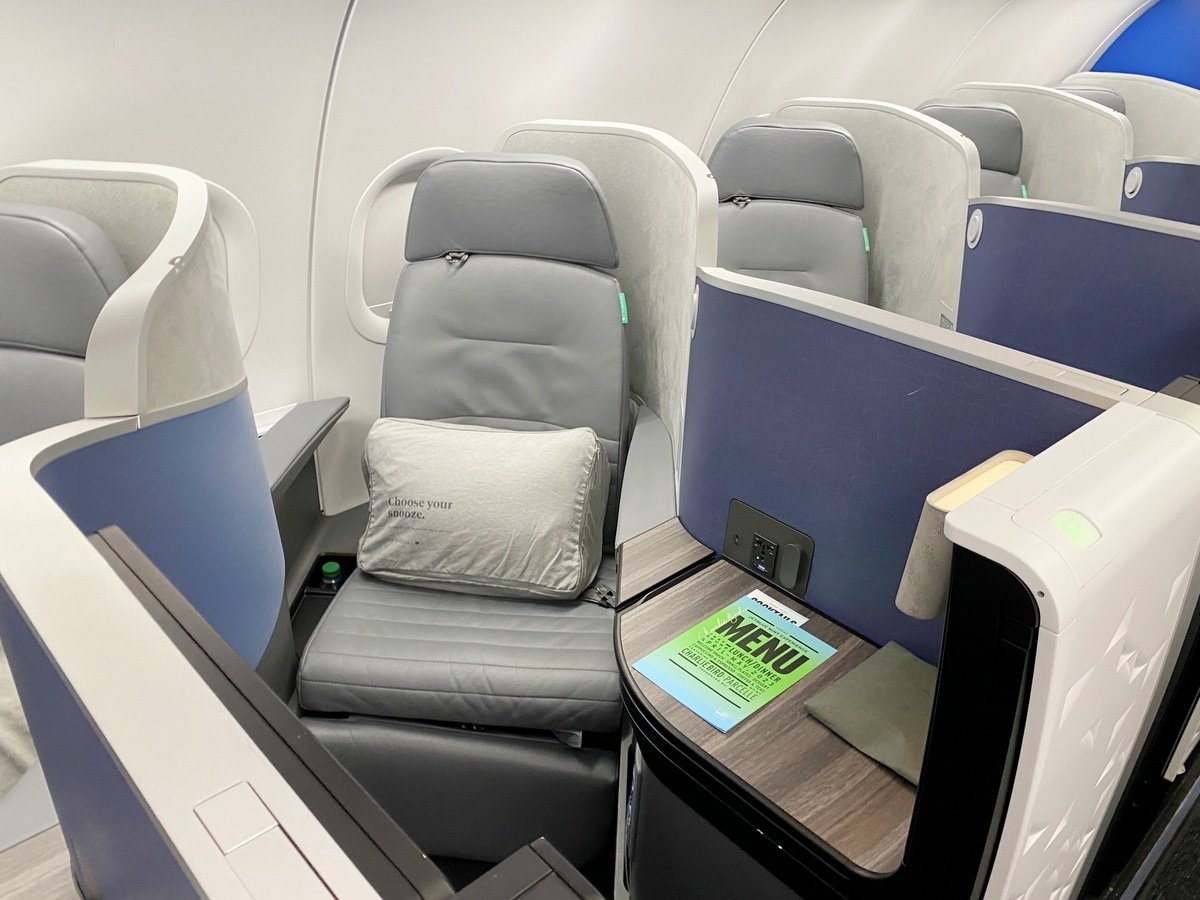 I was the first person to board after the one person who said they needed extra time so I was able to snap some photos of the seats.
The flight attendant assigned to my section looked at me suspiciously but I told her I was excited to experience the new Mint seats. She said they're much better than the original.
The New York-based crew wasn't overly friendly but they did a solid job. Everything was prompt, including pre-departure drinks. I chose their "Mint (Under One) Condition." It's their non-alcoholic version of "Mint Condition," which is made with seltzer, ginger, lime, cucumber and mint. It's delicious. 
On the seat was a memory foam pillow, a cozy blanket and on the shelves were the food and cocktail/wine menus, bottle of water and wellness kits from Wanderfuel, which comes in an eco-friendly case.
FYI: Every Mint seat is fully lie-flat and is built with Tuft & Needle's T&N Adaptive Foam cushions.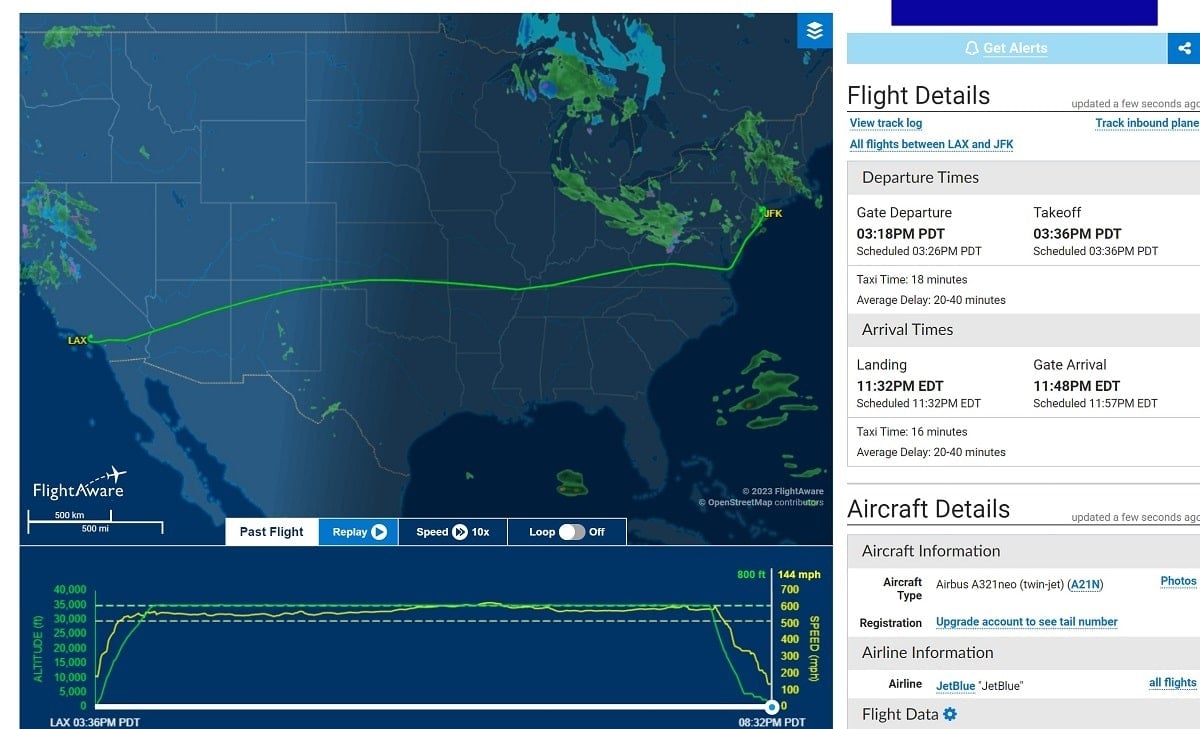 According to FlightAware and the timestamps on my photos, we pushed back from the gate at 3:18pm and took off at 3:36pm. Flight time was announced to be five hours and we made it four minutes earlier. We landed at 11:32 pm and arrived at the gate at 11:48pm.
The food on JetBlue is exceptional, especially when you compare it to American Airline's (AA) First Class, which I flew back the next day. Unlike AA, JetBlue has partnered with Delicious Hospitality Group to create a small plates menu from small businesses and local favorites.
Customers get to choose three of five entrée options and I chose the farro salad, lasagna and Tuscan fried chicken. It was all tasty but my least favorite was the chicken. The bread was amazing too, which is rare on airplanes.
Same goes for the artisanal vanilla gelato though it was hard as a rock. I think passengers are supposed to wait a few minutes before digging in but of course I couldn't. It was accompanied with warm banana fosters and almond honey granola.
I'm not a drinker but they do offer shaken-to-order cocktails and an international wine list, all inspired by NYC's Charlie Bird, Ada's Place and Parcelle. They also offer cappuccinos and espresso from Brooklyn Roasting Company.
Good to Know: Two days before my flight, JetBlue sent an email with Mint menus. They're available the month prior to your date of travel. Click here to see dining options for this month and next month. Customers who have special dietary needs can order a special meal up to 24 hours before departure (48 hours for Kosher meals) by calling 1-800-JETBLUE or by updating their Traveler Details on the Manage flights page.
JetBlue's entertainment is second to none. The personal seatback touchscreen is 17" and 22" in Mint Studio and there are so many choices including live TV thanks to their partnership with DirectTV. They also have Master & Dynamic's MH40 noise-isolating headphones.
On top of that, they offer free, high-speed, gate–to–gate wi-fi that's solid. There are also USB, wireless, and 110v outlets at every suite. It's the first time I've ever seen a wireless charging station though it didn't work great with my phone, I think because of the cover.
About 90 minutes prior to landing, the flight attendants came around with a basket of snacks. They had pretzels, a granola bar, potato chips and crackers. It was dark so I couldn't really see the brands but only one listed on their website was correct. JetBlue had these same snacks in their open bar area, situated just behind first class, for all passengers. (One reason why you might not want to book row 8 of Mint.)
About 20 minutes before landing, they came around with chocolate covered cashews as a parting gift.
When we landed, it was only then I noticed that the overhead bins are huge and there was no issue of having to gate check bags.
One thing I didn't like was that the tray table was kind of on an angle, which made it uncomfortable to work on my laptop. JetBlue also needs to work on their app as you can't even change your seat using it. And it's been five days since the flight and I still haven't been credited my mileage to American Airlines. According to a customer service agent, it takes four to six weeks but last time, it took just three days.
Have you flown in JetBlue's new Mint? What did you think of it?
KEEP READING
Want more travel news, tips and deals? Sign up to Johnny Jet's free newsletter and check out these popular posts: The Travel Gadget Flight Attendants Never Leave Home Without and 12 Ways to Save Money on Baggage Fees. Follow Johnny Jet on MSN, Facebook, Instagram, Pinterest, and YouTube for all of my travel posts.