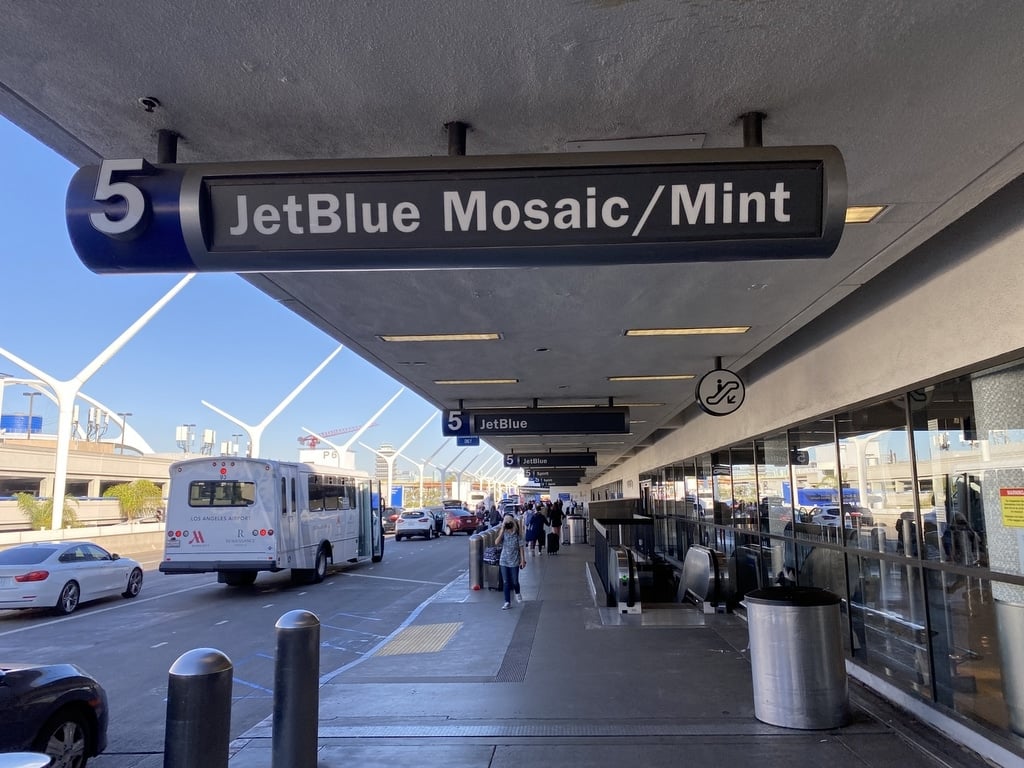 This was my first time flying JetBlue in a couple of years. Here's why I flew them instead of American. But the short answer is that I had a credit and they're partners with AA and I needed to do a mileage run to retain my status.
I've only flown Mint once before. It's JetBlue's First Class, only operated on certain routes (click the Mint tab here). Last time I flew them three years ago almost to the day they were great. This time… well here's my trip report…
I was flying on Thanksgiving Day since it's the best day of the year to fly to avoid crowded airports, expensive tickets and packed flights. I purchased a Mint ticket for $698 using a credit leftover from canceling a flight at the beginning of the pandemic.
JetBlue's great in so many ways but in other ways, they can't compete.
First of all, JetBlue flies out of LAX's Terminal 5, which is not the nicest terminal at LAX (nor is it the ugliest). I arrived one hour and 15 minutes before my flight, which was way too early on Thanksgiving afternoon. In the morning, there's a crush of travelers trying to take advantage of cheap fares and still make T-day dinner.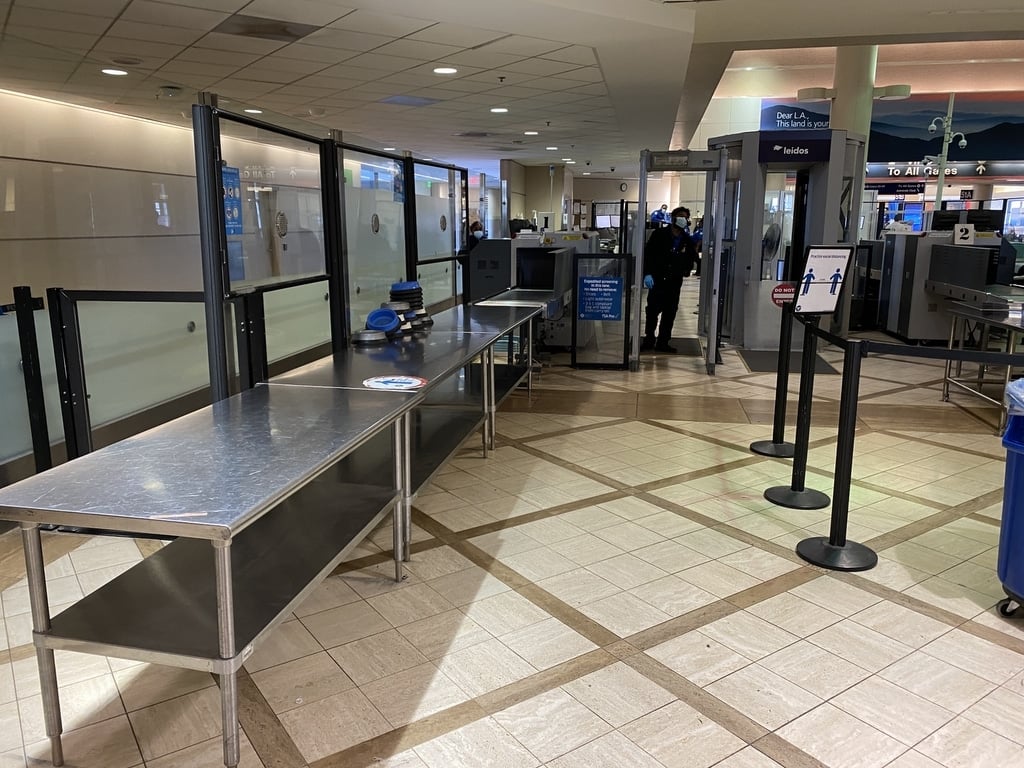 I showed up so early because I know LAX has CLEAR in all terminals and I'm a member (Here's how to get CLEAR for cheap). I still used CLEAR even though there wasn't a security line for TSA PreCheck and just a short line for the regular line.
The biggest downfall of flying JetBlue in First Class is that they don't have a lounge like most airlines with a solid First Class product. There is an American Admirals Club but I got rid of my Citi card since I'm not traveling as much these days and when I am flying, I'm usually in Flagship so I get free access. Hopefully, soon I will sign back up.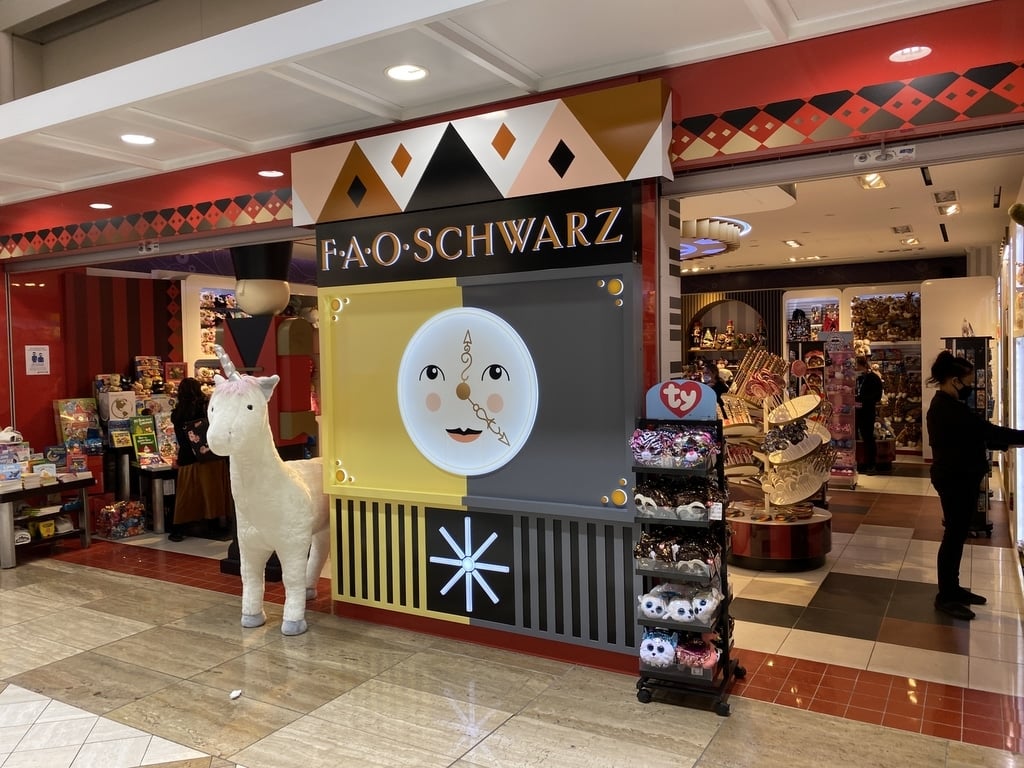 To my wife's and kids' delight, T5 does have an FAO Schwarz store, which is the only one at LAX. My kids would have absolutely loved it and I would probably have had to drag them out of there to catch our flight so it was a good thing they weren't traveling with me.
What I do love about T-5 is that is has two local L.A. restaurants that I really like: Lemonade and Rock & Brews.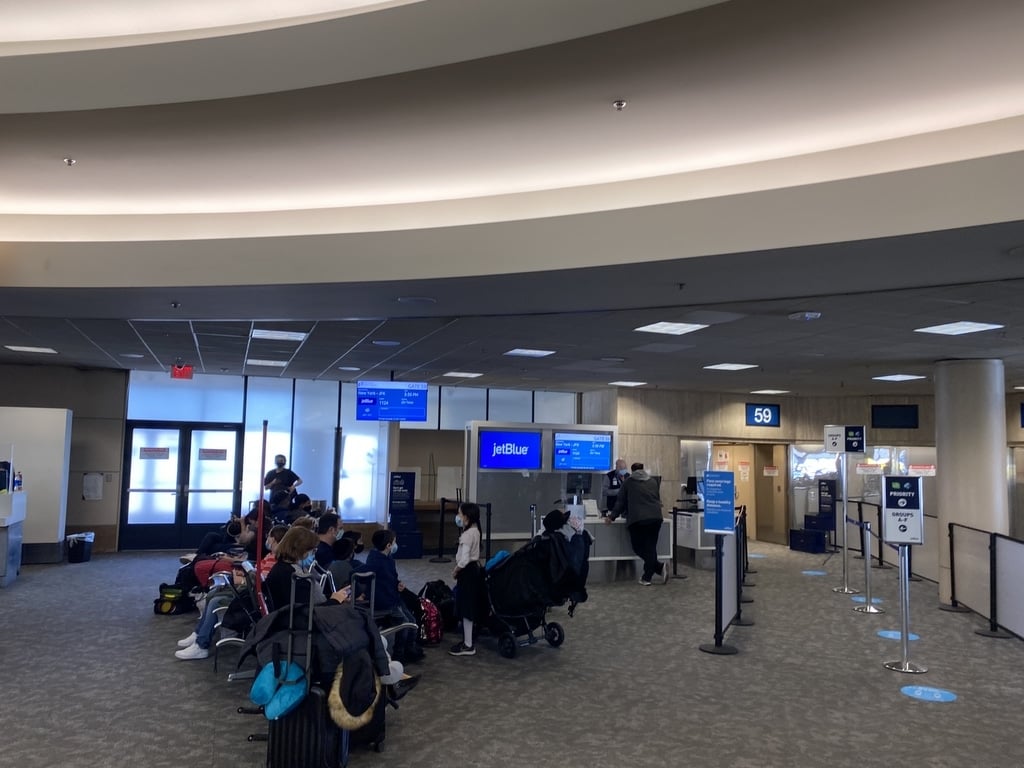 The terminal is a little depressing and the gate area feels sad. Maybe it was my state of mind since I was leaving my family for the night.
JetBlue flies A321 and the 16 seats in Mint have a 4X2X4X2 configuration. That's right. Every other row has just two seats which are private suites complete with doors (Rows 2 and 4) but flight attendants can still easily reach over to serve you food and drinks.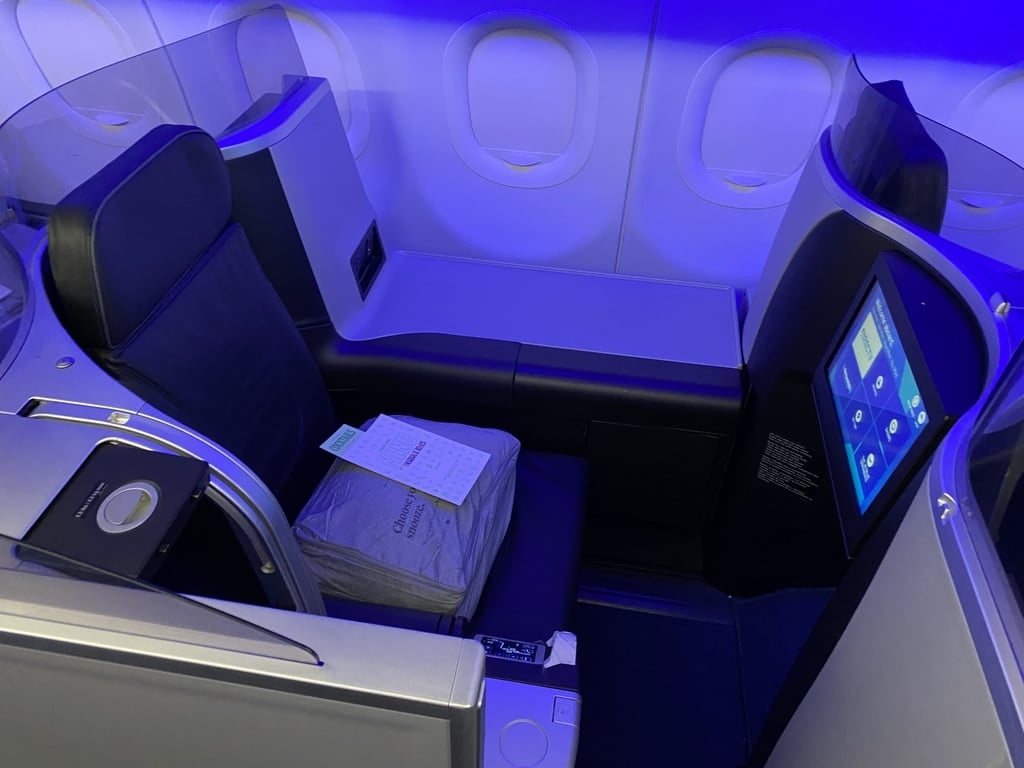 I was in 4A and there was no one directly behind me and only one person in front. The flight attendant (FA) said Mint was less than half full and coach had 35 empty seats.
I saw a young couple come on and when the man saw the empty seats behind me he asked the flight attendant if he could upgrade. He was told he'd to speak to the gate agents. As he was just about to walk off, the FA said, "But they won't be free." The guy seemed surprised and pissed off so he went back to coach.
Another guy walked on the plane with no mask on and his phone was playing music like a boom box. Seriously, What is wrong with people? The FA told him to put a mask on (he reached into his pocket and grabbed one) but didn't say anything about the music.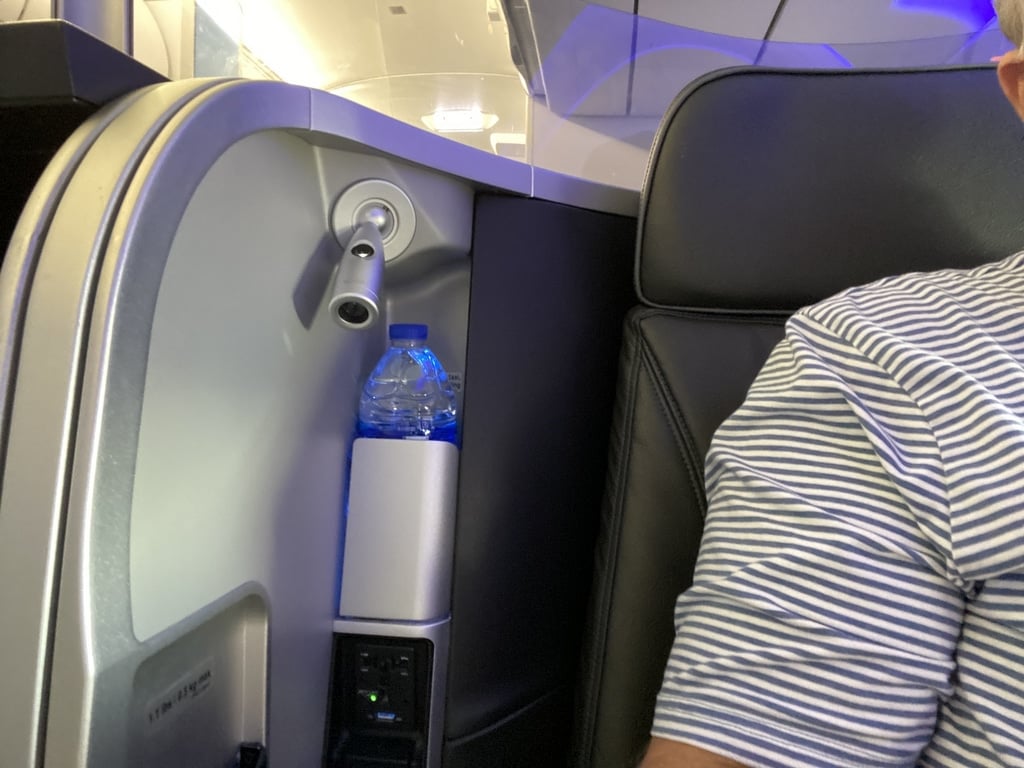 My seat had three electrical outlets and on each side and four USB ports. There was also a bottle of water and a menu. I love that JetBlue emails you a link to a PDF of the menu so you can check it out in advance.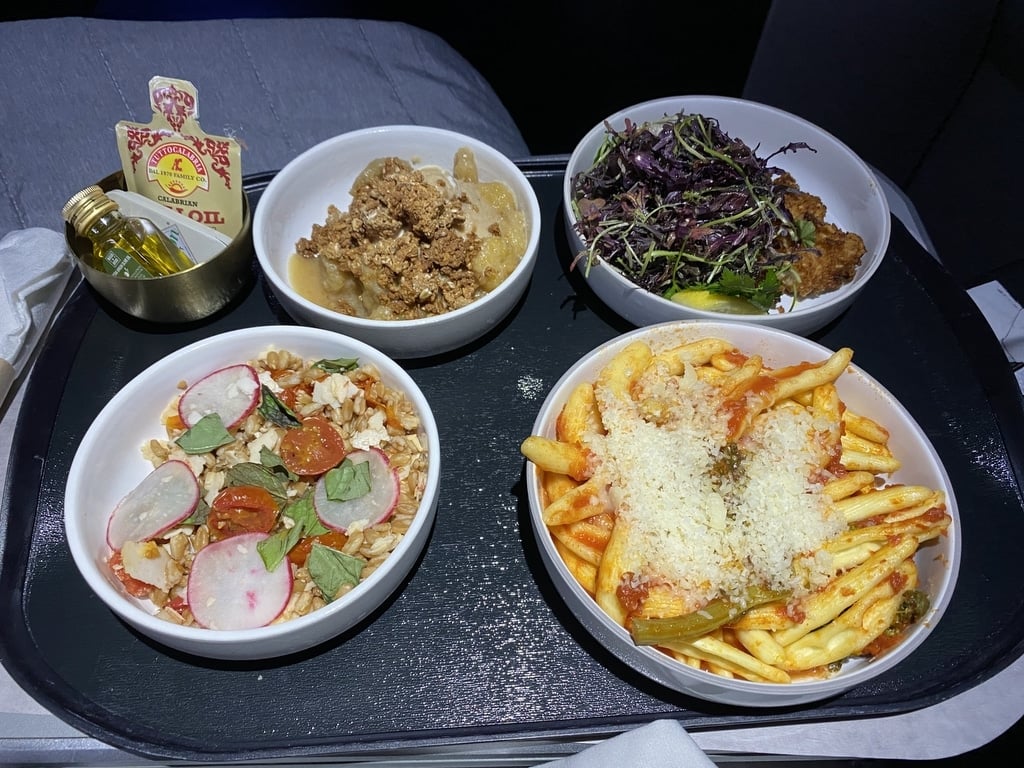 JetBlue is known for good food and they didn't disappoint as you can see from the photo above. Not only did it look good, it tasted even better, which is rare for airplane food. They have five options and you get to choose three, not including dessert. I had the farro salad with roasted tomatoes, parmigiano, basil, pistachio, the cavatelli with broccoli rabe ragu, parmigiano and the chicken milanese with baby greens and mustard vinaigrette. I love the little touches from the soft napkin to the artisan salt and oil.
Dessert (in the upper left) was vanilla gelato with caramelized bananas and almond-honey crumble.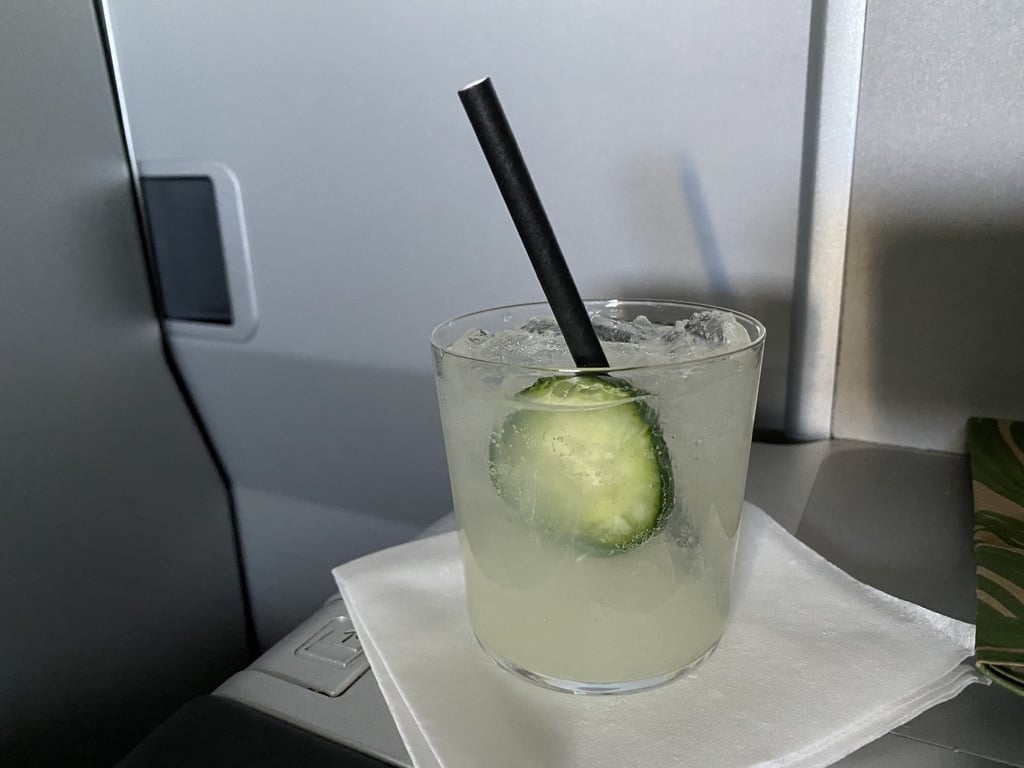 JetBlue is also known for their Signature drinks which both can be made without alcohol. That's what I had.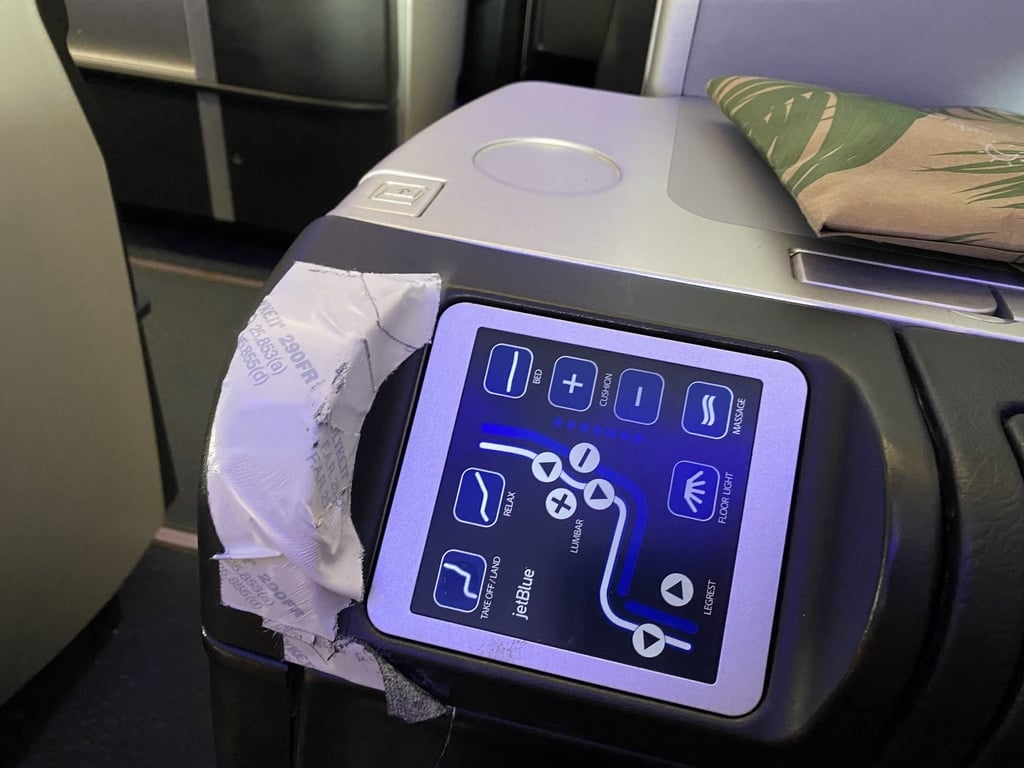 I love the seating configuration but the seats are starting to feel dated and if you have big feet like me (size 13) then you might find the foot well a little tight. The good news is that JetBlue just introduced over the summer a whole new Mint, which is on their London flights. Soon they'll be on cross-country flights if they aren't already.
The cabins are dark and filled with blue lights for branding purposes and because it calms people.
My flight attendants were friendly but not over the top like last time when they left individual notes on each seat.
One of the best things about JetBlue is that WiFi is free, though it was patchy in the beginning.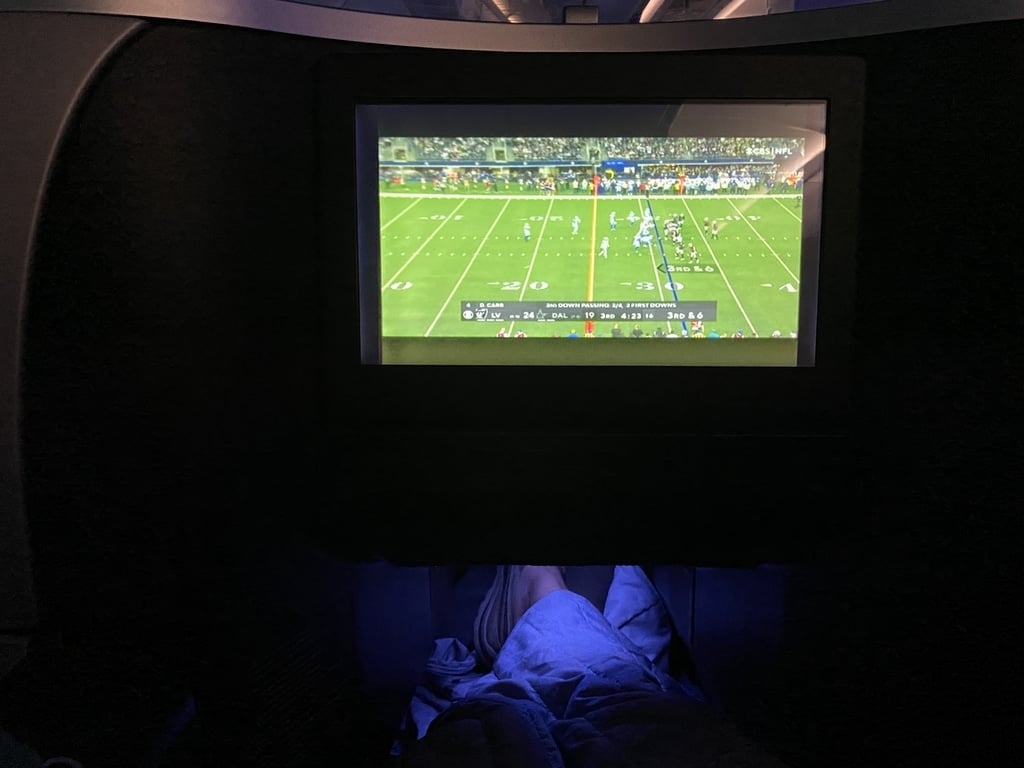 I also love the fact that they have live TV so I could watch football while flying above the clouds or listen to Sirius XFM radio.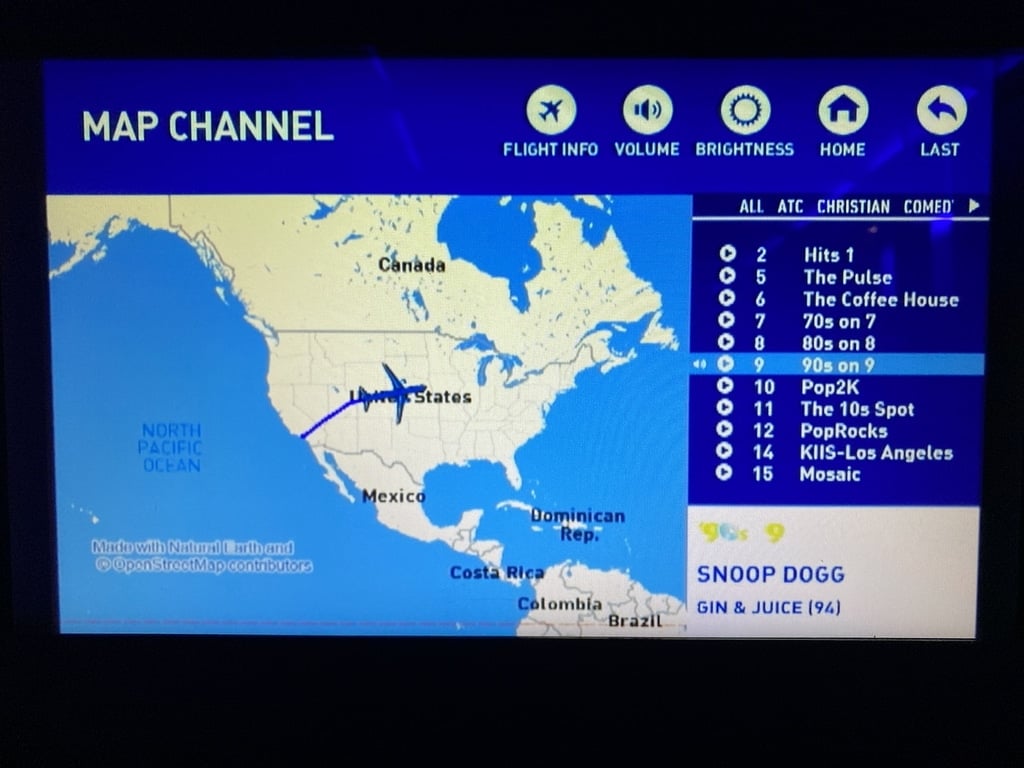 Flight time was a long 5:39 and JetBlue's mapping system feels ancient.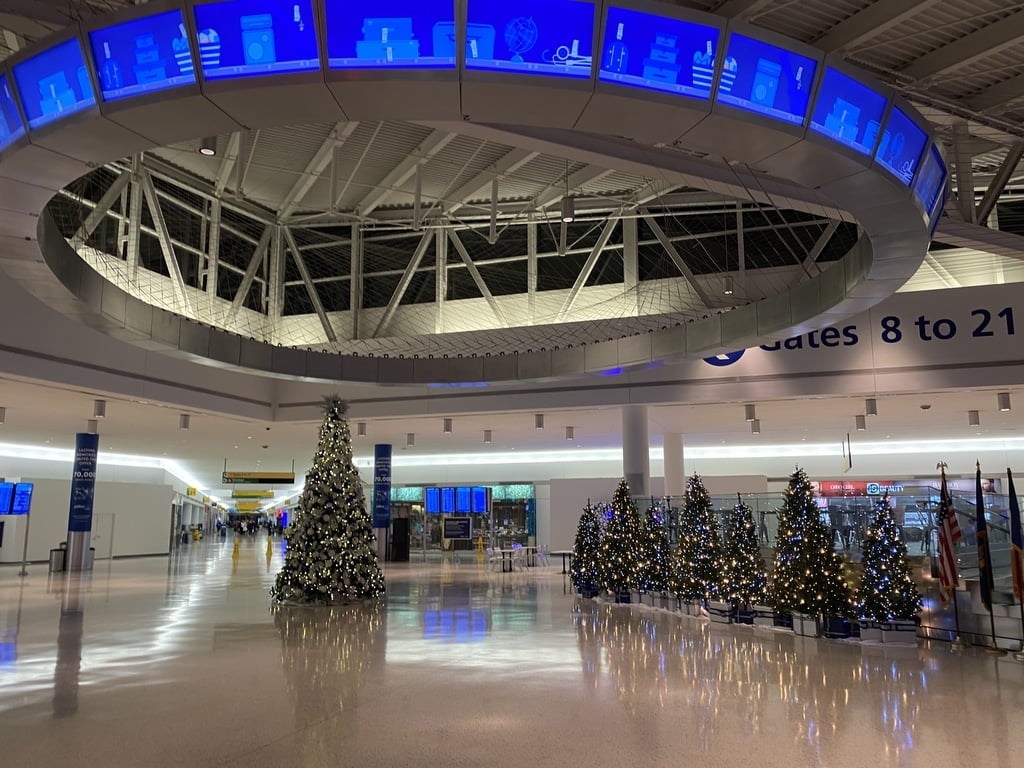 We landed 18 minutes late, just after midnight and the terminal was deserted. All the shops and restaurants were closed but they had a beautiful display of Christmas trees.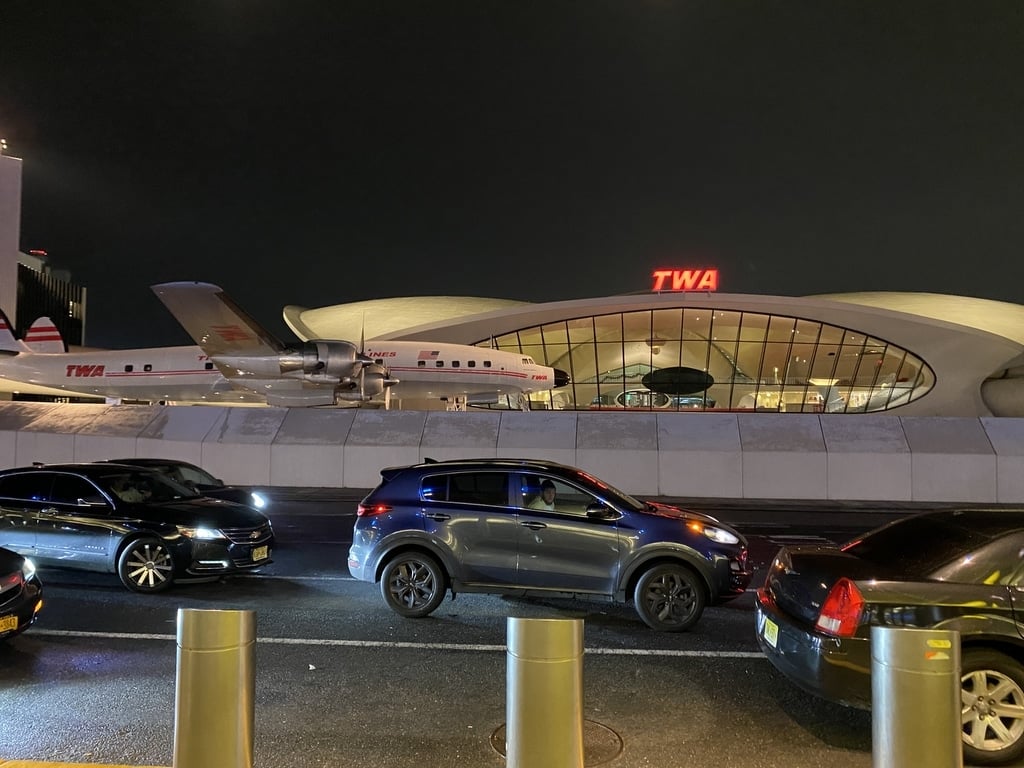 The best part of JFK's T5 is that it's across the street from the TWA Hotel so when you walk out to grab your ride, you feel like you've been taken back in time with their 1958 Lockheed Constellation "Connie" airplane-turned-cocktail-lounge parked in front and the hotel designed like Eero Saarinen's landmark 1962 TWA Flight Center.