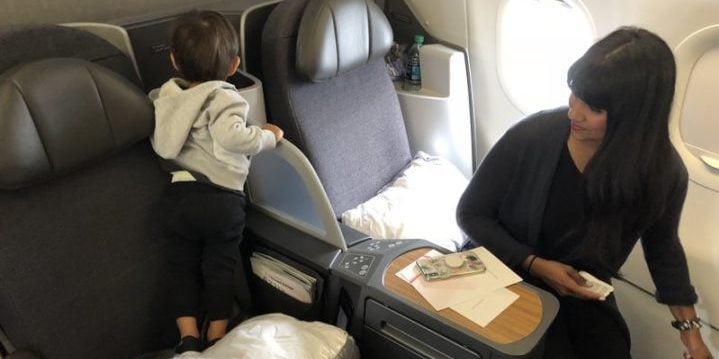 I usually fly American Airlines (AA) or their Oneworld partners because I'm in bed with their frequent flier program and I got hooked on my elite status, which comes with all kinds of perks including free upgrades (see photo above).
I'm an Executive Platinum member, which means I fly at least 100,000 miles a year and spend the required minimum of $12,000 (next year it's increasing to $15,000). But AA is constantly disappointing with their tightening customer service rules, dirty aircrafts, unfriendly flight crew, and seats that are getting tighter and tighter even in most domestic first class planes (ahem, 737 Max). So I'm almost ready to jump ship.
At the same time, I've been hearing rave reviews about JetBlue Mint (JetBlue's first class that's only available on some of their routes). I've been wanting to try it but didn't want to risk not getting my AA miles or the minimum spend to requalify. But when my wife, two-year-old son and I were flying JFK to LAX the day before Thanksgiving and American's economy prices were the same as JetBlue Mint's (I booked the tickets 10 days before the trip), I decided to make the switch on principle. Why should we endure a 5.5-hour flight in coach when we could do it in a lie-flat seat for the same price?
FYI: Tickets for JetBlue Mint on some flights were just a couple hundred dollars more than the economy fares but when you throw in checked bags and seat assignments with more legroom, it turns out to be just a few dollars more, so it's a no-brainer.
Here's what I loved and didn't love about the experience and how JetBlue Mint compares to American Airlines in all classes. All photos below are from our JetBlue trip.
Background
JetBlue Mint flies A321s between JFK and LAX, the same as American Airlines.
JetBlue (B6; yes, that's their two-letter airline code) has three classes of seats on this flight: Economy, Even More Space and Mint. Below is a seat map of JetBlue's plane configuration and you can see there are five rows of Mint. The seats are 2×2 except for rows two and four, where it's 1×1. Those single seats are perfect for solo travelers because they even have doors so it's almost like your own private compartment. Coach is 3×3 in coach but the Even More Space seats have 37-41 inches of pitch/legroom and 18-inch-wide seats.
FYI: American Airlines has four classes of service: Economy, Main Cabin Extra, Business, and First.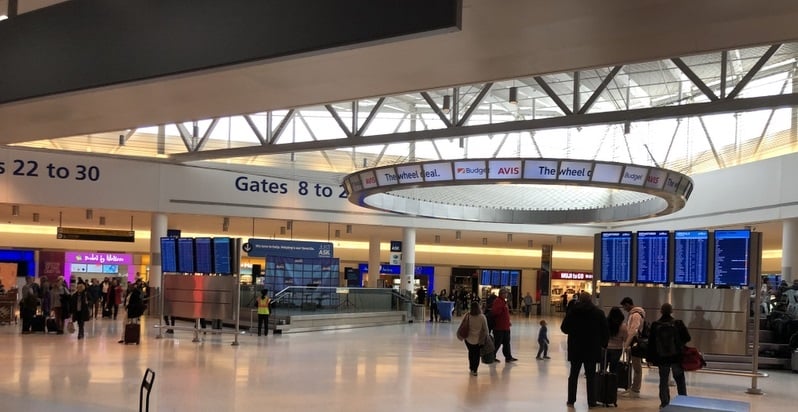 JFK airport
JetBlue flies out of T5 while American uses T8. Both have dedicated check-ins for first class but JetBlue's was friendlier and there was no wait. T5 is a tad nicer terminal with better restaurants but there's no club lounge so American wins this battle because they have excellent club lounges here.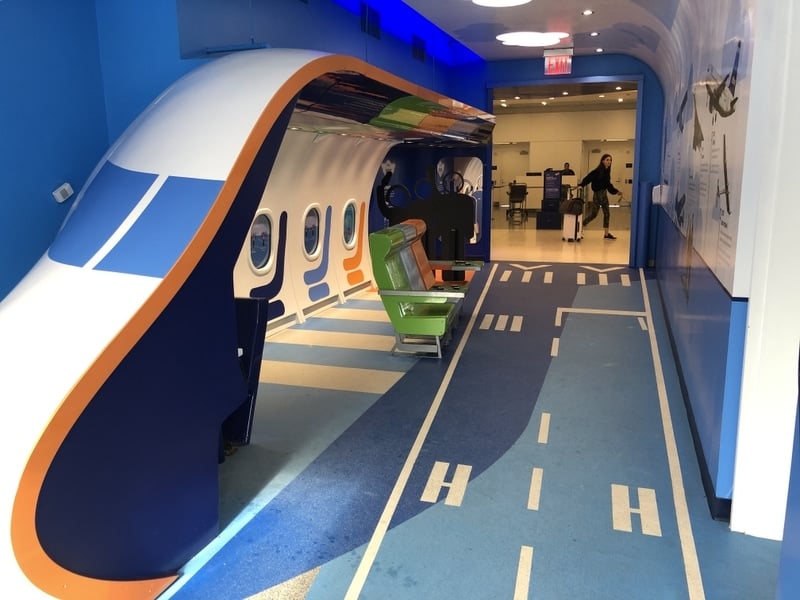 FYI: If you have a toddler like I do, JetBlue has an amazing airplane-themed play area for kids by gate 25.
Boarding
Very rarely on American Airlines do flight attendants actually greet passengers when they board and not many are even that friendly—even in premium classes. I've flown JetBlue three times in the past few months (only once in Mint) and they were always super friendly and greeted everyone.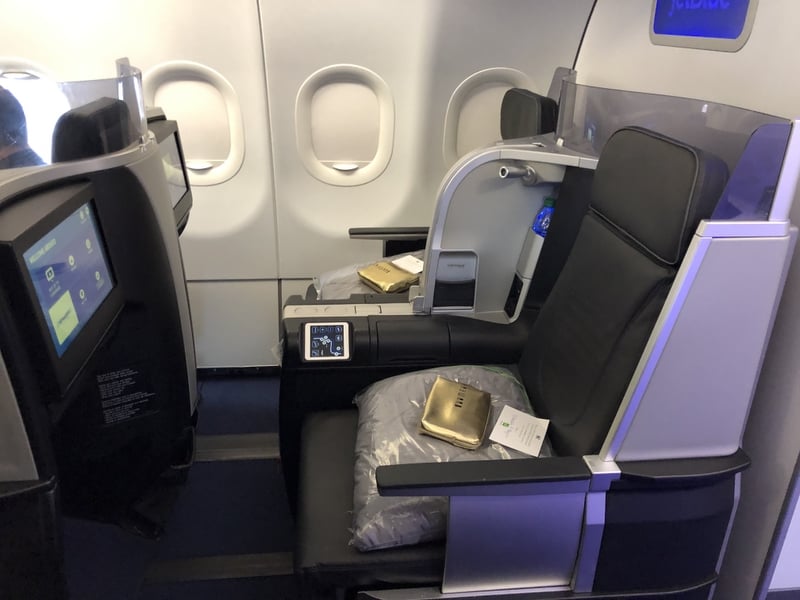 Amenities
Both airlines offer comfortable blankets and a pillow wrapped in plastic on each seat. They also offer a bottle of water and amenity kits. JetBlue's amenity kit has a lot more flair and the flight attendants write a handwritten note welcoming you onboard.
Pre-takeoff drinks
American offers champagne, water or orange juice as a pre-flight drink. JetBlue has their signature RefreshMint, which is a honey-infused limeade with a fresh sprig of mint that can be made with or without vodka.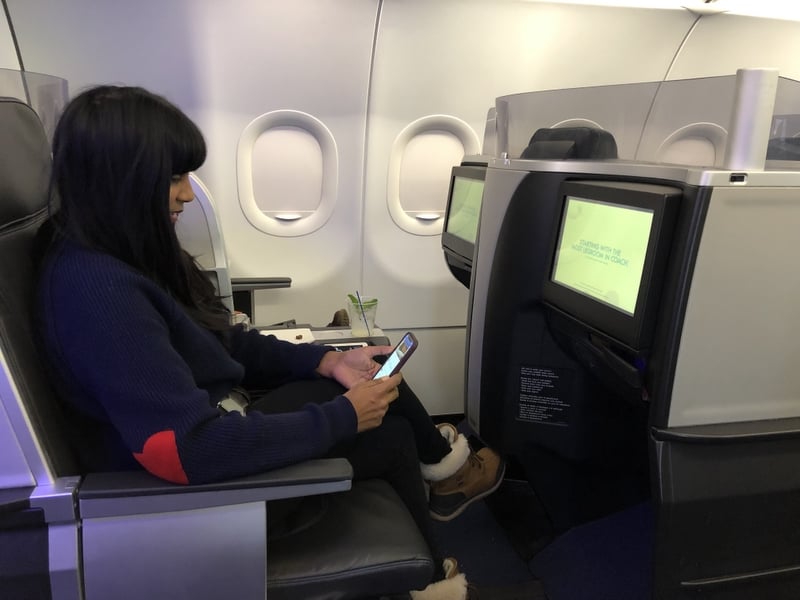 Seats
Both AA and B6 have plush lie-flat seats but JetBlue's have a larger footwell. That means if you have big feet like I do (size 13) then your feet don't get stuck as much.
Here are the seat measurements of all four classes in inches:
Pitch/bed length

American Airlines First: 62/82.5
American Airlines Business: 58/75-78
JetBlue Mint Closed Suite (1×1): 60/80
JetBlue Mint Open Suite (2×2) : 58/80
Width

American Airlines First: 22
American Airlines First: 21
JetBlue Mint Closed Suite (1×1): 22
JetBlue Mint Open Suite (2×2) : 20.5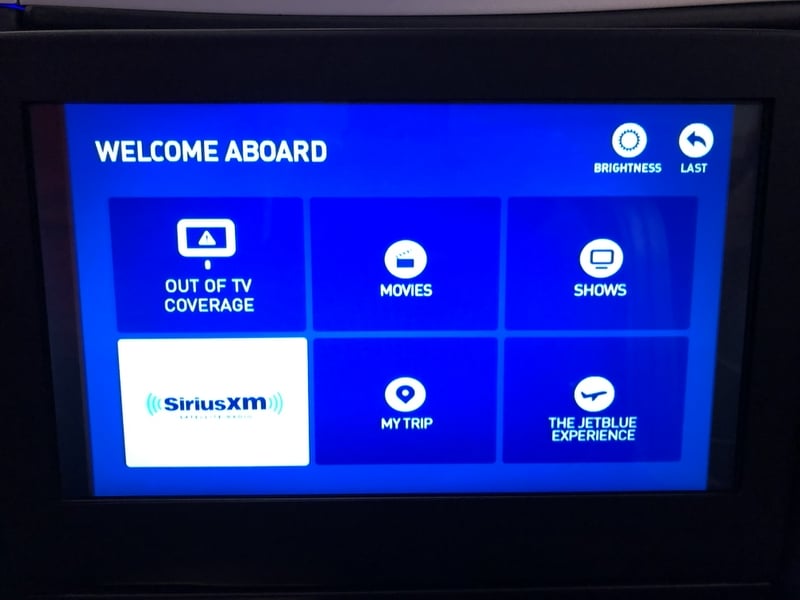 Entertainment Systems
Both airlines have large screens for their entertainment systems but JetBlue's seems brighter and clearer but on American, the screens have a privacy shield so you can't watch what your seatmates are watching. However, JetBlue offers Live TV (though the satellite connection cuts out often), Sirius XM Radio including a Canadian channel, and an Air Traffic Control channel.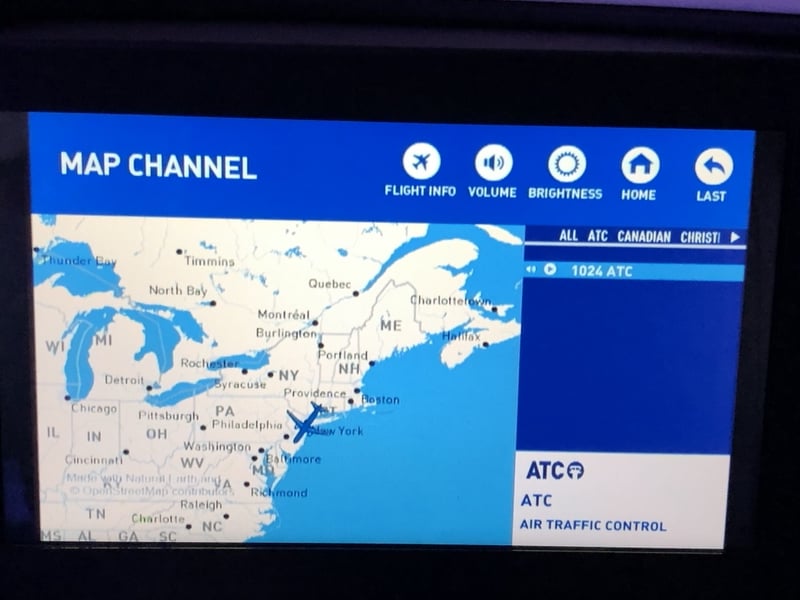 In-Flight Map
AA is getting rid of their entertainment systems on smaller planes (not the A321T), which is a shame because their inflight maps are so much better than JetBlue's basic maps.
Headphones
Both airlines have quality headphones but Jetblue uses hand-crafted SR60e headphones from Grado Labs in Brooklyn and they let you keep them until the end of the flight. American Airlines uses Bose noise canceling headphones but flight attendants collect them 40 minutes prior to landing (they do handout cheap plastic earbuds), which is a nuisance.
Wi-Fi
JetBlue easily wins this battle as their Wi-Fi is free and worked the whole time. American Airlines charges at least $16 and it can only be used for one device.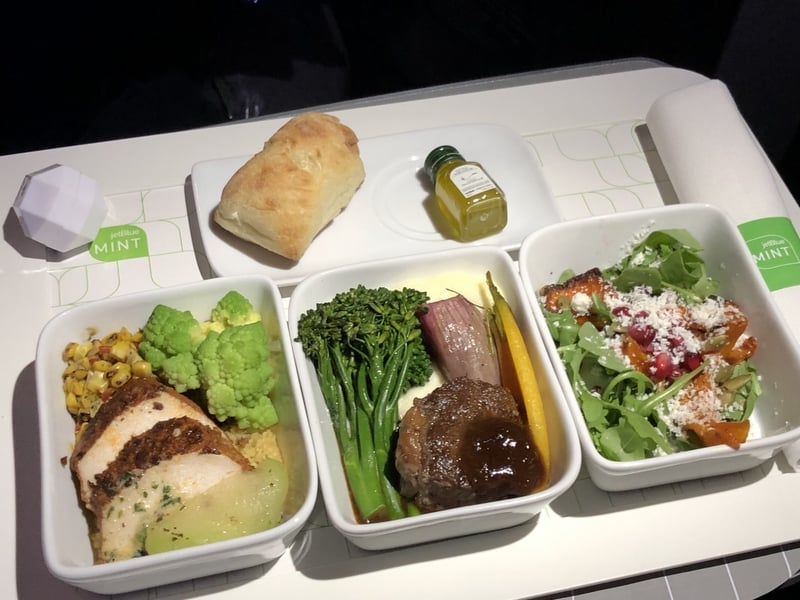 Food
JetBlue's menu consists of five seasonal small plates (passengers get to choose three) by renowned NYC restaurant Saxon + Parole. The food is solid…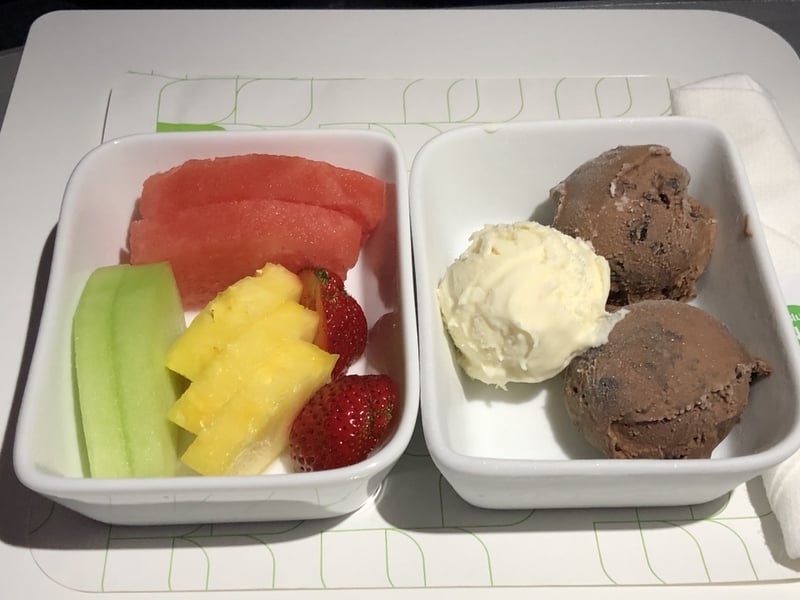 …though their local artisanal ice creams were literally solid and could have been used as golf balls. It took the ice cream 20 minutes to thaw, which was torture for a sugarholic like me. To see a copy of their latest menu for the direction you're flying, scroll to the middle of this page.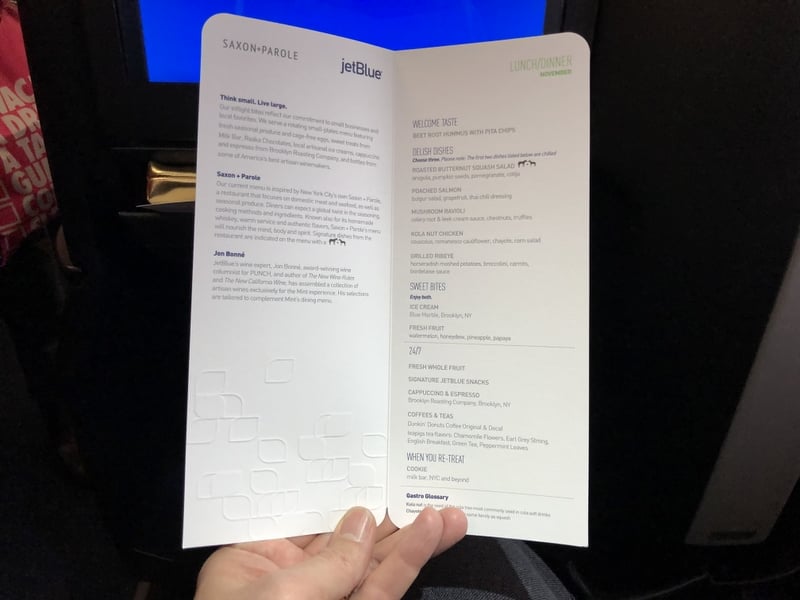 Ordering
American's food is getting better and you can pre-order 24 hours in advance. The only thing you can pre-order with JetBlue's is their kids meals, which needs to be done 48 hours prior to the flight. The flight attendant on JetBlue told me that if you're in the last row, you might not get your first choice. American takes orders and serves food from either front to back or back to front depending on the flight number. To get your choice, either pre-order or sit in the middle.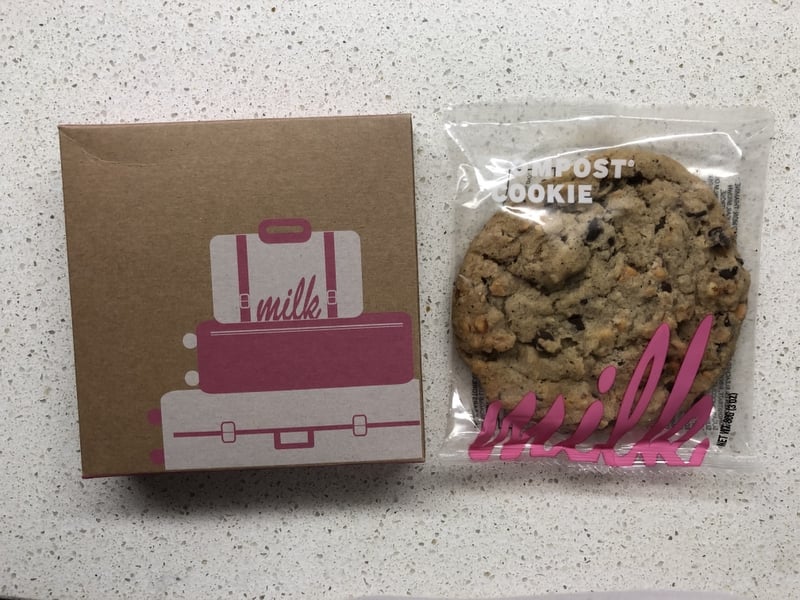 Cookies
Both airlines serve cookies but American's chocolate chip and snickerdoodle cookies aren't very good and who wants one after a sundae, anyway? On JetBlue, they hand out boxed and wrapped Milk cookies, which are delicious and you can enjoy later.
Drinks
I don't drink alcohol so I'm not a good person to judge but JetBlue does serve cappuccino and espresso from Brooklyn Roasting Company, and bottles of wine from some of America's best artisan winemakers, specially curated by their wine expert Jon Bonné. On American, each wine they serve goes through an extremely selective wine program led by Bobby Stuckey.
Lavatories
There's not much you can say about bathrooms but JetBlue's was much cleaner. I thought I noticed the flight attendant cleaning it and so I asked if he had just cleaned the bathroom. He said that he had "just tidied up" and they frequently spray peppermint in the loo so it smells so much better than AA's. I've never seen an AA flight attendant clean a bathroom, have you?
FYI: There are no curtains on JetBlue separating the classes like they have on American. But what's interesting is that it seemed that even without the curtain, fewer coach passengers used the first class loo.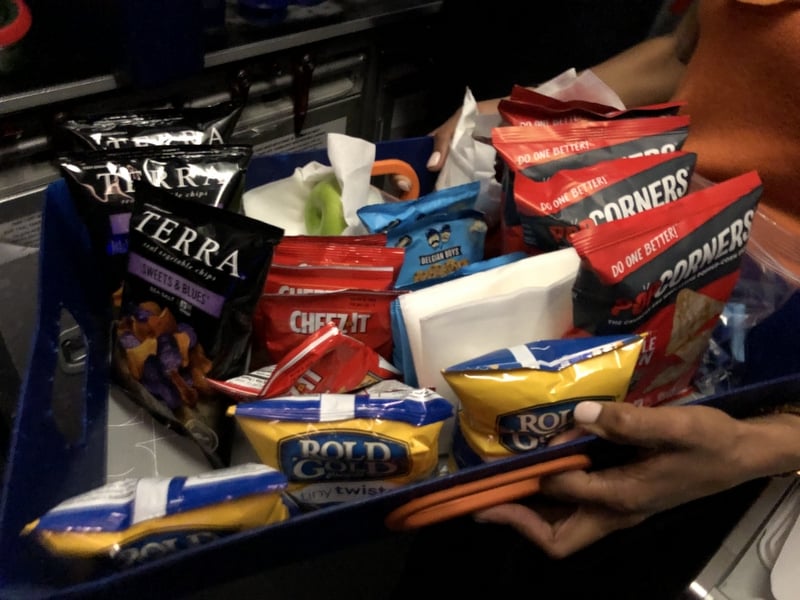 Mid-flight snack
Both airlines have a wicker basket they fill with treats. AA used to have amazing French fry potato chips but they stopped and their baskets aren't very good. JetBlue has Terra chips and PopCorners, which I like better.
For coach passengers on AA, you're pretty much held hostage for food and drink by the flight attendants, while on JetBlue, they have all of their snacks and drinks in a case at the front of the cabin so passengers can help themselves. However, AA just started giving all coach passengers on their LAX/SFO-JFK flights a meal (usually a sandwich), which is great.
Hot towels
Both airlines provide hot towel service after takeoff and prior to landing.
Parting gift
Again, JetBlue gives customers a delicious Milk compost cookie while AA sometimes passes out mints.
Good to know
The last row of Mint (Row 5) is next to the coach bathroom while on American the coach bathrooms are in the back.
Waiting for a gate
I've only flown JetBlue once to LAX but I was impressed that we didn't have to wait for a gate like we often do with American Airlines. Not sure if that was an anomaly or not.
Stroller gate check
I've checked a stroller dozens of times on AA and it usually takes at least 10 minutes for it to come out. On JetBlue, it took just three minutes. Impressive.
Baggage
I've waited over an hour multiple times for my luggage at LAX with AA and normally it's at least 30 minutes. Flying JetBlue, the bags came out within 15 minutes of landing. Not sure if they're always this quick but I was a happy customer.
Overall
American Airlines has a solid hard product between JFK and LAX/SFO in business and first and their 777 and 787 but their flight attendants for the most part aren't that friendly and their fares and change fees are ridiculously overpriced. JetBlue's Mint on the other hand is really mint. Both their hard (seats) and soft (food and service) products are top notch. If JetBlue flew to more places from LAX and had a better frequent flier program I would happily do the full switch. I'm already starting to slowly give them more of my business and after our flight last week, I hope there will be many more to come.
What's your favorite airline to fly in coach or first between L.A. and New York?