I've been Executive Platinum on American Airlines (AA) for close to a decade thanks to flying at least 100,000 miles a year and spending around $12,000 on AA or their partners. Due to the pandemic, I haven't flown much and American gave all of their frequent fliers a free pass in 2020 since not many people were flying.
I think AA is going to give all their best customers a pass again thanks to the Delta and now Omicron variants but it's not set in stone.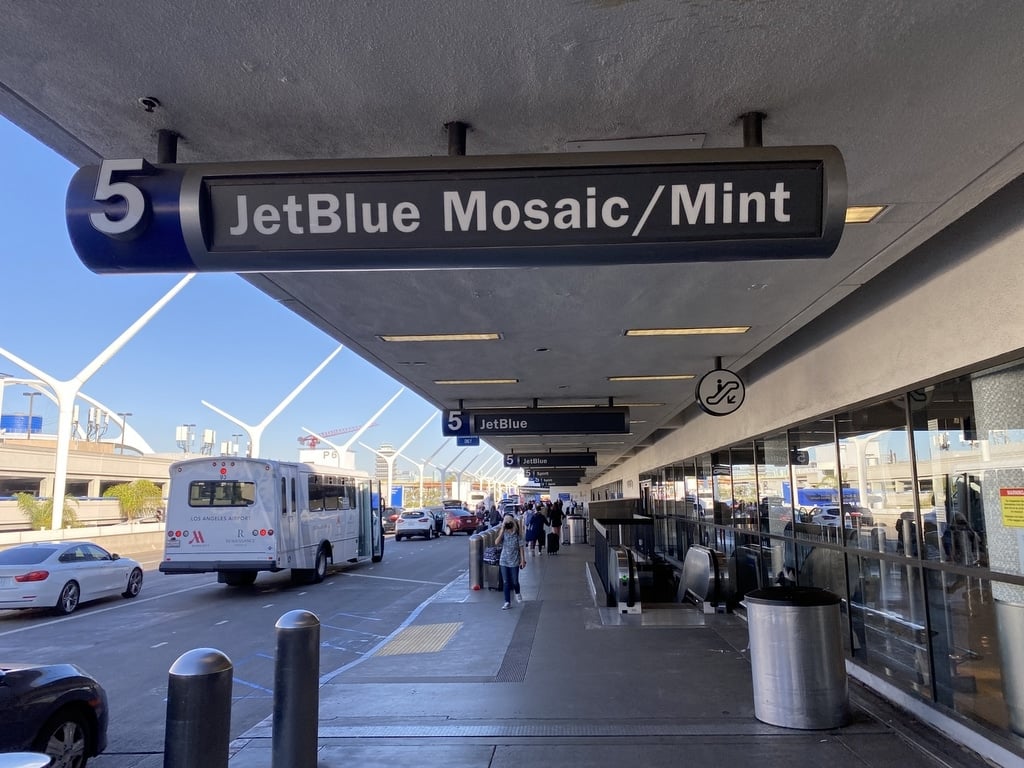 In late June, when the Delta variant started spoiling everyone's plans, AA announced a variety of much easier ways for elites to retain their status, including spending just $2,000 Elite Qualifying Dollars (EQD) on them or their partners.
To qualify for this promotion, the flights must take place between September 1 and December 31 and taxes and add-ons like upgrades don't count. I flew LAX-JFK in mid-November to surprise my dad and purchased the cheapest business class tickets ($600 each way) with American credits that I had left over from AA flights I had canceled when the pandemic began.
After those two flights, I needed just 790 EQDs. I thought I would be covered with an $822 American Airlines LAX-JFK business class ticket but when I looked closely at the fare and the amount of EQDs, I would still be short since $70 of the fare was taxes (and taxes and add-ons like upgrades don't count). Crazy, right?
Then I remembered I had JetBlue Travel Bank credits to use and that B6 (JetBlue's two letter airline code) recently became one of American's partners. Since I had a large credit I needed to use before it expires (it was for a trip in June 2020, which I booked in January 2020), I figured I had an easy and comfortable way to retain my elite status.
By the way: If you're wondering why I'm so keen on keeping my Executive Platinum status, it's because AA treats their top customers well: Free upgrades on domestic flights (if space is available), four systemwide upgrades a year (think: buying an LAX-Sydney coach ticket for $700 and flying business class, normally $7,500, for free with one of the systemwides), check-in at first class, three free check bags up to 70lbs for everyone on your reservation, a separate phone line so you don't have to wait more than a few minutes to speak to a U.S. based agent and more.
Do American Airlines Elites Get EQD's for Flying JetBlue?
I've asked multiple employees and frequent fliers and read a variety of websites including American's, JetBlue's that discuss AA and B6's partnership but no one knew for sure if I flew JetBlue between LAX and JetBlue if I would get credited for the money I spent towards American's EQD's. But because JetBlue's tickets were half the price of American's on Thanksgiving and the day after, I decided to roll the dice.
I booked two one-way tickets between L.A. and New York in Mint and I made sure I inputted my AA frequent flier when I made my reservation (there's a little drop-down menu on JetBlue.com that allows you to add one of their partner frequent flier programs). When JetBlue started sending me reminder emails about my flight a day or two before, I noticed one of my reservations had my JetBlue number and it wouldn't let me change it online.
I called JetBlue but the wait was long. I was given the option to text with an agent right away, which of course I chose. He made the change and I was off to New York.
If you're interested in reading and seeing photos from my LAX-JFK trip in Mint, here's that story.
American usually posts the amount of miles and EQDs accrued within hours, if not minutes, of their flights. The day after my flight, I started to get nervous that they wouldn't count since I hadn't booked the ticket on AA.com (I couldn't if I wanted to use my TravelBank credits).
Since I didn't want to have to do another mileage run, I decided to fly back on American. A few days before my trip, I took my own advice and booked a backup ticket on American, just in case JetBlue had operational problems or if I didn't get credited for my flight. Here's the 411 on this travel hack.
Flying last minute, especially on American Airlines and in Business Class gets real expensive and that's if you're lucky enough to even find space. Usually the JFK-LAX flights are sold out in Business for same day travel and First Class is crazy expensive, $2,700-$3,300 each way.
Here's the kicker. I plopped down $1,199 for a one-way ticket using a credit and thinking that if AA credited me my JetBlue EQDs I could cancel my AA ticket at the last minute and have a credit for a year. If I didn't get credited, I would take the AA flight. When I checked fares the day before the flight, my AA ticket had gone down by $300. Normally, I would call American up and get a refund but I couldn't since I needed the extra EQDs. It's crazy, I know.
I almost killed my phone's battery checking my AA account so much throughout the day and speaking to a friend who's Executive Platinum and had just flown JetBlue, who said that since I hadn't booked the ticket on JetBlue.com, I wouldn't get it.
So I flew back on American and I have no regrets because at the gate, I got upgraded to First Class for free, which right there shows you the value of being Executive Platinum. On the short ride home from LAX, I checked my AA account and saw that I'd been credited for the flight I'd just taken but not for my LAX-JFK flight on JetBlue so I was happy I made the switch.
However, I am happy to report (and it is somewhat bittersweet) that the next day (about 48 hours after my JetBlue flight), American did indeed credit me miles and, most importantly, EQD's from the JetBlue LAX-JFK to my account.
So the short answer is to the question posed in this article's headline is YES! American Airlines elites do get EQDs for flying JetBlue, even when booking on JetBlue.com.
Note: The only thing I didn't do, which I should have, was ask the question on a specific FlyerTalk thread since they have so many frequent fliers sharing information.
Updated: 36 hours after my JFK-LAX flight posted, I received this email from American: "Congratulations on again reaching American Airlines AAdvantage® Executive Platinum status. You've spent a lot of time in the skies, and we're glad you chose to spend that time with us."