A big thanks to Hilton Hotels for hosting our stay so we could provide this detailed review of our experience. This post contains references to products from one or more of our advertisers. We may receive compensation when you click on links to those products. For an explanation of our Advertising Disclosure, visit this page.
If you were following along with our trip to both the San Diego Safari Park and the San Diego Zoo, then you know that we spent the weekend at the Hilton San Diego Bayfront. The drive from the San Diego Safari Park to the hotel was 35 minutes. RELATED: Our Family Trip to the San Diego Safari Park and the San Diego Zoo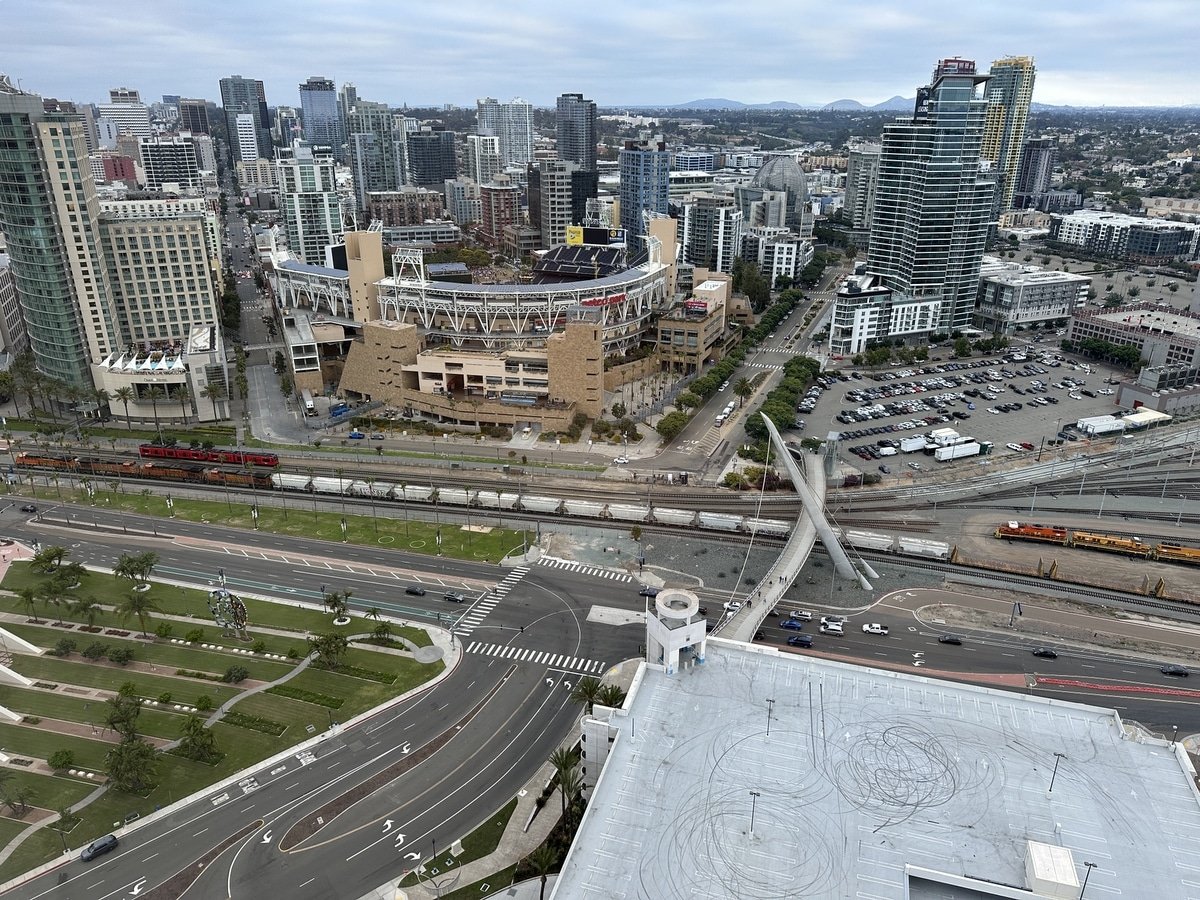 The Hilton San Diego Bayfront is in a great location – a little bit coastal, a little bit urban. While it may be ideal for business travelers, especially those attending a conference or trade show at the Convention Center across the street or in the hotel itself, it's also a great spot for anyone looking to enjoy the many sites and attractions in and around San Diego, like we were.
And it's pretty family-friendly, too. For example, for a period during the month of October, the hotel transforms into the San Diego Hilton Boofront, which means family-friendly activities like a Halloween Dog Costume Contest, candy upon check-in, Halloween movie night, spooky arts and crafts and more. See here for details.
I haven't stayed in downtown San Diego since the pandemic began and the city has changed. It was eerily quiet. I'm sure the gloomy skies had something to do with it but whenever I looked out the window, the streets were pretty much deserted, although, keep in mind, the Padres were out of town. Our hotel, however, was not deserted.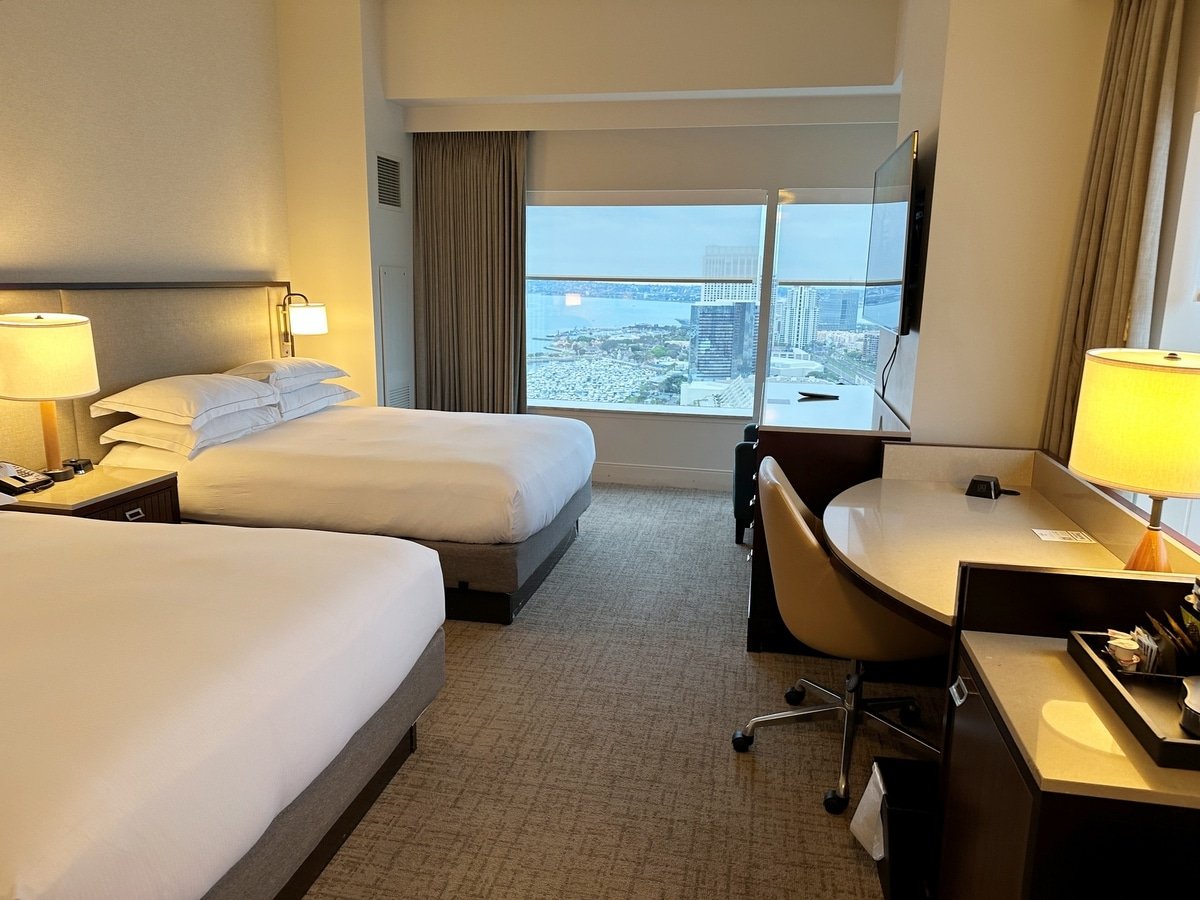 Hilton San Diego Bayfront
The Hilton San Diego Bayfront was hopping. I think there were four weddings happening, not to mention travelers from all over the country and world visiting. Whenever I rode the elevator, there was a different accent from Southern to German and Korean. The 30-storey hotel has 1,190 guest rooms, including 30 suites. We were on the top floor and the views were amazing. I just wish we'd had sunny blue skies that weekend.
There was no line to check in but we were fortunate because the following day, the hotel's computer system temporarily went down.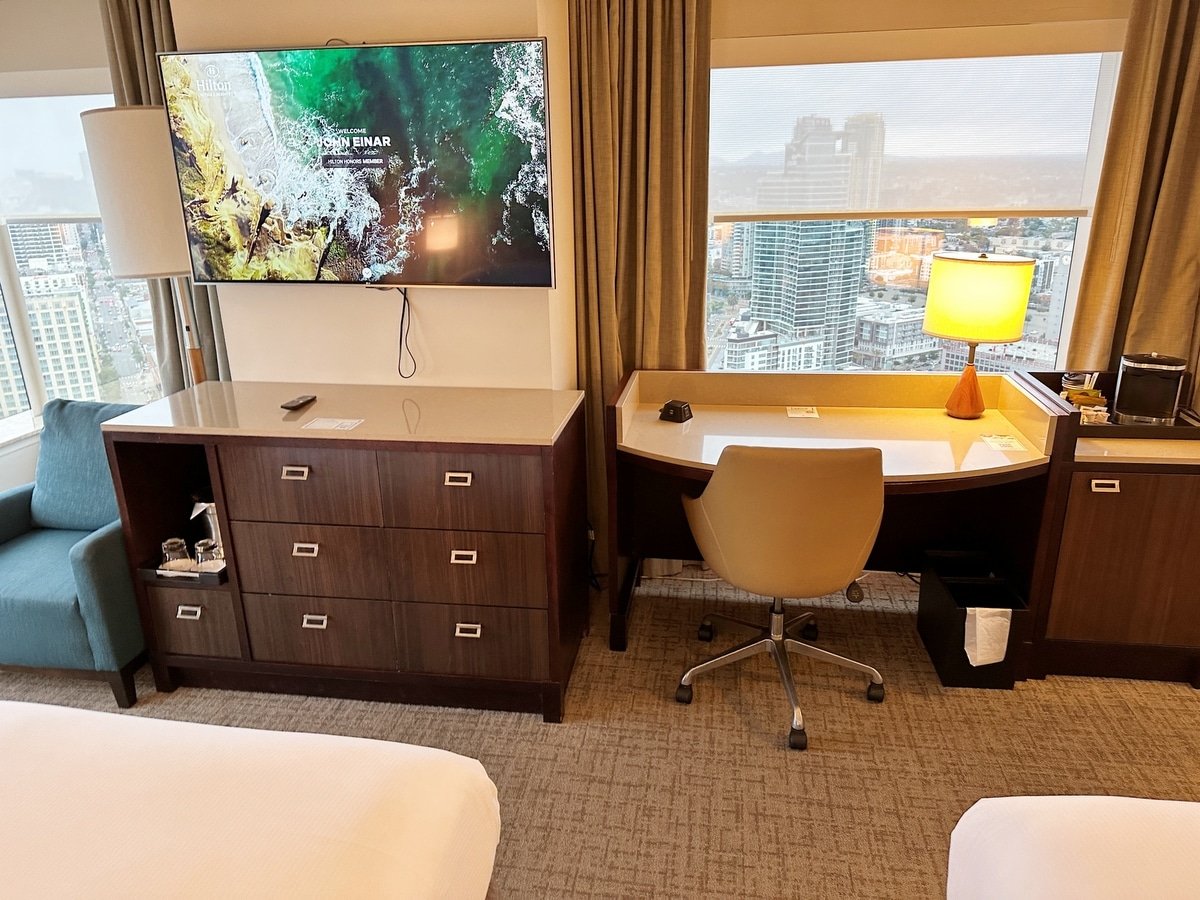 The rooms are clean and modern. The hotel completed a $23 million refresh of all guestrooms and suites in 2019.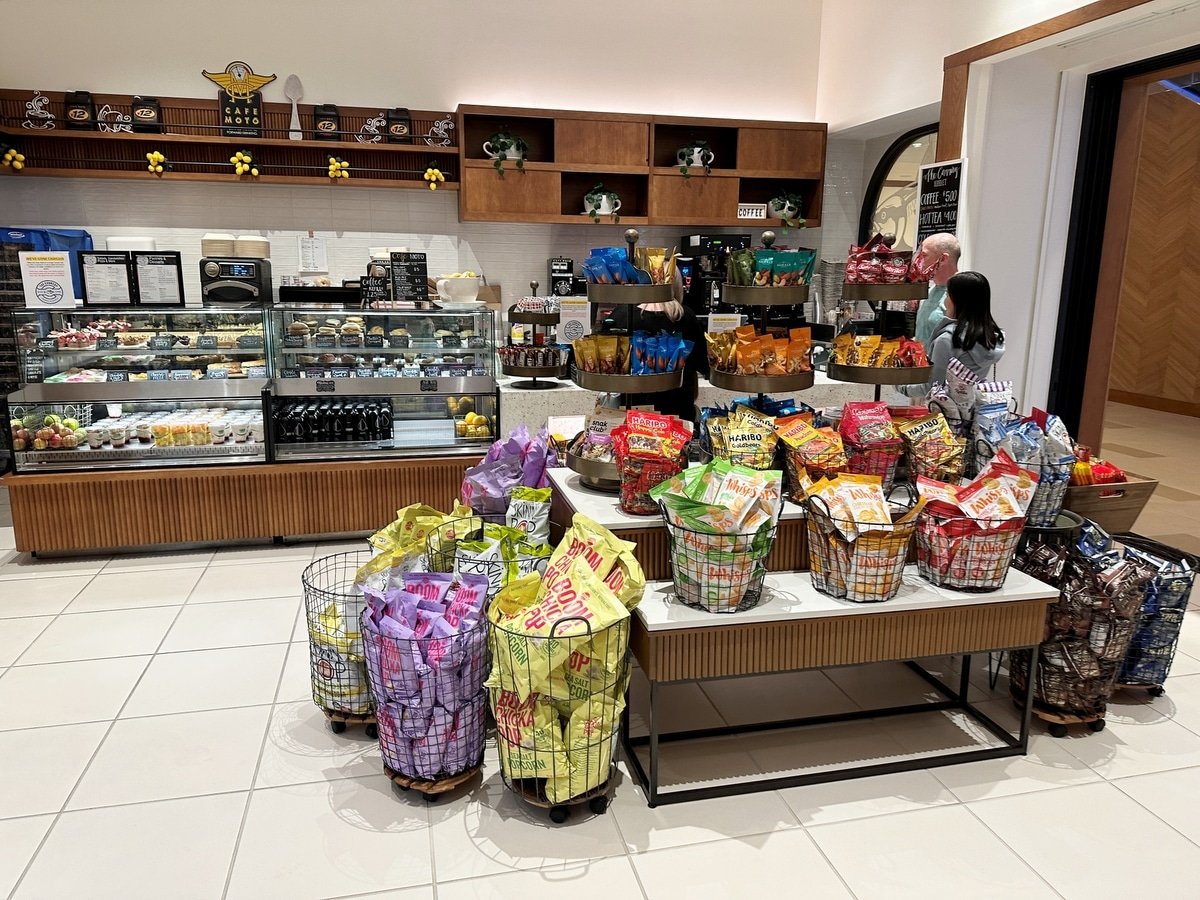 Marketplace
As a Hilton Honors Gold member, I received four tokens to take down to the hotel Marketplace to collect free reusable bottles of water. It would be better if they handed the bottles to guests at the front desk like most hotels do but this was a smart way to get guests to check out the good-looking store on the ground floor.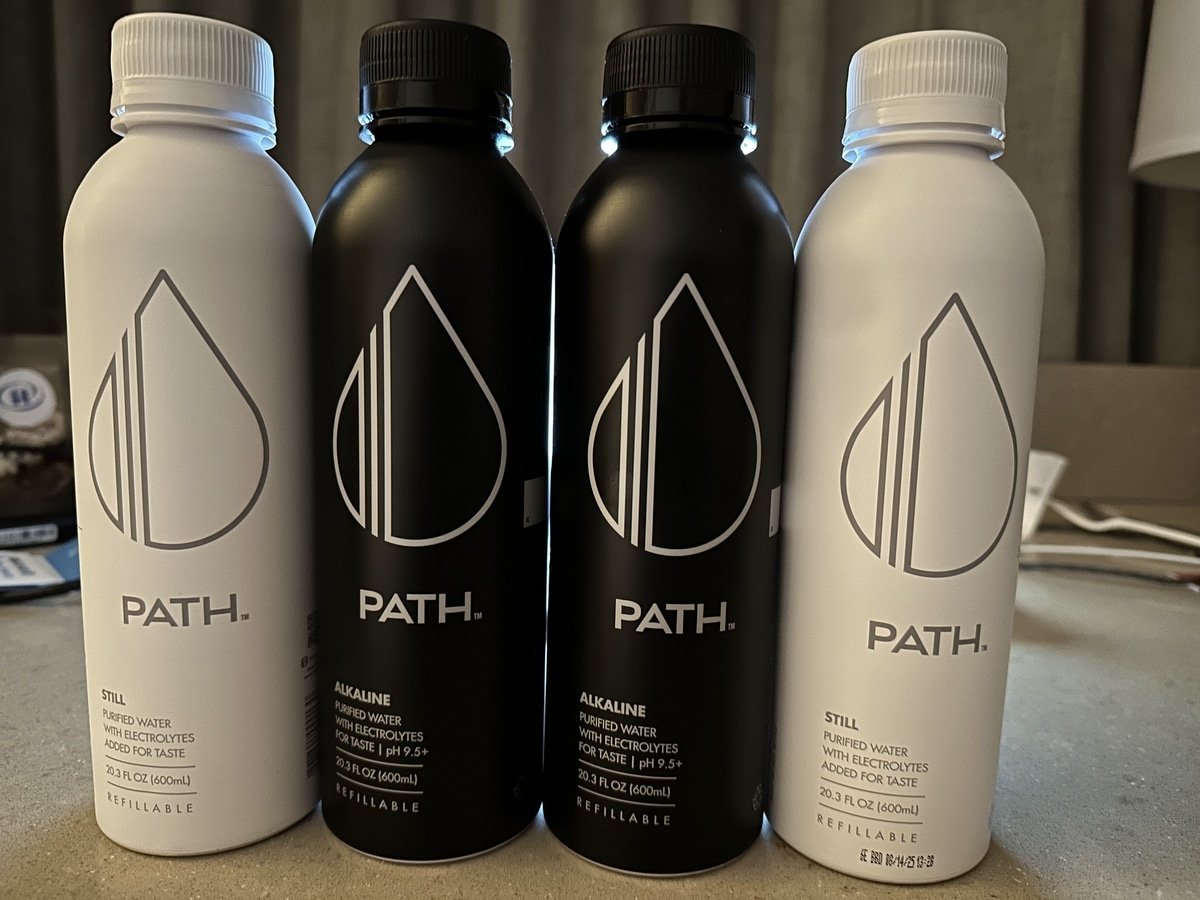 My kids were with me and the clerk suggested I get the still water in the white bottles for them and the alkaline water in the black bottles for me and my wife. FYI: The Marketplace closes at midnight. Across the hall is a gift shop, which closes at 9pm.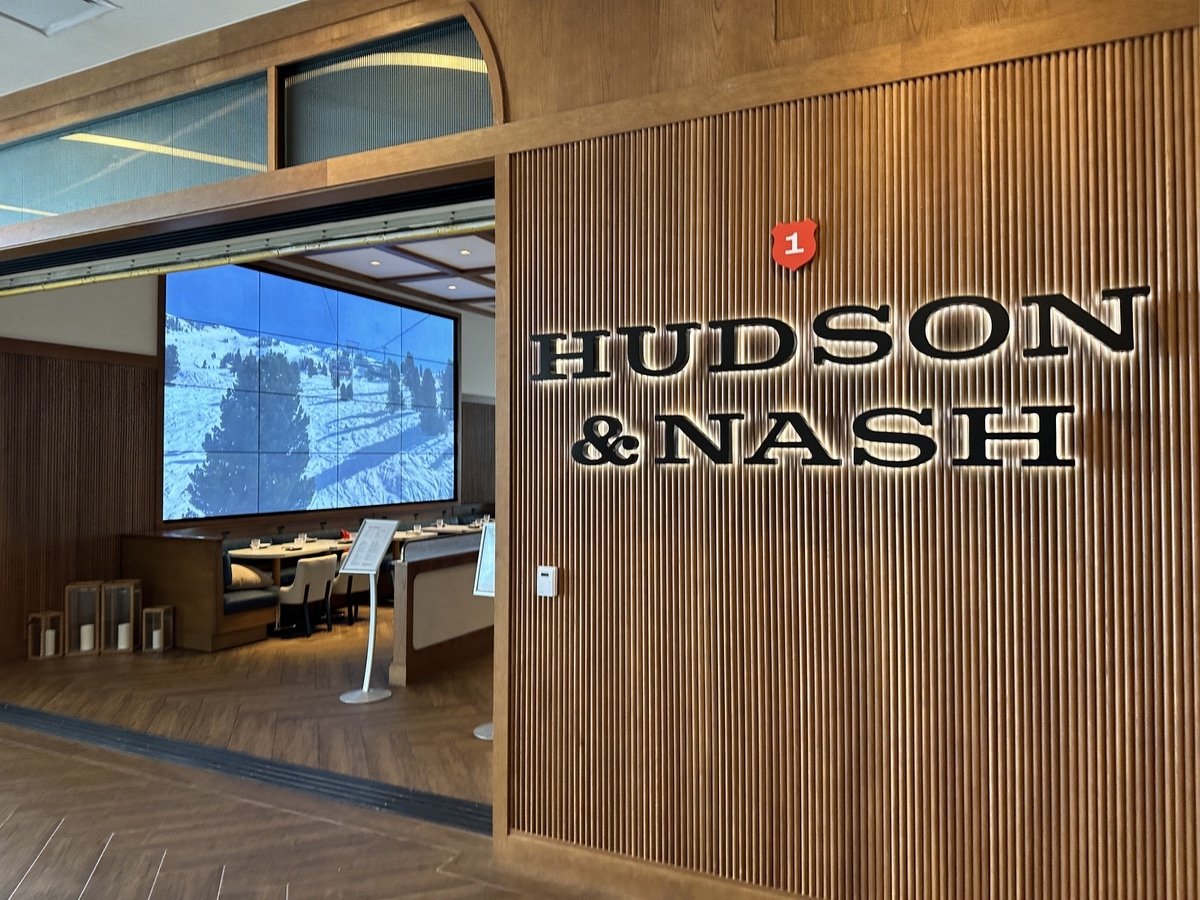 Hudson & Nash
Next door to the marketplace is the hotel restaurant Hudson & Nash.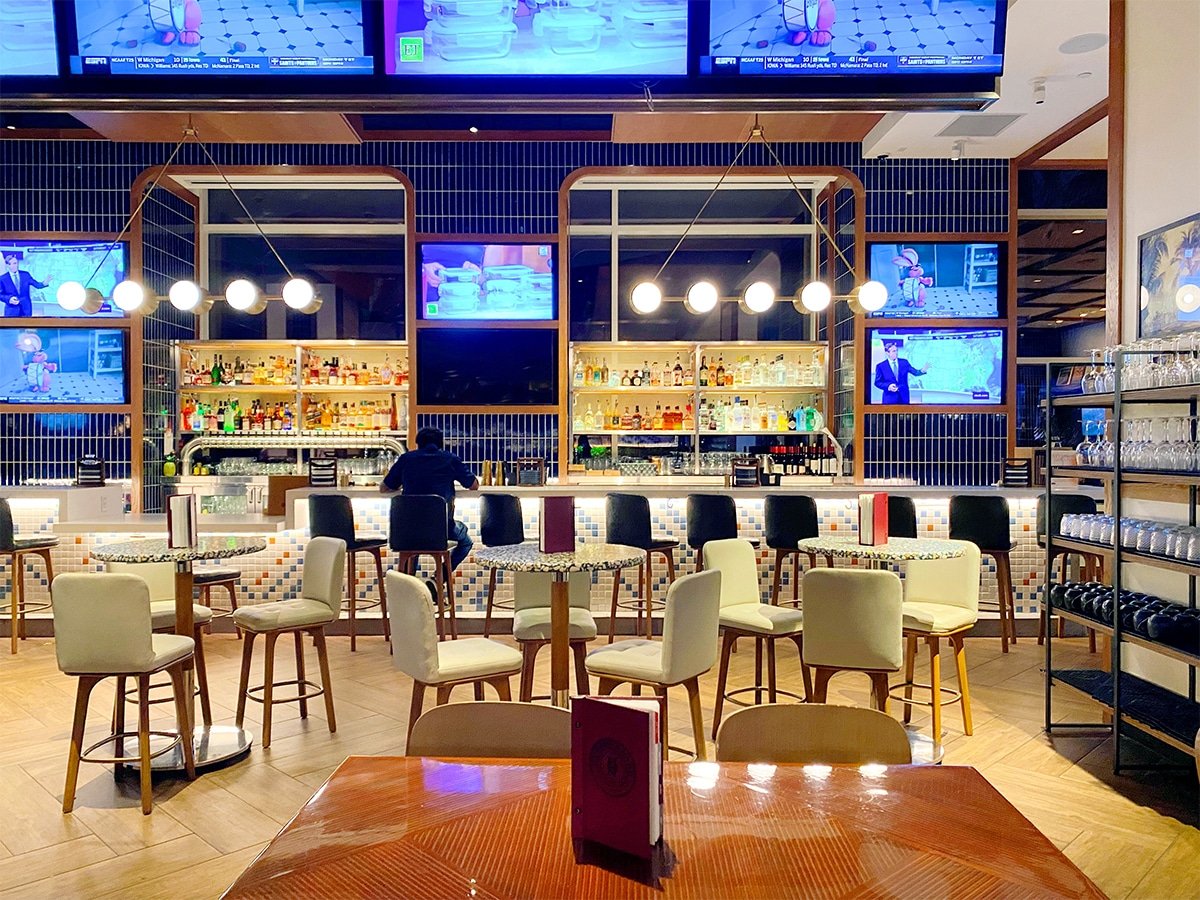 They have a beautifully designed bar and a small lunch menu with burgers and pizza all day. The larger dinner menu service starts at 5pm. Our waiter, originally from Boston, was so friendly. My wife and I weren't very hungry since we'd had Mexican food just a few hours earlier, but our kids were 'starving.'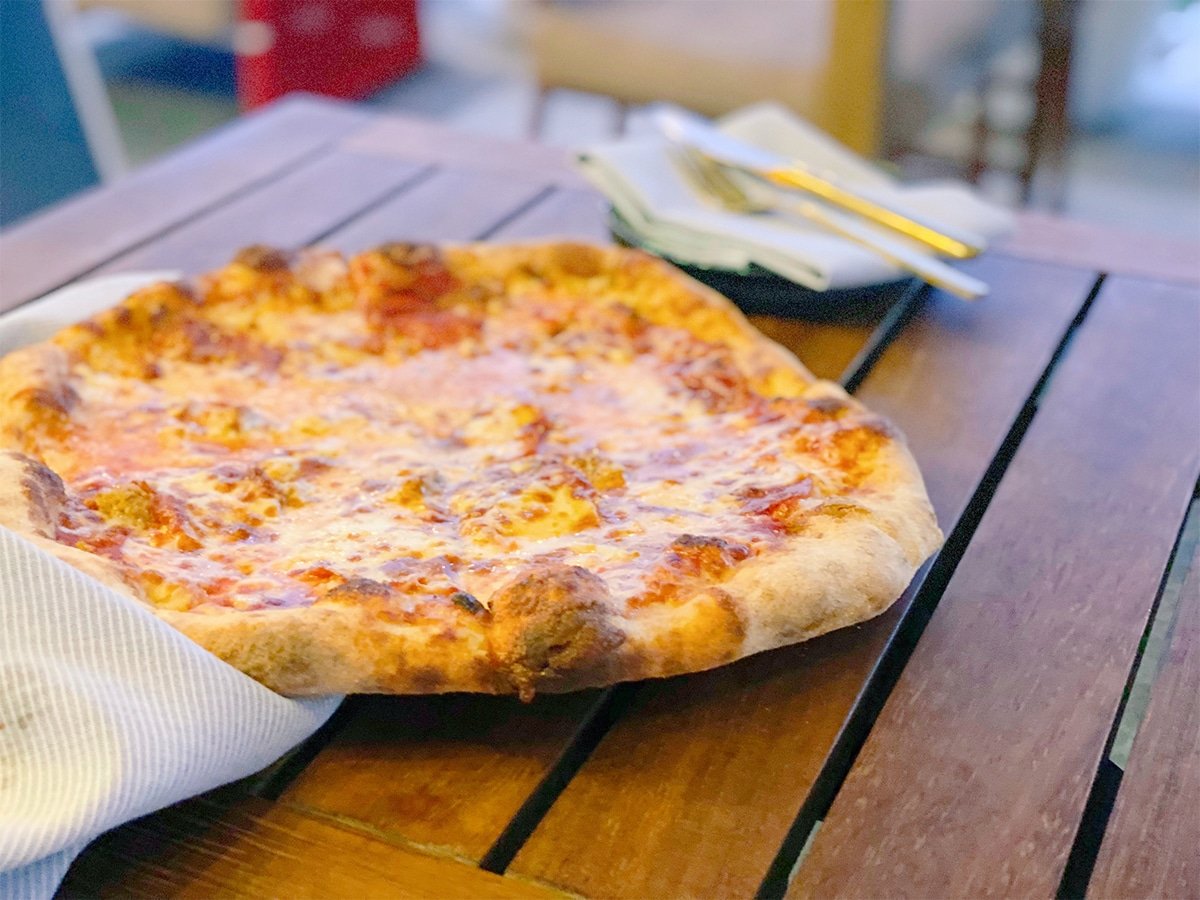 They had the mac and cheese and butter noodles and we split a pizza from their bar menu. It was all delicious. Pizza is getting better in California.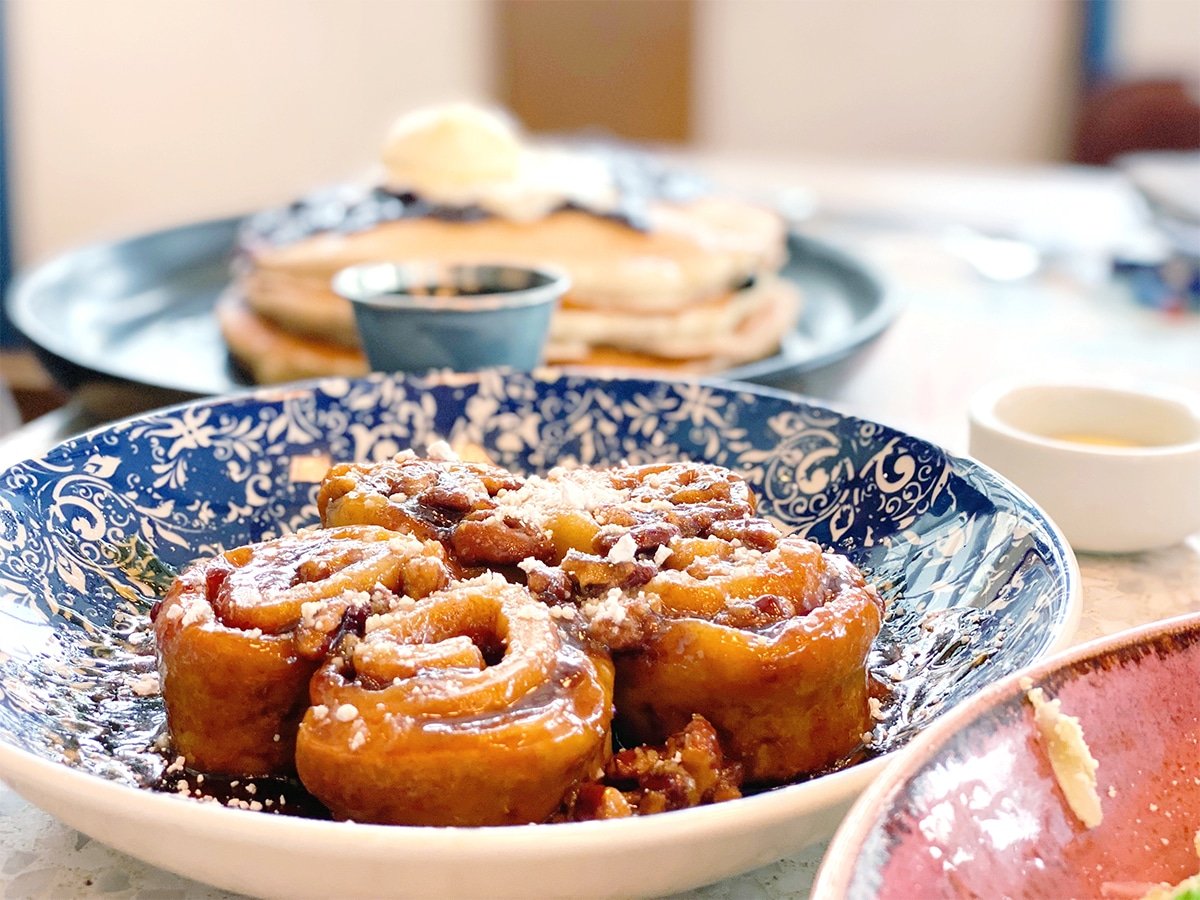 The next morning, we enjoyed a lovely Sunday morning breakfast, complete with chilaquiles, pancakes and sticky buns.
Location
The location of the hotel really is perfect, especially if you're attending an event at the San Diego Convention Center, which is about 100 steps away. The hotel is also just across the street from PETCO Park and the Gaslamp Quarter, San Diego's lively downtown neighborhood.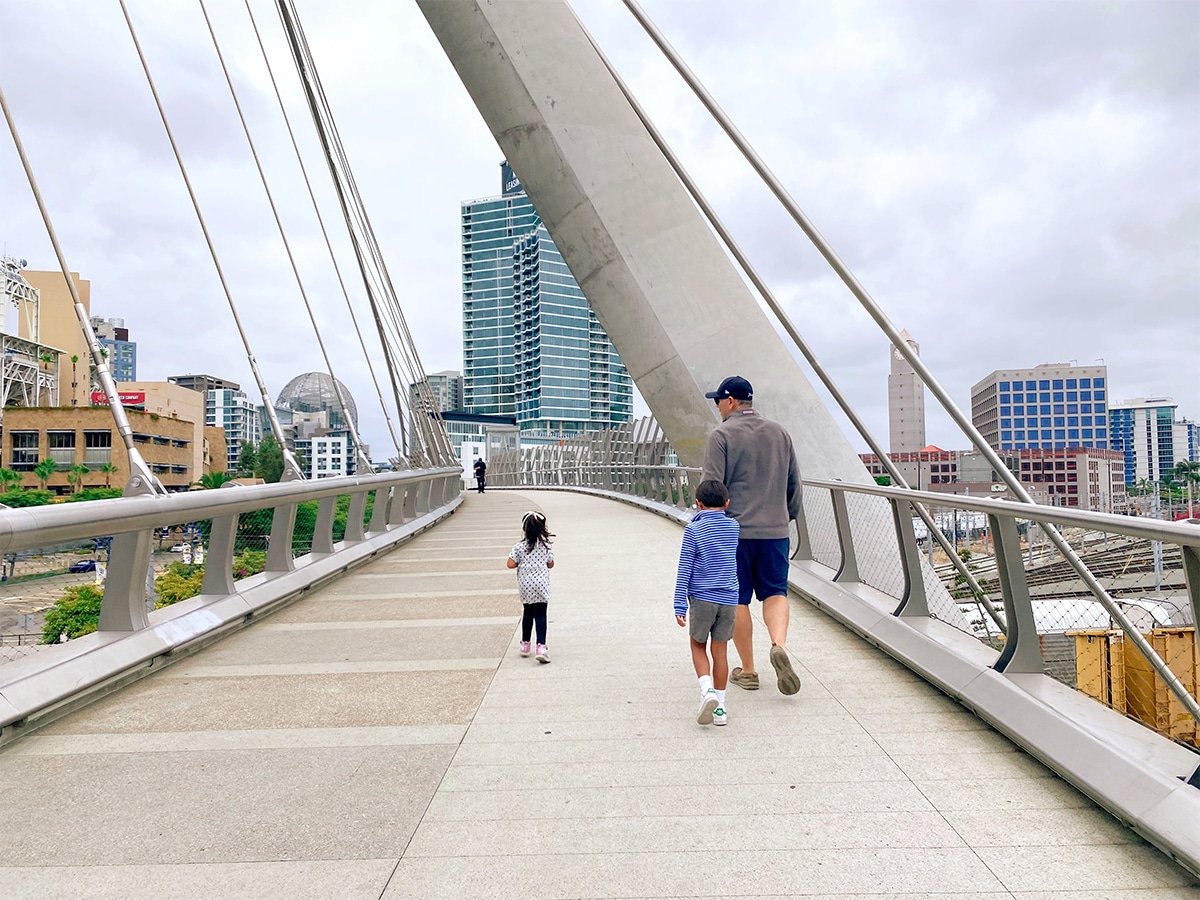 We took the pedestrian bridge connected to the hotel's parking garage to grab lunch at Lolita's, which is right next to the stadium and  it took just five minutes.
Another reason business travelers love San Diego is that the airport is just three miles from downtown. BTW: The Hilton has 170,000 square feet of indoor and outdoor event and meeting spaces.

There is a Starbucks on property, as well as an ice cream shop called Sweet Things. To access them, guests have to take the escalator all the way down and go outside.


The Hilton offers daily housekeeping and for those who don't carry a lot of cash, you can tip housekeeping by scanning the QR code found on a card on the room's desk. RELATED: How Much I Tip Hotel Housekeepers and My Trick to Make Sure They Get It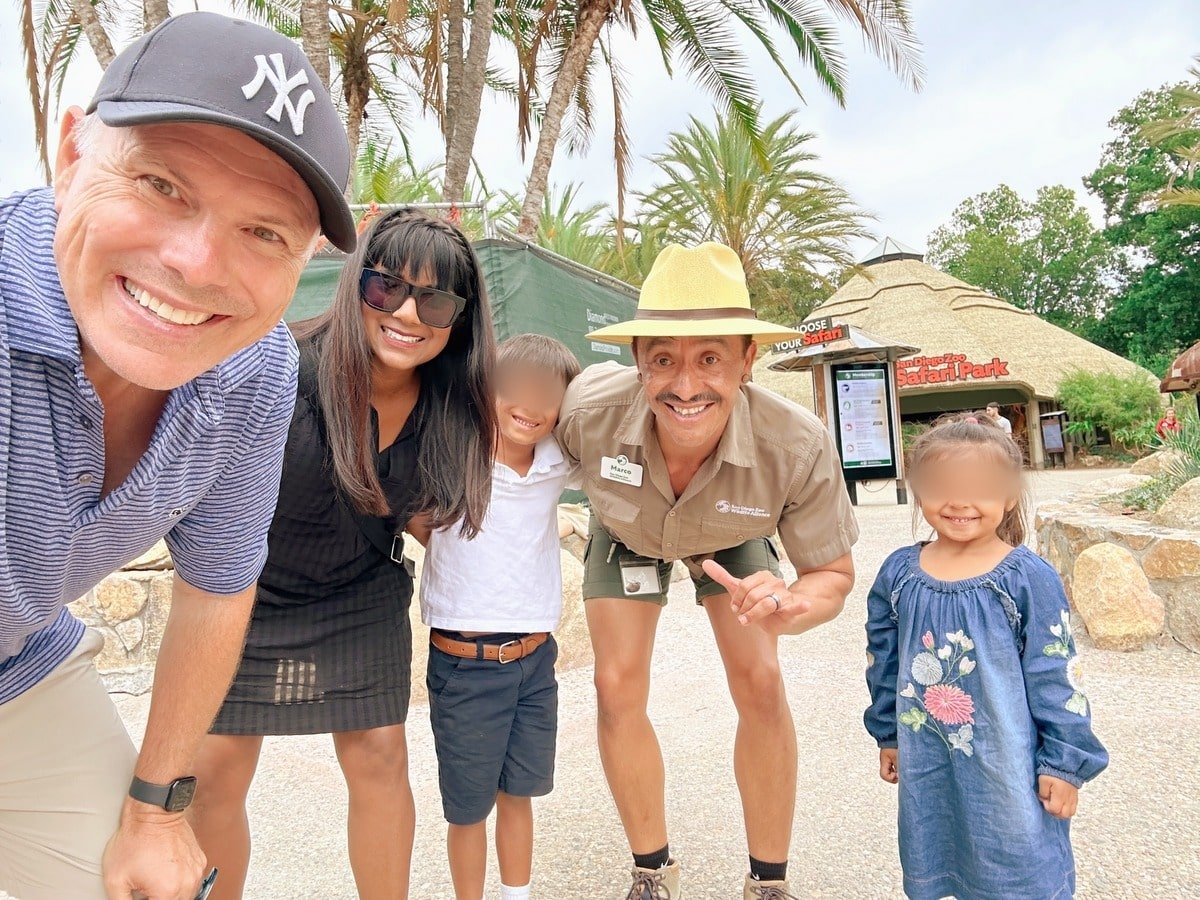 Overall, we had a great stay at the Hilton San Diego Bayfront and it was the perfect location for our weekend trip to visit the San Diego Zoo and the San Diego Safari Park, both of which the whole family loved.
KEEP READING:
–12 Passport Tips That Will Save You Time, Money and Headaches
–The Most Important Thing I Do When I Travel Internationally Is …
–Rick Steves Got Pickpocketed in Paris: Here's What He Wants You to Know
–The Most Important Thing For Travelers to Do According to a Safety Expert
–What You Need To Know About Renewing or Getting an Emergency Passport in the U.S.
Want more travel news, tips and deals? Sign up to Johnny Jet's free newsletter and check out these popular posts: The Travel Gadget Flight Attendants Never Leave Home Without and 12 Ways to Save Money on Baggage Fees. Follow Johnny Jet on MSN, Facebook, Instagram, Pinterest, and YouTube for all of my travel posts.