I interviewed Kevin Coffey (you can listen to the interview on my podcast or watch it on YouTube). He's a travel security expert, who's been featured numerous times on Oprah, CNN, Fox News, ABC's 20/20. I've spoken many times at the same travel conferences as Kevin; he's a great guy and knows his stuff. RELATED: This anti-theft crossbody bag can help keep your passport safe when you travel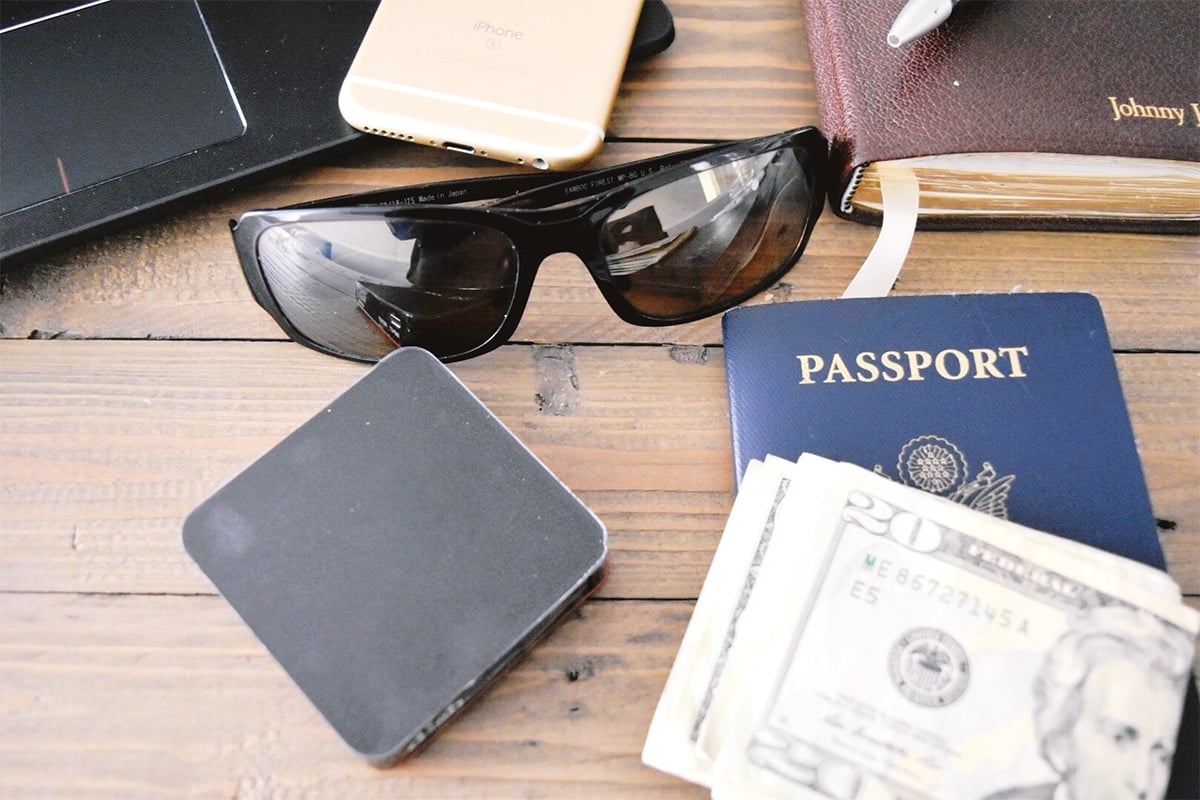 This post contains references to products from one or more of our advertisers. We may receive compensation when you click on links to those products. For an explanation of our Advertising Disclosure, visit this page.
 That's because Kevin spent several decades as a detective with the Los Angeles Police Department and was responsible for the creation of the LAPD's LAX Airport Crimes Investigation detail. There, he led the investigation of crimes committed against travelers at LAX airport, surrounding hotels and car rental agencies. Now you can see why I asked Kevin to come on my podcast. He has tons of stories and tips and he's so knowledgeable and interesting, he can speak for days!
In this interview, he taught me numerous tips but none greater than what he calls his "What If?" Kevin's tip is for travelers to do two things:
If you have a US passport, go to page three and fill out the In Case of Emergency page. In addition, he says to put either a sticky note or paper clip a piece of paper onto the inside cover with more In Case of Emergency information, mainly your cell phone number and those of your loved ones who are and are not traveling with you.
RELATED: The Most Important Thing I Do When I Travel Internationally Is … 
He used an example of a client of his who accidentally dropped her passport on the L train on the way to Chicago's O'Hare International Airport. Because she had that information inside, the person who found it was able to contact her immediately so she didn't miss her flight.
He also said it's important to do this in the event that you're traveling solo and you get in an accident or have a medical emergency. The first thing trained emergency workers do is go through your wallet to find contact information and if you're traveling internationally, this will help enormously.
My mind immediately went back to Tallin, Estonia when my wife (then girlfriend) and I were on a luxurious Seabourn Cruise. We went on a bike tour and the cruise line told everyone to bring their passport with them. My wife, a rookie traveler back then, made the foolish mistake of putting her passport in her back pocket. She didn't realize that passports on the black market can go for close to $5,000 USD and that if you lose your passport, you're screwed.
It's a long (and entertaining!) story, which you can read here but the short story is that when she realized her passport was gone, we retraced our steps and as fast as we could. The tour company even sent a guide to backtrack. We figured we would be okay because she had both a scanned and paper copy of her passport, as well as her old, recently expired passport. Unfortunately, the ship's captain said she would not be able to sail to the next destination because Poland (as well as other countries) would fine the cruise company a massive fine if they let someone sail without a valid passport.
Her only option was to go to the Canadian Embassy (she's a Canuck) and see if they could help. They couldn't do much except issue an emergency passport; she would need to spend the night in a hotel and take the first flight back to Canada, all at her own expense. Not only was it going to cost over $2,000 but our dream Baltic cruise was about to come to an abrupt ending – at least for her. Fortunately, there was a happy and emotional ending, which you can read here.
The point is: If we'd had that piece of paper with our cell phone numbers or the ship's contact information, we wouldn't have been put through the wringer.
KEEP READING:
–10 Passport Tips that Will Save You Time, Money and Headaches
–The Lost Passport Miracle and Its Takeaways
–How to Renew Your Passport From Home
–How to Make Passport Renewals Easier Than Ever
Want more travel news, tips and deals? Sign up to Johnny Jet's free newsletter and check out these popular posts: The Travel Gadget Flight Attendants Never Leave Home Without and 12 Ways to Save Money on Baggage Fees. Follow Johnny Jet on MSN, Facebook, Instagram, Pinterest, and YouTube for all of my travel posts.