I've flown with an array of Hollywood, rock, and sports stars. Everyone from Pelé to John Travolta to Billy Corgan. I spotted most of them when I commuted for three years every other weekend from Los Angeles to New York to see my ailing mother. RELATED: Music Legend David Foster and Celebrity Friends Serenade AirAsia Passengers With Mini Concert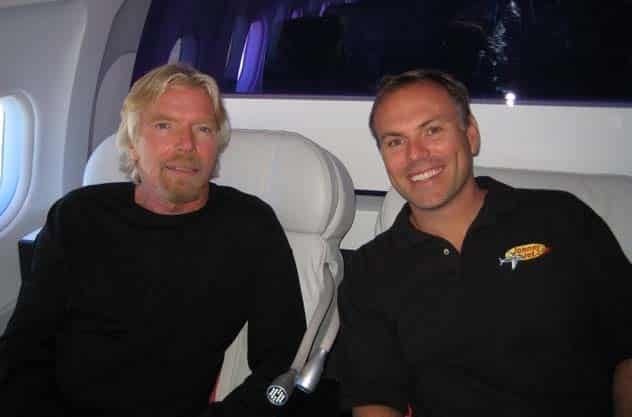 Back then, I always took the same airline, and usually the same flights (the late ones), so I got to know all the gate agents and flight attendants. Since I always treated everyone with respect and would regularly bring them a box of chocolates and JohnnyJet.com T-shirts or patches, I ended up getting the royal treatment. Many times, I would get upgraded for free, not only to business class but to first class, so I've sat next to or near a ton of stars.
I've seen it all, including Sandra Bullock waiting for Matthew McConaughey plane side at midnight, before their relationship was public.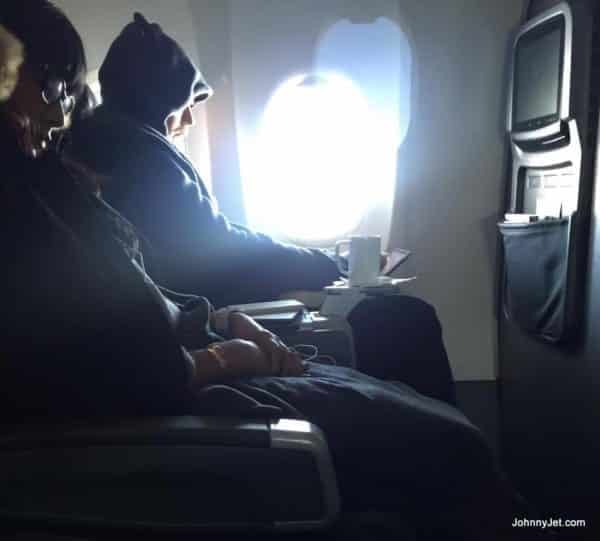 Once, my wife and I both got upgraded to first class on our LAX to Chicago flight, thanks to my Executive Platinum status on American Airlines (you have to fly over 100,000 miles a year on American Airlines to earn Executive Platinum). We couldn't get seats together but were able to sit across the aisle from one another in the first row of first class. What's funny is that just before the flight attendants closed the door, I leaned over to Natalie and told her I bet she'd have a celebrity sitting next to her since they usually like seat 1A (it's 3A on some of American's planes) and they are usually the last to board. Sure enough, a minute later, Billy Corgan from the Smashing Pumpkins sat down next to her (photo above). He was a cool guy but we didn't ask him for a picture.
One of my best celebrity stories was when American Airlines invited me to try out their helicopter service from Manhattan to JFK and then fly to L.A. After landing, I went into the Admirals Club to get a better picture of the helicopter. As soon as I turned around, I bumped into one of my old friends from Connecticut, who was a bigwig on Wall Street. He said he was flying out to L.A. for a meeting, then returning the next day with his team. He asked where I was sitting. I saw his nice business class ticket and said with a slight frown, "Just a few rows from you." As we were walking out of the club, he said, "Look, there's Debra Messing." My friend predicted she would be on our flight. I joked, "Yeah, she'll probably sit next to me." I knew my friend's thought: Sure—keep dreaming! Like she's flying coach? I didn't tell him I had a first class ticket. You should have seen his reaction when he got on the plane and saw you-know-who sitting next to Debra Messing. It was priceless!
BTW: When I boarded that plane, Debra was sitting in my seat, 1A. When I said, "Hey, you're in my seat!" she said, with doe eyes, "Do you mind if I switch with you? I'm in 1B." I kindly obliged but that gives you an idea how much celebrities like sitting in the first row window seat.
Another time, I saw Jennifer Lopez take 1A and right after takeoff, she reclined her lie-flat seat, put the blanket over her head and slept the whole LAX-JFK flight.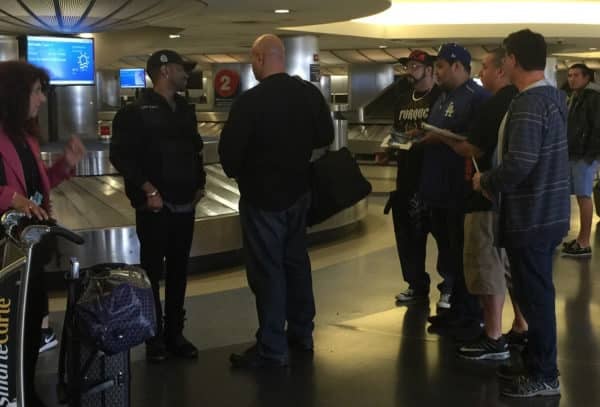 Sometimes celebrities prefer the last row of first class. On one of my flights, Big Sean (he's a rapper I'd never heard of but LAX paparazzi were all over him!) was sitting in 6A on our Miami to L.A. flight. Tennis star Andy Roddick was sitting in the same but on the opposite side on an Austin to LAX flight.
Surprisingly, the big stars don't always have someone traveling with them so if you want to sit next to one of these people, your best bet is booking 1B on flights to and from LAX and JFK, though I've seen them on random flights as well. Once I sat behind Sharon Stone on a flight from Pittsburgh to Erie.

GOOD TO KNOW:
Celebrities are usually either the first or last ones on the plane and they're usually escorted, which is a dead giveaway. Below is my photo gallery of just a few of the celebrities I've sat next to or near. Note: Most of the time, I don't ask celebrities for a picture since it doesn't feel right. As you can see from my picture with Keanu Reeves, that was one time maybe I shouldn't have asked, although I think he might have just been under the weather because popular opinion is that Keanu Reeves is one of the nicest human beings on the planet. If you haven't read about his interaction with a young boy at baggage claim following a flight (which went viral because everyone loved it so much!), you can read it here.
Have you ever sat next to a celebrity on an airplane? Share your story in the comments!

KEEP READING
• How to Save Money With a Secret Third Carry-On
• How to Use Your Wireless Headphones to Watch In-Flight Movies
• 10 Airport Security Hacks Every Traveler Should Know
• How to Get the Best Coach Seat on the Plane
• The Sleep Hack Every Traveler Needs to Know
• Never Get Your Valuables Stolen on the Beach

Want more travel news, tips and deals? Sign up to Johnny Jet's free newsletter and check out these popular posts: The Travel Gadget Flight Attendants Never Leave Home Without and 12 Ways to Save Money on Baggage Fees. Follow Johnny Jet on MSN, Facebook, Instagram, Pinterest, and YouTube for all of my travel posts.