If you read my recent Los Angeles to Toronto trip report in Air Canada's Premium Economy (about why you might not want to fly them this summer), then you may already know this tip. Note: This has nothing to do with flying this route or going to Canada. This is a universal travel tip. RELATED: 12 Things in Travel You Need to Know Today
While I was in LAX's Terminal 6 (T6) on our way to Toronto, I witnessed something I haven't seen in a long time. Here's what I wrote in my original trip report: "We were flying out of one of the last gates, 69A, and that whole section was so crowded, we hung out near Gate 64. Unfortunately, I watched a woman on crutches miss her flight because she wasn't paying attention to the screen or announcements. She was flying to Newark on Alaska Airlines and the gate agent couldn't have been friendlier. She apologized profusely, put her on United and offered her a $125 travel credit or 4,000 miles. I'm pretty sure it was because she needed a wheelchair for long distances and by law, the gate agent was supposed to check in on her every 30 minutes (at least, that's what I overheard)."
This wasn't an anomaly as almost every week, I read stories similar to this, including last week, when a young TikToker missed her flight three times in a row in one day. Yes, you read that correctly. Per Insider, "According to Poskonka, the gate had been changed, but she did not hear this announcement as she had her headphones on the entire time. "You start running over to the other gate, which is actually really far away from the gate that you were at, and you ended up missing the second flight, and basically none of your family believes you."
Regular travelers know to always pay attention to airport monitors, gate announcements and to sign up for notifications. But unfortunately, infrequent travelers don't know this and these days, there's a lot of them because we're just coming out of the pandemic. If you think back to when you first started traveling, you can totally understand how this can happen to someone who hasn't flown or doesn't fly often … and it can seriously make or break your trip.
Unlike what happened in my original example, some airlines won't pay for your next flight and definitely won't give you the goodwill gesture of a travel credit. I'm pretty sure the only reason the Alaska Airlines agent did it was because the woman was on crutches and signed up for wheelchair assistance. But she very well could have lost the money of her original ticket and be forced to buy a whole new last-minute ticket and we all know that's not cheap.
So if you're traveling for the first time in a while or know someone who is, make sure they know to pay attention. Airlines, especially in major hubs where they operate a lot of gates, are constantly changing and adjusting flights. If one flight comes in early or is late and the original gate is occupied, it only makes sense to reassign the aircraft. Most aircrafts are only on the ground for less than an hour so schedules are always changing.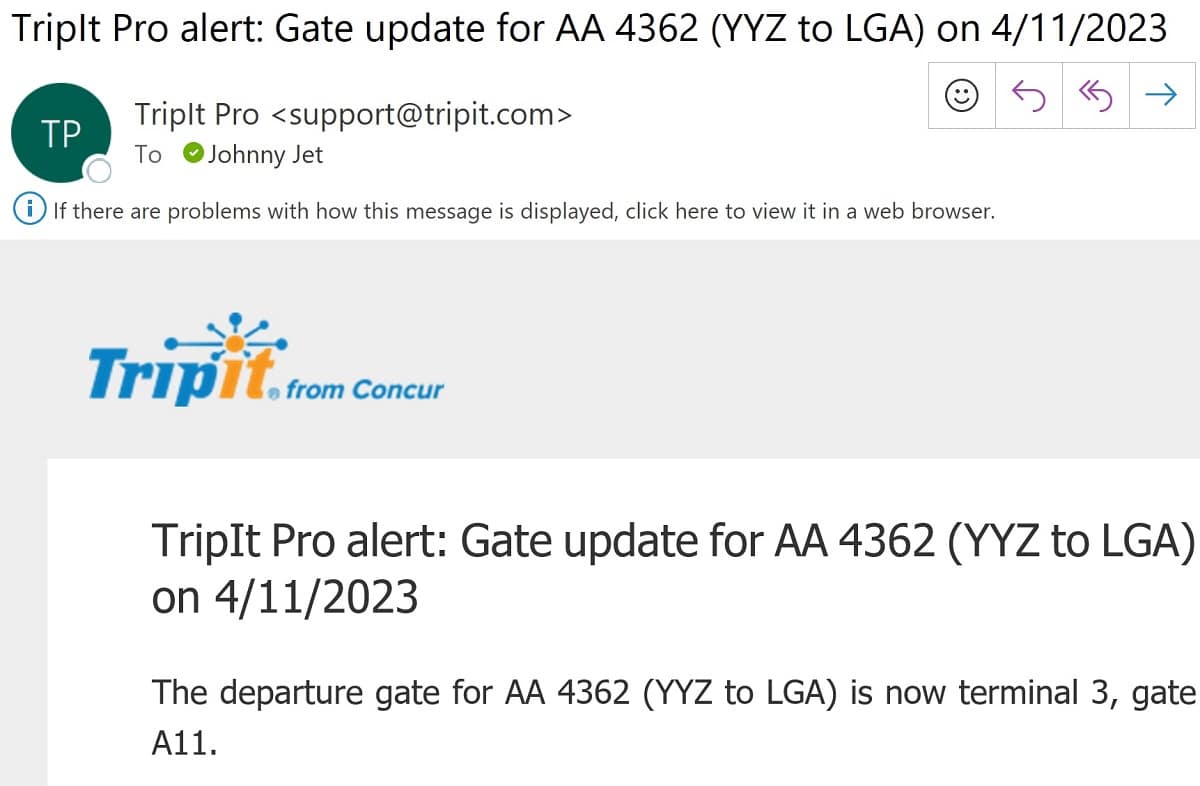 This is why travelers should be constantly looking at monitors, listening to announcements and signing up to trip alerts. I always make sure to input my correct email and cell phone number to the contact information of the airline I'm flying. I also get alerts from TripIt Pro and Flighty (the last two aren't free).
KEEP READING
Want more travel news, tips and deals? Sign up to Johnny Jet's free newsletter and check out these popular posts: The Travel Gadget Flight Attendants Never Leave Home Without and 12 Ways to Save Money on Baggage Fees. Follow Johnny Jet on MSN, Facebook, Instagram, Pinterest, and YouTube for all of my travel posts.